Motorhome review: Roller Team T-Line 590
Author: Peta Stavelli Date Posted: 24 January 2020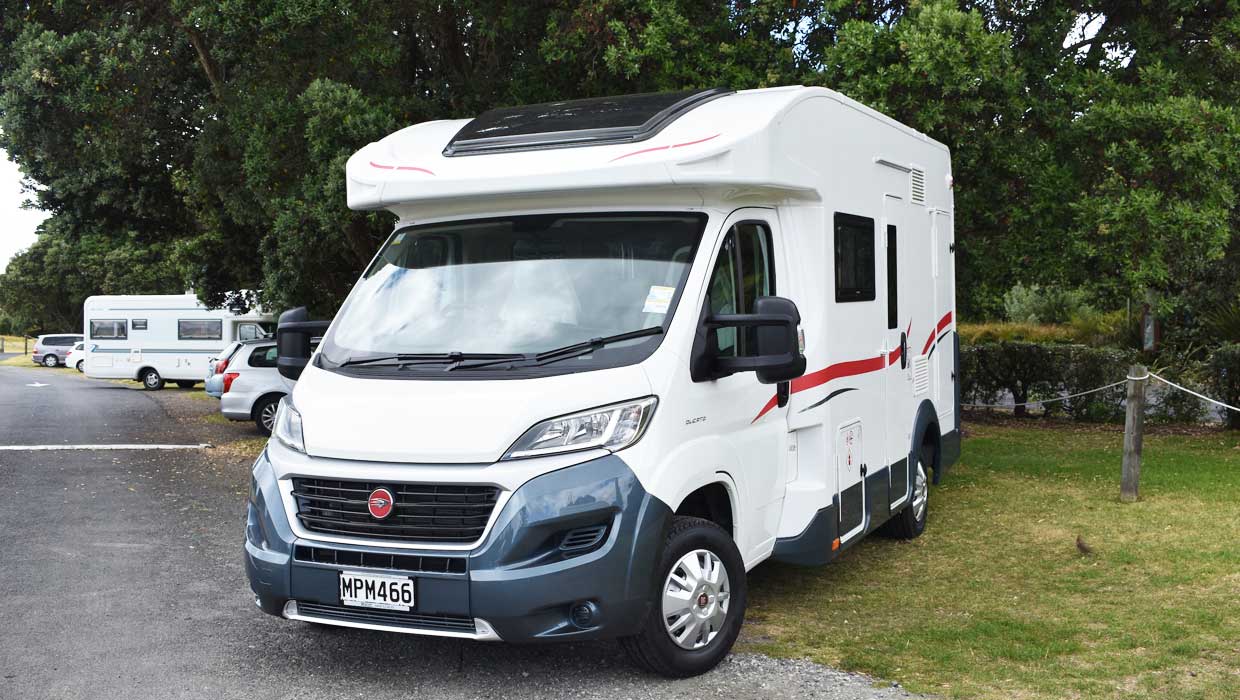 With a perfect day at my disposal on the day of the Roller Team T-Line 590 test, it was a given I'd drive to Long Bay Regional Park where thousands of other Aucklanders would be frolicking in the sun.

And so it was that I merged seamlessly into the endless traffic streaming through the industrial district; negotiated the faster lane at a seemingly grid-locked set of traffic lights and whizzed past a long thread of road cones reducing the road to one lane, all without breaking into a nervous glow.

The point I am making is that traffic woes are synonymous with Auckland. And right now it seems the whole city is undergoing a major reconstruction, so the chances of hitting a tricky spot are greatly increased. And when you're driving someone else's luxury toy you can be forgiven for feeling a bit peaky. But not this time.
TOP ON-ROAD PERFORMANCE
This recent (2019) offering from Roller Team felt sporty and extremely flexible during the test drive despite the many changeable situations I found myself in – whether that was a swift lane change, or a manoeuvre in (and out) of a tricky parking spot at the end of a crowded cul-de-sac. Performance-wise, this nifty six-speed diesel roadster gobbled up the challenges and I was quickly at ease behind the wheel.

As the name implies, the T-Line 590 is compact, coming in at a smidgen under 6m (19ft 8in). But don't be fooled. Even though it sounds like this small vehicle will be big on compromise, think of it more as a performance vehicle. A sports car, if you like – with everything you need at hand and a feeling of luxury prevailing throughout, despite the entry-level price tag.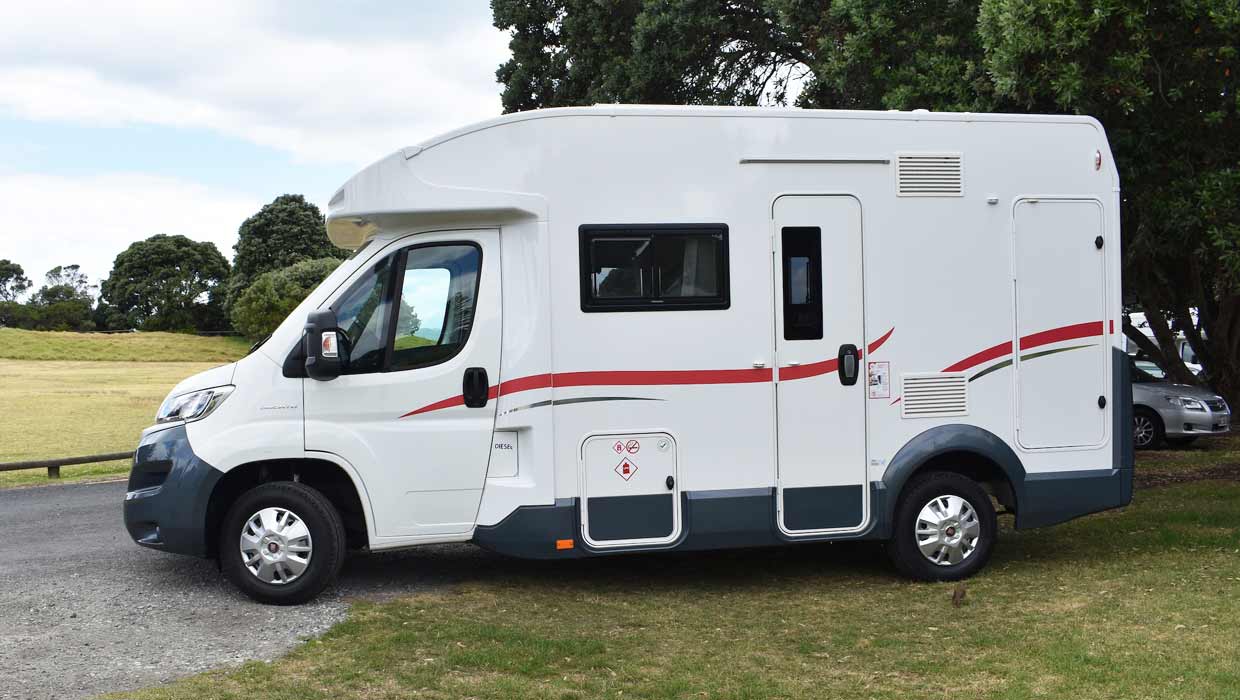 DELUXE INTERIOR
Never more has the purity of Italian design been more evident to me in a Roller Team vehicle than in the interior of this model which has the feel of a deluxe apartment, stylishly laid out with an emphasis on comfortable entertaining.

Three overhead skylights bathe the interior in light creating a feeling of space that is enhanced by the hidden drop-down bed, spilt kitchen and rear bathroom.

There are seatbelts for four, but frankly – as with many four-berth vehicles – I would think the T-Line 590 would offer a luxury of space for a touring couple with occasional extra guests occupying the second lounge conversion bed.

Whichever way you choose to use it, you could sleep and seat four, and entertain at least six, around the banquet table.

In set-up mode, as it was on the lot at RV Super Centre when I first viewed it, the T-Line 590 is extremely welcoming. Unusually, the revolving cab seats – presented in two-tone leather-look – don't seem out of place at the dining table. As a suite, the whole blends seamlessly and presents as a high-end dining setting. I liked it very much.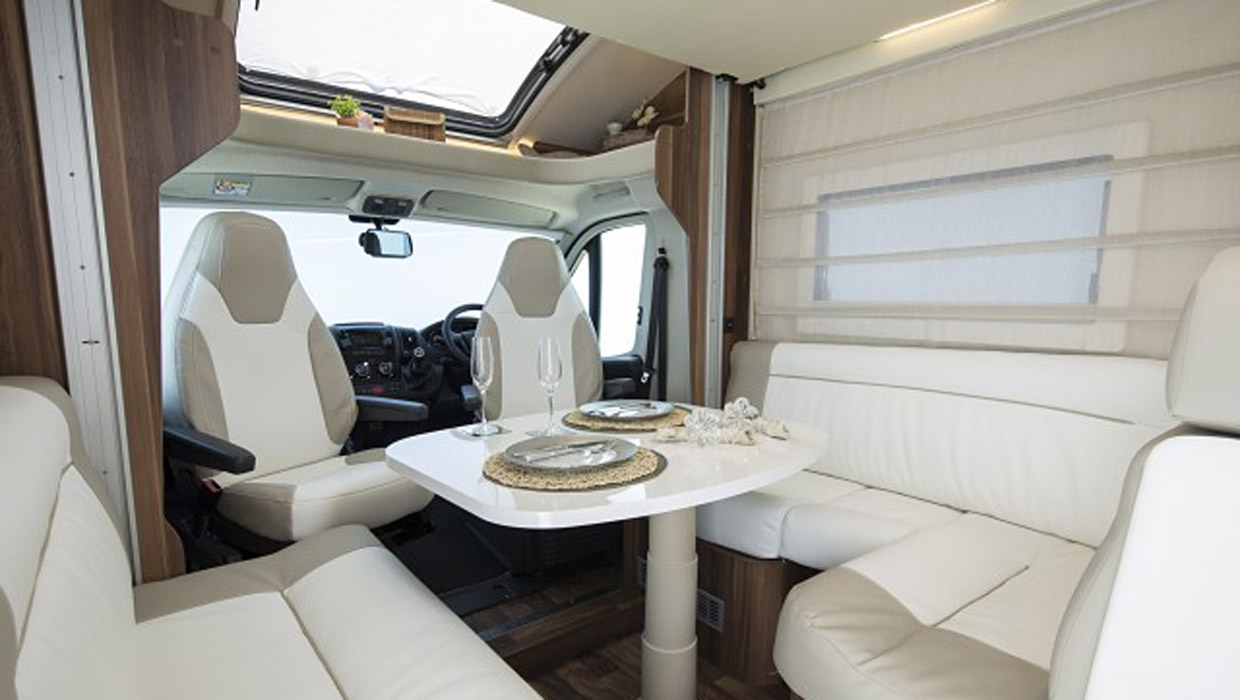 KITCHEN COMFORTS
Moving towards the rear, the stairwell (with rail and handy full-length mirror) is to your right. On the same wall is a narrow and tall 175L refrigerator with a very well-thought-out pull-out pantry beside it. Again, excellent design principles are at work here. And this point is emphasised by a very clever feature in the kitchen.

Sometimes it's the little things that make the difference, especially in a compact kitchen. I was very taken with the half-round plywood sink covers which slot into stainless steel brackets to create extra space to pop your condiments or whatever it is you need stashed away while working. In a small space like this, every little bit helps and this solution is both stylish and welcome. Full marks to the designers.

There's a three-burner glass-covered hob as well, so all of the L-shaped bench can be used for preparation.

Loads of cupboard space throughout and a large locker which can be accessed from outside, as well as shelving over the cab, means that you'll be spoilt for access to all your needs for on-road comfort.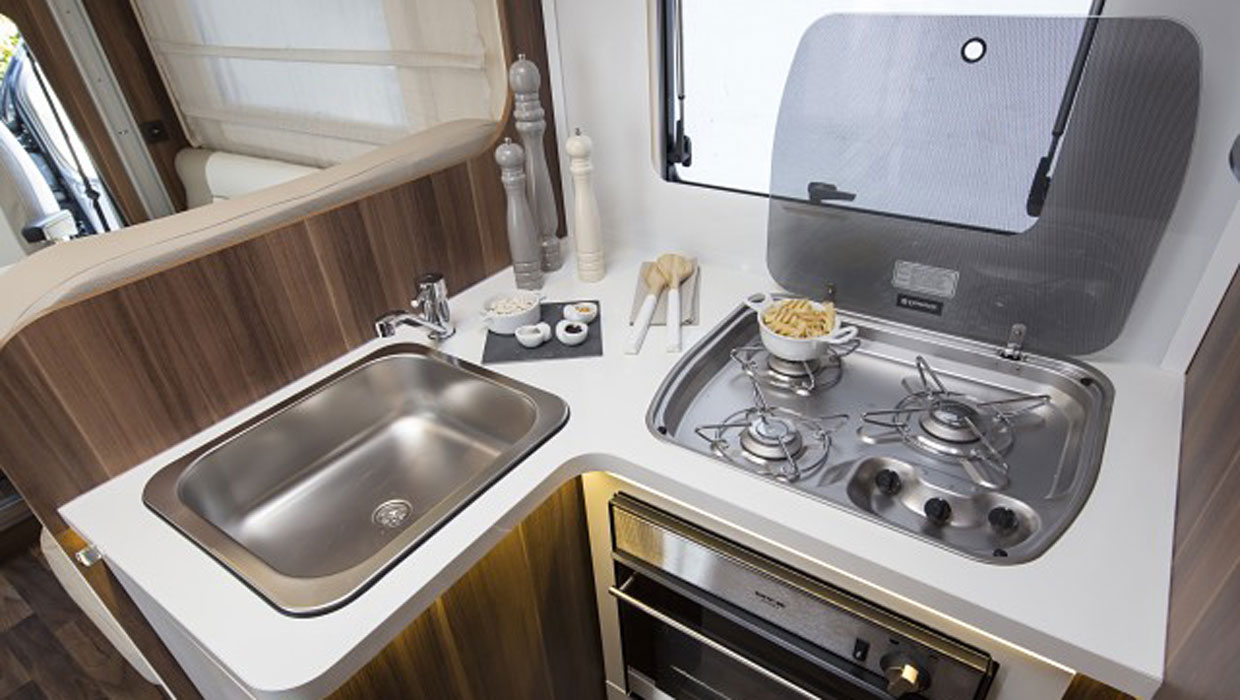 DREAM BATHROOM
But it is the bathroom where the thoughtful storage options are the most in evidence.

The bathroom spans the full width of the vehicle, right across the rear and this means there is room for a very decent-sized shower as well as the hand basin and toilet. The smaller skylight overhead is welcome, as is the opening window adjacent to the loo. Smart thinking.

Other highlights for me included the grey-tone faux floorboards throughout. I like the way this creates a seamless and spacious impression and is also immensely practical for ease of cleaning. Optional carpets have been removed, but if these appeal (I am not sure why they would) they can be returned.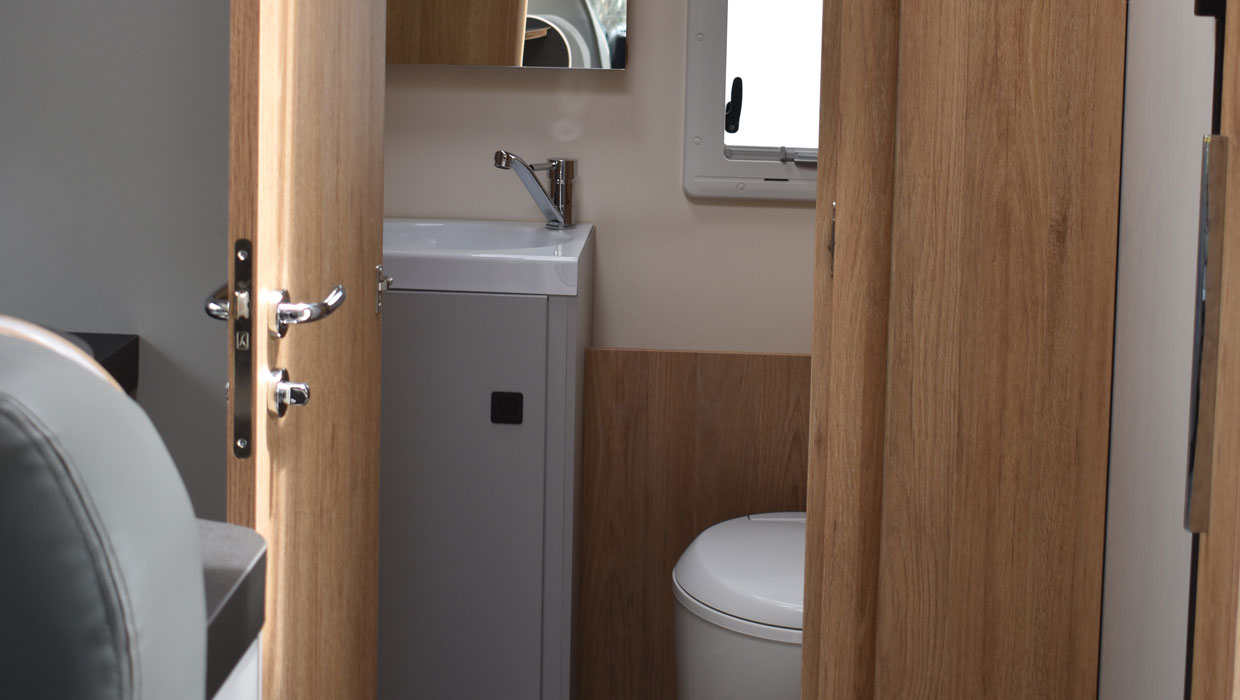 EX-RENTAL VALUE FOR MONEY
Finally, I cannot stress enough the value for money offered by these recently imported motorhomes. These are in near-new condition despite having done six to 12 months on their UK rental fleet prior to being imported by parent company thl for refurbishment and sale by thl's Kiwi subsidiary, RV Super Centre.

Another attraction for buyers is the peace of mind offered by Roller Team's reputation as a solid brand – the motorhomes roll out of the global manufacturing giant Trigano's Italian plant near Tuscany, are built on the reliable Fiat Ducato base vehicle, and are backed by industry giant, New-Zealand owned thl. What's not to like about all of this?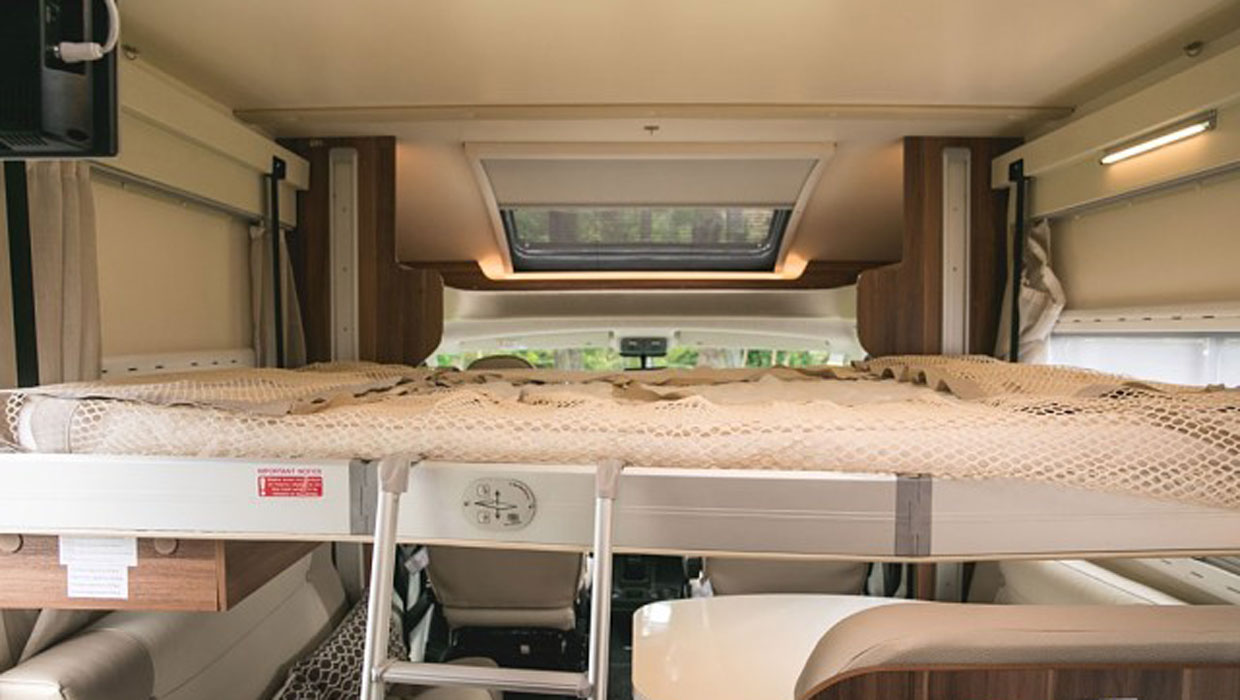 THE BOTTOM LINE
I'm trying to find a small grumble to throw in the mix here, but I am struggling to do so. It should be clear that I was very impressed by the T-Line 590 and it is absolutely my favourite of the numerous Roller Team vehicles I have reviewed of late.

It's a little ripper and at just over $109,000 offers a great buy for a couple or small family looking for a stylish getaway.

For more information on this and other vehicles or accessories, have a look at some of the vehicles available for sale right now. On the RV Super Centre website you'll find plenty of tests, blogs, images and video-presentations. Or phone 0800 52 00 55 to speak to an RV expert. RV Super Centre's Good Guides are happy to assist.
Roller Team T-Line 590 Specifications
Base vehicle: Fiat Ducato
Engine: 2.3L turbo diesel
Power: 130 BHP Euro 6
External length: 5.90m
External width: 2.30m
External height: 3.0m
Berths: Two
Seatbelts: Four
Cooking: Gas hob and under-bench oven
Fridge: 175L
Bathroom: Rear with shower, toilet and basin
Fresh and grey water: 100L each
Gas cylinders: Two
Plus: TV/DVD system. bike rack, TV and aerial, solar panel
---
Leave a comment