All you need to know about motorhome kitchens
Author: Malcolm Street Date Posted: 26 September 2019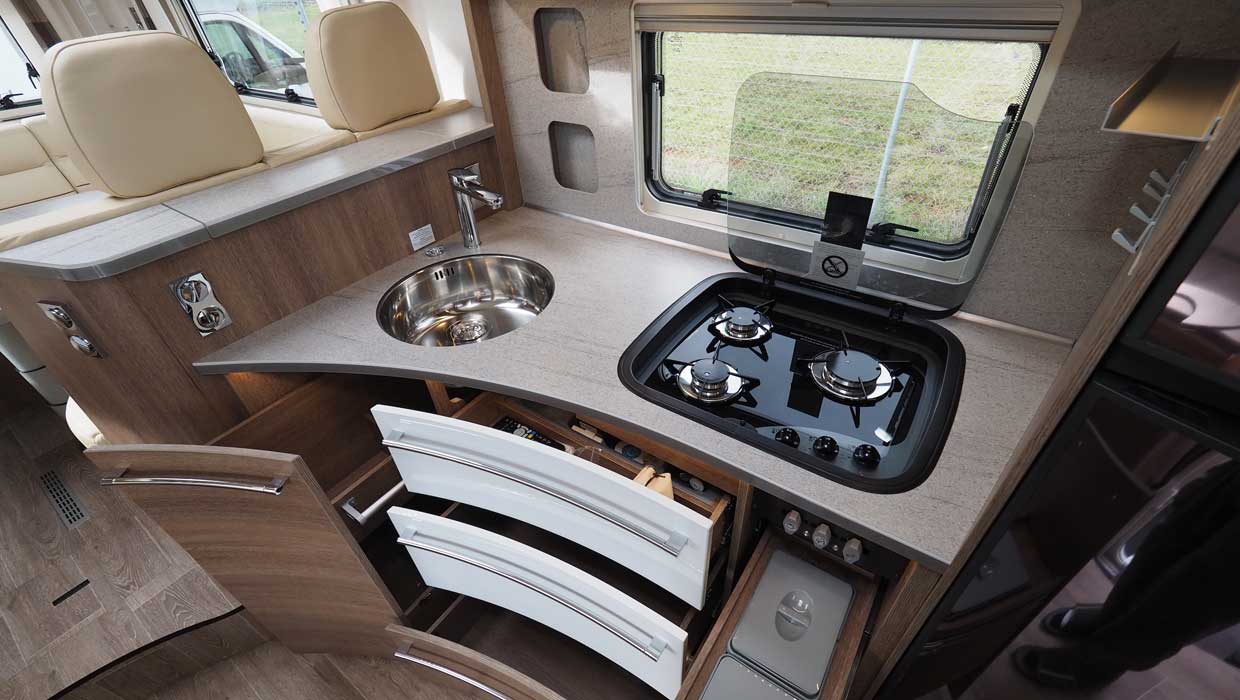 The different kitchens that are available in RVs
Motorhome kitchen design is something that has evolved over the last couple of decades, although not as much as bathrooms or electrical systems.

Some of the basics have stayed the same, for instance there is usually a hob/cooktop with a grill, sink and a fridge. What has changed is the size of some of the items, particularly the fridge and additions such as a microwave oven, although that does depend on the origin of the motorhome.

Those built in Australia, New Zealand and North America frequently have a microwave fitted whereas those motorhomes built in Europe do not. Whilst we are on international matters, in Australia, the gas/electric burners are normally referred to as a cooker or cooktop but in New Zealand, the term hob is more commonly used.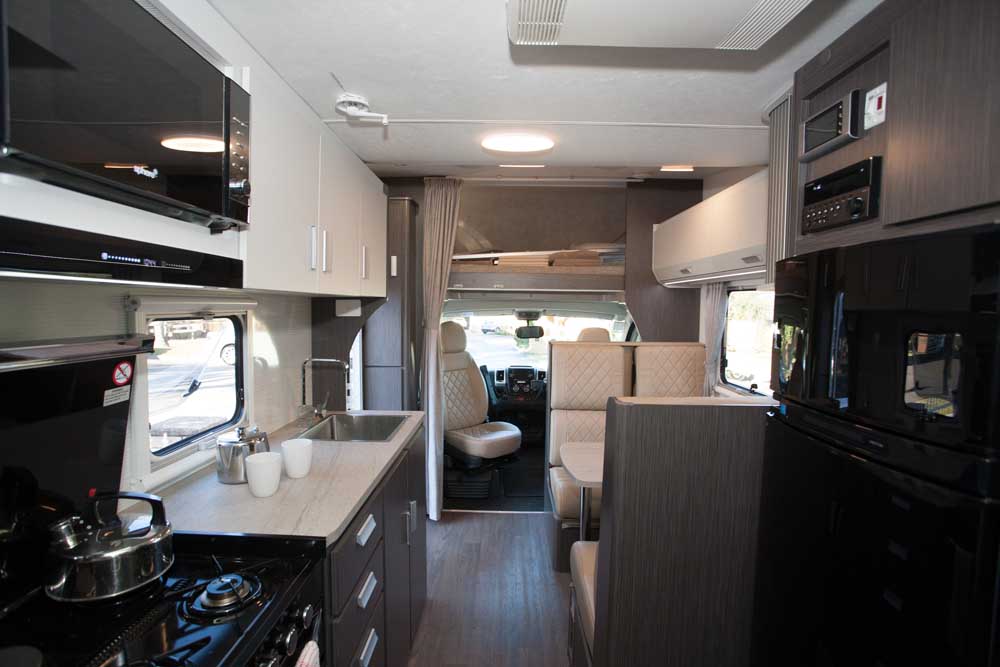 THE SIZE OF YOUR MOTORHOME MATTERS
Motorhome kitchens are available in a variety of shapes, styles and even colours. Often the size of the motorhome or campervan determines the size of the kitchen area but that is not always the case. I've seen large motorhomes with a small kitchen area and big kitchens in small motorhomes.

Anyone contemplating the kitchen bench area should certainly consider how they like to cook. Cordon bleu chefs in particular might get frustrated very quickly with a small kitchen but those who like to do quick meals or use the caravan park camp kitchen, might be quite happy.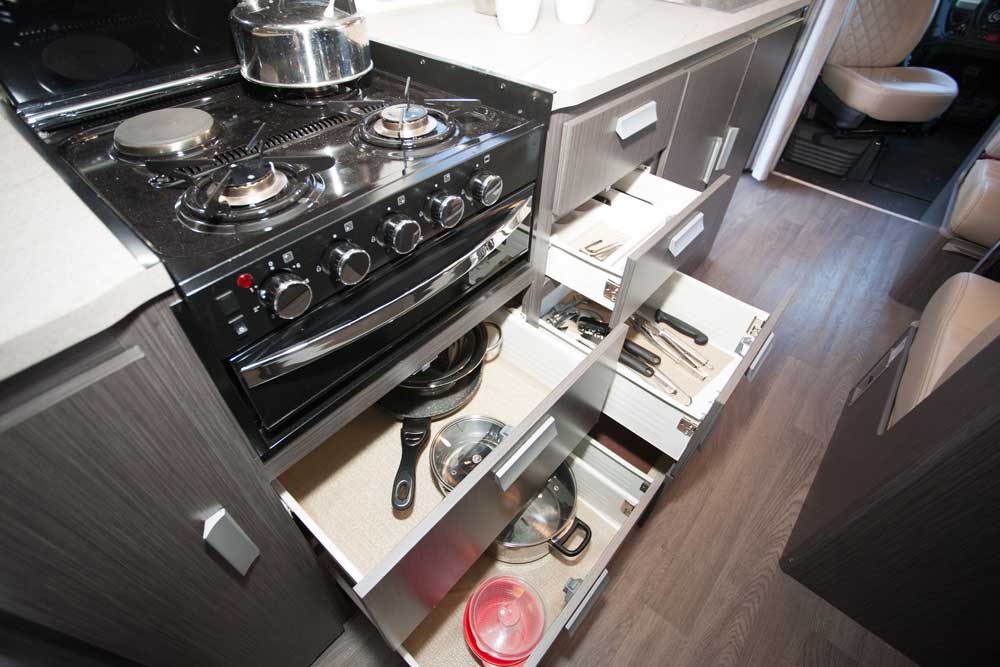 FEATURES OF MOTORHOME KITCHENS
Generally speaking, the smallest kitchen a motorhome manufacturer can get away with has a two-burner or three-burner hob, a small stainless steel sink sans a drainer and an under-bench 90L to 110L fridge. If fitted, the microwave oven normally fits into the overhead locker area. All that might be a space saver – essential in a campervan but it does result in a minimal amount of benchtop veggie cutting space and a small amount of kitchen storage — be it cupboards, drawers and overhead lockers.

Kitchen bench shape matters, too. Frequently rectangular, some benches have a curve in them or else have a shallow L-shape. Both those might not sound much but are little design tricks to get a bit more benchtop and storage area. Another way to get a bit more benchtop space are hobs and sinks that are fitted with hinged lids, usually smoked glass. Occasionally, the manufacturer gets really clever and has a split lid on a hob.

Fridge sizes change the kitchen dynamics as well. Once two-door fridges became popular, the under-bench model no longer fitted and so the fridge, sometimes with microwave oven above, is either adjacent to the kitchen bench or on the opposite side of the walkway. Although taking up more space overall, it does have the benefit of creating more kitchen storage space.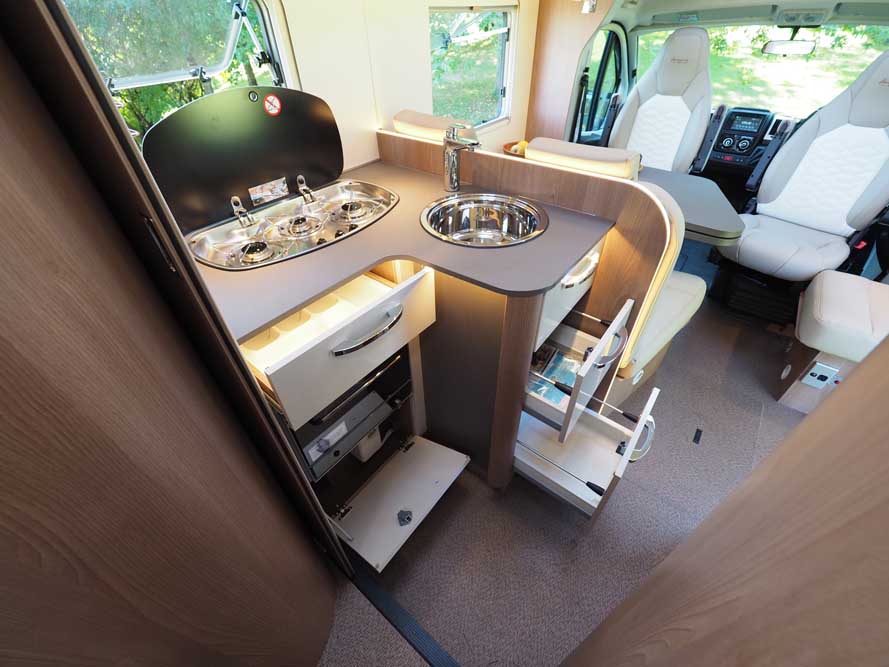 WHAT ABOUT KITCHEN STORAGE?
Often a weak point in many a motorhome kitchen, storage is important. Not only in how much space is available but how it is used.

Multiple drawers are often more space-efficient than a large cupboard and extra shelves in overhead lockers can make a difference to storage capacity. Wire basket slide-out pantries are sometimes fitted in narrow cupboard areas which effectively uses an otherwise unusable area.

KITCHEN APPLIANCES
As mentioned above, some kitchen appliances have not changed much at all. The hob normally has two or three gas burners with the fourth being electric. Many a hob comes with a grill and some even have an oven as well. Although in the latter case, sometimes it's a combined grill/oven.

Stainless steel sinks, with or without a drainer, are frequently a discreet component but occasionally there are combined hob and sink units, particularly in European motorhomes, which are great space savers.

Mostly fridges these days are somewhere between 90L and 175L, with the larger models having separate fridge and freezer compartments. There are two main types: a three way absorption fridge and a compressor fridge. The latter just operates from 240V AC/12V DC or just 12V DC, whereas the absorption fridge will function from 240V AC, 12V DC or LP gas. Having a fridge running off LP gas is handy when camping without mains power but compressor fridges are much more efficient than absorption fridges when running on 12V DC and cope better with hot ambient temperatures.

Powerpoints are a necessary kitchen appointment for items such as kettles, frypans and toasters. It's always good to check how many are supplied (single or double) and where they are located, ie wall mounted, under the overhead lockers or hidden in cupboards.

SUMMING UP
Any motorhome or campervan kitchen these days will have the essentials for cooking and washing-up on the road. However, it's the rest of the layout and the overall size of the vehicle that really decides the size and facilities that the kitchen offers. It's definitely something to keep in mind at purchase time.

You can check out the varying range of kitchen types in motorhome range from small campervans to large six-berth motorhomes here.

---
Leave a comment