About Us


The RV Super Centre Difference
The RV Super Centre is your one-stop shop for all your RV needs. From buying your first motorhome or applying for a new Certificate Of Fitness, to upgrading accessories - our dealerships, located in Auckland (Mangere), Queenstown and Christchurch, are experts in their field and can help you every step of your journey. Both RV Super Centre facilities offer a large RV sales yard, a fully equipped service centre, as well as a retail store.

MOTORHOME SALES
The RV Super Centre offers a wide range of new and used 2, 4 and 6 berth (NZ Built & imported) motorhomes in New Zealand plus a wide range of NZ built and imported caravans. We also offer a 12 month guarantee.

SERVICE CENTRE
Our fully equipped Service Centre can deal with services, accessory installation, repairs, tyre replacement, etc. We can also manage insurance work.

ACCESSORY SHOP
We have more than 800 products available in our 2 stores. You can also order 24/7 from our online shop. We deliver everywhere in New Zealand.
---
Our Motorhome Range
The RV Super Centre sells brand new and used/refurbished motorhomes.
NEW MOTORHOMES
The RV Super Centre shares its Auckland premises with the largest RV manufacturing facility in New Zealand - Action Manufacturing. Some of the RVs built by Action Manufacturing are destined for the private market, sold through the RV Super Centre, under the iconic and prestigious Brand KEA. Pristine new motorhomes available from KEA are the Breeze, Foxtrot, Odyssey and Nomad.
USED/REFURBISHED MOTORHOMES
The RV Super Centre is part of the Tourism Holdings Limited (thl) which operates the Maui, Britz & Mighty motorhome rental companies in New Zealand and Australia. The RV Super Centre sells used motorhomes from thl's rental fleet.
The RV Super Centre also offers near new motorhomes, less than one-year-old, carefully selected from thl's European partner Just Go's fleet.
All motorhomes are carefully looked after to maintain and meet rigorous quality standards throughout their rental life cycle. They receive the same attention before they are made available for purchase. Each RV goes through thorough mechanical and structural checks, interior and exterior cleaning before they are available for sale through the RV Super Centre.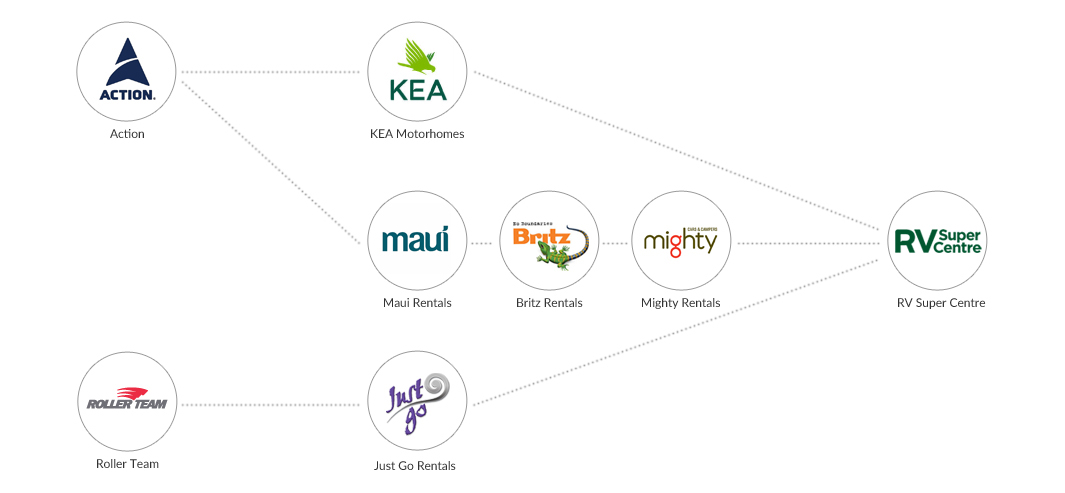 ---
OVER 120 YEARS OF COMBINED EXPERIENCE
With over 120 years of collective industry sales and service experience, our team of RV Good Guides have a wealth of knowledge to draw upon. Whether you are interested in purchasing your first motorhome, upgrading your current campervan, or would simply like to talk to someone about any aspect of campervanning, our friendly team of RV Good Guides are on hand to help you every step of your journey.