All you need to know about motorhome bathroom types
Author: Your RV Good Guide Date Posted: 22 April 2022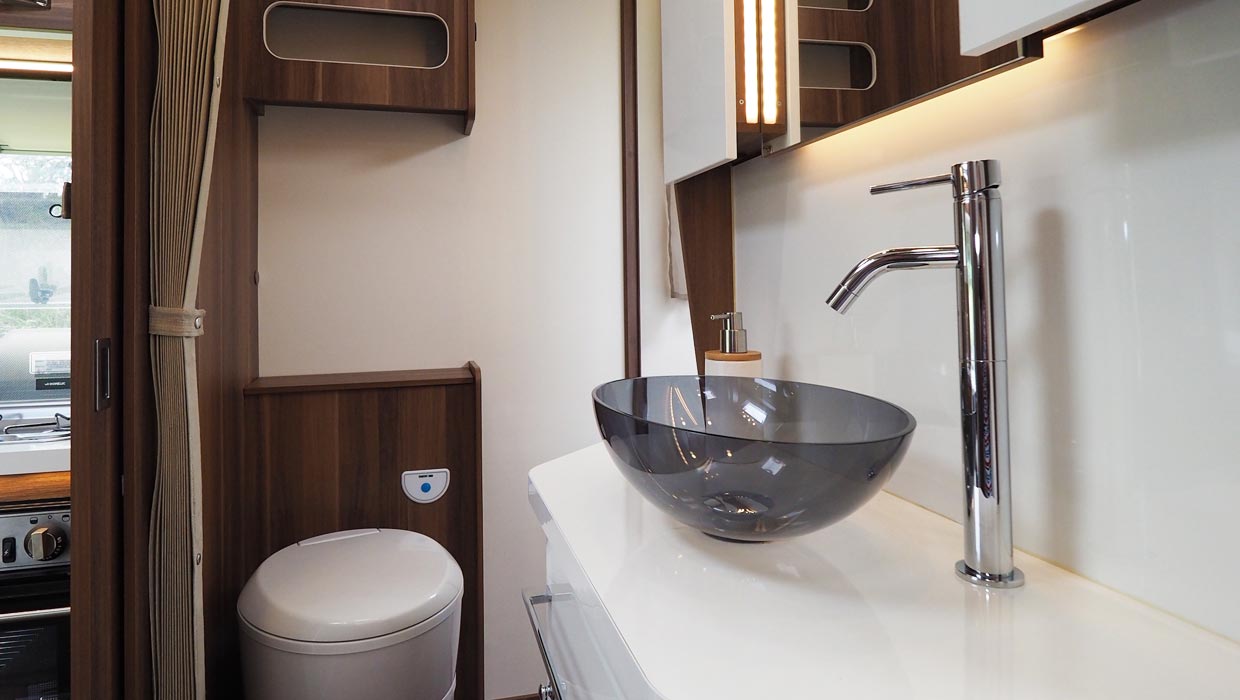 Having your own bathroom as you travel is often one of the big reasons people choose a motorhome or campervan over general camping. Being able to wash and use the bathroom within your own space makes a big difference to your comfort. So having a bathroom that suits you in terms of size and layout is important.
But, as anyone who has gone through the process of researching a motorhome or campervan to buy will know, there are lots of options to choose from!
As technology and design trends evolve, so too have the bathrooms inside modern motorhomes and campervans. RV bathrooms now range from basic 'all-in-one' offerings that are functional and economical on space, to luxurious apartment-style suites that offer the latest in luxury and design. In this guide we're covering everything you need to know about RV bathroom types and accessories.
In this guide:
What are the different types of motorhome bathrooms?
Motorhome bathrooms are generally one of two types – wet or dry. Let's take a closer look at each:
Wet bathroom
A 'wet' bathroom combines the shower, toilet, and sink within the same space. It means it's highly likely that if the shower has been used, the floor area around the toilet and even the toilet itself may have to be dried off before use. The main benefit of a wet bathroom is that they are compact and save on space.
Dry bathroom
In a 'dry' bathroom, the shower is separated from the rest of the bathroom facilities so the water from the shower doesn't wet the rest of the room. While dry bathrooms are more user-friendly, they do take up more space, which means they're usually found in larger RVs.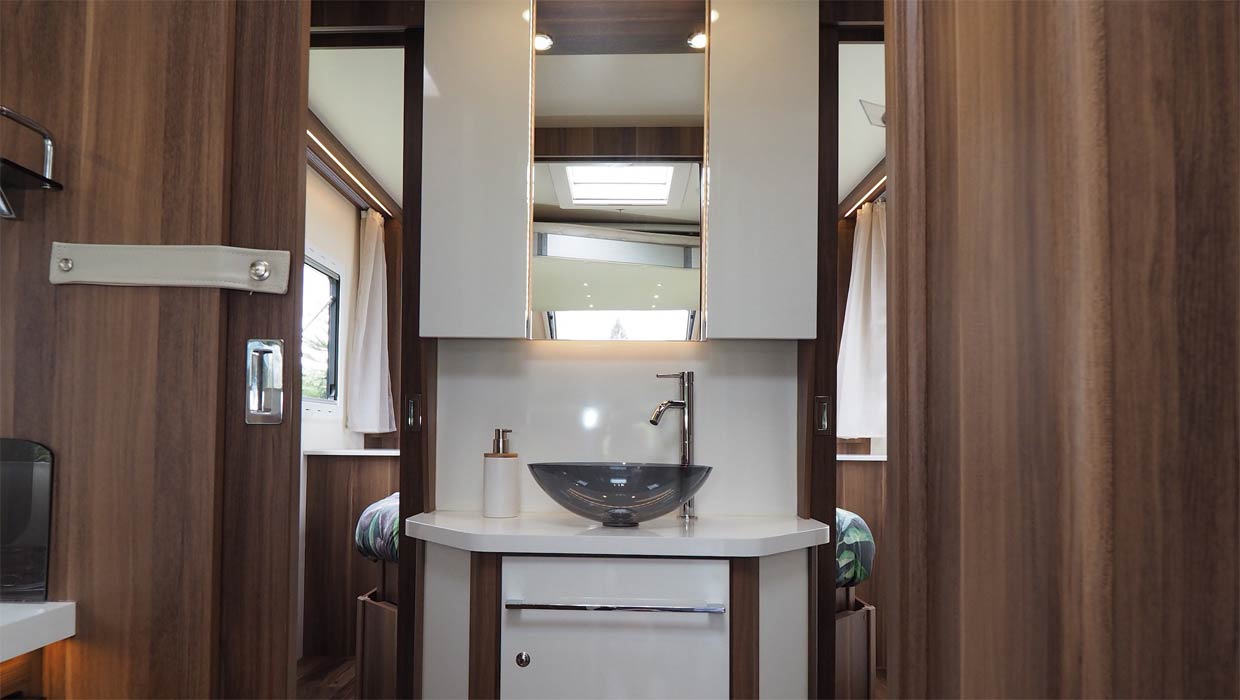 What are the different bathroom layouts?
There are several common motorhome bathroom layouts depending on the motorhome's size and when it was made.
Combo models
In older motorhome bathrooms, layouts were generally combo 'wet' types with the shower, toilet, and sometimes a washbasin in one cubicle. These bathrooms are ideal for first-time motorhomers who are travelling in a smaller, less expensive RV, singles and couples (rather than families), or those who often stay in campgrounds and make use of the larger facilities available.
Split designs
Most modern motorhomes, especially larger models, are more likely to have a split design with the toilet cubicle on one side of the motorhome and a contained shower cubicle opposite. This is a popular layout because it provides a good amount of shower and drying-off space, and the bathroom is kept dry. A split bathroom is ideal for those who like to travel away from campgrounds and want the convenience and comfort of a spacious bathroom. It also means that, because the toilet and shower are separate, they can be used at the same time if needed.
Swinging wall
In recent times some European motorhomes have been designed with a 'swinging wall'. Swung one way, you have access to the toilet, and swung the other, the shower cubicle. It's a clever way to save space, and still have a dry bathroom.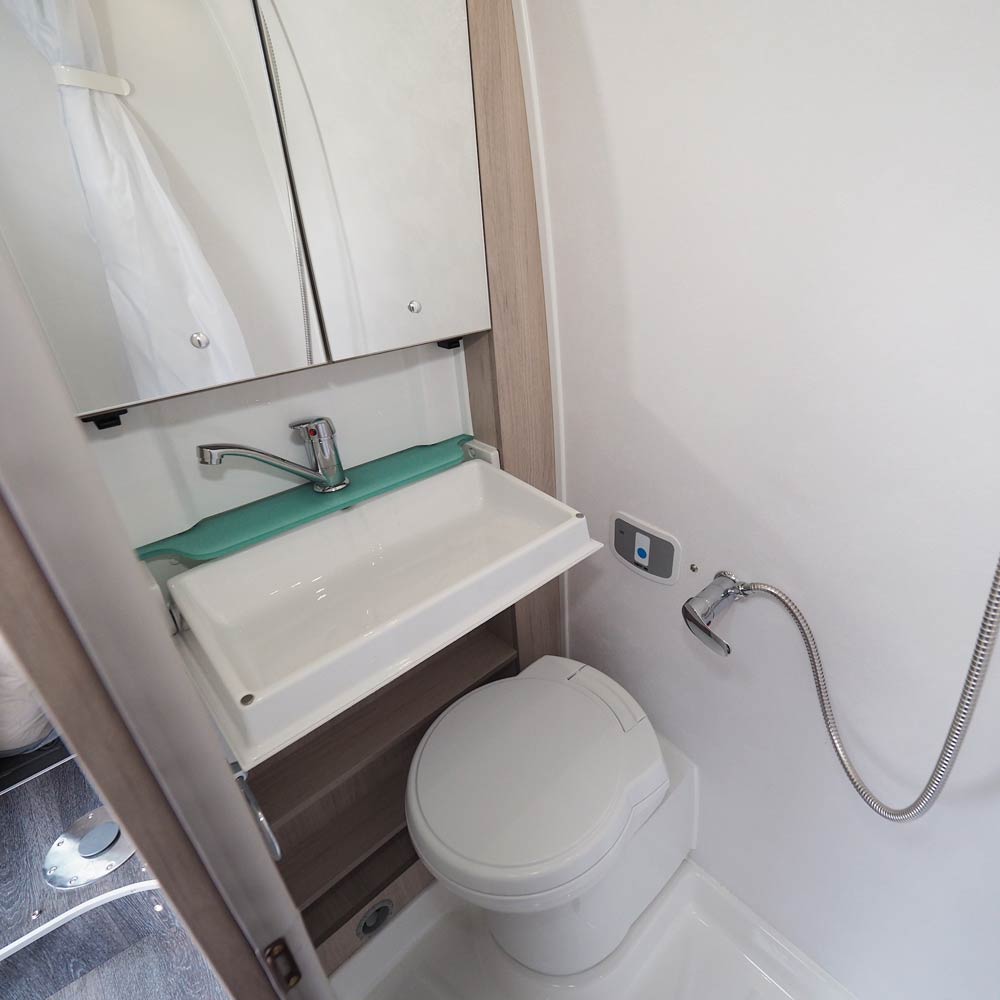 Do all motorhomes have a toilet?
Many people wonder if you can poop in a motorhome toilet, the good news is that yes, you can! Waste from motorhome toilet systems is contained in a black water tank which can then be disposed of at a dump station. Use the thl Roadtrip app to find the nearest dump station to you.
While most modern motorhomes come with a bathroom and/or toilet, that's not always the case and this often depends on the size and year the motorhome was made.
Between public toilets and those available at most holiday parks, some travellers can make do without having a toilet in their motorhome. However, to be certified as self-contained (a necessity if you want to freedom camp), you must have a toilet on board.

How does a motorhome bathroom drain?
A motorhome bathroom usually has two systems for draining water – black water tanks and grey water tanks. Let's take a closer look at each:
Black water
Black water is the term for all of the waste from your toilet. A black water tank holds this waste which must be disposed of at a dump station.
Grey water
Grey water is the waste water collected from your sinks and shower and is contained in a separate 'grey water' tank. Note – grey water should also be disposed of at a dump station.
Find out more about different RV water types in our handy article on fresh, grey and black waters.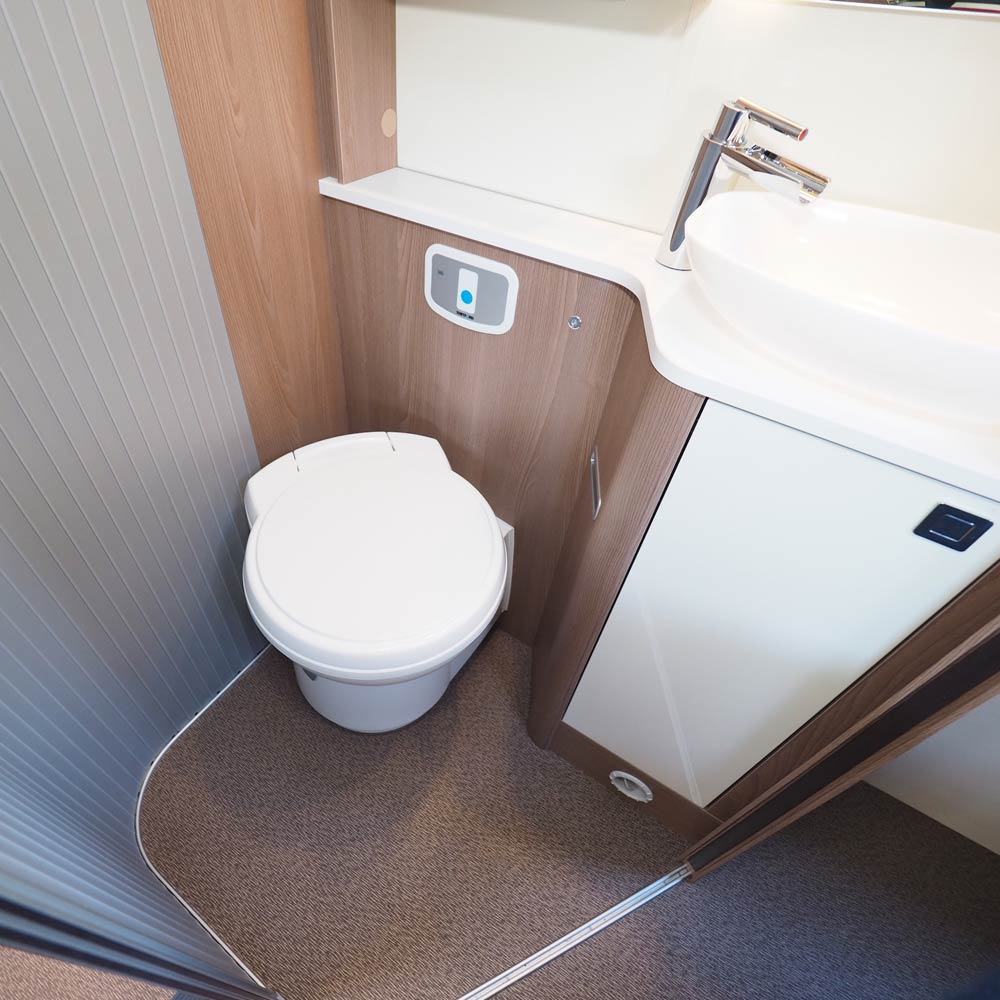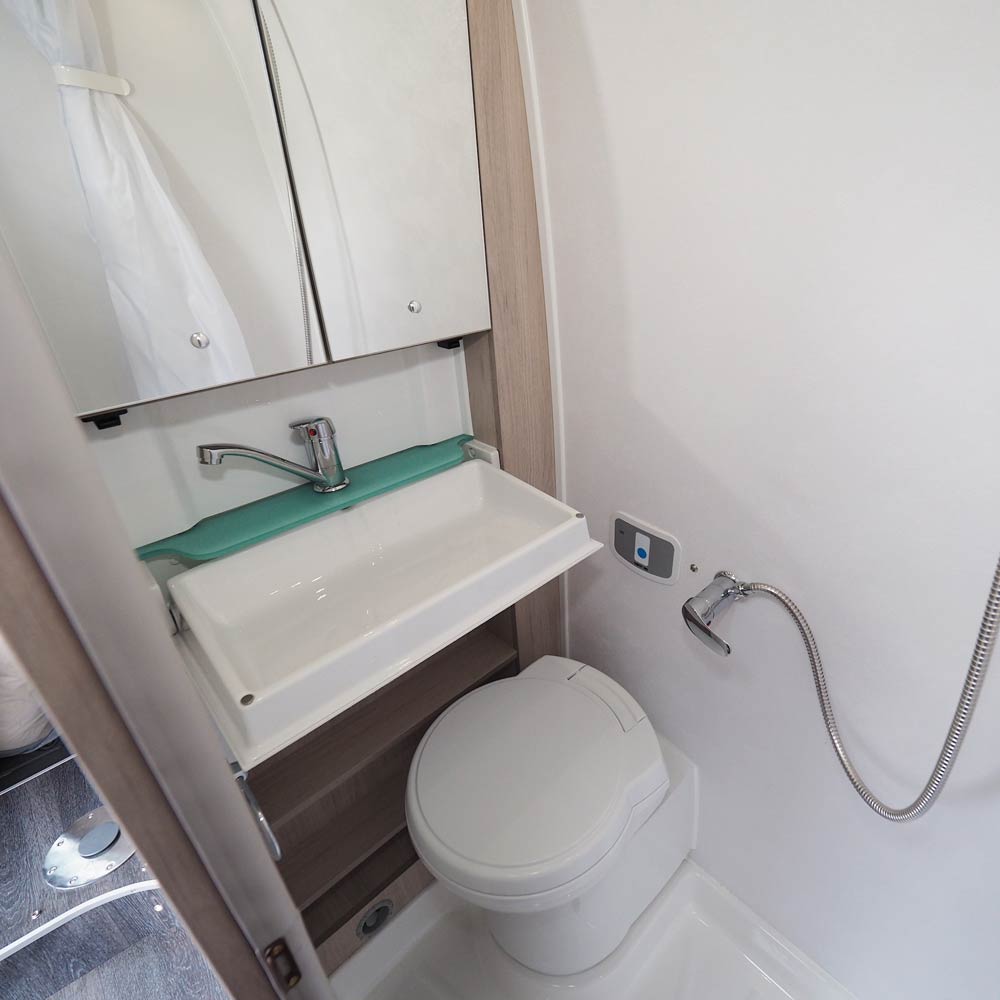 What are the different types of RV toilets?
There are a few different types of motorhome toilet systems, each with their own benefits:
Cassette toilet
A cassette toilet is the most common type of motorhome toilet. The cassette tank sits under the toilet bowl and can be removed and emptied by wheeling it away to a dump point.
Gravity flush toilet
Gravity flush toilets look similar to the toilet you have at home, but with a few slight differences. To flush the toilet, you press a foot pedal or an electric button which will open the flap in the bowl allowing the contents to drop into your black water tank.
Macerator pump toilet
If your toilet is not located directly above your black water tank, a macerating pump – which has a set of blades to grind down toilet waste into a slurry – pumps the liquified waste to your black water tank. It's a handy device and means motorhome designers have extra flexibility to arrange their floorplans to maximise space and liveability.
Portable motorhome toilet
Portable toilets vary in type, from a basic 'bucket and lid' arrangement, to a more hygienic and convenient all-in-one portable toilet with an injection piston pump for flushing and a waste tank that can be removed for emptying. Portable toilets can be a good option for smaller motorhomes or older models that don't have an in-built toilet.
How to add a touch of luxury to your motorhome bathroom
Although most motorhome bathrooms only have the essentials due to space, there are some simple and cost-effective ways you can add a little extra luxury and comfort.
Ventilation kit
Small spaces like motorhome toilets can create big odours! Thankfully, it's easy to sort with a ventilation kit. This works by ventilating the waste holding tank and filtering unpleasant odours. If you need help installing your ventilation kit, contact the team at your local RV Super Centre to get the job done.
Shower corner basket
Add a touch of luxury to your shower with your favourite body wash and shampoo, and keep them close at hand and tidily organised with a shower corner basket. A great option is a basket that includes vacuum suction cups so you can mount it in the spot that suits you best.
Shower tray
Set up your shower with a non-slip plastic shower tray. Choose a tray that has one or more places for a drain to be added.
Wall mounted soap dispenser
Keep your shower free of slippery, messy bars of soap with a wall mounted soap dispenser. Choose a dispenser that has a good capacity and a chamber that lifts off the wall for easy refilling.
Aqua soft toilet paper
It's the little things you use every day that make a difference to your comfort while travelling. So having good quality aqua soft toilet paper is a great option. This motorhome toilet-friendly loo paper is super soft and dissolves quickly to prevent clogging and make waste tank emptying easier.
Toilet bowl liners
A clean toilet is a good toilet! A great option to keep your motorhome's toilet bowl clean and streak-free is to use toilet bowl liners. These liners are specially designed for motorhome toilet systems and mean you don't have to worry about cleaning the loo when you'd rather be enjoying your travels. They're 100% biodegradable too.
Porta-paks
A porta-pak helps keep your motorhome toilet free from unpleasant odours by rapidly breaking down paper and waste in your black tank. They're super easy to use too, just drop one into the tank and add water.
Gas water heater
For instant luxury and comfort, consider installing a gas water heater in your motorhome bathroom. Gas water heaters give you continuous hot water flow and let you set your desired water temperature.
Other bathroom products to consider
From cabinets to toilet roll holders, RV Super Centre has all the campervan accessories you need to keep your motorhome bathroom and toilet clean, hygienic, and comfortable. Talk to the team at your local RV Super Centre for advice and help with your motorhome bathroom modifications.
Bathroom cabinet
A bathroom cabinet is a good way to keep your bathroom essentials tidy and organised. A cabinet that includes mirrored doors provides extra convenience, and to keep everything secure, choose one that also has retaining bars and a travel lock.
Towel rail
The simple addition of a towel rail in your motorhome can make a big difference in helping keep your bathroom tidy. Choose a rail with suction cups for easy mounting.
Basin
Short on space in your bathroom? A clever way to create space is with a fold up basin. The basin can be mounted on the wall above your motorhome toilet and folded up and out of the way when not in use.
Toilet roll holder
A quality toilet roll holder is the perfect finishing touch for your bathroom. Choose a holder with a suction cup for easy mounting to tiles, glass, and metal.
Cassette toilet kit
Converting a campervan or want to add a modern touch to an older motorhome? Upgrade your bathroom with a cassette toilet kit. These fully self-contained toilet systems can be built into the bathroom of your motorhome or caravan and come with their own flush water tank and slide-out waste tank.
Considering other accessories for your motorhome?
From waste tanks and fittings to tapware and bathroom cleaner, RV Super Centre has all the motorhome accessories you need to update and maintain your bathroom. We also have lots of other great RV accessories to add a touch of luxury to your motorhome travels.
Check out our wide range online or at your nearest RV Super Centre one-stop shop.
---
Leave a comment