Everything You Need To Know To Buy Your First Motorhome
Author: Your RV Good Guide Date Posted: 2 November 2023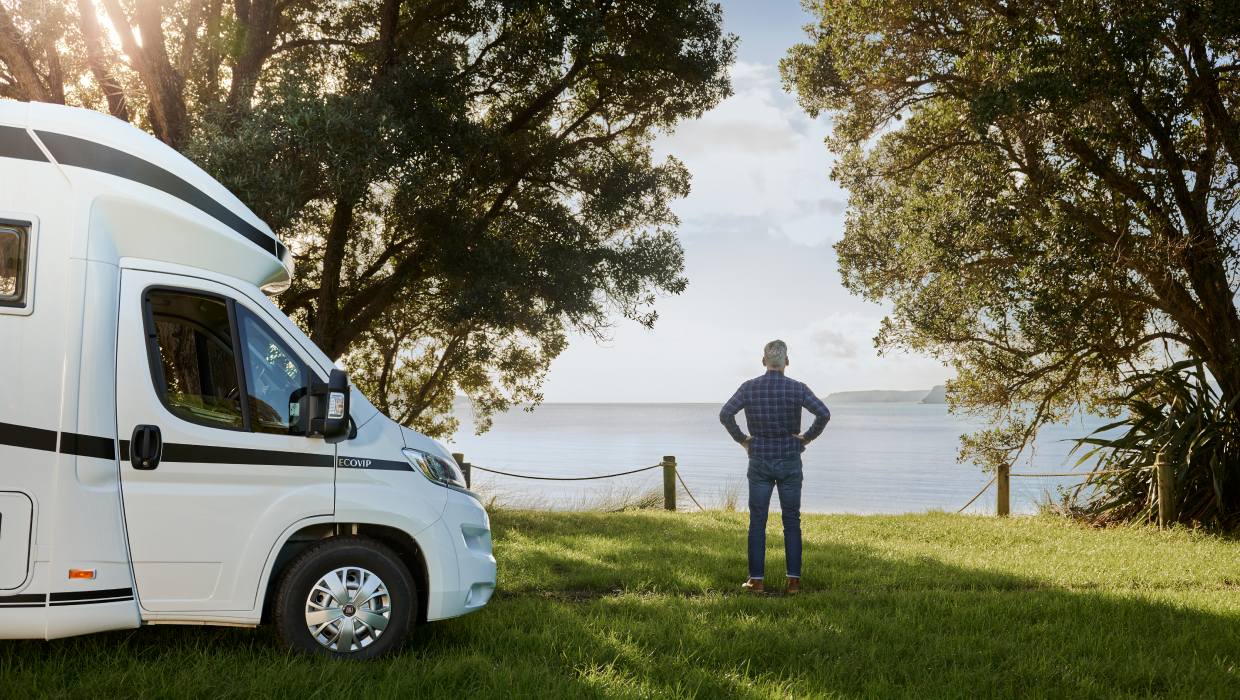 Thinking about buying a motorhome and exploring the beauty of New Zealand? You've come to the right place! This comprehensive guide will walk you through everything you need to know when you're looking at campervans for sale. We'll share the pros and cons of new vs used motorhomes. We'll also give you advice on what to look for in your first motorhome, where to find used motorhomes for sale in New Zealand and tips on how to choose a motorhome.
Make yourself a cuppa, grab your notebook, and let's get stuck in …
Benefits of choosing a motorhome over a caravan
When you start looking at RVs and motorhomes for sale in New Zealand, you'll quickly realise the options are abundant. To help get you on the right path, the first decision is whether to opt for a caravan or a motorhome. While both have their merits, we think campervans and motorhomes offer some seriously good benefits, including:
Convenience: Because motorhomes are one self-contained vehicle, there's no need to worry about towing. This makes setting up at your chosen campsite or holiday park quick and easy, giving you more time to enjoy the camping lifestyle.
Easier to manoeuvre: Motorhomes are easier to drive and park compared to towing a caravan. That's a big benefit when you're navigating New Zealand's varied road conditions. This makes motorhomes ideal for those who want to go off the beaten track or take advantage of freedom camping spots.
Unparalleled freedom: The sense of freedom that comes with the motorhome lifestyle is unmatched. Compared to driving with a caravan, it's much easier to spontaneously stop to take in the view. And, because you don't have to worry about hitching, it's simply quicker and simpler to hit the road when the mood takes you.
Motorhome berths
When you're browsing motorhomes for sale and considering how to choose a motorhome that fits your needs, size is a crucial factor. Let's take a closer look at the different options available:
6-berth motorhomes
For those looking for a bit more room, 6-berth motorhomes are ideal for larger families or groups of up to six people. Built on a chassis with a cabover body, they typically feature separate sleeping areas, a well-equipped kitchen, dining space, and even a bathroom.
4-berth motorhomes
If you're a family of four or a smaller group, a 4-berth motorhome could be just what you're looking for. Offering ample space, these motorhomes usually feature a fixed double bed and convertible seating areas that can be transformed into additional sleeping spaces. These models often come with a compact kitchen and bathroom, providing all the essentials you need to enjoy the motorhome lifestyle.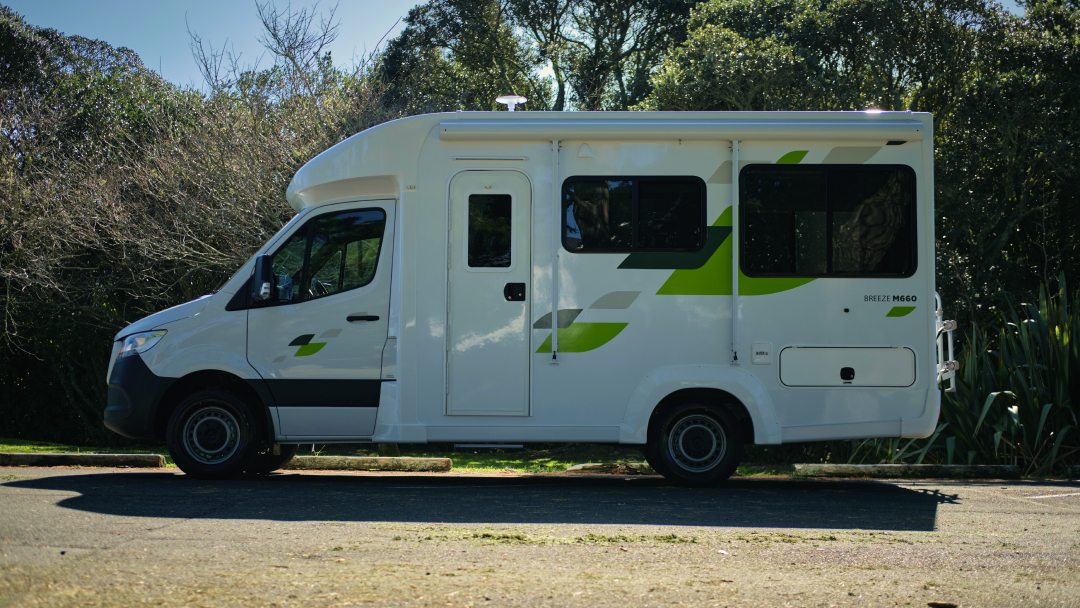 3-berth campervans
For small families or couples looking at campervans for sale, 3-berth models offer a cosy and intimate option. These campervans typically feature a fixed double bed and either a single bed or a convertible dinette that can serve as an additional sleeping area. They're perfect for those who want to enjoy a comfortable camping lifestyle but prefer a more compact vehicle.
2-berth campervans
If you're a couple, a solo traveller, or you're looking for your first motorhome, a 2-berth campervan could be your perfect match. These compact vehicles offer a cosy living space ideal for those more intimate adventures. They generally feature a small kitchenette, a compact bathroom, plus seating that converts into a double bed. It's worth noting that some 2-berth campervans come without a built-in bathroom but may include a portable toilet.
Consider if you want a new or used motorhome
With pros and cons to buying both new and used motorhomes, it can take a bit of consideration to decide which is best.
Benefits of buying a new motorhome
There's a unique sense of joy and excitement that comes with owning your very own brand-new motorhome. When you're exploring motorhomes for sale in New Zealand, choosing a new model offers a multitude of advantages. New motorhomes often come with the latest features, technologies, and design innovations. This means you can enjoy modern amenities, advanced safety systems, and energy-efficient solutions that enhance your overall motorhome lifestyle.
Buying a new motorhome also allows you to personalise it to your unique needs and style. You can choose specific interior finishes, floor plans, optional extras, and accessories, making it truly your own.
Additionally, new motorhomes typically come with manufacturer warranties, offering peace of mind and protection from unexpected repair costs. As an added bonus, it's good to know that motorhomes generally depreciate at a slower rate than caravans or cars.
Benefits of buying a used motorhome
While the allure of a brand-new motorhome is special, the value and practicality of used motorhomes can be equally compelling.
When you're looking at used motorhomes for sale in NZ, you'll find they are generally more affordable than their brand-new counterparts. This affordability means you can either opt for a higher-end model within the same budget.
Another advantage is that used motorhomes often come with a track record of performance and reliability. By researching the motorhome's history and maintenance records, you can make an informed decision and one that has been well-maintained and has a proven track record.
If you're considering a used motorhome, it's worth going through a trusted dealership such as RV Super Centre. Because we believe in the quality of our vehicles, we provide a 12-month guarantee with any vehicle purchased through one of our stores.
What features suit you?
When you're on the hunt for motorhomes for sale, it's essential to consider what features will best suit your needs. Here are a couple of key considerations to factor in.
How much space do you want?
One of the first things to consider when looking at motorhomes for sale is the amount of space you'll need. Whether you're buying a motorhome for solo adventures or planning to travel with a larger group, the number of berths and seating capacity are crucial factors. Think about how many people will be joining you on your motorhome adventures and choose a model that can accommodate everyone comfortably.
Think about layout
Layout is a key factor when it comes to choosing the right motorhome for you. Different floor plans offer various benefits, so take the time to evaluate which one suits your preferences best. Consider factors like separate sleeping areas, convertible furniture, and dining arrangements.
The overall flow of the living space is also crucial, especially if you're planning to spend extended periods in your motorhome. Do you prefer an open layout that encourages social interaction, or are more private sleeping quarters important to you? These considerations will help guide you in buying a motorhome that truly feels like a home away from home.
Storage solutions
Storage is often an overlooked aspect when people are looking at motorhomes for sale. Think about the amount of storage space you'll need for clothes, camping equipment, supplies, and personal belongings. Assess the available storage options – both inside and outside. Features like overhead cabinets, wardrobes, under-bed storage, and exterior compartments can be game-changers.
Considerations when buying your first motorhome
Buying your first motorhome is exciting, but it also comes with its own set of considerations. Here are a few key factors to keep in mind.
Your budget
When you're exploring motorhomes for sale, your budget will be one of the most significant factors influencing your choice. It's a balancing act between what you're willing to spend and what you hope to get out of your motorhome lifestyle. If you're on a limited budget but are willing to forgo some home comforts, RV Super Centre offers a range of affordable used motorhomes. Conversely, if you're looking to make a more substantial investment, buying a new motorhome with all the bells and whistles might be the way to go.
How long you plan to travel for
If you're planning to travel only on occasional weekends away, a smaller motorhome with less storage might be all you need. You may also not require a motorhome with a larger battery or generator, as you won't be off mains power for extended periods. However, if you're looking to escape for weeks at a time, investing in a more comfortable motorhome with additional amenities can make your motorhome lifestyle more self-sustaining and enjoyable.
How comfortable you want to travel
Comfort is another key factor when it comes to the motorhome lifestyle. Some people prefer a more minimalist approach, seeing it as an opportunity to disconnect and live simply while they're away. On the other hand, if you value comfort and convenience, there are plenty of luxurious options available that can make your travels feel like a home away from home.

When you plan to travel
The season in which you plan to use your motorhome can greatly influence your buying decision. Some people use their motorhomes primarily for summer adventures, while others are keen on winter getaways, perhaps to hit the ski slopes. If you're in the latter camp, you'll want a motorhome that's well-insulated and offers heating options to cope with New Zealand's varied road conditions and colder climates. Conversely, if you're a summer traveller, features like a good awning set-up can be invaluable for staying cool in the shade.
The areas you plan to travel to
The destinations you have in mind can greatly influence the type of motorhome you'll want to consider. If your travels are mainly focused on holiday parks, you might not need a motorhome with large water or waste tank capacity. On the flip side, if you're planning to venture off the grid and enjoy the freedom camping lifestyle, you'll want to think about what you'll need to be self-sustaining for extended periods. In this case, features like solar panels or a generator can be invaluable.
More guidance on how to choose a motorhome
If you're still feeling a bit overwhelmed with all the options and considerations for buying a motorhome, don't worry – you're not alone! The RV Super Centre team is always on hand to provide expert advice tailored to your motorhome lifestyle needs.
A good option for those who are considering buying their first motorhome is to take advantage of RV Super Centre's try before you buy. RV Super Centre is part of thl who own and operate the popular maui, Britz, Apollo, and Mighty motorhome rentals across New Zealand. Rent from thl and if you buy a motorhome within three months of your hire, we'll give you up to $1500 worth of vehicle charges back (T&Cs apply).
Ready to buy an RV?
We hope our guide to buying a motorhome has given you some helpful insights into what to look for and what options might be best for you. Get started by checking out our range of motorhomes for sale and find out more about our worry-free process with the RV Super Centre guarantee.
---
Leave a comment