Everything You Need For A Comfortable Winter Campervan Holiday
Author: Your RV Good Guide Date Posted:22 April 2022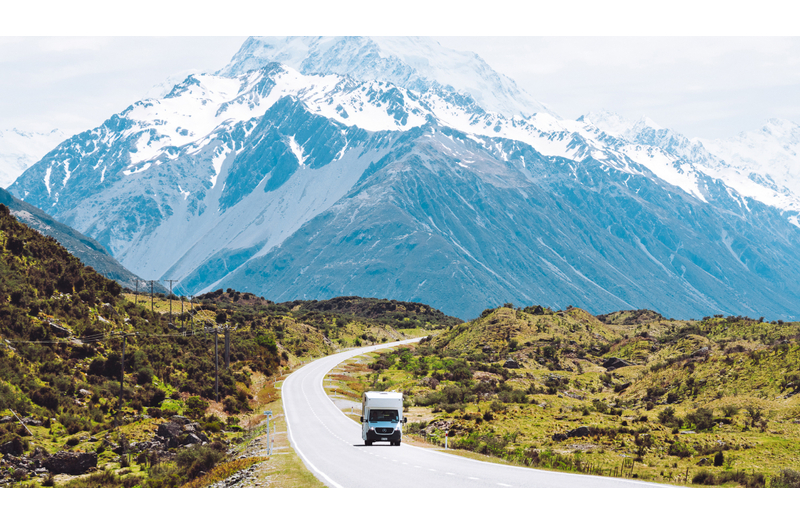 With fewer people on the road, lower costs, and breathtaking scenery, winter can be a great time to hit the road and enjoy a New Zealand campervan holiday.
Keeping comfortable and warm as you travel makes all the difference though, so we've put together a list of handy tips and accessories to help make your winter motorhome experience warm and cosy.
What to expect from a New Zealand winter
The coldest months in New Zealand are June, July, and August, with daily high temperatures ranging from around 12-16 degrees in the North Island, and 7-12 degrees in the South Island.
New Zealand winters usually have a fair amount of rain and bad weather, so it's good to keep an eye on the weather forecast and be prepared to drive to the conditions.
The great thing about winter in New Zealand is that many of our mountains get good coverings of snow. This makes alpine destinations popular with skiers, snowboarders, and families who just want to experience some winter fun. Winter also tends to bring with it clearer skies at night, perfect for those who love stargazing!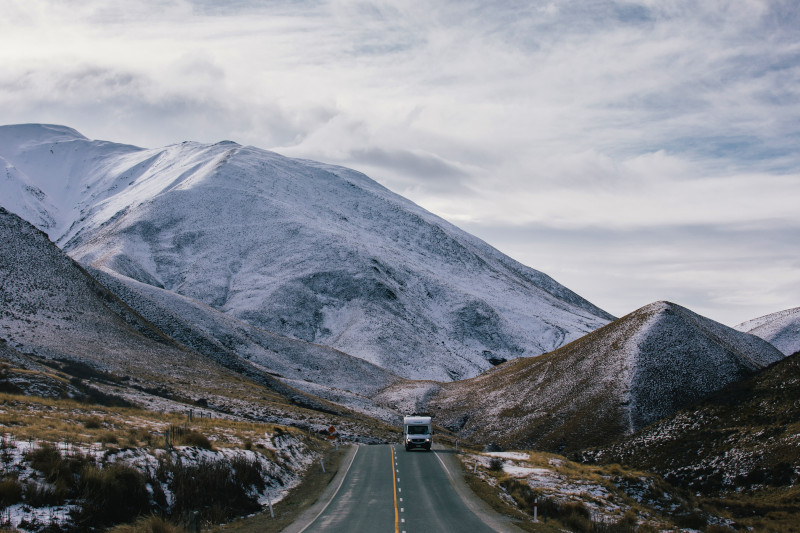 Can you sleep in a campervan in winter?
Yes, you can sleep in a campervan in winter - you just need the right preparation and gear to keep yourself warm and your vehicle safe and protected from the elements.
Powered sites at campgrounds or holiday parks are preferable in winter as you can use more power to keep yourself and your travel companions warm and dry.
If you'd prefer to try some of New Zealand's excellent freedom camping sites, it's worth noting that you can only park up and sleep at designated sites. If you park overnight in the wrong spot, you could risk a fine of up to $200.
To find sites that allow freedom camping, check on the local council website, look for signage, use the thl Roadtrip app, or visit the DOC website.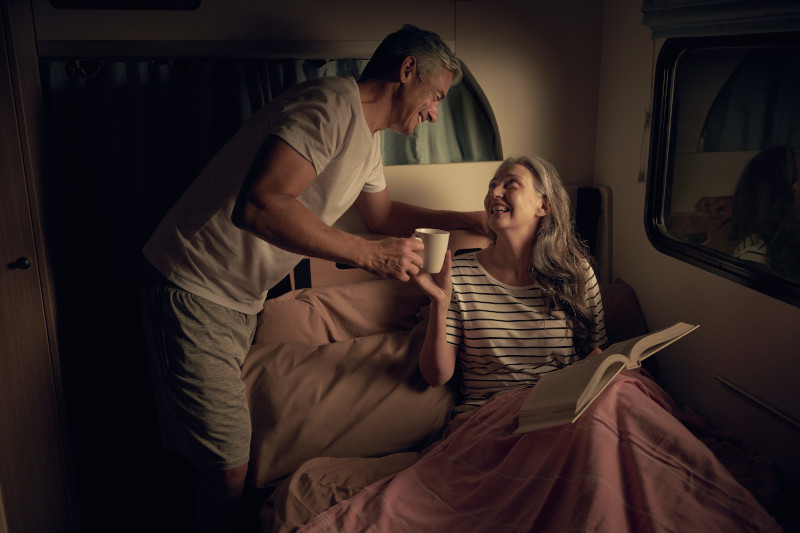 How to keep your campervan warm in winter
Just like our homes, campervans have insulation in the walls to help keep in the warmth over winter. Double-glazed windows also help keep the interior cosy. Your local RV Super Centre can help with installation if needed.
Other good tips for keeping warm in your campervan as you travel include:
wearing layers and a warm beanie
eating and drinking warm foods like soup or mulled wine
heavy duvets or sleeping bags
hot water bottles.
You can also consider heating options and other warming accessories that we're about to cover.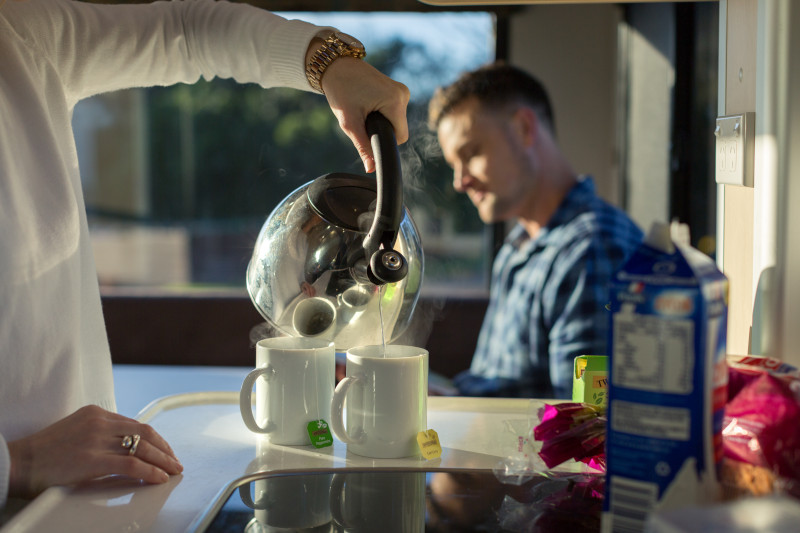 Everything you need for a winter holiday
Here are some must-have motorhome accessories to help keep you cosy and comfortable as you travel around New Zealand's winter wonderland.
Accessories to keep you warm
There are a range of heating items available to help make your campervan a cosy cocoon as the temperature drops. Keeping your vehicle warm doesn't have to cost the earth or mean you need to sacrifice loads of room. Having a few small, well-chosen accessories can make all the difference.
Gas heaters
Winter travel is a whole lot more enjoyable with a gas heater to keep you warm and toasty. Note, it's important to have this installed by a qualified professional – it's not something you can do yourself. Contact the experts at RV Super Centre to get the job done safely.
Diesel heaters
Diesel heaters draw fuel from your campervan's existing tank to heat your interior. They're safe, quiet and compact, and economical to run. Diesel heaters can be fitted by a tradesperson or DIY and don't require an installation certificate.
Kettles
From hot chocolates and coffees to filling up your water bottle, the humble kettle is a must-have for winter campervan travel. Choose from a plug-in 12V kettle or a campfire version that sits on your gas hob.
Thermal drinkware
There's nothing quite like a good hot drink to warm you up from the inside out. And to help keep your favourite beverage warmer for longer, try using thermal drinkware. Because they're cool to hold and come with a lid, you can sip away while you're driving or walking too.
Portable firepit
There's nothing like roasting marshmallows and warming your hands over an open fire, and with a portable firepit you can do exactly that – even in winter. These clever winter warmers are made from steel so you just pop in your fuel, light it up, and you've got a safe, well-contained fire. Choose a firepit that folds up for easy storage.
Seat covers
For the ultimate in driving luxury and comfort, pop some seat covers in the cab. A good quality sheepskin seat cover will not only keep you warm in winter, but they're also great at cooling down burning hot leather seats in summer too. They're easy to fit, and they're back in fashion with a range of colours now available.
Steering wheel covers
Match your sheepskin seat cover with a stylish steering wheel cover that will keep your hands warm while you drive. They're also great protection from the sun during summer.
Sheepskin bedroll
Add a touch of luxurious warmth to your campervan bed with a sheepskin bedroll. Made of New Zealand wool, these comfy bedrolls help keep you extra warm and comfortable at night.
Lighting accessories for long nights
Along with cooler days, winter also brings longer darker nights. Here are a few items that will make it easier to see what you're doing as the light begins to fade.
Torch
A rechargeable torch is a vital campervan accessory over winter, especially if you're freedom camping away from streetlights, or you need that extra light to navigate a late-night bathroom trip without waking up your travel companions. Some torches can also be used as a power bank to charge your phone – very handy!
Beanie head torch
Keep your head warm and your hands-free as you light the way with a handy beanie head torch. Choose a beanie that has the option to remove the light for washing the beanie, and save on batteries with a rechargeable light that can be plugged into your USB port.
Lantern
A lantern is an essential campervan accessory for your winter holiday. LED lanterns are a safe and easy to use option. Look for features such as a dimmer switch so you can adjust the light to suit, a rechargeable battery, and a decent length of light time.
Light bar
A rechargeable light bar adds much needed extra light in those parts of your motorhome or caravan that can be a bit dim. Light bars are portable so you can move it around or mount it using the magnetic base, suction cups, or clips. Look for features such as varying brightness levels and USB charging.
Lantern with bug zapper
Here in New Zealand, winter is not much of a deterrent to annoying bugs that want to buzz in on your holiday! The solution is a rechargeable LED lantern with bug zapper. This handy device provides an optional long-lasting source of light and zaps flying insects that are attracted to the unobtrusive UV light.
Magnet clip light
Need some extra light by your campervan door, in the bathroom, or next to the bed? A magnet clip light is a great solution. This clever light is ideal for small spaces and includes a rechargeable LED light, a magnet clip, and four levels of brightness.
Reading light
Darker winter evenings offer the perfect excuse to cosy up inside with your favourite book. Shed a little extra light on the pages with a 12V reading light. Look for features such as a flexible neck and night-time red LEDs.
Strip light
Light the way along flooring or around cupboards and benches with LED strip lights. Sold by the metre, strip lighting can also be outdoors to help guide the way down steps or to light up storage lockers.
Spot light
For extra light when you need it, it's worth having a good quality spot light on board. These handy lights are great for adding light inside your campervan at night for reading or cooking. It's worth getting a good quality brand that is rechargeable and has a magnetic base.
Head torch
Whether you're exploring caves, hiking in the bush, or finding your way to the bathroom, a rechargeable head torch makes it much easier. These handy devices sit conveniently on your head using an adjustable head strap, leaving your hands free. And because they're rechargeable, you don't have to worry about carrying extra batteries.
Work light
Having a good work light onboard when you're travelling by campervan over winter can be a godsend if you break down or need to stop at night where there's no street lighting. Opt for a rechargeable brand that has a good operating time and magnets for attaching to the campervan if needed.
Accessories for wet winter weather
Depending on where you travel in New Zealand, winter can bring chilly, wet weather with it. This can mean rain, wind and sometimes even snow. Don't let that put you off though! With the right accessories, you can stay dry and comfortable as you travel by campervan, whatever the weather.
Generator
Having a generator on board means you've got the assurance of extra power if and when you need it. Generators produce both 240V AC and 12V DC power and are a good option for appliances that demand a lot of energy, or if you're travelling off-grid. Choose from recoil and electric-start generators with a range of 2000w – 8000w.
Water proofer
When the rain arrives, it often does so quickly – which can mean your gear gets soaked! Help protect your awning, outdoor furniture fabric, motorhome or caravan cover, and jackets with a spray-on water proofer.
Anti-slip mat
Don't risk slipping on wet steps as you travel over winter. It's worth investing in an anti-slip mat to provide extra protection and keep you safe when it's wet outside.
Awning tie down kit
Many RV travellers have sadly had their awnings ripped or damaged in an unexpected turn of the weather. So, if you've got an awning on your RV, it's a good idea to have an awning tie down kit to keep it secure.
TV
When the weather takes a turn for the worst, it's great to be able to get cosy inside your campervan and switch on the TV to watch a movie or your favourite show. Look for a brand that offers 12V LED technology and smart functions for optimal viewing pleasure.
Marine satellite antenna
To make the most of your TV, it's worth investing in a marine satellite antenna. This great device means you can enjoy constant entertainment, even when you're exploring the more rugged, off-the-beaten-track areas of New Zealand.
Multi media system
You won't mind if it's raining outside if you've got a multi media system onboard. This clever technology lets you customise your audio entertainment for premium sound quality. Opt for a compact system that includes features such as Wi-Fi audio streaming, digital signal processing (DPS) for better sound, and enhanced connectivity options.
Planning a campervan winter holiday?
RV Super Centre has everything you need to make the most of the snow, scenery, and lower costs of travelling over the cooler months. Stock up today and start planning an unforgettable, cosy winter campervan holiday.
---
Leave a comment