How To Maximise Motorhome Storage Space
Author: Your RV Good Guide Date Posted: 28 June 2023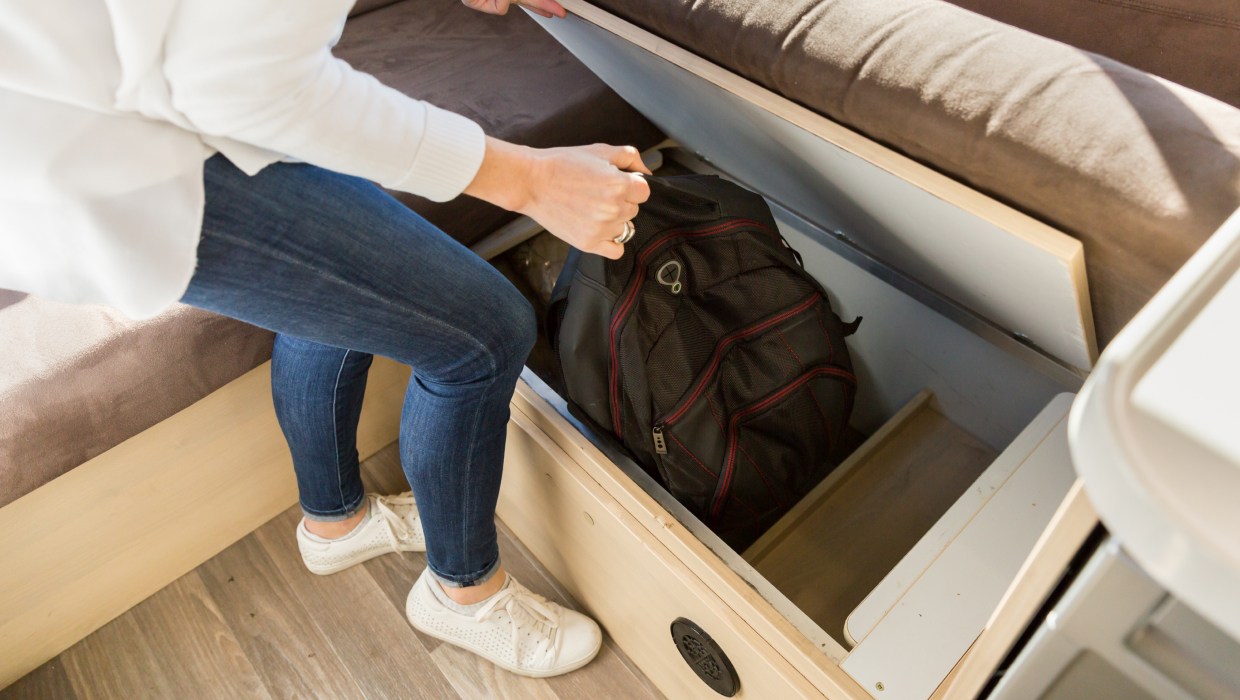 Sick of struggling to find space in your motorhome? Although most motorhomes have an array of cupboards, pantries, and external storage, it's very easy to quickly fill them to overflowing. Instead of relaxing and enjoying leisure time, you end up spending time constantly looking for items, unpacking and repacking cupboards, and trying to keep everything tidy. In this helpful guide, we share some simple tips that will help keep your campervan organised, clean, and with everything in its place.
Why it's important to maximise space in and outside of your motorhome
One of the benefits of travelling by motorhome is being able to take your home comforts with you. Favourite blankets, kids' toys, sports gear, and appliances can all help create a comfortable, enjoyable holiday. But it's easy to have too much of a good thing. This can make you feel disorganised and constantly battling to keep the motorhome tidy.
Additionally, when your motorhome is loaded to the hilt with gear, it can be easily weighed down. It's important to understand that your motorhome has a set payload. This is the maximum amount of weight it can carry including people, food, water tanks, and other gear. If you go over your payload, you could be fined. Not only that, but if your motorhome is overweight, you could cause an accident. And if your payload is exceeded, your insurance may also be declined.
Maximising motorhome kitchen space
Here are some tips to help you make the most of your motorhome kitchen space.
Keep things simple
Tasty, healthy, filling meals needn't involve a long list of ingredients. In fact, one of the best ingredients to add flavour to holiday food is fresh air – simply sitting outside seems to dial up the yum factor!
Create a list of meals that use minimal ingredients and can be prepared simply. 'One-pot wonders' such as risotto, stir-fries, and casseroles are a good option, especially in winter. They're a great way to use up leftovers too. The Kiwi Camping Collapsible Turbo Pot is ideal for this purpose. The heat-resistant pot can be used on gas and electric cooktops. When you're finished, it folds down to a fraction of its size so you can store it away easily.
During summer, cooking outside on a portable camper barbecue is ideal. Set up an outdoor table and chairs, pop some meat on the barbie, add a simple salad, and you've got a great dinner using minimal cooking equipment and ingredients.
Use small appliances
In the majority of motorhomes, the kitchen is a compact area with limited bench space. For this reason, most appliances designed for use in motorhomes are more compact.
If you're fitting out your own motorhome, consider using 'motorhome friendly' appliances, rather than those designed for household use. RV Super Centre has a quality range of 12V fridges, range hoods, microwaves, hobs, ovens, and grills. It's a good idea to take careful measurements of your kitchen space before buying. The team at RV Super Centre can also help install your appliances or make modifications if needed.
If you're packing other small appliances into your motorhome, first consider the space it needs – there may be a smaller option. For example, if you can't get going in the morning without a good coffee, bring along a plunger rather than your benchtop coffee machine. Another great space saver is a collapsible kettle which can be collapsed and put away to free up bench space.
Utilise wall space
If you're out of room in your cabinets and drawers, think about wall space. Most motorhome cutlery and cookware are lightweight and hangable for this very reason. The adjustable-length Tatkraft Chrome Suction Towel Rail includes six hooks and can hold up to 5 kg.
Make the most of any pantries or drawers
Before you hit the road, it's worth taking the time to organise your pantry and cupboards. Simple, affordable motorhome accessories such as stackable mug holders, plate stackers and baskets are ideal for maximising storage space and making everything more accessible.
To help free up more bench space, kit out your camper with a collapsible bowl and colander and the RVSC collapsible chopping board.
Maximising space in your motorhome bathroom
Running out of room in the bathroom? Here are some tips to help.
Buy storage containers
Having a bathroom sink covered in toothbrushes, hairspray, soaps, and other toiletries can make the smallest room in the camper feel even smaller. Invest in some baskets or stow-all pockets to keep everything tidy and out of the way.
If you want to do away with shampoo, conditioner, and liquid soap bottles, a Better Living Aviva Corner Trio Dispenser is ideal. Just attach it to your bathroom wall and fill up each section. It's also a great way to reduce the amount of plastic bottles you use.
Another handy storage item is the Thule Toiletry Kit. This kit can be hooked onto a door or cupboard and holds all your everyday toiletries. Your toiletries will be easy to access, and if you're staying at a campground, you can take the kit with you to the bathroom and showers.
Make use of the outdoors
If you're converting a van into a camper, you may decide that a portable toilet is a better option than a fixed one. With a portable toilet, you can move it as needed. Depending on where you're camping, you might even want to purchase a 'toilet tent' and set it up outside. Read more about how to choose a portable toilet for camping.
Another bathroom space saver is an electric camping shower. All you need is a bucket of water and your 12V cigarette socket. It's ideal for those who want to save space by forgoing a permanent shower. It's also great for those who have a bathroom but want to wash off sand and dirt before heading inside.
Modify your existing bathroom fittings
If you find your campervan bathroom isn't really suited to your needs, you might like to consider some modifications. A smaller toilet, corner sink, new cabinet, or a rollaway shower screen can all help free up more space.
Remember, the team at your local RV Super Centre can professionally modify and fit out your new bathroom gear.
Maximising space in your motorhome living area
No space to stretch out? Here are some tips for creating room to move.
Use storage wisely
Most motorhomes for sale in New Zealand have some very clever storage spaces in the living area. There's usually storage space under the lounge seats, overhead cabinets, cubbies on the walls, etc. Think about which items you use most frequently and place these in spaces that are easiest to access. You can create extra storage with stow-all pockets, cargo organisers, and wall organisers.
Mount your TV
Having your TV mounted on the wall saves precious floor or counter space. It's a lot safer too as it's secured and out of the way. RV Super Centre has a wide selection of TV brackets and can also install these if needed.
Turn the tables
Removable and fold-down dining tables are seriously good space savers. A removable table can be used for meals, then stowed away afterwards to free up space. Fold-down tables have a section on either end of the table that folds down to make the table smaller when you're not using it. You may even prefer to do away with the dining table altogether and use a foldaway camping table.
Utilising storage on the outside of your motorhome
Many motorhomes also have exterior storage lockers and other storage options. If you're looking at motorhomes for sale, the exterior storage could be a key consideration if you carry a lot of gear such as surfboards, golf clubs, or a barbecue. If you like to go cycling while you travel, it's worth having good-quality bike racks fitted. RV Super Centre stocks a wide range of bike racks and can fit them for you too. Find out more about the must-know rules for motorhome bike racks.
To make the most of your motorhome's exterior space, you may like to invest in an awning or shade. These not only help protect you from the weather but also create extra living space. Read more about the different types of campervan and caravan awnings.
Tips for packing your motorhome
Here are a few packing tips to help you make the most of your campervan space.
Minimise the space your clothes take up by rolling rather than folding. You'll be surprised at how much more space you have – and how much easier it is to see what you have.
Organise your gear by using packing cubes. These handy accessories help keep smaller items together and make them much easier to find.
Compression bags are great at helping reduce the space taken up by bulky items like winter jackets.
Write a packing list in advance so you have time to review your list and ensure you haven't overpacked or forgotten anything important.
Best motorhome options at RV Super Centre for storage
One of the best places to find a quality new, used, or ex-rental motorhome for sale is at RV Super Centre. We stock a range of campervans from 2-berth motorhomes up to 6-berth (berth = the number of sleeping spaces available).
Obviously, a 2-berth campervan is going to have less storage space than a 6-berth. A smaller campervan may be perfect for a couple with minimal gear. A family with children (and all the gear that comes with them!) are more likely to lean toward a 4- or 6-berth motorhome. Larger motorhomes are also a good option for couples who want maximum room and storage.
Let's have a look at a few popular options:
With its modern Italian design, Laika is synonymous with luxury travel. This motorhome is all about comfort and space. It includes an island double bed plus an electric drop-down which can be stowed out of the way during the day. The bathroom has a split design with the shower to the left and toilet cubicle to the right which adds to the sense of space. There's not only plenty of storage inside, but the double-access external garage will hold loads of gear.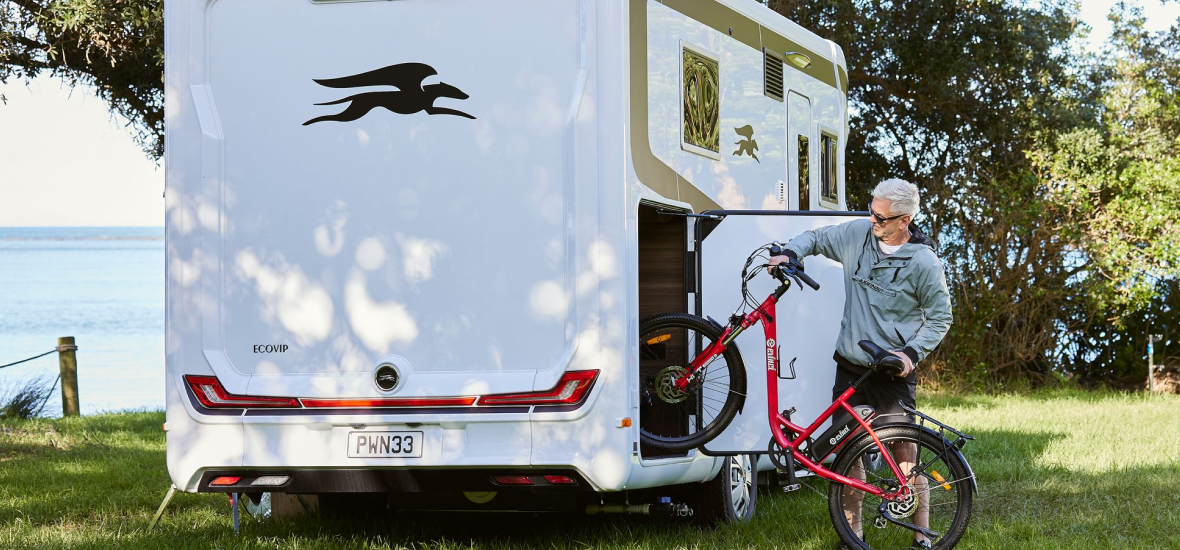 Build on a Mercedes chassis, the KEA Nomad is compact but with a surprising amount of storage space. This clever camper includes a slide-out portable barbecue, fold-down external table and all-in-one bathroom. When it's time for the bed, the dining area converts into a comfy single bed while the lounge converts into a double bed. Perfect for a couple with one child.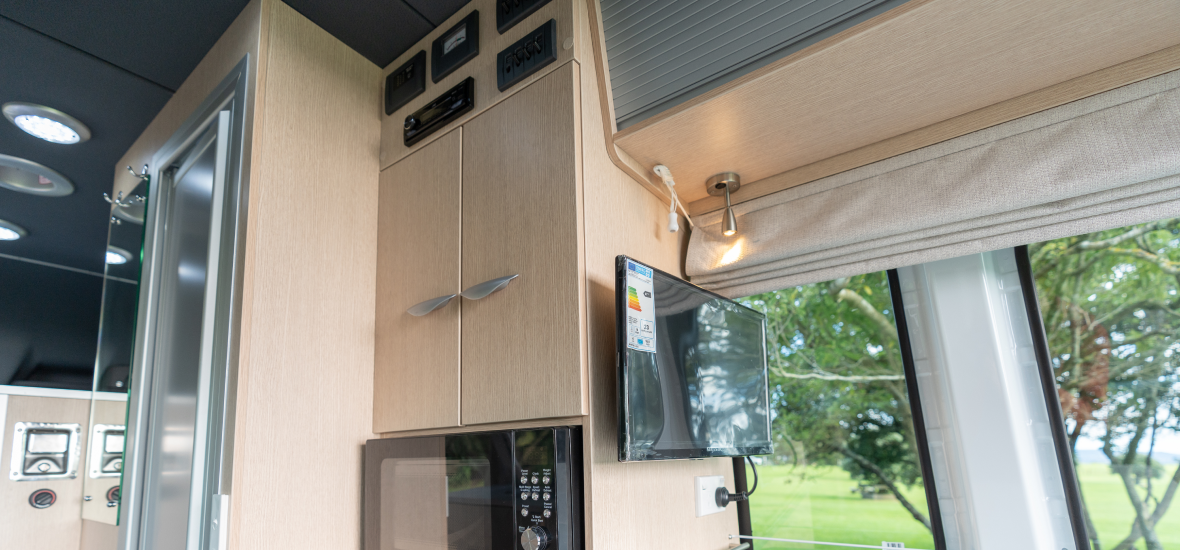 Have an idea of what you need from your new motorhome?
Keen to buy your dream motorhome? The journey of researching and looking at motorhomes for sale is an exciting one. One of the best ways to get a good feel for a potential new motorhome is with RV Super Centre's 'try before you buy' option. Simply book a rental through maui, Britz or Mighty. Then, if you decide to buy a new or ex-rental vehicle within three months of your rental hire, you'll receive up to $1500 worth of rental vehicle charges back (terms and conditions apply).
Got questions or need more advice about which is the best motorhome for you? The friendly team at your local RV Super Centre is here to help.