Top 11 accessories for first-time motorhome owners
Author: Your RV Good Guide Date Posted: 30 October 2023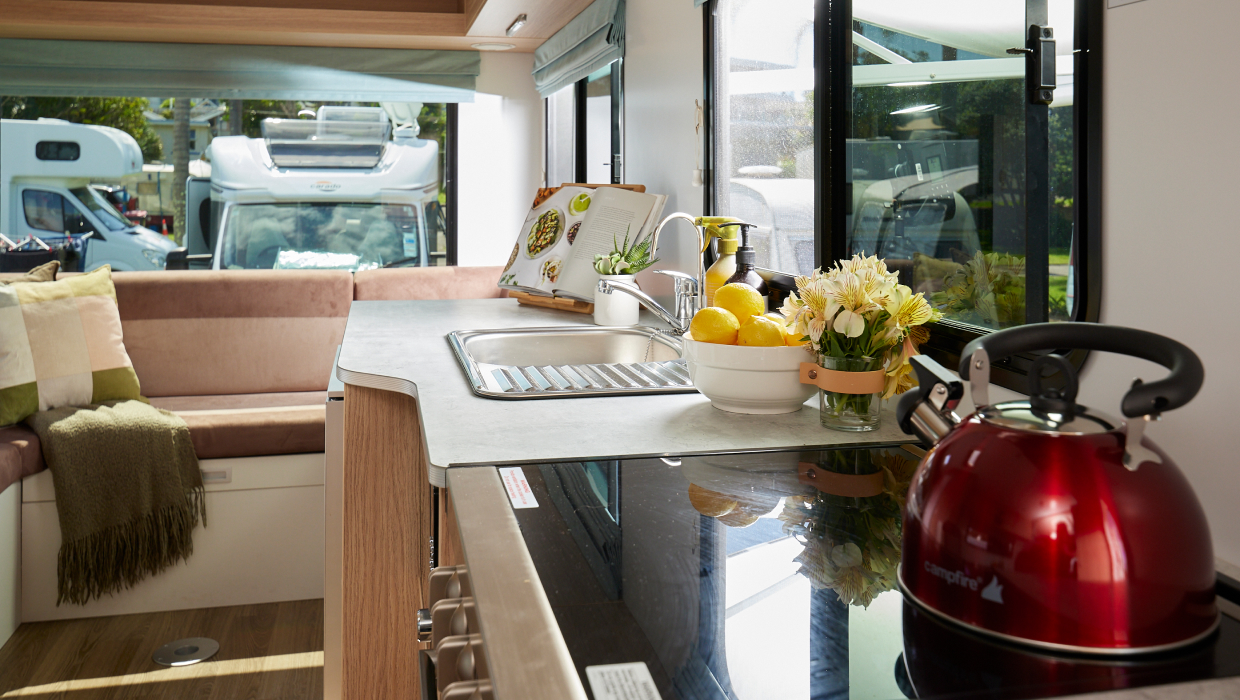 Exploring New Zealand by motorhome or campervan opens up a whole new world of freedom and adventure. With your own onboard kitchen, cosy bed, and comforts of home, there really is no better way to travel.
As exciting as the open road is, ensuring you're well-prepared with a few must-have motorhome accessories can make all the difference to your travels. Whether you're into long weekends away or extended road trips, these must-have RV accessories will help make them more comfortable and enjoyable. Let's take a closer look:
1. Solar panels
When you're travelling away from regular power sources, a solar set-up can be a game-changer. Enjoy the freedom of going off-grid, or just the peace of mind in knowing you've got extra power when needed. Solar power is also ideal for keeping your 12V battery charged while you're driving, ensuring you've always got power when you need it.
RV Super Centre has a range of solar options including:
Portable panels: Perfect if you don't want to worry about installation. Portable panels can be moved around to follow the sun, plus you can take them from your RV to your boat, or anywhere you need the extra backup of solar power.
Fixed panels: Our quality AA Solar, Enerdrive, SR Mecatronic, and RVSC fixed panels, ranging from 55W to 455W, are designed with the latest technology to convert the sun's free energy into free power.
If you need help choosing the right solar power set-up for your motorhome or caravan, or would like to arrange an installation, contact the friendly team at your local RV Super Centre.
2. Kettle

From boiling water for your morning brew to heating up water for a tasty pasta dish, you don't want to be without a kettle in your RV kitchen. While 12v kettles are available, these can often take a long time to boil. A good alternative option to a 12v kettle is the Kiwi Camping Collapsible Kettle. Perfect for use on electric or gas stoves, this lightweight kettle folds down when you're not using it to help save on space.
3. Awning
Ask an experienced motorhomer about their favourite RV accessory, and they're likely to suggest a good awning. And it's easy to see why. Offering must-have shade and shelter from the weather, as well as an extra outdoor living space, an awning can transform your holiday experience. RV Super Centre has several awning types available to choose from including:
Wall-mounted motorised: These awnings include a 12V motor for fast and easy set-up with only one person.
Inflatable: Designed to offer an additional room or storage space, inflatable awnings feature tough double-coated polyester fabric and windows.
Bag awnings: This type of awning is temporarily attached to your caravan or campervan in a similar way to an inflatable awning.
READ MORE:
4. Portable clothes airer
Getting laundry done doesn't have to be a mission when you travel by campervan. Many RV travellers handwash small items and hang them to dry in the sun. Although, finding a spot to hang them out in the open can sometimes be a challenge. A portable clothes airer offers a straightforward solution. Lightweight and easy to set up, it allows you to dry clothes, towels, and swimwear wherever you are. Plus, its collapsible design means it won't take up much storage space when not in use. And as an added benefit, you might find this motorhome accessory comes in handy at home too.
5. Bike rack

Keen to hit some of the awesome cycling tracks and trails on your New Zealand road trip? You'll definitely want to have a good-quality bike rack installed. When your bikes are hitched up on your racks, you can trust they're safe and sound and ready to hit the road when you are.
RV Super Centre has a wide range of bike racks and accessories including the new Thule Caravan Bike Racks and the popular Fiamma range. Check out our new, easy-to-fit Quick Fit Bike Racks which make it super easy to transport your bikes, including eBikes.
To make it even easier to load and unload your bike, our Electric Bike Carriers do all the hard work for you with an integrated 12V motor that electrically lifts and lowers your bike.
Whether you're travelling by caravan, motorhome, or campervan, we have bike racks and rails to fit every type of RV. And if you're not sure which bike rack is right for you, the friendly team at RV Super Centre are more than happy to help talk you through the best options. We can also arrange professional installation so that you can trust your bike racks are secure and safe.
READ MORE:
6. Portable fridge / freezer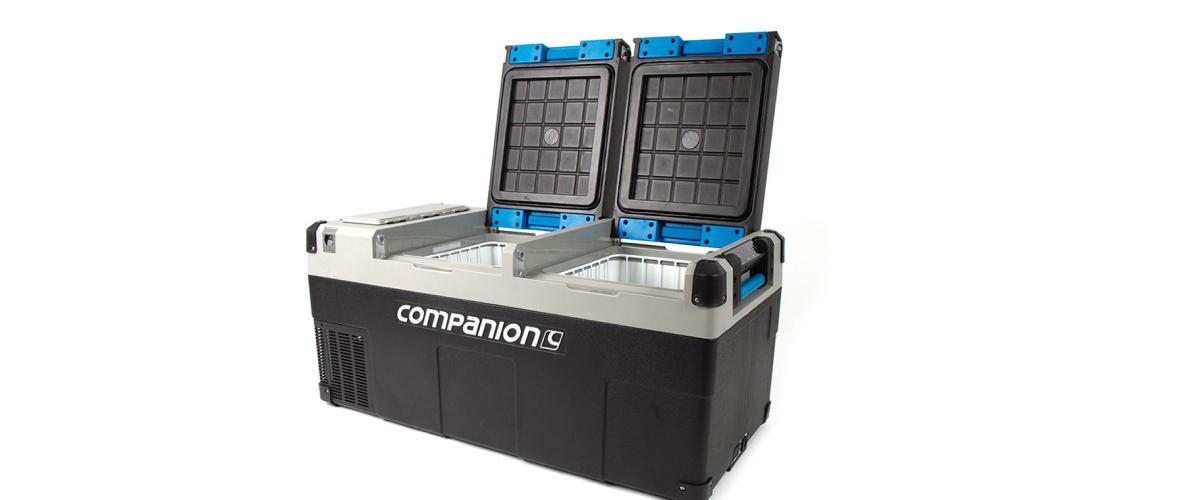 Having a portable fridge in your motorhome can be a game-changer. On those hot summer days when you're craving a cold drink or need to keep perishables fresh outdoors, these handy coolers come to the rescue! They're perfect for picnics, beach trips, or even just an outdoor barbecue right next to your motorhome.
Some brands, such as the Companion Lithium Rechargeable Dual Zone Fridge/Freezer have up to 24-hours of battery life from a single charge. Ideal for camping off-the-grid!
7. Mosquito zapper
The humble mosquito zapper is an unsung hero among motorhome accessories. When you're enjoying an alfresco dinner or trying to sleep, one tiny buzz can quickly disrupt your peace. We recommend hanging a Techlight Bug Zapper nearby. This handy device attracts bugs into the lantern with a UV-style light before killing them on a high-voltage grid. It's rechargeable for repeated use and can be used with or without the LED light.
8. Head torch
A head torch is one of those simple yet indispensable accessories for motorhomers. Unlike a handheld flashlight, it allows you to operate freely, whether you're cooking, reading, or doing quick repairs. It's especially crucial for tasks that require both hands or when navigating tricky terrains in the dark. Plus, in case of emergencies, a reliable source of light is vital.
Another great option, especially in winter is a beanie head torch. Perfect for keeping your head warm and your hands-free as you light the way.
9. Smart TV
In today's digital age, a smart TV ranks pretty highly on the must-have list for those travelling by motorhome. While the beauty of motorhoming lies in the adventure and nature, there are moments when you crave the comforts and entertainment of home. From catching up on your favourite series to staying informed with news updates, a smart TV keeps you connected while you travel. It's perfect for those rainy days, relaxed evenings, or just winding down after a day of exploration.
RV Super Centre has a full range of 12-volt TVs for your motorhome or caravan. Choose from quality brands such as Avtex, Majestic, RV Media, and RSE.
READ MORE: Everything you need to know about 12 volt TVs
10. Collapsible cookware

Pots and pans can take up valuable space, and in a motorhome, every inch counts. But there is a great alternative to bulky, heavy cookware. For the ultimate in space-saving kitchenware, you can't go past collapsible items. From kettles and buckets to bowls and colanders, collapsible products are ideal for motorhomes.
A popular item is the Kiwi Camping Collapsible Turbo Pot – a heat-resistant pot that can be used on gas and electric cooktops. When you're finished, it folds down to a fraction of its size so you can store it away easily.
11. Microwave
Travelling by motorhome is all about convenience and taking it easy, and that's precisely what a microwave offers. When you're on a New Zealand road trip, there's no need to compromise on the quick and efficient preparation of meals. Whether you're reheating last night's campfire leftovers or making a speedy breakfast, a microwave helps you get fuelled up without taking up precious time. RV Super Centre's compact and energy-efficient microwaves are especially suited to motorhomes. They fit seamlessly into your space without consuming excess power.
Time to go shopping?
Exploring New Zealand by motorhome is more than just a holiday; it's an experience filled with discoveries, comfort, and memorable moments. And if you're just starting out on your RV adventures, these must-have accessories can take the experience to a whole new level. But these great items are just the tip of the iceberg. At RV Super Centre, we're experts in making your motorhome travel comfortable, efficient, and enjoyable. From 12V fridges and batteries to camping chairs and travel cups, if it goes in a motorhome, chances are we stock it!
Kick off your adventures with the best gear in hand. Explore the range of motorhome accessories and RV supplies now at RV Super Centre.
Looking for more helpful motorhome inspiration? Check out these handy guides:
---
Leave a comment