Everything You Need To Know About 12 Volt TVs
Author: Your RV Good Guide Date Posted: 20 May 2023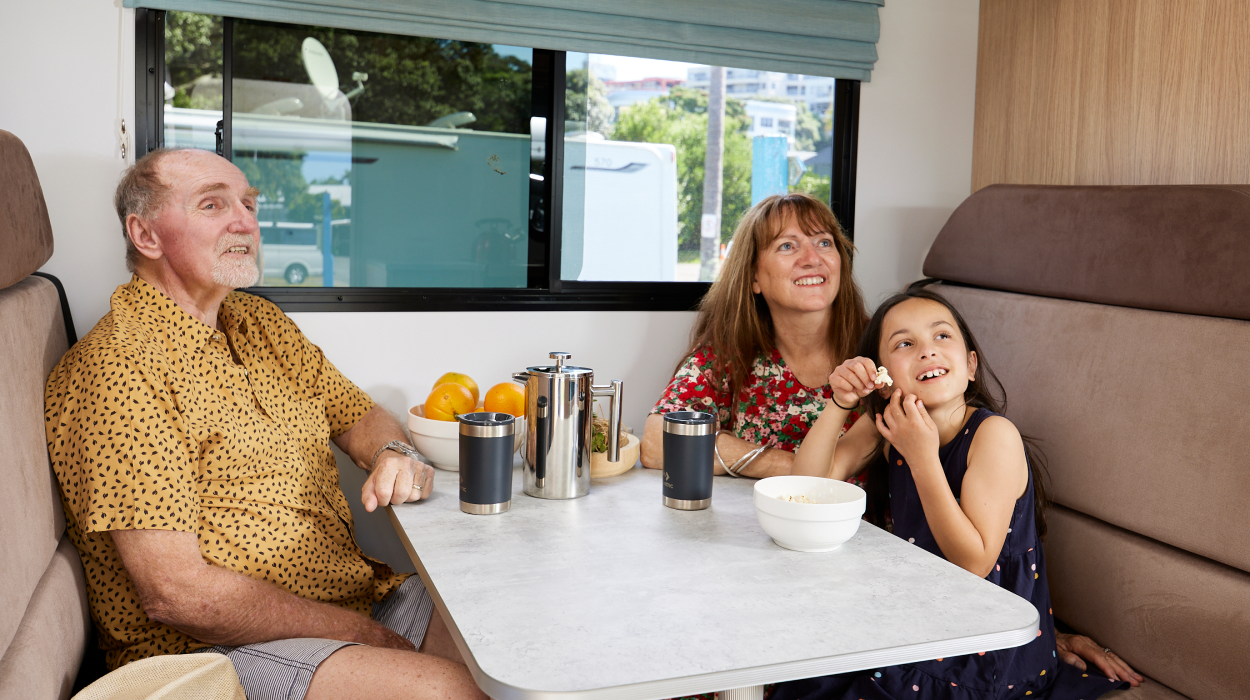 One of the great benefits of travelling by motorhome is having your home comforts onboard. And for many of us, a 12-volt TV is high up on the list. It means you can keep up with your favourite shows as you travel. Plus, there's something just a little luxurious about watching a movie in your camper when it's raining outside.
In this helpful guide, we share everything you need to know about 12-volt TVs, including:
What is a 12-volt TV?
Essentially, a 12-volt TV works just like your household TV. The only difference is how it gets power. A regular household TV is designed to be plugged into your 240V mains power point. A 12-volt TV gets its power from your RV's 12-volt battery (sometimes called a 'house battery').
What makes a 12-volt TV different to a regular TV?
There are a few key differences that make 12-volt TVs particularly suited to caravan and motorhome use. These include:
Power draw
The main difference between a 12-volt TV and a regular household TV is the power draw. Your home TV requires a lot of power to operate. If it was plugged into your RV's power point, it would drain the battery quickly and would cause damage. However, 12-volt TVs for caravans and motorhomes are a lot more energy efficient. They can also cope with the voltage fluctuations of various batteries, chargers, and solar panels.
Size
Given the space restraints in a motorhome or caravan, 12-volt TVs are generally smaller than those designed for home use. However, when you're watching a TV in a motorhome, you tend to be closer to the screen, so the smaller size is not an issue.
Durability
Another important difference between a portable TV designed for an RV is that they are more durable. Motorhome TVs are made to withstand the movement, vibrations, and temperature fluctuations of travelling on the road.
Anti-glare technology
Another feature of 12-volt TVs for motorhomes is the anti-glare screen. Reflections from surroundings and glare from sunlight and lighting can be problematic in a motorhome. Anti-glare protection helps to diffuse this, making watching TV in your RV much more enjoyable.
Lightweight
TVs designed for use in a caravan or motorhome are generally much lighter compared to home TVs. This means less stress on your RV's walls or shelves. And because its lighter, a 12-volt TV takes up less payload.
Can you use a normal TV in an RV?
It is possible to use a household TV in your RV. However, you'll need to power it through an inverter which converts DC power back into mains AC power. Bear in mind that your household TV is more fragile than one designed for an RV. It's also likely to be heavier so take care with installation and ensure it is well-supported.
Types of 12 volt TVs
Thanks to today's fast-moving technology, there are now lots of options when it comes to 12-volt TVs. These include:
Just like in most households, smart TVs lead the way in must-have entertainment technology. Smart TVs allow you to use streaming services such as Netflix, Neon, basic Freeview etc. You can also watch videos on YouTube or play music on Spotify. All you need is an internet connection and you're good to go.
Satellite TVs use a dish to deliver a signal to your TV.
Offering the best of both worlds, smart satellite hybrid TVs include smart functionality plus a built-in satellite decoder.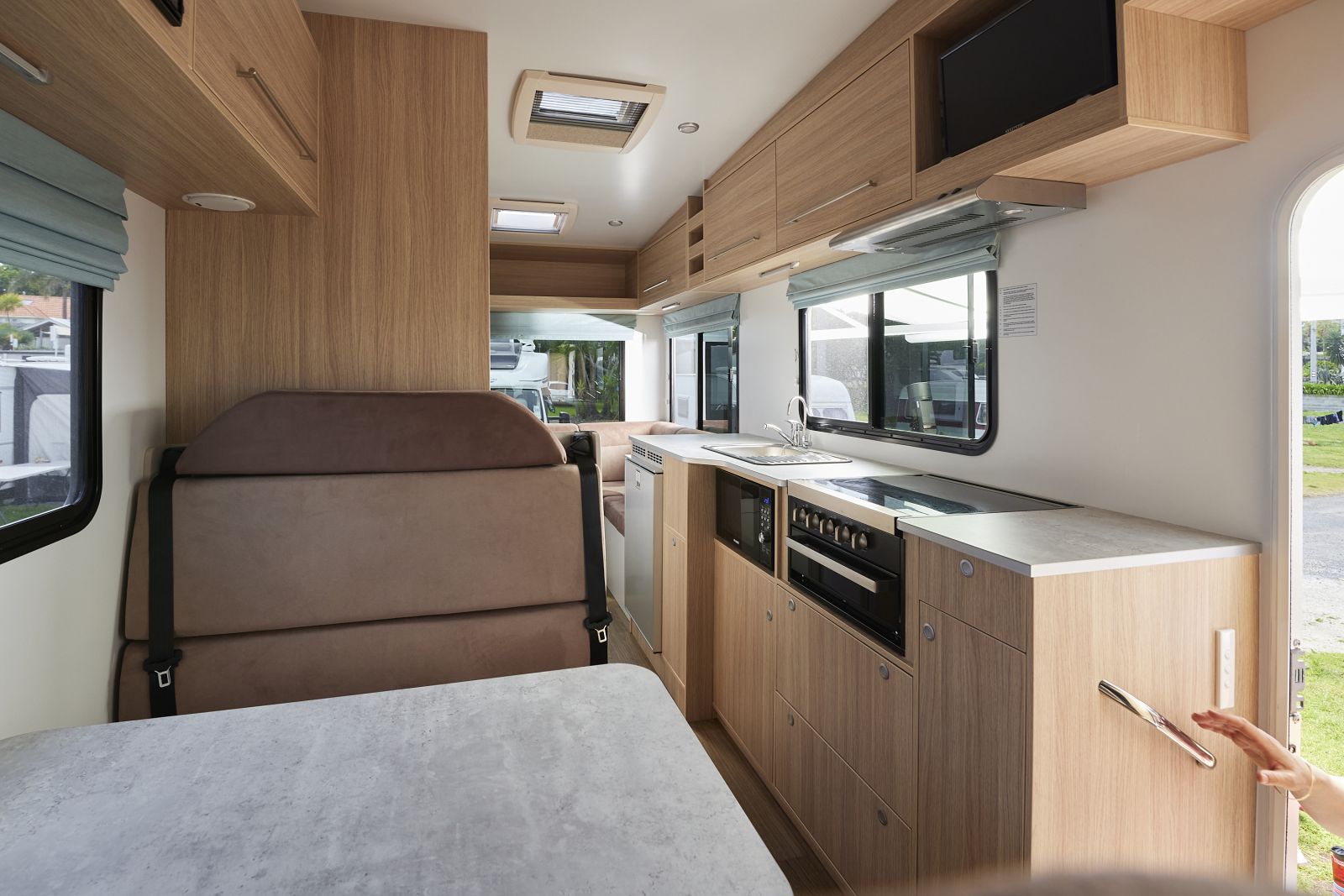 Considerations when choosing a 12-volt TV
With so many options of 12-volt TVs now available, it can be hard to know what to look for. Here are some of the key considerations worth comparing when you're researching the best 12-volt TV for your RV:
Sound quality
Sound is the most power-hungry function of a TV. That can mean, given the power draw constraints, not all 12-volt TVs have great sound quality.
The quality of sound is generally reflected in the price. It's worth bearing in mind that cheaper brands don't offer the best sound. Headphones can be a good option to help improve sound quality. Soundbars, such as the Avtex Bluetooth sound bar can also make a big difference to the sound quality.
Power draw
The more power your 12-volt TV requires, the faster it can drain your battery. If you plan to travel for long periods of time without recharging your battery or plugging into shore power, you may want to consider a TV that doesn't suck up as much power.
Picture quality
Just as with household TVs, the picture quality of 12-volt TVs varies considerably. The quality of the picture depends on the TV's resolution. This is measured by the number of pixels that make up the picture. More pixels mean a better picture. Most modern TVs have a resolution of Ultra HD 4K (3840 x 2160 pixels) which gives an excellent level of detail. However older TVs with lower resolutions, like HD 720p and HD 1080p, will still provide a good picture.
Bluetooth
Having Bluetooth functionality on your smart TV can be very helpful to have. This means you can connect with devices such as Bluetooth headphones and soundbars.
Internet availability
Securing a good internet connection can be tricky when travelling by RV, especially when in remote areas. If you like to travel to areas where WiFi is limited, or you're not using apps on your smart TV, you may prefer a satellite TV.
Budget
Another key consideration for which 12-volt TV is best for you will be budget. There is a wide range of price points when it comes to RV TVs. Given their advanced technology, smart TVs are often more expensive, especially if they also include a satellite reader. Of the currently available brands, Majestic has a lower price point over brands like RSE and Avtex.
Space
Before you buy a new 12-volt TV for your motorhome, you'll need to think about where it will go and how much space is available. This will determine the maximum size of TV you can buy, and how you'll mount it.
RV Super Centre has a range of mounts and brackets for TVs of all sizes. These include brackets with tilt and swivel functionality, cantilever brackets with gas struts, slimline mounts, bench mounts and more.
The range of 12-volt TVs at RVSC
Looking for a good quality low-cost TV with minimal fuss, a TV with all the bells and whistles, or something in-between? RV Super Centre has a full range of 12-volt TVs for your motorhome or caravan. Choose from quality brands such as Avtex, RV Media, RSE, and Majestic. Here's a quick look at some of our popular models:
The Avtex Connected Series Smart Satellite TV (23.8", $1299) has all the latest features. It's easy to set up and use straight away. This Avtex TV comes with a built-in HD satellite decoder and one-button tuning. As an added bonus, this TV lets you watch terrestrial TV and record satellite (or vice versa) at the same time.
The Majestic Satellite TV/DVD with MMMI (19", $495) includes a built-in satellite TV tuner, DVD Player, USB for multimedia and MMMI for iOS- and Android-capable devices. This TV also includes optical audio output which is a great feature for sound bars and stereos systems such as selected Fusion Stereos. RSE Smart VA Satellite TV (22", $1330) features wireless Bluetooth technology, built-in Chromecast and voice-activated remote control. This RSE TV also includes impressively low power consumption. And with pre-loaded Freeview channels and apps including Netflix, TVNZ, and YouTube, you can plug in and start watching immediately.
If you enjoy watching DVDs on your travels, the Evolution RV Media Smart TV (32", $1099) features an inbuilt DVD player. It also includes an inbuilt web browser so you can download and watch movies online or use social media if you choose.
How to install a 12-volt TV in your motorhome
In some cases, installing a 12-volt TV is very simple, especially if you've got a bit of DIY know-how. You may just need to put up a bracket or mount, attach your TV, plug in and you're good to go. Be sure to check out the range of mounts, brackets, and TV accessories available at your local RV Super Centre.
However, if you need to have a satellite or wiring installed, it's best to leave the job to the professionals. The experts at your local RV Super Centre can get the job done quickly and professionally.
Never miss your favourite TV shows thanks to RV Super Centre
Whether you're looking for a TV for the occasional rainy day, or you're after the best 12-volt TV for extended holidays or life on the road, we can help. If you're unsure which is right for you, the friendly team at RV Super Centre can help make the process of choosing a 12-volt TV simple. We've also got a great range of TV accessories including decoders, Chromecast units, remote controls, cables, and covers. Check out the range online or in-store today.
---
Leave a comment