Satellite Vs Smart TV: Which Is Best For Your RV?
Author: Your RV Good Guide Date Posted: 21 May 2023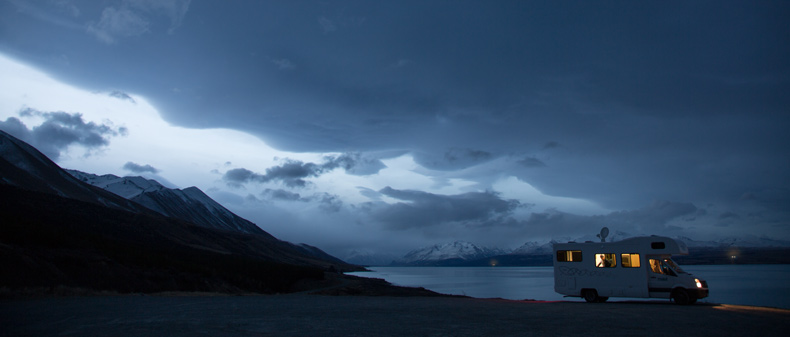 If you've been researching 12-volt TVs for your caravan or motorhome, you'll know there are two main options. Satellite TVs and smart TVs each offer good benefits for RV travellers. But is one better than the other? In this helpful guide, we'll take a look at the pros and cons of each.
What is a satellite TV?
A satellite TV receives television signals through a receiving dish. These signals are first sent to a communications satellite in the Earth's orbit. Because the signals are scrambled, you can only receive them with a satellite receiving dish and a decoder unit.
Benefits of a satellite TV for your RV
Satellite TVs for caravans and motorhomes offer many benefits, here are just a few:
Don't need internet
With satellite TV, you don't need a WiFi connection. That's good news if you regularly travel to remote areas of New Zealand. Although you can't get satellite TV connection everywhere, it is generally more readily available than WiFi.
Free content
There are several paid subscriptions that are accessed via satellite TV (such as Sky). However, a satellite TV also lets you connect to New Zealand's free TV channels.
Local content
New Zealand's free TV network is also a fantastic way to enjoy local content. Many streaming services (available on smart TVs) only provide content made for a global audience.
Drawbacks of a satellite TV for your RV
Let's look at a few common concerns around satellite TVs:
The need for a satellite dish
To watch free network TV programmes on your satellite TV, you'll need to have a satellite dish installed on the roof of your RV. This is an extra cost on top of your 12-volt TV.
Satellite dishes come in various sizes. In general, the larger the dish the better the reception. For us Kiwis, it is recommended that we use a dish that is at least 45 cm wide to capture full service. Choose anything smaller and the quality of your signal will decrease in certain conditions. For example, you may get bad reception in rainy weather (rain fades down the signal power). On the other hand, a satellite larger than 65 cm wouldn't give you any advantage.
Ad breaks
Free network TV has ad breaks, which can be irritating when you're enjoying a movie or TV programme.
Content is limited
Some of the best content and movies are available on streaming platforms. Not all satellite TVs have USB or HDMI input. Unless you get a streaming box that is compatible with your satellite TV, you may miss out.
What is a smart TV?
Just like smartphones, a smart TV connects to the internet to stream entertainment. Once you're connected to WiFi, you can install streaming apps such as Netflix, TVNZ+ and YouTube. Many smart TVs have these apps already installed.
Some smart TVs also have Bluetooth functionality which allows you to connect wireless headsets, soundbars, and even your smartphone to the TV.
Benefits of smart TV for your RV
It's worth noting that these days most TVs are moving to smart technology. Here are some of the reasons why:
Streaming
As mentioned earlier, much of the best (and newest) content is only available through paid streaming services. Some of these include:
Netflix
Neon
Disney
Prime Video
TVNZ+ and Three Now (TV 3) also have streaming services which means you can watch past programmes, series, and movies.
Compatible with a smartphone
Many smart TVs are compatible with smartphones. This functionality means you can mirror what's on your phone onto the TV. You can also stream music from your phone or use your phone as a remote to control the TV.
Music and games
As well as streaming movies and shows, many smart TVs also offer simple games as well as music streaming apps like Spotify. Connect a Bluetooth speaker to your TV, set up some music, and you're all set for a relaxing evening.
Drawbacks of a smart TV for your RV
So what are the cons of a smart TV? Let's look at a few common concerns:
Requires internet
As mentioned, a smart TV requires an internet connection. If you're travelling in remote areas or in an area where connectivity is poor, you may not be able to use your TV. One solution to this is to use your phone as a hotspot.
Paying for streaming subscriptions
Many streaming apps require a paid subscription. Once you start to subscribe to a few, the cost can add up.
Higher upfront cost
Although it's not always the case, smart TVs often cost more than satellite TVs upfront. However, if you opt for a satellite TV, you need to consider the cost of a satellite dish.
What is a smart satellite hybrid TV?
As the name suggests, a smart satellite hybrid TV offers the best of both worlds. If you're looking to buy a new TV, and already have a satellite dish installed, this may be a good option. RV Super Centre has a range of quality smart satellite hybrid 12-volt TVs.
Considerations when choosing between a satellite and smart TV for your RV
Here are a few factors worth taking into account when deciding between a satellite TV or a smart TV.
Where you travel
Many favourite travel destinations in New Zealand are in remote or mountainous areas. This can mean limited internet availability. If you plan to travel to these areas, a satellite TV may be a better option.
What you watch
If you're an avid streamer, a smart TV is the way to go. However, if you prefer to simply switch on and watch live TV such as the 6 pm news and local content, a satellite TV may be a better option.
Budget
As mentioned earlier, a smart TV can cost more upfront than a satellite TV. However, there are also costs involved with buying and installing a satellite dish. There are also ongoing costs involved with subscribing to streaming services. You'll need to factor these in when considering your budget.
The range of satellite TVs at RVSC
RV Super centre has a range of satellite TVs and dishes. Here's a look at some of our popular models:
RV Media 19" Evolution Satellite DVD/TV
This compact satellite TV is designed to cope with being on the move. It can handle large voltage fluctuations, temperature extremes and vibrations that occur in motorhomes and caravans. By connecting a USB you can record the shows you missed while you were out exploring.
RSE 24" ECO Series Satellite TV
This RSE smart TV has built-in DVB-T (terrestrial Freeview) and DVB-S2 (high-definition satellite) receivers for Freeview TV. It also includes anti-shock and anti-vibration features, making it a great addition to your RV.
The range of smart TVs at RVSC
Ready to start streaming? Here's a look at some of the smart TVs available from RV Super Centre:

The Majestic 24" Smart TV is also designed to be smarter and easier to use,. It even comes with a keyboard remote so you can type searches into the display. You can also use the remote as a laser pointer on your TV, making surfing even faster.
RV Media 32" Evolution Smart DVD/TV

This Android-powered RV Media smart TV has an in-built web browser allowing you to download and watch movies online and use social media. It also includes two HDMI inputs, Bluetooth functionality, a DVD player, headphone audio outputs and more.
The range of smart satellite TVs at RVSC
Looking for a hybrid smart satellite TV? RV Super Centre has a great range in stock, including:

Easy to set up and use right away, this Avtex smart TV comes with a built-in HD satellite decoder and a one-button tuning function. The Avtex Connected Series Smart Satellite TV allows you to watch terrestrial TV and record satellite (or vice versa) at the same time.

This state-of-the-art TV features voice-activated remote control, Bluetooth and built-in Chromecast. It also includes a built-in DVB-S2 high-definition satellite receiver and DVB-T terrestrial Freeview receiver.
The range of 12-volt TV accessories available at RVSC
At RV Super Centre, we can get you set up with everything you need for those movie nights on the road.
Satellites
RV Super Centre has a wide selection of satellites, including automatic and manual dishes and satellite domes. We also stock a range of terrestrial antennas and satellite and antenna parts.
The quality of the satellite dish you need will probably depend on much time you spend in your motorhome. Proven 40cm-wide models, such as the NZSAT Portable Satellite Dish will meet your needs if you only use your motorhome for short holidays. If budget is not an issue for you, or if you live in your RV most of the time, we suggest you go for the RSE SamY.
Media boxes and receivers
If your TV is an older model and is not equipped with a built-in satellite receiver (DVB-S2), you can still enjoy free-to-air channels in high definition.
Receivers like the RSE MiniLite are relatively cheap and come with all the necessary cables and hardware as well as preloaded channels. Installation takes just five minutes.
Brackets and other hardware
Need brackets, parts, or other hardware to set up your TV? RV Super Centre has everything needed to install, mount, or connect your TV. We also stock a range of remote controls and TV covers.
Think you've decided between a satellite and smart TV?
We hope this guide has helped you decide on the right 12-volt TV for you. If you need more help or have any questions, don't hesitate to contact us. Our friendly team of experts are always happy to help.
Ready to buy your 12-volt TV? Shop online or in-store and get everything you need to watch your favourite programmes and movies.
---
Leave a comment