Must Know Rules For Motorhome Bike Racks
Author: Your RV Good Guide Date Posted: 23 May 2023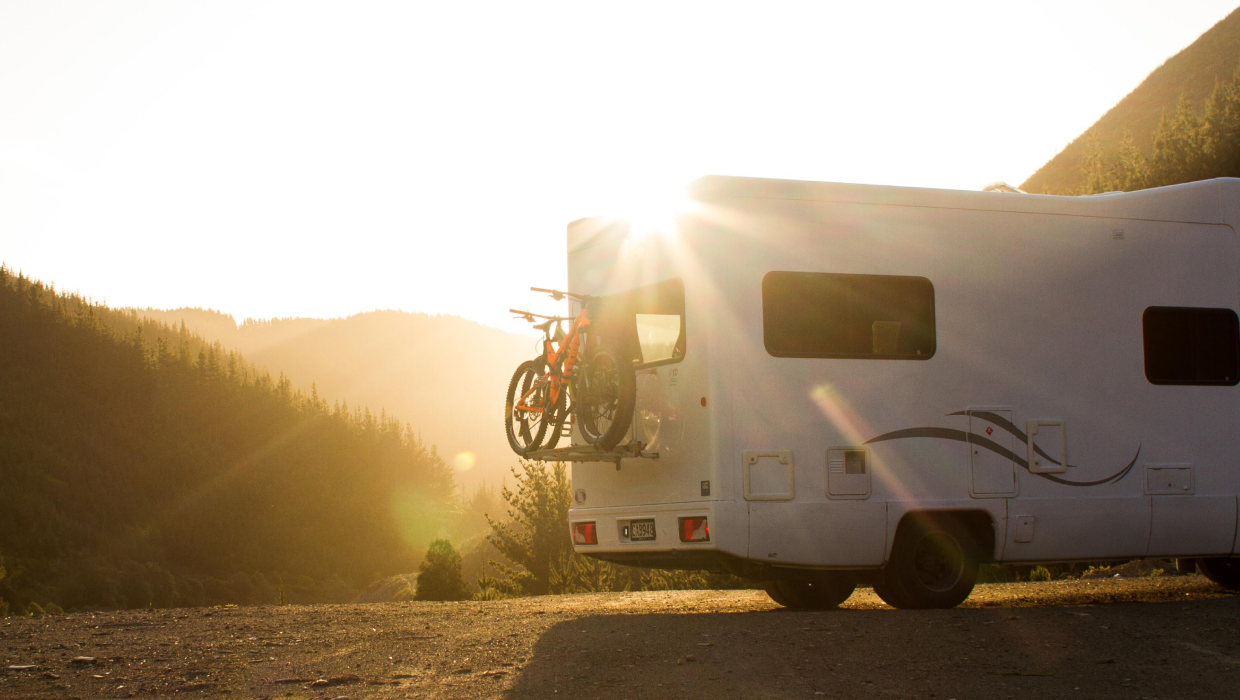 Exploring New Zealand's incredible network of bike trails and tracks is a popular activity for motorhomers. Hook up your bikes on the motorhome bike rack and you're all set for a holiday full of exploration and adventure. But before you do, it pays to know the rules that apply to RV bike racks. In this helpful guide, we'll take a look at all the must-know regulations to help keep you, your bike, and your motorhome safe as you get ready to hit the trails.
Why you must follow motorhome bike rack rules
The most obvious reason to ensure your bike racks meet the rules is for safety. If your bike rack isn't correctly secured you could risk expensive damage to your motorhome or bike. You could also face up to 25 demerit points and a large fine. But even more worrying is the risk to other road users by potentially causing an accident.
Rules for motorhome bike racks
Here are your legal obligations for having a bike rack and transporting your bike on the roads in New Zealand.

1. Your number plate must be visible
The number plate of your motorhome must be visible at all times. If it isn't, for example if your bike rack and bike are in the way, you need to install an official supplementary number plate. Note – a piece of cardboard with your plate numbers written on it won't suffice!
A supplementary plate is smaller and can be attached to your bike rack so that your vehicle registration can always be visible. Supplementary plates also need to be hard-fixed so that they are not hanging and may need to be lit up by external lights at night.
Supplementary plates for bike racks came into effect in 2011 in New Zealand. Prior to this motorhome owners would need to remove their regular number plate and attach it to their bike rack somehow. Luckily, it's much easier now. It's best to get your supplementary number plate through an NZTA agent.
2. Your lights mustn't be obscured
There are very strict vehicle light requirement rules in New Zealand. You must ensure your motorhome's rear lights are not obscured by your bike rack or bikes. This includes your brake lights, reverse lights, and indicator lights. When the weather is clear, your lights need to be visible at least 200 metres away.
Some bike racks, such as the Coast RV Quick Fit range, have built-in lighting. You can also purchase separate lighting kits that attach to your existing bike rack.
3. The bike rack must be suitable for the weight and size of your bikes
All RV bike racks will come with a specified maximum weight. Although it is not a legal requirement to stay within this limit, there is a requirement to ensure your load is safely secured. It's up to you to ensure that you don't exceed the load limits of your bike rack.
Overloading could result in your bike coming off and possibly causing a serious accident. Being mindful of weight limits is especially important if you are carrying more than one bike. If you are transporting an ebike, it's important to use a suitable bike rack capable of carrying the heavier weight of an ebike.
4. The bike must be secured by at least two lashings or clamps
Generally, most bike racks include specially-made clamps to hold your bikes securely. If not, you'll need to use lashings (straps, chains, and ropes) to secure them. It's your responsibility to secure your load. This includes, at the very least, a minimum of two lashings or clamps to ensure your bike doesn't move around too much and become loose. If you're using lashings, these must be suitably anchored. You also need to ensure the straps are tightened to the correct lashing capacity (the maximum allowable tension in the strap).
5. The bike rack mustn't overhang too much
Any load you carry on your motorhome – or any other vehicle – must follow New Zealand's strict overhang and height requirements. If your bike rack or bikes extend more than 200 mm beyond the sides of your motorhome, or more than one metre beyond the front or back, you need to attach a warning device. During the day, you'll need a fluorescent flag (at least 400 mm long and 300 mm wide) or brightly coloured hazard warning panels. At night, you must have clearly visible lights at the maximum overhang distance. With most bike racks, this isn't an issue, but it's worth checking.
6. Your vehicle and load must not exceed a certain weight
Every motorhome, campervan, and caravan has a maximum laden weight (also known as gross vehicle mass or GVM). Technically speaking, this is the heaviest weight your vehicle can be when it's fully loaded up as determined by the manufacturer. This includes the tare mass (the weight of the empty vehicle) plus the payload (passengers, equipment, water etc), as well as any weight applied to the vehicle's tow bar.
The GVM is noted in your motorhome's manual and mustn't be exceeded, or you'll risk damaging the vehicle. You can also receive a hefty fine. If you're involved in an accident and your motorhome is overweight, your insurance may be declined.
If you have a full driver's licence or restricted licence, your GVM with the bikes and bike rack loaded along with any other people in the motorhome and equipment mustn't exceed 6000 kg. You'll also need to ensure your bike and bike rack's weight is evenly distributed.
Other helpful bike rack tips
Although these aren't legal obligations, here are a few other tips to ensure the safety of your motorhome, bike, and other road users.
1. Strap up securely
Sometimes the clamps that come with your bike rack may still allow your bike to move around a bit. Although they won't come off in transit, it's a good idea to use straps to prevent any bike movement. There's nothing more distracting than worrying about clunking noises as you're driving!
2. Remove batteries from ebikes when on the road
Ebikes and ebike racks can be heavy. It's a smart idea to remove the battery from your ebike before loading it so there's less weight on the bike rack itself.
3. Watch out for your exhaust pipe
Your motorhome's exhaust pipe shouldn't be anywhere near your bike rack or bike. The heat from the exhaust could cause damage and may even melt a section of your bike or bike rack.
4. Be careful when cornering
Your bike may move around in your bike rack while cornering. For this reason, remember to take it slow and try not to corner too sharply.
5. Follow the manufacturer's instructions
Each bike rack is different, has different mechanics, and attaches differently. For this reason, it's important to follow the manufacturer's instructions and recommendations.
Unless it's a bike rack going on a tow ball, which can easily be done yourself, we recommend leaving bike rack installation to professionals, like the team at RV Super Centre.
6. Choose a reliable brand
A bike rack is a vital piece of safety equipment. It's important that you choose recognised, quality brands such as Fiamma and Thule bike racks. RV Super Centre stocks a wide range of bike racks to suit all sizes and types of bikes. Here's a quick look at a couple of popular models:
Fiamma bike rack

RV Super Centre has multiple e-bike rack options including the Fiamma Carry Bike Lift 77E. Some of the features include:
One of the strongest bike carriers on the market
A solid patented telescopic rail support to fasten it securely to the motorhome wall
Double-reinforced carrier rails, safety straps, Bike-Block fixing kits and stainless steel points
Impressive 60 kg load capacity
Capacity for two electric bikes
Winch mechanism for easy loading and unloading
Thule bike rack
The Thule Excellent Standard Version Bike Rack is lightweight and can hold up to 4 bikes (3rd and 4th rail must be purchased separately). Some of the features include:
Adjustable wheel holders so almost any bike can fit on the bike rack
Lockable bike holders with a key to secure and lock your bikes
Detachable bike arms with lockable AcuTight torque limiter knobs (clicks when optimal torque is reached)
Platform locks automatically to prevent the bikes from moving during transit
TOP TIP: Read our helpful guide on how to choose a bike rack for your motorhome.
Hit the trails with RV Super Centre
Ready to hit the road and discover some of New Zealand's unbeatable cycle trails? Check out the range of motorhome bike racks and accessories available online or in-store at your local RV Super Centre.
Planning to buy a motorhome or upgrade to the RV of your dreams? A great place to start looking is with RV Super Centre's quality range of motorhomes for sale. Our wide range of new, used, and ex-rental motorhomes offers something for everyone.
Need more information or advice? Our helpful team of experts is always available to answer your questions so please do contact us for a friendly chat.
---
Leave a comment