Top tips to choose a bike rack for your motorhome
Author: Peta Stavelli Date Posted: 16 December 2019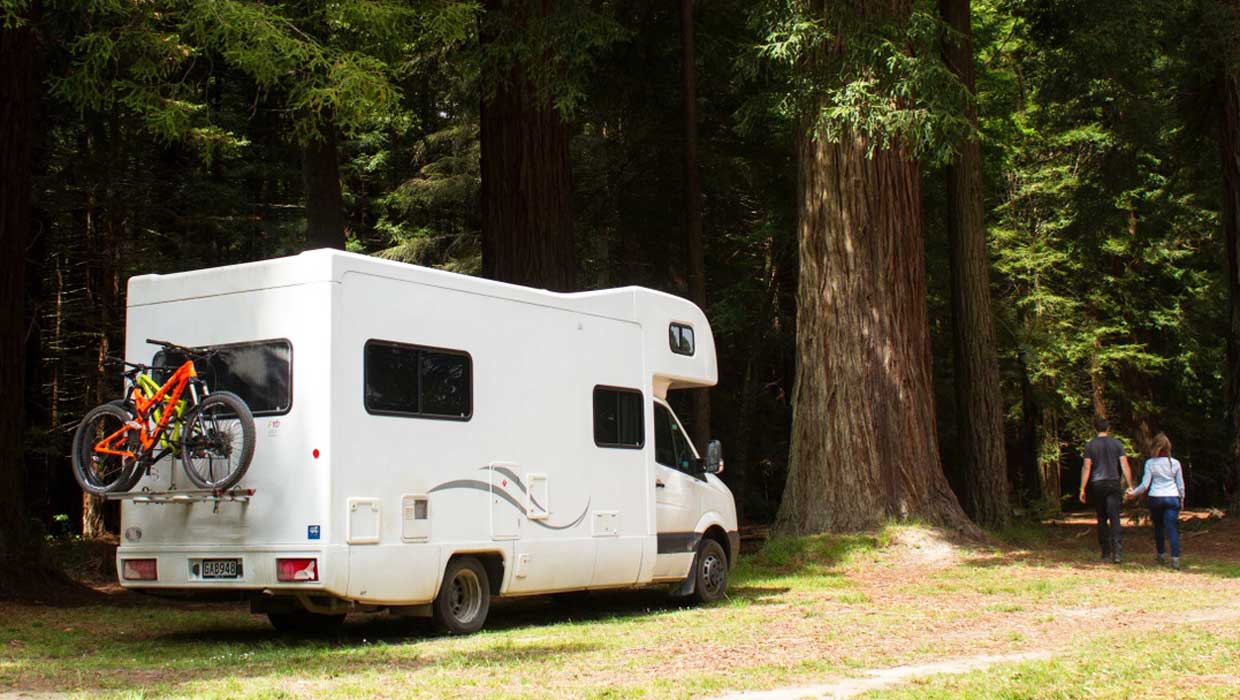 I'm preparing for my own RV adventure in the new year and I want to take my bike along. Why wouldn't I? New Zealand is a biking haven with a world-class cycle network. But if – like me - you're no athlete and you plan to mostly use your cycle (or scooter) just to get around the campground or to whizz to the shops, you've still got to find a way to carry it safely and securely.

As one of the largest stockists of recreational vehicles and accessories nationwide, RV Super Centre is a one-stop shop, and a good place to start on your search for a bike rack.
Caveat emptor – buyer beware
How do you wade through myriad options to find the best one for your vehicle and also to suit both your budget and your strength? I'm a little on the short side and will need easy access for an electric bike. Electric bikes are heavier than conventional bikes and require a sturdier rack. Fortunately, manufacturers such as Fiamma and Thule have created ergonomically-designed RV accessories to suit most applications that also augment any power you might lack.
How many bikes?
Before we look at the latest innovations, it might pay to ask yourself how many bikes you will be carrying? The answer will help reduce the number of options. But don't despair if circumstances change; with many designs you can purchase extra rails to add to the base unit to carry extra bikes. Just be sure you are not exceeding the capacity of the rack or the mount, or adding too much overall weight to your vehicle.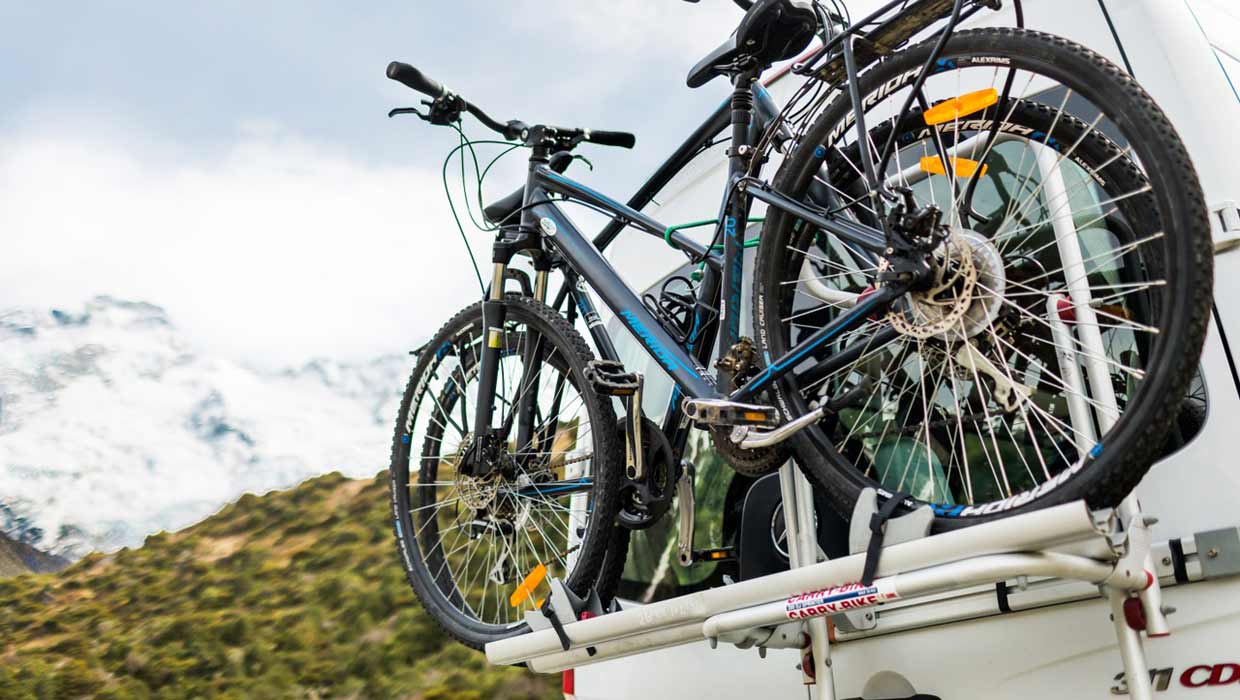 A helping hand
One of the best innovations of recent times is the Liftaway design. For example, the Lift 77 is a popular seller for people like me as the bike only needs to be 10-20cm off the ground before the user can wind it into the carrying position.

And the news gets better: the Fiamma Carry Bike Pro Standard and Fiamma Carry Bike Lift 77 are just two examples of the many designed for e-Bikes.

When looking for an E-bike rack just look for the suffix E when perusing the online stock at RV Super Centre - for example, the Pro C-E or Lift 77-E.

Campervans, caravans and garage mounts
Just when I thought I had it sorted I saw a Fiamma Carry Bike 200 for Ford Transits on the RV Super Centre website and equivocated because I'll need a bike rack to suit a van conversion. Fortunately, you can also buy racks suited to Fiat Ducato, Citroen, Mercedes and many other conversions.

Likewise bike carriers to suit caravans Just be sure you are buying the right one for your vehicle type. Seek qualified advice, especially if you have a lightweight vehicle. You may need to seek an alternative design like the Fiamma Carry Bile XL-A for Caravan A-Frames or Thule A Frame Caravan Light Bike Rack.

Alternatively, there are a variety of mounts which attach to the floor of the storage compartment and turn any suitable RV garage into a secure and upmarket bike shed.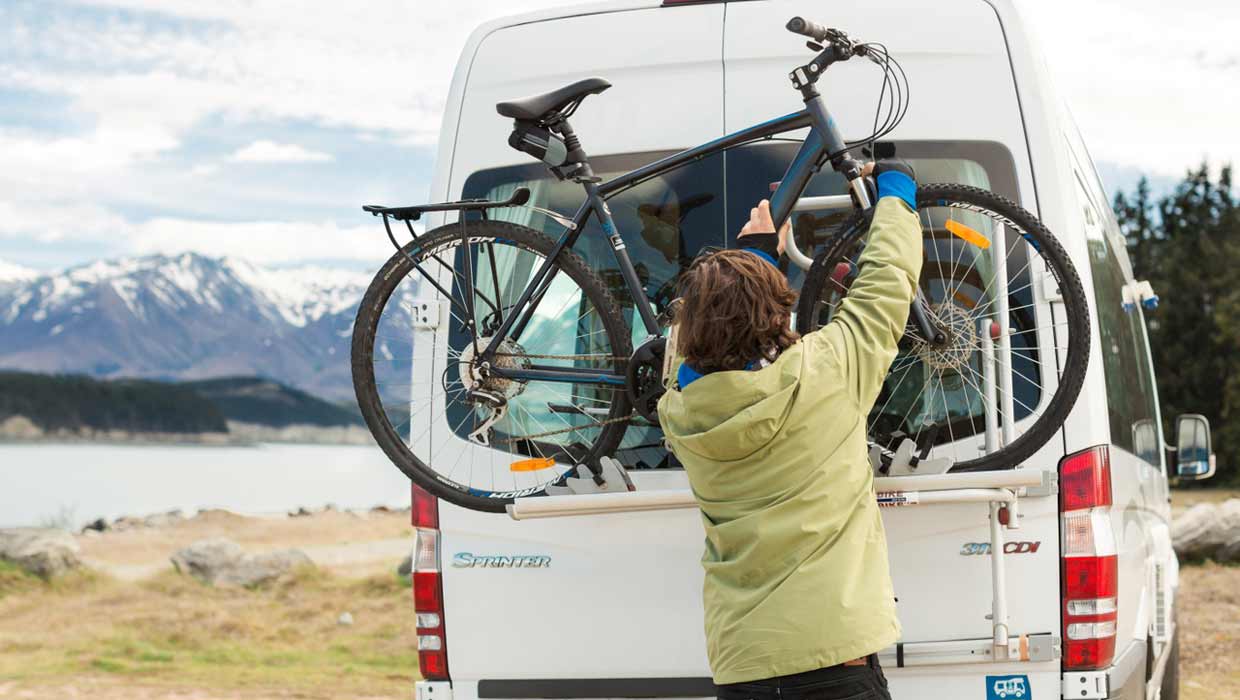 Accessorise-wise
A good mate of mine is an endurance athlete who refuses to carry his eye-wateringly expensive ultra-marathon bike on the outside of his vehicle. But today's RV accessory brands offer security locks as well as clips, support arms, conversion rails and covers to suit most needs.

Just ask the Good Guides at RV Super Centre for advice on the best buys. They are the RV experts and they'll be only too happy to support you in making the best decision.

---
Leave a comment