Top tips to choose a bike rack for your motorhome
Author: Your RV Good Guide Date Posted: 2 February 2021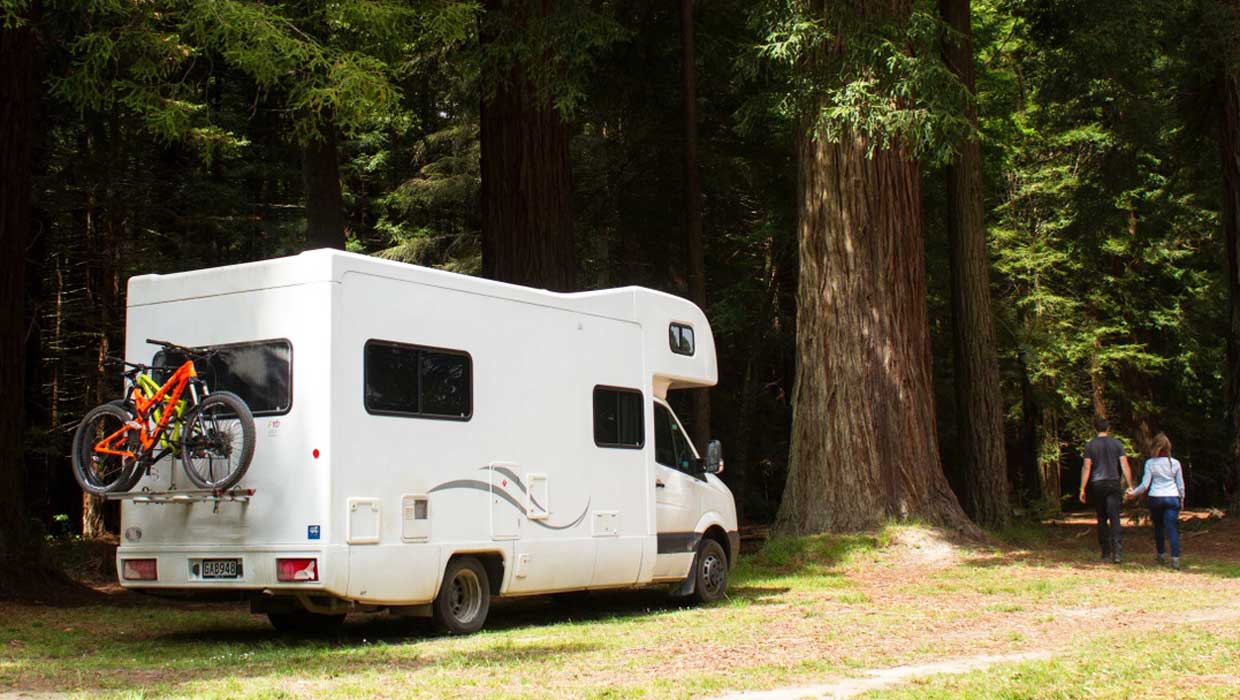 Top tips for choosing a bike rack for your motorhome
Bike racks are a great addition to your motorhome that not only give you more freedom whilst you are on the road exploring, but they also offer a practical and safe solution for carrying the family bikes.
Bike racks have advanced far beyond the standard piece of metal they used to be, and are now offered in a range of sizes, with modern tech to make life easier.
At RV Super Centre, we offer a huge range of motorhome accessories perfectly designed for your home on wheels. In this guide we'll take you through the range of bike racks available and how to pick the right one for you.
In this guide we will cover
Why choosing the right bike rack is important
Bike racks come in varying styles and it's not a one size fits all accessory. Different sizes, shapes, mounting options and capacity all impact how well the bike rack will work for you, so here are some reasons you should ensure you pick the right one.
It ensures you are carrying the bikes safely
A bike rack is the safest way to carry a bike on your motorhome, rather than any DIY contraptions.
Motorhome travel often means winding roads, corners, bumpy patches and unknown roads. A bike rack helps to keep everything secure when you aren't sure what roads you will be coming up against.
Electric bike rack varieties can help with bringing your bikes up and down which is great for older people or those with less upper body strength. This makes popping out to the shops or impromptu bike rides a lot more convenient and easy, especially when travelling in summer.
You won't have to store the bikes inside the motorhome
Having a bike rack means you don't have to store the bikes onboard which can be unsafe and take up too much room.
If you have more than one bike, this would also save you precious space on board. Even kids' bikes can take up precious space in your motorhome or storage compartment. You can get your weight capacity right
Picking the right bike rack ensures that you are carrying a safe load of weight, which ensures that not only the rack will last well, but you motorhome as well.
Motorhomes have a weight capacity when it comes to how much weight they can carry, so overpacking a rack with too many bikes could impact your motorhome functioning well.
It ensures you can fit bikes for the whole family
Having enough weight is important but having enough space is key as well. It's best to pick a rack that is intended for as many bikes as you have so they are all securely mounted in place.
Top tips for choosing a bike rack for your motorhome
Now that we've covered the reasons why choosing the right bike rack is important, let's take a look at some of the considerations to make when deciding on a model.
Choose a bike rack with the right weight capacity
Bike racks have a weight capacity range from around 35kg to 60kg which indicates the maximum amount of weight the rack can safely carry.
Each rail of the bike rack has a capacity as well, so take note of that before overpacking each one with too many bikes. You should ideally weigh each bike you have before choosing a rack and remember to think about the weight of any accessories on the bikes such as baskets that could add more weight.
How much do bikes weigh?
Now that you know bike racks have a weight capacity, you might be wondering how much your bike weighs.
This varies depending on the type of bike you have from e-bike, to road bike or mountain bike.
On average:
An adult road bike can weigh around 8kg
An adult mountain bike can weigh around 13kg
An adult e-bike can be around 23kg
The weight will vary depending on what it's made of and if there are extra accessories on the bike. Kids bikes can obviously range a lot in weight depending on the size, but every little bit counts so still ensure you weigh them as well.
Bikes are commonly made from:
Carbon fibre
Aluminium
Titanium
Steel
Ensure the rack can fit everyone's bikes
Though weight is important, the size and quantity of bikes are also a factor.
When choosing a bike rack take into account the size of adult bikes and kids bikes. Consider accessories on the bike that can add bulk such as baskets or kids seat attachments.
You can get extendable bike racks and adjustable options to suit your families needs.
Decide if you would like an electric bike lift
Electric bike racks help to lift the bike into place and bring it back down again, and do all the hard work for you whether it's because you want to make life easier, or just need a bit of help with access.
Those with difficulty lifting one bike or multiple bikes might find it easier to go with an electric option.
If you frequently like to take the bikes out when on the road, a bike rack can make the process a lot faster. Perfect if you come across an unexpected track to check out on the road and want to go for a ride with no fuss!
It's also great for inner city areas where getting around tight streets might be easier on two wheels.
Some bicycle types such as e-bikes can be a lot heavier so an electric option is a good idea so you don't end up straining yourself when lifting.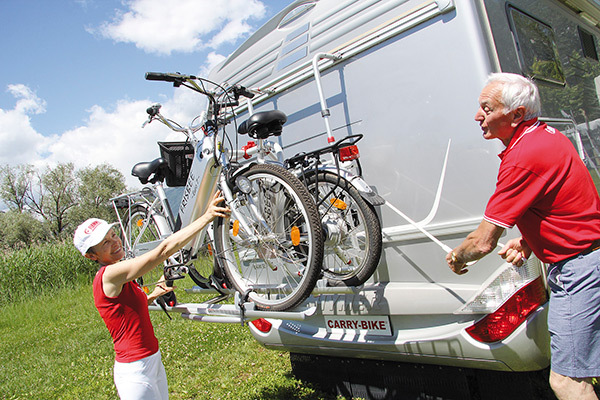 Pick the right bike rack for your type of motorhome
Some bike racks require drilling into the motorhome so it's a good idea to consider whether you are happy for that to happen.
It's also important to ensure the bike storage plus the bike weights aren't too heavy for your motorhome, which should be easy to work out using your motorhome manual.
Lots of bike racks are fitted to the rear wall of the motorhome so you should check if that will work for your model of motorhome. Some fit onto the a-frame of your caravan instead.
Racks range in sizes when it comes to lengths, so ensure you pick something that fits your motorhome.
Decide if you want locks and wheel holders
If you are leaving your motorhome and bikes for long parts of the day you might want a lock to give you peace of mind while you are away.
Wheel holders help to keep everything still when on the move, and won't cause any damage to your bike from friction.
Consider extra bike rack accessories
RVSC have some great motorhome accessories that can make travelling with a bike even better.
Keep your bikes protected from weather so they can last far longer.
Waterproof and lightweight, this cover is made from reinforced polyester material and has adjustable straps to suit any bike size.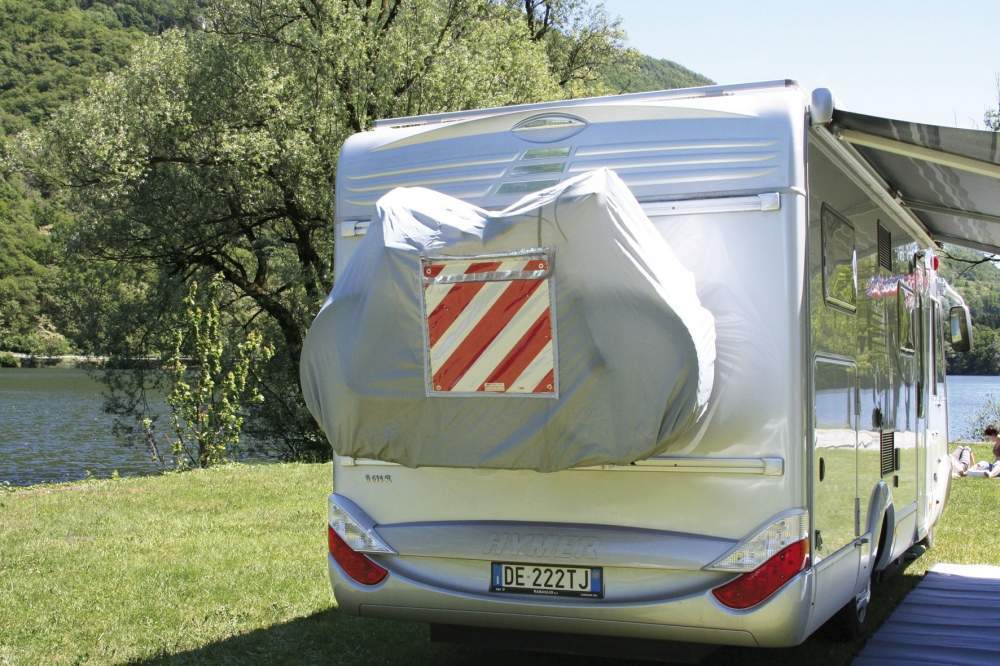 Wireless remote for electric lift
Electric lifts make life easier, and you can take it one step further with a wireless remote.
This little piece of tech is sure to impress and can be used from up to 50 metres away so you can have your rack down and ready to go before you even get to the motorhome.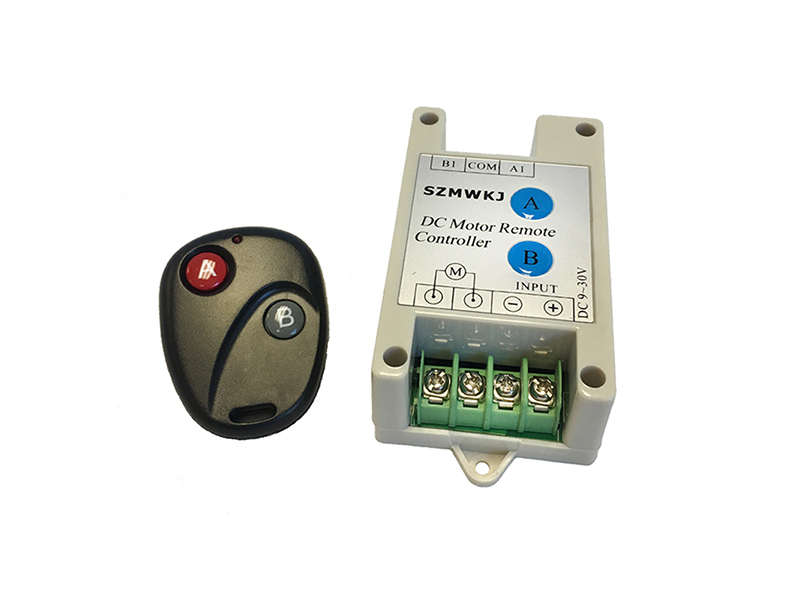 If you want to carry an extra bike, this rail can take you from two to three. This is suitable for anything up to 15kg, so is great for road or mountain bikes.
It's important to pick an extra bike rail that's compatible with your brand of bike rack, such as Thule, Fiamma or BR system rails.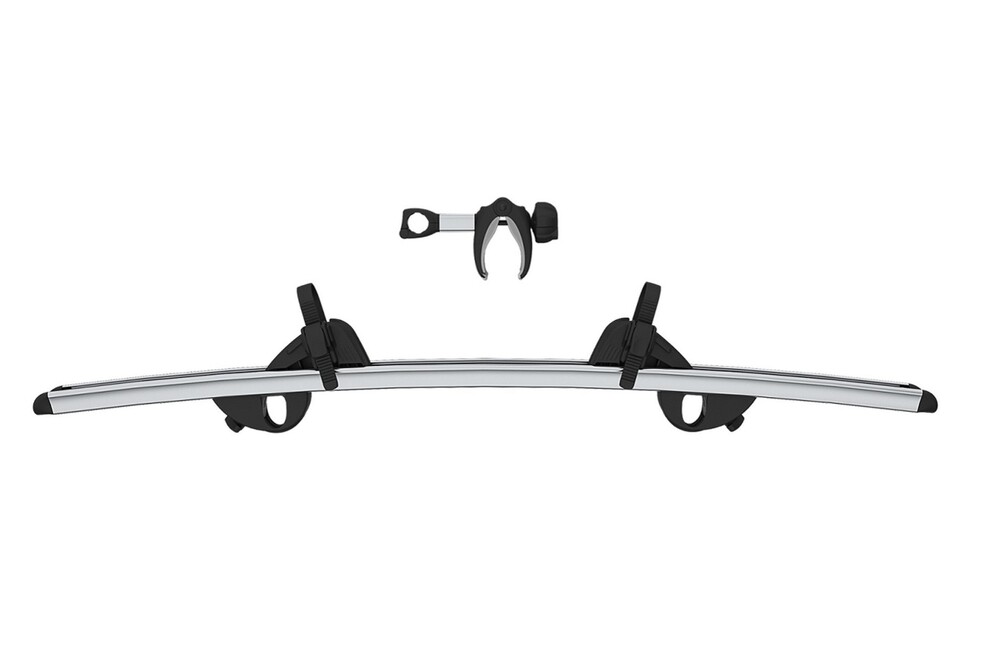 Ask the experts
If you want advice from the professionals, pop into a RV Super Centre branch to ask for advice on choosing a bike rack.
You can also visit a certified motorhome dealer to ask what bike rack would be suitable for your motorhome.
The types of bike racks available
RV Super Centre stock a huge range of racks no matter what kind of bikes your family has.
E-bike racks
RV Super Centre has multiple e-bike rack options including the Fiamma Carry Bike PRO C-E.
Some of the features include:
A fixed rail support base designed specifically to be sturdy for e-bike weight
Impressive 60kg load capacity
Weighs only 9.9kg so your motorhome weight capacity can stay at a safe load
Capacity for two electric bikes
Height adjustable for the ultimate access
Can be used on all types of motorhomes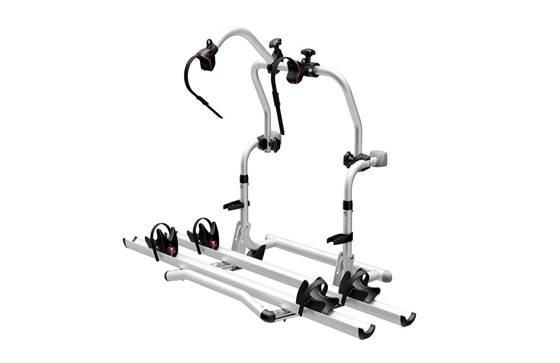 Caravan suitable bike racks
As well as motorhome bike racks, RVSC also have bike racks for caravans.
The Thule Caravan Superb Bike Rack features:
A lowered platform making it easy to load your bikes on
A lockable platform to keep your bikes in position on the road
Suitability for all bikes including e-bikes up to 60 kg
Lockable bike holders with a key to secure and lock your bikes on the carrier
Ability to add an additional rail if you are carrying 3 bikes
Tiltable design so you can get to your storage spaces easily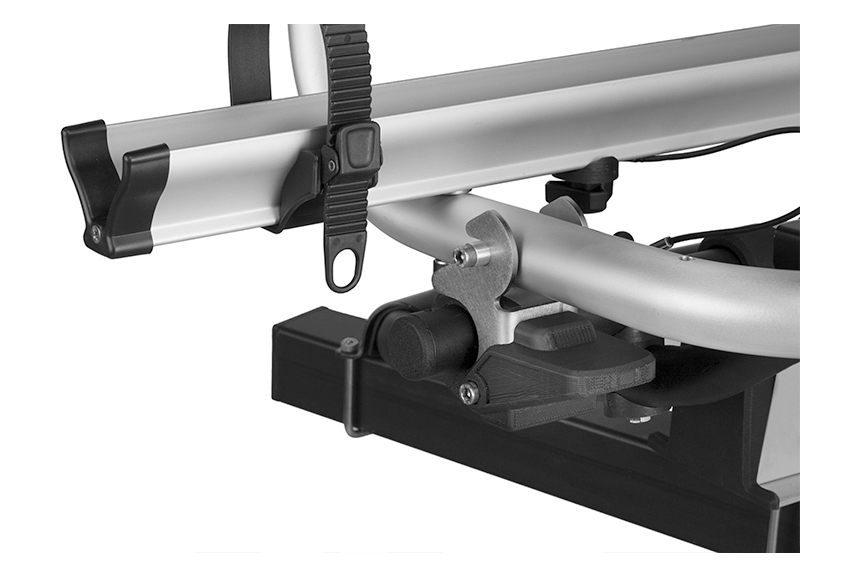 Electric bike lifts
Electric bike lifts are a great pairing to go with your sustainable electric bike and they provide the ultimate convenience.
The BR Systems Bike Rack features:
An integrated 12V motor with switch
Integrated safety straps to keep everything secure
Manual override system
Double safety against unwanted lowering while driving
Sturdy and simple platform locking
Moveable bike holders
Ability to lower the platform to the ground for best access
A load capacity of up to 60 kg
This bike rack also has optional accessories such as a lockable knob and wireless remote control that allows you to operate the bike rack from 50m away.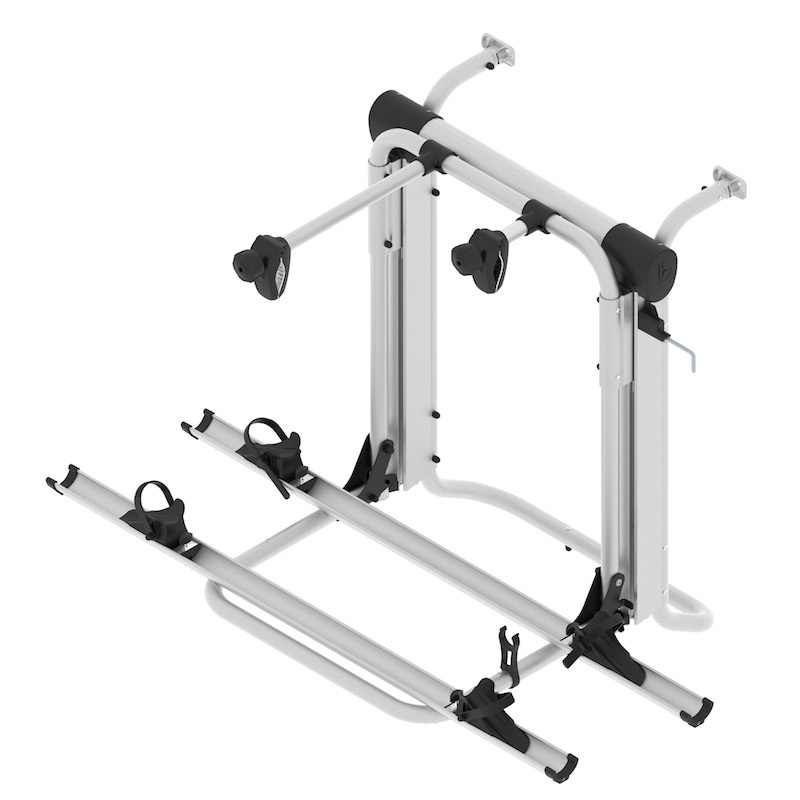 Van suitable bike racks
With vans being smaller they need a suitable bike rack to fit and work with their weight capacity. Specifically, Vans usually have rear doors that open. The Thule G2 and Fiamma 200DJ bike racks are designed to fit on vans with 2 doors at the rear. To allow the doors to be opened, they fit on one door.
The trade off here is that the weight capacity of these doors mean that the weight limit of the bike racks are limited to 35kg. This limit is imposed to protect the door as much as the bike rack.
The Thule Sport G2 Bike Rack features:
Ability to hold up to 2 bikes
Rail distance of 20 cm so you can easily load the bikes
A lockable platform to keep bikes secure on the move
Design so the doors can be opened with the bikes on
Quick fit bike racks
Quick fit bike racks are another modern day option that supports any traveller to have flexibility on the road.
The Coast RV Quick Fit Pro Bike Rack features:
A patented quick connector that can fit onto most tow bars
A modern design that allows you to still access your boot and van doors
Accessible height fit to make getting your bikes up and down easier
2 bike capacity
Can be secured with the lock on a quick connector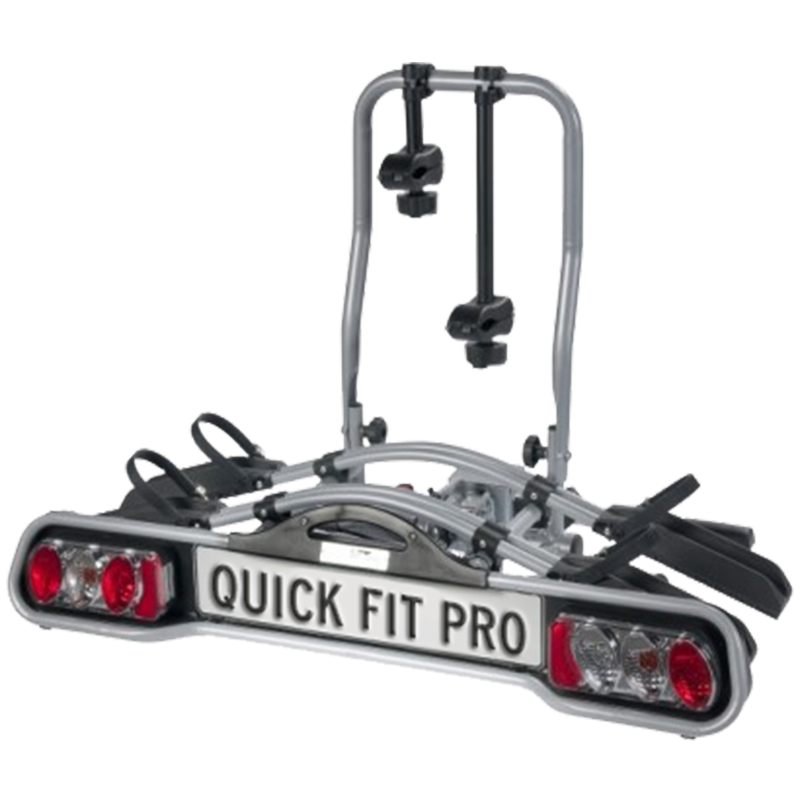 Visit RVSC for all of your bike rack and accessory needs
Check out our full range of bike racks and accessories online, or visit us at your nearest store.
---
Leave a comment