How To Install A Motorhome Bike Rack
Author: Your RV Good Guide Date Posted: 29 May 2023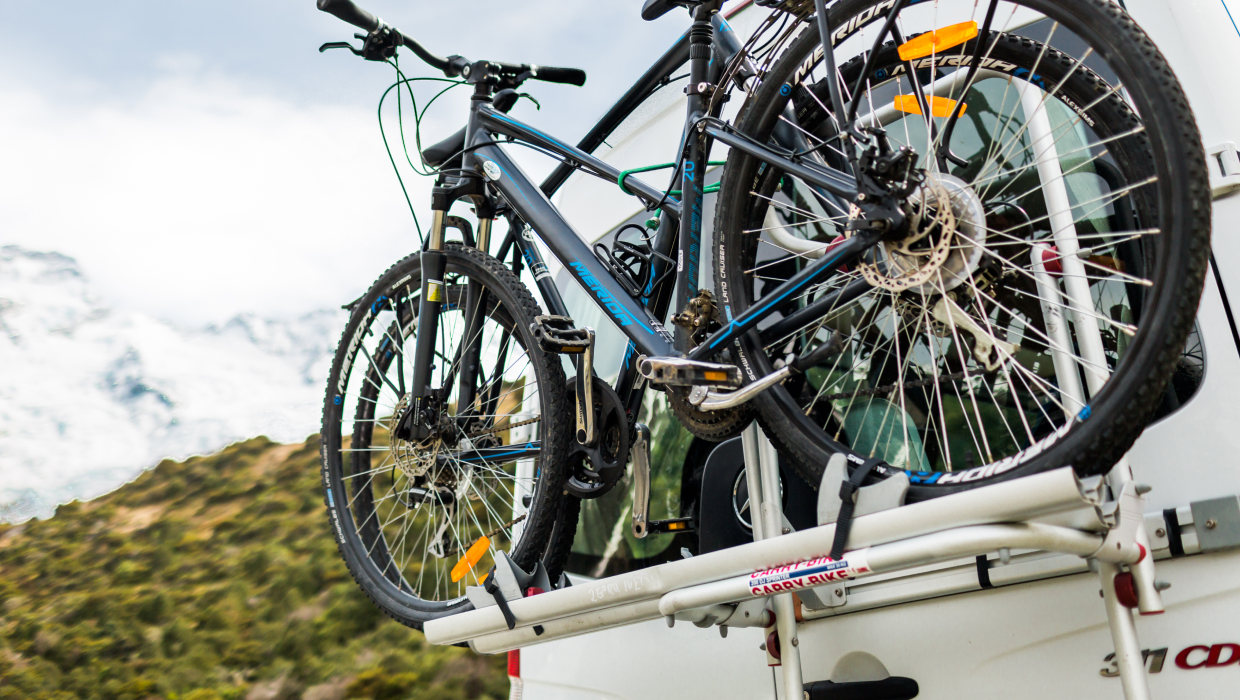 Exploring New Zealand's cycle trails is a popular activity for motorhomers. Just pop your bikes on your motorhome bike racks, head off to your favourite track, and you're all set for a day of fun and discovery. Of course, to do that, you'll need a bike rack installed on your RV. In this helpful guide, we take a look at what type of bike rack you can install yourself, how to do it, and when to call in the experts.
Why you should install a bike rack on your motorhome
Travelling by RV is a great way to get up close to some of the many tracks and parks that are perfect for cycling or mountain biking. It also means you can enjoy comfortable accommodation near more remote or secluded trails. What better way to spend a day than enjoying a leisurely cycle and then heading back to your motorhome for dinner and a well-earned rest?

Can you install motorhome bike racks yourself?
Kiwis are well known for their love of a bit of DIY. When it comes to installing a bike rack on your motorhome or caravan, it's worth knowing when to call in the experts. For example, if the installation involves drilling into the body of your motorhome, it's best to leave it to the professionals. However, if you're attaching a bike rack to a tow ball, you'll be fine to get your DIY gear on and, well… do it yourself.
Installing a motorhome bike rack to a tow ball
Ready to install your bike rack onto your motorhome tow ball? Here's a simple, step-by-step guide to get it done:
1. Get prepared
When it comes to any sort of modification or accessory installation, safety needs to be the top priority. With that in mind, the first step is to park your motorhome somewhere level and safe. Next, make sure you've got everything you need on hand. It may be helpful to have a set of gloves to protect your hands.
In most cases, your bike rack will come with everything you need such as a mounting plates and bolts. If you're buying second-hand or need anything extra to get the job done, gather the tools and materials you need now. You may also like to have a friend on hand as bike racks can be heavy and awkward to place.
2. Give your tow ball a wipe-down
Before fitting your bike rack, you'll want to wipe your tow ball down to remove any dirt or debris. This is especially important if you travel off-road or out in the countryside as you may have small bits of dirt and grit on your tow ball. This can prevent your bike rack from fitting properly.
3. Place your bike rack onto the tow ball
When it comes to placing your bike rack onto the tow ball, it's helpful to have a spare set of hands. The last thing you want is to lose your grip and have your bike rack slip and damage your motorhome's bodywork.
Position the bike rack so that it is aligned with the tow ball. Take your time to ensure it is well lined up and sitting straight. At this stage, it's important to make sure your number plate and rear lights won't be obscured by your bike rack or bikes.
4. Fasten and mount the bike rack bracket
There is a range of different bike racks designed to fit on tow balls, but thankfully, they're all relatively easy to mount. Using either the tools provided or what you have on hand, you'll now need to follow the manufacturer's instructions and tighten the bolts and brackets.
5. Give the bike rack a test
Before you hit the road, it's important to give your bike rack a test to ensure it's secure. To do this, grab the bike rack and give it a good shake. You should be able to do this without it moving or showing any signs of being loose, misaligned, or unstable.
Other ways to ensure your bike is secure
Now that you've got your bike racks fitted, you can load up your bikes and hit the road. But before you do, you may want to take a few extra security measures.
A bike cover is a great investment and will help protect your bike from bad weather, stone chips, dust and debris, etc. Make sure that a cover is fitted tightly so that it doesn't flap around in the wind or while travelling. This could be a dangerous distraction.
It's best practice to lock your bike to your bike rack when travelling and parked up. If your bike rack isn't lockable, you may also wish to consider a bike lock or padlock. Try to lock the bike
through the wheel spokes if you can. That way, no one will be able to remove the wheels either.
Getting other types of bike racks installed onto your motorhome
Apart from tow-ball mounted racks, there are several other ways to install a bike rack onto your motorhome. The most common are:
Wall mounted – these racks are securely attached with bolts drilled into the back of your motorhome or caravan.
Ladder mounted – these bike racks simply hook onto your standard RV ladder.
Slide out – used to store your bike inside your motorhome's external storage locker (garage), these bike racks slide out for easy access.
It's very important that your bike rack is securely mounted and meets the appropriate safety regulations. If not, there's significant risk of damage to your bike or your RV. Even worse, you could cause a serious accident. We highly recommend you get your bike rack professionally installed by a specialist. Contact the friendly team at RV Super Centre's Service Centre for advice or to book in an installation.
Which bike rack should you choose?
Bike racks come in many different shapes and sizes. Choosing the right bike rack involves several factors. Some of the key considerations include:
Your motorhome or caravan type: Some bike racks are designed especially for particular types of RVs. For example, some racks are suited to vans with rear-opening doors, while others are designed for caravans. Speaking with one of the experts at your local RV Super Centre is a good idea. The team are experienced in installing bike racks and can help you choose the right one for your particular RV.
Number of bikes: Some bike racks are better for heavier loads, and some are larger and better suited to fit multiple bikes.
The type of bike: This will determine the strength, size, and type of bike rack that's best. For example, bike racks for e-bikes are designed to take the extra weight.
Motorhome bike rack options at RVSC
RV Super Centre stocks trusted, quality bike racks to fit a range of vehicles including Fiamma and Thule bike racks. Let's take a look at a few popular options:
Thule bike racks
Thule offers multiple bike rack types including the Thule EasyFold XT bike rack. This pre-assembled tow bar-mounted rack is designed to accommodate a high load capacity. Other great features include:
Suitable for e-bikes and heavy mountain bikes.
Smart foot pedal tilt for access to trunk/boot while bikes are mounted.
Integrated carrying handles, rear lights, and detachable frame holders.

Fiamma bike racks
RV Super Centre stocks a selection of Fiamma bike racks to suit a range of motorhomes, caravans, and campervans. A popular option is the Fiamma Carry Bike 200DJ for Sprinter/Crafter vans. Some of the notable features include:
Easy installation with minimal drilling necessary.
Capacity for two bikes.
Coast RV Quick Fit bike racks
Keen to hit the road and get out on the trails quickly? Quick Fit bike racks are fast and easy to install. The Coast RV Quick Fit Pro Bike Rack fits onto (almost) any vehicle tow bar. Features include:
A modern design that allows you to still access your boot and van doors.
Accessible height fit to make getting your bikes up and down easier.
Can be secured with the lock on a quick connector.

E-bike racks
RV Super Centre has a wide range of e-bike rack options including the Thule Sport G2 Caravan bike rack. The rack is designed to hold up to two bikes with a capacity of up to 38 kg. Other features include:
A lockable platform to prevent bike movement.
Optional locks.
One key system compatible.

Caravan bike racks
Don't risk damaging your caravan's interior by storing bikes inside! RV Super Centre has a range of bike racks especially for caravans including the Thule Caravan Superb Bike Rack. Features include:
Easy loading with a lowered platform.
Capacity for two bikes, including e-bikes, up to 60 kg total. Extender available for a third bike.
Lockable bike holders with a key to secure and lock your bikes on the carrier.

Reach New Zealand's many biking trails with RV Super Centre
Now that you've got the low-down on bike rack installation, it's time to get kitted up and discover New Zealand's unbeatable cycle trails. Check out the range of motorhome bike racks and accessories available online or in-store at your local RV Super Centre.
Planning to buy a motorhome or upgrade to the RV of your dreams? A great place to start looking is with RV Super Centre's quality range of motorhomes for sale. Our wide range of new, used, and ex-rental motorhomes offers something for everyone.
---
Leave a comment