Best TVs For Your Motorhome
Author: Your RV Good Guide Date Posted: 25 September 2023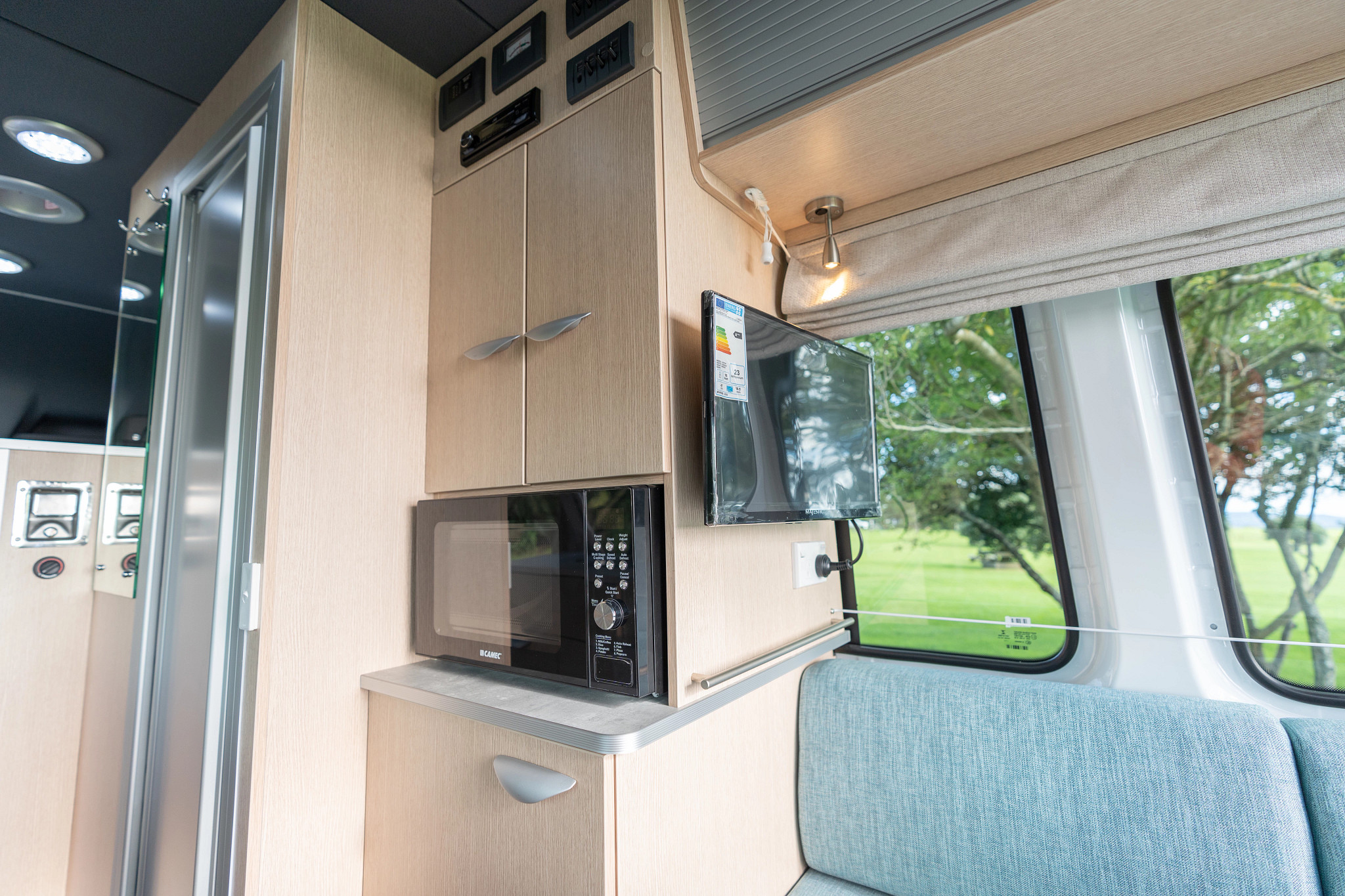 New Zealand is a spectacular destination for motorhome travellers. From picturesque beaches to historic townships, the diverse landscapes offer endless destinations to explore. And after a long day of adventure and discovery, there's nothing like getting comfy inside your motorhome and relaxing with your favourite shows. But how do you choose the best TV for your motorhome? In this helpful guide, we'll share everything you need to know about campervan TVs and how to find the right one for you.
What are the benefits of having a TV in your motorhome?
One of the advantages of travelling by campervan is being able to have those home comforts along for the ride. A bit like a home away from home. Having a TV on board means you can still enjoy that cosy evening routine. A hot drink, a sneaky snack, and your favourite show… what could be better? And if it's raining during the day, or you just need some inside time, snuggle up on the couch or in bed and relax with a movie. And as any parent knows, when you've got kids on board, a TV can be a lifesaver for bad weather days or those times when they just need some quiet time indoors.
Types of 12V motorhome TVs
Over the past few years, a wide range of different makes and models of 12V motorhome TVs has hit the market. And just like in most households, smart TVs dominate the landscape. Smart TVs allow you easy access to streaming platforms such as Netflix, Neon, Disney, and basic Freeview. Whether you're up for some YouTube binge-watching or mood-setting with Spotify tunes, all that's required is a stable internet connection.
Satellite TVs are another popular option. These use a satellite dish to deliver a signal to your TV. One of their key advantages is the extensive coverage they offer. That's especially beneficial for those travelling to remote areas where internet connectivity may be weak.
Offering the best of both worlds, smart satellite hybrid TVs include smart functionality plus a built-in satellite decoder.
TOP TIP: Read more about the pros and cons of satellite vs. smart TVs
How to choose a TV for your motorhome
Selecting the right TV for your motorhome requires consideration of various factors. Unlike your TV at home, you'll need to think more carefully about things like energy efficiency, size, and durability. Let's take a closer look at some of these:
Power requirements
In New Zealand motorhome appliances typically run on 12V or 24V power systems. If you're parked up in a campground, you can also plug into 240V mains power.
Most household TVs are designed for use only with 240V mains power, so they're not the best fit for a motorhome unless you're always plugged into a powered site or using an inverter. However, there are specialised 12V TVs designed for motorhomes and caravans, which are more energy-efficient for this purpose.
Size and mounting
Because space is at a premium in your motorhome, you'll want a TV that fits snugly without overpowering the space. Measure the space where you plan to mount the TV and choose a model accordingly. Flat-screen LED TVs are ideal as they're slim and lightweight.
You'll also need to consider how you'll mount your TV. A swivel bracket is ideal as it allows for multiple viewing angles. That's especially useful if the layout of your motorhome has seating areas in different positions relative to the TV.
Reception and connectivity
New Zealand's terrain is diverse with many mountainous areas and valleys. Securing a good internet connection can be tricky, especially when in remote areas. The 12V Avtex Mobile Internet Router/Antenna is a great option. This robust antenna receives mobile 4G/5G internet, while the router is designed to maximise coverage and reduce roaming costs.
If you like to travel to areas where Wi-Fi is limited, or you don't use apps much, you may prefer a satellite TV.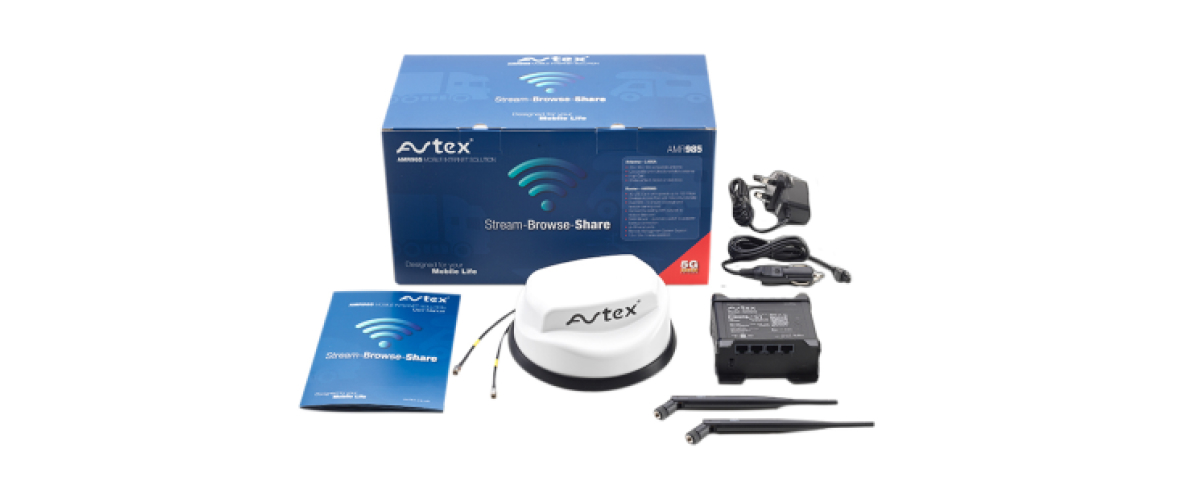 Durability and warranty
Motorhomes are constantly in motion, which can expose TVs to more wear and tear than a household version. With this in mind, you'll want a TV that's built to withstand these conditions. TVs for motorhomes are specifically designed for the bumps and vibrations of the road.
You'll also want to consider the warranty and after-sales service. It's worthwhile choosing a brand that offers a good warranty period and has service centres across New Zealand.
Smart features and functionality
Smart TVs have become increasingly popular. They offer streaming services, internet browsing, and apps which can be a great addition for entertainment on the road. If you're someone who enjoys services like Netflix or YouTube, then a smart TV could be a good option. However, keep in mind that you'll need a stable internet connection, which might be limited in some areas of New Zealand.
DVD integration
Some TVs for motorhomes come with a built-in DVD player. This might seem old-fashioned in the digital age of streaming, but it can be a real asset when you're in areas with limited internet connection. A movie night with a classic DVD can be the perfect end to an adventurous day. Even better, many TVs now have USB input. So if you buy movies from Apple or other services, you can download these to a USB drive to take with you.
Price vs. quality
While everyone loves a good deal, the cheapest option might not always be the best in the long run. Instead of focusing solely on price, weigh up the TV's features against its cost. Investing a bit more initially might give you a durable, high-quality TV that lasts much longer, providing better value over time.
The 5 best TVs for your motorhome
Now that we've shared some of the key considerations when choosing a TV for your motorhome, here are our top picks:
Avtex Smart Satellite TV
With its smart capabilities and satellite reception, the 23.8" Avtex Connected Series Smart Satellite TV is designed for the mobile lifestyle. Beyond its crisp, full HD display, this TV comes with a built-in HD satellite decoder, simplifying the setup process with a one-button tuning feature. This TV also offers dual-viewing capability, allowing users to watch terrestrial TV and simultaneously record satellite content. Additionally, the built-in Wi-Fi provides easy access to popular streaming services, from Netflix to YouTube.
Majestic 24" Smart LED TV
Combining cutting-edge tech with durability, the Majestic 24" 12V LED TV offers the full entertainment experience. With its full HD resolution, you'll enjoy crisp, clear viewing, while its Android 9.0 Smart Functions open up a world of streaming and apps. Uniquely adapted for mobile and marine environments, Majestic has fine-tuned its design to resist humidity, moisture, and vibration. It's also incredibly energy efficient, drawing only 2 amps. This TV comes equipped with a keyboard remote that doubles as a laser pointer to make searches and navigation super easy.

RSE 22" Smart TV
A voice-controlled remote adds a touch of convenience to the RSE 22" Smart VA Satellite TV. At its heart is a frameless, anti-glare 1080p screen for a fantastic viewing experience. Dual receivers (satellite and terrestrial Freeview) deliver a wide range of content to your fingertips, while the integrated DVD and multimedia centre offers classic playback options. The RSE Smart TV offers ultra-low power consumption, ensuring you remain eco-friendly even during binge-watching sessions. For those drawn to the latest streaming platforms, popular apps like Netflix, TVNZ, and YouTube come pre-installed.

Majestic 19" Google TV/DVD with Chromecast
Packed with modern technological features, the Majestic 19" Android Google TV/DVD offers premium entertainment. Powered by Android, this smart TV includes a wealth of apps as well as built-in Chromecast, allowing you to seamlessly share content from your devices. Tailored for on-the-road adventures, it's built to withstand intense vibrations. This TV's feature list is expansive: from bi-directional Bluetooth 5.0 capabilities and Wi-Fi screen sharing to delivering pristine audio with Optical Audio Output. And for extra peace of mind, it also comes with a three-year warranty.
RV Media 19" Satellite TV
Designed especially for mobile use, the RV Media 19" Satellite TV can handle large voltage fluctuations, temperature extremes, and vibrations. The choice of terrestrial and satellite Freeview receivers means you're well covered wherever the road takes you. The added advantage of a side-mounted DVD player gives the option for traditional movie nights – just bring the popcorn! And if you'll miss your favourite shows while out adventuring, a simple USB stick allows you to record and play back at your leisure.
Ready to choose a TV for your motorhome?
Whether you want a TV for those occasional rainy days or are in search of the perfect 12V TV for longer getaways, we've got you covered. If you're unsure about your choice, the friendly, knowledgeable team at RV Super Centre is here to help. Call in and check out the range, or browse our options online. We also offer a wide variety of TV accessories, from decoders and Chromecast devices to remote controls, cables, and protective covers.
Looking for more helpful advice about the motorhome lifestyle? Check out these handy guides:
---
Leave a comment