Gas Fridge vs 12v Fridge: Which Is Best For Your Motorhome
Author: Your RV Good Guide Date Posted: 5 July 2023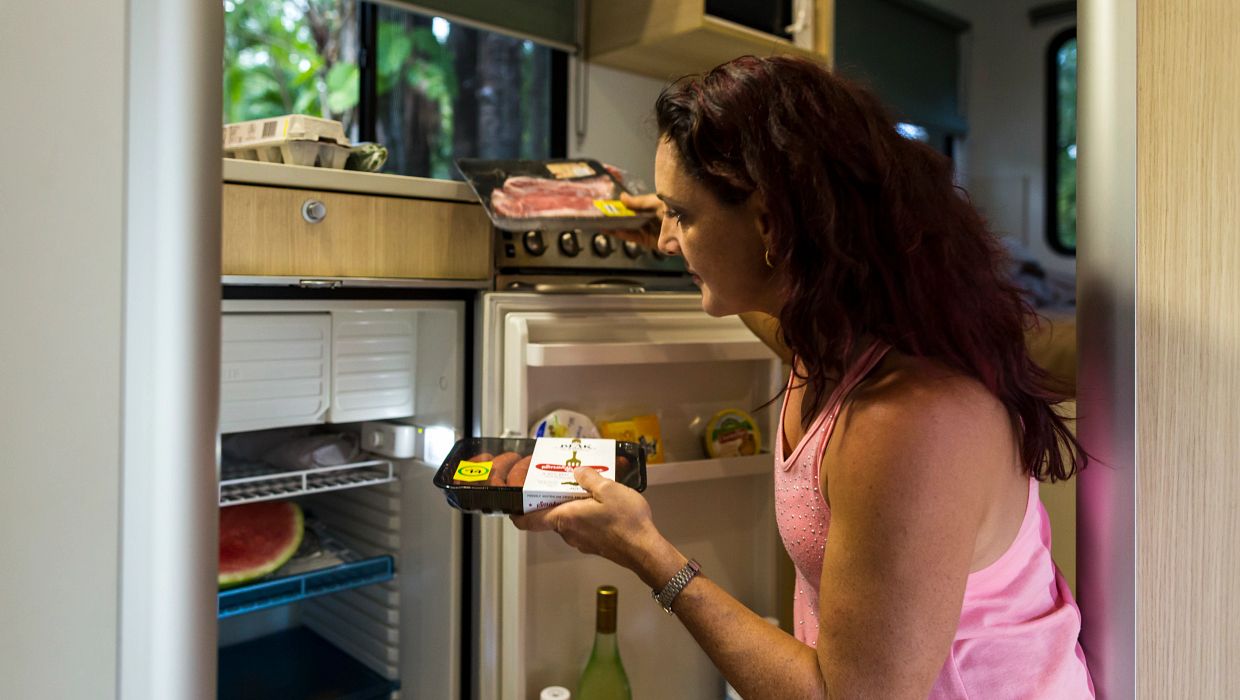 There's nothing quite as rewarding as parking up your camper, opening the fridge and taking out a cold drink or two to enjoy before dinner. Most of us would agree that a good fridge is a must-have in a motorhome.
If you're looking for a new fridge, you will have discovered that they're not all created equal. The main point of difference is how they are powered. In this helpful guide, we take a look at the pros and cons of 12v fridges and gas fridges.
What is a 12v fridge?
As the name suggests, a 12v fridge runs on the 12-volt DC power supply from your motorhome's house battery (or 24-volt power in larger motorhomes converted from a bus or truck). They also have the ability to run on 240-volt mains or generator power. For this reason, they are also referred to as two-way fridges.
A 12v fridge keeps cool by using a compressor motor – just like your fridge at home. Electricity runs the compressor motor which pumps refrigerant through the cooling system.
Pros of running a fridge on 12v power
Here is a look at some of the benefits of 12v fridges:
Although gas is proven to be safe when handled properly, some motorhome owners prefer using electricity only to remove any safety concerns.
12v fridges can provide more consistently cool temperatures in very hot environments.
If you charge your battery through solar or at a campsite, running your fridge on 12v is more cost-effective than refilling LPG gas bottles.
Unlike a gas-powered fridge, compressor fridges don't have to be perfectly level to operate well.
12v fridges are relatively easy to install and can be done yourself.
Cons of running a fridge on 12v power
There are some great benefits that come with 12v fridges, but what about the downsides? Let's take a look…
Your 12v fridge can drain your battery quickly unless you are regularly plugged into mains or using solar power or a generator.
In some cases, you may need to limit the use of other appliances that run on your 12v battery.
Because they run on power, 12v compressor fridges produce more noise than absorption fridges. However, most modern fridges are much quieter than older models.
What is a gas fridge?
Also known as absorption fridges, fridges that run on gas are very commonly used in motorhomes and campervans. There aren't many motorhome fridges available that run purely on gas. Most can operate on a 12v battery in some way or another. You may also hear a gas-capable fridge referred to as a 'three-way fridge'. This is because they can utilise:
12v battery power
240 mains power
LPG gas
Rather than using a compressor, a gas-operated fridge uses a gas-flow heating exchange system which extracts heat from the fridge to cool the temperature inside.
Pros of running your fridge on gas
Because they don't have as many moving parts, absorption fridges tend to have a longer lifespan. Of course, like all appliances, this also depends on the particular model and how well you look after it.
Absorption fridges are very efficient at running on gas. Depending on how much you use it, a 9 kg gas bottle should last around 2-3 weeks.
In most cases, fridges running on LPG are quieter.
Cons of running your fridge on gas
Gas fridges need to be professionally installed and certified by a qualified gasfitter. The best place to get this done is at your local RV Super Centre.
If you don't have gas lines already plumbed into your motorhome, you'll also need to have this done before installing a gas fridge. RV Super Centre can sort this for you too.
Although they are very safe, some people have concerns about gas leaks. When using gas in your motorhome, for any purpose, it's a good idea to have an LPG gas detector installed.

Because of the gas flow cooling system, your motorhome needs to be completely level when running your fridge on LPG. RV Super Centre has various levelling systems to choose from.
If you're heading off on holiday for an extended period, you'll need to plan ahead to ensure you've got plenty of gas and can get refills if needed.
While absorption fridges are very efficient when using gas, they are less efficient when running on DC battery power.
Some say that running the fridge on LPG provides less accurate temperature control.
Considerations when choosing between running your fridge on gas or 12v
So, with a list of pros and cons for each type of fridge, how do you make the decision on which is best for you? Here are some of the considerations to factor in:
If you don't have solar power or a generator and plan to travel off-grid, a gas fridge would be the preferred option. Using gas would mean you don't have to worry about recharging your battery or finding mains power.
If you have a small motorhome and are short on space, you may prefer a 12v fridge so that you don't have to worry about storing the gas bottle.
If you regularly travel in very hot and humid conditions, a compressor fridge will perform better.
If you regularly park up on terrain that is rough or uneven, a 12v fridge would be a better option.
The range of 12v fridges at RV Super Centre
Decided that a 12v fridge ticks your boxes? Take a look through some of the trusted brands at RV Super Centre. Some of the features worth looking for when you're deciding on which 12v fridge to choose include:
Reversible doors – handy if you want to customise your fridge/freezer to suit. You'll find this feature on the 85L Brass Monkey Fridge.
A control panel: Some fridges, including the Dometic RUC 5208X, have control panels with a service mode that creates simple diagnostics if required.

Shelving configuration – depending on how much you want to store, you may a fridge that has plenty of shelves with the ability to adjust heights if necessary. Having bars in front of the shelves is also good, this stops items from falling out.
Quick lock mechanism – this secures the door closed while driving.
Solar suitability: Some fridges, such as the Challenger Solar Fridge, are set up for use on a solar-powered system.

Good insulation – the better the insulation, the more efficient the fridge will be.
Reduced noise: Fridges like the Dometic CoolMatic CRX 50 can automatically adjust their fan speed to the ambient temperature for minimal noise.

If space is very limited, you may prefer a smaller unit such as the 50L Challenger Fridge. This quiet single-door fridge can fit in compact spaces such as under a bench or on a table. It also makes the perfect mini bar fridge! For very confined spaces, check out the 30L Dometic CD-30 Coolmatic Drawer Fridge. At the opposite end of the scale, the Challenger 285L Fridge/Freezer has space for weeks' worth of food and drinks.
The range of gas and three-way fridges at RV Super Centre
If a three-way fridge is the right fit for you, the next step is to explore some of the trusted brands at RV Super Centre. Some of the features worth looking for when you're deciding on which three-way fridge to choose include:
Automatic Energy Select (AES): This allows the fridge to operate on the best power source available depending on whether you're driving, plugged into mains, or parked up off-grid.
Universal Energy Select (UES): This lets you switch from either Manual Energy Select (MES) or AES. You'll find this in the Dometic RM4606.

Automatic flame failure safety: This shuts off if the gas flame is extinguished.
T-rated cooling system: This ensures good cooling performance in both high and low ambient temperatures.
If you're looking for a smaller three-way fridge unit to fit under the bench, you'll find a good selection to choose from ranging in size from 60 – 94 litres. The Thetford N4080 two-way fridge/freezer can be conveniently fitted over the wheel arch of your motorhome or caravan to save precious space. This Dometic fridge features a LED control panel and looks very sleek in black.

Looking for something a little bigger? Our range of full-sized three-way fridges vary in capacity from the 153L Dometic single-door fridge/freezer to the 230L Challenger Fridge/Freezer with a reversible door.
Keep your cool on your next road trip with RVSC
We hope this guide has given you some good tips on which campervan fridge is best for you. Still have questions? No problem, the friendly team at your local RV Super Centre are always happy to help. And if you're ready to buy, head online and check out more of our quality campervan fridges.
For more motorhoming inspiration and advice, check out these helpful blogs:
---
Leave a comment