The Ultimate Guide to Cleaning and Caring for Your Motorhome
Author: Your RV Good Guide Date Posted: 2 October 2023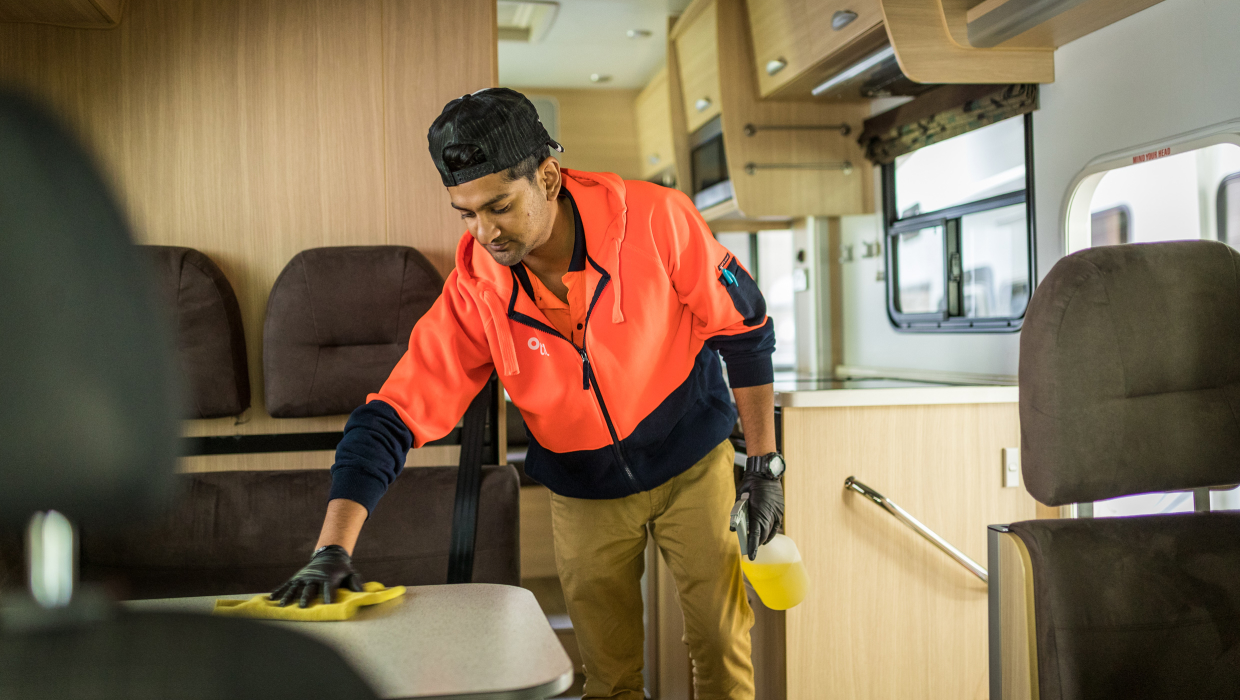 Whether you've just bought your first motorhome, or you're still looking at motorhomes for sale, knowing how to care for it is important. In this handy guide, we'll share all our top tips on doing just that.
Why caring for your motorhome is important
Buying a motorhome is more than just purchasing a vehicle or a mode of transport – it's an investment in an exciting new lifestyle! Your new motorhome is your ticket to adventure, treasured memories, and new experiences. However, like any valuable investment, it requires attention and care.
This care extends beyond routine checks. Regular maintenance and upkeep aren't just boxes to tick off a list. They're essential steps to ensure you get the most out of your motorhome adventures. Every time you take a moment to clean or maintain your motorhome, you're also taking a step to guarantee your safety and comfort on the road. To help you get started, we've put together some handy pointers to help you create an easily manageable maintenance schedule:
Clean your motorhome regularly inside and out
Regularly cleaning your motorhome on both the interior and exterior is important. Not only does it keep your RV looking spic and span, but it can also highlight any problem areas you might otherwise miss.
Preparing to clean your motorhome
Before you start cleaning and polishing, first assemble all the cleaning tools and products you'll need. This will include mild cleansers, soft brushes, microfiber cloths, and a hose. Having everything on hand streamlines the process and ensures you won't have to interrupt your cleaning to search for supplies.
Take a moment to assess your motorhome's exterior and interior. Determine which areas require special attention due to heavy dirt accumulation, stains, or wear. Having a plan of attack will help you clean more efficiently and thoroughly.
How to clean the interior of your motorhome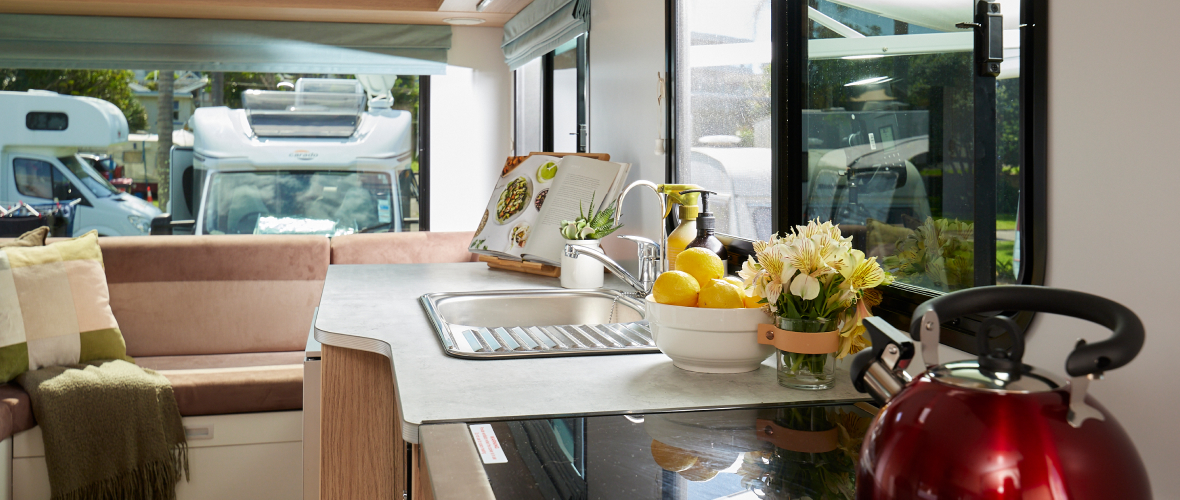 The interior of your motorhome is your sanctuary on the road so keeping it clean and comfortable is essential. Here are a few helpful tips:
The first step in the process of cleaning your motorhome's interior is to remove any items that could hinder your cleaning process. This includes personal belongings, loose items, and any clutter. By creating a clear workspace, you can clean more effectively and avoid accidentally damaging your possessions.
Wiping down benchtops and surfaces, vacuuming or sweeping, and sanitising the bathroom and toilet should be done at least weekly. You may wish to do this more often depending on the number of travellers and level of use. You may even need to do this daily if you travel in dusty areas, or if you travel with small children or pets.
Upholstery and fabrics should be vacuumed regularly and treated promptly for spills and stains.
Don't forget to clean items such as kitchen appliances, vents, window blinds, and anywhere that dust and dirt might build up.
Emptying your fridge and giving it a quick wipe-down at the end of every trip is a great way to keep it fresh and clean.
Read more about caring for the interior of your motorhome.
How to clean the exterior of your motorhome

Washing down your motorhome's exterior will help keep it looking good and prevent the build-up of dust and debris around hatches and seals. It's also a good opportunity to check for any external damage that may need seeing to.
An area often forgotten because it is more difficult to get at, is the rooftop. Check and clean your rooftop as part of your regular motorhome maintenance schedule. Don't forget to clean any solar panels. Dirt and debris build-up on your panels can hinder their performance, so be sure to keep them clean.
Address stains from tree sap, bird droppings, and road tar with care to avoid damaging the finish.
Applying wax and polish not only enhances your motorhome's exterior appearance but also shields it from UV rays and environmental wear.
Don't forget to clean and check your awning. It's recommended that you give your awning a good clean at least once every six months. To clean your RV awning, you may find it is sufficient to use water and a soft brush or towel. If your awning is very dirty or stained, you may need to use a cleaning product that is suitable for your RV awning fabric type. Avoid using household cleaning products or industrial detergents and never use a water blaster.
For a long-term showroom finish, we recommend treating your motorhome with a Dura-Seal treatment. This ceramic coating protects your motorhome's paintwork from road film, dirt, and pollutants. It also makes the surface easier to clean and dry (with no need to wax). Dura-Seal can be applied at participating RV Super Centre locations. .
Read more about caring for the exterior of your motorhome.
How often should you clean your motorhome?
Creating a cleaning schedule tailored to your motorhome's usage and your preferences is the best way to keep it in good working order. Regular cleaning tasks, such as wiping surfaces and vacuuming, should be part of your weekly routine. Seasonal deep cleans, including window washing and thorough carpet cleaning, may only need to be performed every few months.
Consistency is the key to keeping your motorhome well-maintained. So setting up a cleaning checklist and sticking to it ensures your RV is always ready for the next adventure.
How to maintain your motorhome
Keeping your motorhome clean and tidy is just part of the equation. You'll also want to make time for regular maintenance and upkeep. Let's dive into some nitty-gritty details on keeping your home-on-wheels running smoothly and feeling like new.
Check all seals
While sprucing up both the interior and exterior of your motorhome, it's wise to give those seals a thorough once-over. Failing seals often lead to those pesky water leakages which you definitely want to steer clear of. As you inspect the seals, keep an eye out for any cracks, wear, signs of them becoming loose, jamming, or any other visible damage. Make it a point to examine the seals around:
Windows and exterior doors
Exterior lockers and hatches
Gas bottle locker
Toilet cassette

Engine and mechanical components
Just as with your car, your motorhome's engine and running gear should be checked and serviced regularly. This includes fluid replacements like oil changes, brake fluids, and coolant top-ups. Tyres should also be routinely checked for wear and tear, proper inflation, and alignment. Keeping on top of servicing ensures you're not only getting optimal mileage but also to safeguard against unexpected breakdowns in the middle of your next road trip. Your local RV Super Centre is the best place to book in your regular service.
Annual appliance check-up
While what's beneath the hood is important, don't overlook the essential items inside your motorhome. It's a smart move to pencil in an annual service for large appliances like the refrigerator, oven, and stovetop.
Electrical and gas systems
When it comes to 240V mains electrical components, it's a good rule of thumb to let the professionals, specifically licensed electricians, handle them. That said, it's a good habit to occasionally glance over the insulation and general state of your motorhome's plugs and sockets. Keep an eye out for signs like wear on the cable's exterior, any visible copper, or evidence of overheating on plugs and sockets.
The same caution applies to your LPG gas system; it's best to let certified professionals take care of it. On the topic of safety with electricity and gas, always make sure your motorhome is equipped with functioning gas and fire alarms. And to be extra safe, having a fire extinguisher on board is a smart move.
Plumbing and water systems
Just like a house, the plumbing in a motorhome needs regular attention. Ensure that water tanks are flushed and cleaned to prevent sediment build-up. Sanitation systems, particularly if you have an onboard toilet, need to be treated with the right chemicals to break down waste and prevent odours. Regularly checking for pipe blockages and promptly addressing them can save you from significant repair bills later on.
Ready to clean and care for your motorhome?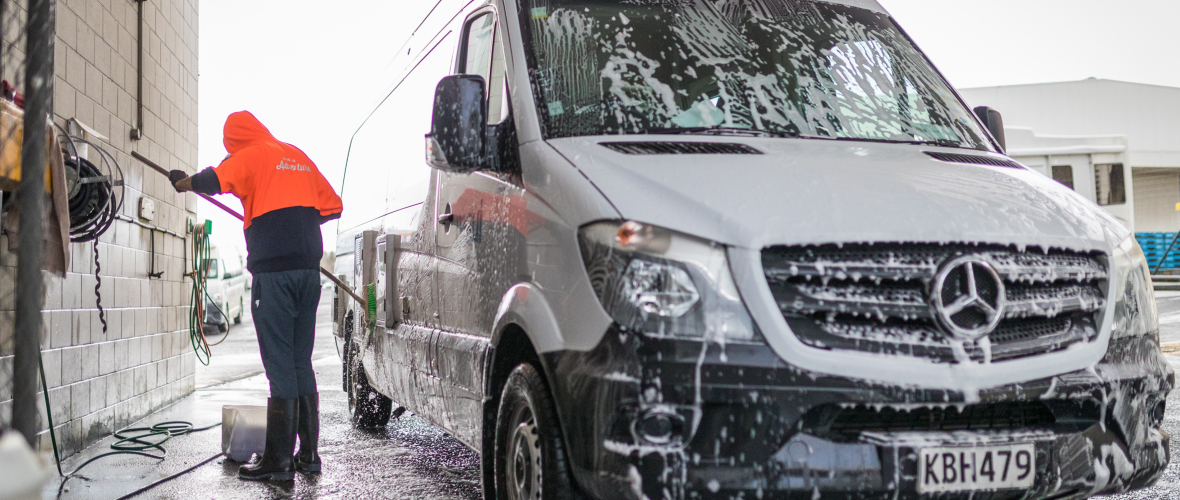 Your local RV Super Centre is your motorhome and RV one-stop shop. Whether you need cleaning items, motorhome accessories, a service, or just good advice, the friendly RV Super Centre team is here to help.
And if you're still researching motorhomes for sale, RV Super Centre has a great range of motorhomes and campervans for sale. Whether it's your first motorhome or your fifth, our experts make buying a motorhome stress-free. They will happily answer any questions you may have about how to choose a motorhome, RV maintenance, and anything related to the motorhome lifestyle.
For more helpful advice on buying a campervan or motorhome, take a look at more of our helpful blogs:
---
Leave a comment