RV Exterior Care & Maintenance


Taking care of the outer body of your RV is about more than just keeping it looking nice, it also helps to ensure the structural integrity and working components last for as long as possible after purchasing a motorhome.
In this guide, we will cover everything you need to know about exterior care for your motorhome and cover off the do's and don'ts so your home on wheels can stay as tidy as the day you bought it.
Why caring for the exterior of your RV is important
As a motorhome owner, you may think a buff and shine is all that is needed to keep your travel van in check, but there are many reasons why proper exterior care is necessary.
It can help to prevent degrading of the outer body of the RV Dirt and debris left for long periods of time can cause all kinds of problems from mould and mildew build-up to rust - a vehicle's worst nightmare. It's important to keep your RV clean so build-up is kept to a minimum.
It keeps the paint job looking its best
Regular cleaning will also keep your paint job in good condition, as a build-up of moisture and dirt can encourage a dull appearance to the paint.
Make the job easier with a hose and collapsible bucket which fit compactly in the RV.
It supports the electrical components to work safely
Keeping the external electrics free from build-up will ensure everything stays clean and there are no obstructions to the power supply.
It helps to keep water out of the interior
Keeping moisture out of the RV is one of the most important parts of exterior care, as this can cause damage to ceilings, walls, upholstery and also the structural integrity of the RV.
It keeps the RV sealed to ensure heating or cooling stays inside
Seals that are worn can let all of that precious heat or cold air con out, meaning you use far more electricity than needed, and the RV isn't as easy to heat or cool.
It helps with fuel efficiency and safety on the road
Tires in good condition will help with fuel efficiency and it ensures far better safety when touring around, especially on rough roads.
A strong chassis is key for an RV as it is the base structure of the entire vehicle. Keeping this in good condition will ensure you are driving a safe vehicle and one that it will last far longer.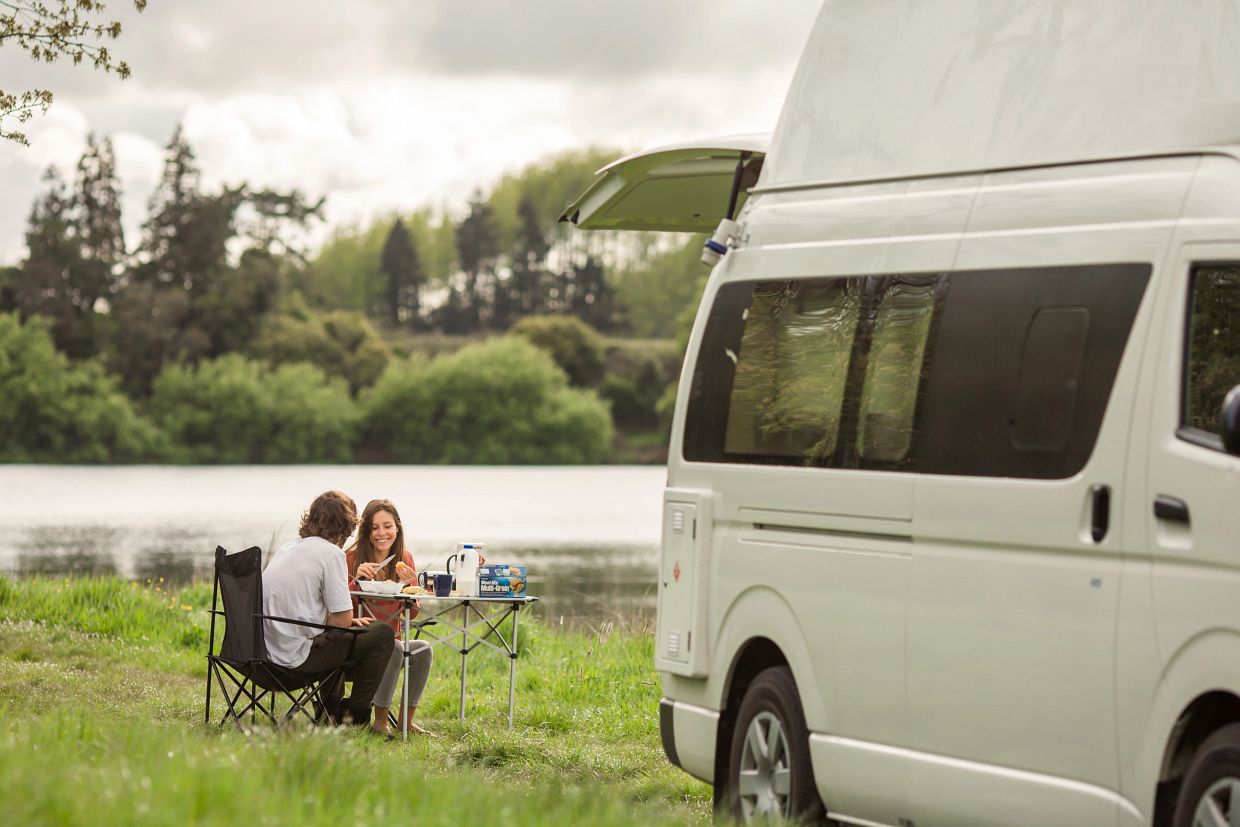 Must-have tools and equipment for exterior maintenance
Before you start your exterior maintenance, you should gather the tools, equipment and products needed to complete the job.
Optional:
How to care for the exterior of your RV
Now that we've why you should complete regular RV exterior care, let's take a look at how often you should do it and how to get it done.
How often should RV exterior maintenance be done?
Depending on how often you use your RV, your maintenance schedule might vary slightly.
If you use your RV once a year, for example, it's a good idea to give it a full maintenance check over before you head out on the road, to ensure everything is looking in top shape.
This ensures that you reduce the chance of anything going wrong on the road such as breakdowns or big motorhome repairs. When you get back from the trip, give it another once over to check no issues have popped up while you've been away.
At RV Super Centre we offer a pre-trip tune up service so you have the confidence before you hit the road.
If you use your RV more frequently or if you live in your RV, it's going to be exposed to more dirt, rain, UV and general wear and tear.
It's a good idea to do a full maintenance check every couple of months. If you notice any ongoing issues such as mold or leaking, it's best to deal with these right away so the issue doesn't get worse.
It's also good to consider where your motorhome is being stored. If it's in dry storage, it's less likely to suffer exterior issues, however, if it's sitting in the driveway, you may need to check it more frequently.
Caring for the exterior walls of your RV
Exterior fibreglass or gel coat finish
Care of the fibreglass finish of a motorhome is similar to caring for a new car or boat. Any finish will deteriorate over time and exposure to extreme sunlight, pollutants, and excessive moisture can cause dulling, fading and yellowing.
Regular washing and periodic waxing will help maintain the glossy new look. When washing, use a mild automotive wash solution taking care to rinse off any loose debris first.
Avoid spraying water directly into vents.
Waxing twice a year is recommended with an automotive wax or polish developed for boats. Follow all directions by the wax manufacturer carefully and remember to wash and wax out of direct sunlight and when surfaces are cool.
Metal Body
The exterior has a baked-on enamel finish. Washing frequently with an automotive or RV wash solution will help avoid staining from debris and soil buildup.
Always rinse with clear water prior to washing to remove any loose dirt. Waxing two to three times a year with a good automotive paste wax will help preserve the finish.
Do's and Don'ts
DO use automotive/marine grade non-abrasive waxes
DO use soft cloths to clean and wax
DO be careful around graphics, wax and wash with the graphic, not against
DON'T use products containing ammonia or caustic harsh cleaners
DON'T use high-pressure washers, rotating brushes or power buffers that are not designed for RVs.
DON'T dry wipe surfaces
DON'T use rubbing compounds
Plastic / Moulded Parts
Some components of your RV are constructed of strong ABS moulded plastic. A mild solution of soap and water should be used when cleaning. Once clean, use a plastic restorer to maintain UV protection and reduce degradation. When using any product, make sure the product is recommended for use on plastics. Avoid harsh abrasive cleaners, ammonia or citric-based products as discolouration may result. Carefully read the component manufacturer's manual for complete instructions and any applicable safety instructions, provided in the unit packet, prior to performing any maintenance.
Caring for your roof
Inspect the roof at least every 90 days, paying particular attention to the seams where the areas of fibreglass are joined.
Carefully inspect the sealant around any vents, skylights, air conditioners etc. Exposure to the elements will cause sealants to deteriorate over time and variations in climate and weather may accelerate deterioration.
Inspections and periodic resealing are essential as preventative maintenance. If cracks or shrinkage is noticed, immediately follow the manufacturer's recommendations for RV repair or resealing.
Special sealants are used due to the composition of the roofing material. For the appropriate sealant, please see your dealer.
Cleaning of the roof
Prior to cleaning the roof, rinse off to remove any debris. Be sure to keep the sidewalls wet to reduce streaking. Standard household detergents cannot be used for normal cleaning though, as this degrades sealants. A lichen and mould cleaner is best and has the added benefit of leaving a residual mould killer to prevent long term build up.
Do not use petroleum solvents, harsh abrasives or citric-based cleaners that can damage the membrane. Appropriate cleaners like the Camco Pro-Strength Wash and Wax or the Star Brite RV Wash are available at RVSC and through most boat or motor trade shops.
Remember to rinse thoroughly after cleaning. For stubborn stains, a cloth dampened with mineral spirits is suggested. Do not, however, pour mineral spirits directly onto the roof material or allow a stain to "soak".
Keeping the roof free of debris and clean will help prevent staining. Avoid parking in areas where fruit or tree sap may fall and remain directly on the roof for extended periods, causing irremovable stains. CAUTION: The roof may be slippery when wet.
Always use caution when working on top of your motorhome.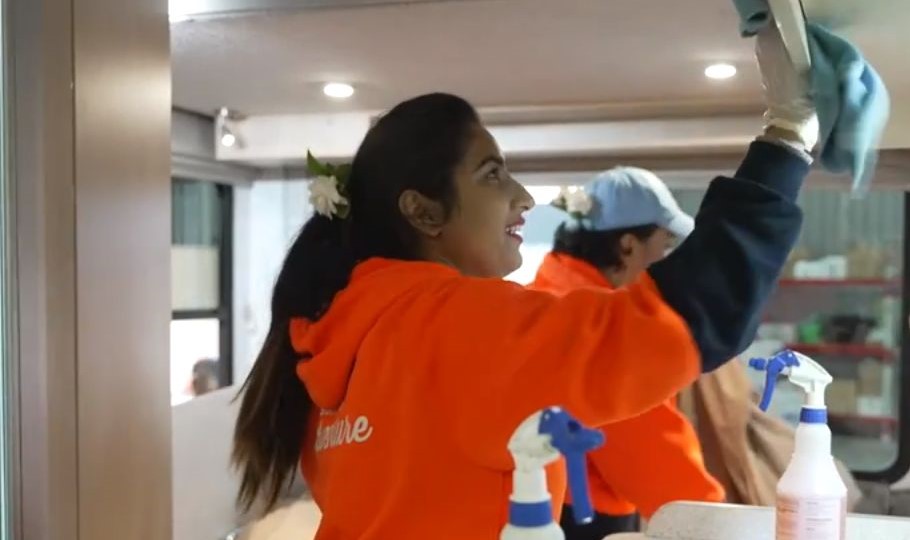 Caring for seals with adhesives
The seals and adhesives used perform an important job, keeping out an RV enemy – water. Close inspection and routine maintenance are crucial to the longevity of the motorhome.
While many types are used, none have a pre-set lifetime, as exposure to the elements and regional variances of climate can accelerate any sealant's deterioration.
Therefore, every six months, an inspection of all seals is recommended and a quick inspection prior to every trip will help reduce potential problems down the road.
When inspecting, check for cracks, gaps, shrinkage, or any sign of deterioration. If any of these signs are noticed, replace the sealant if necessary. It is important to use the same kind of sealant that was previously used. If you happen to find any damaged sealant, it's good to repair this quickly to prevent damage. Find a range of sealand tapes and adhesives at RV Super Centre.
Caring for exterior windows
Check the seals around the windows at least once every six months. If any interior leaks are noticed, contact an authorized dealer immediately.
To ensure window operation, adjust and lubricate latches and any moving parts annually. A light oil or powdered graphite can be used for lubrication.
Periodically use a vacuum attachment to clean any debris out of the window weep holes, which are necessary to drain any condensation or moisture from hard driving rains that may collect.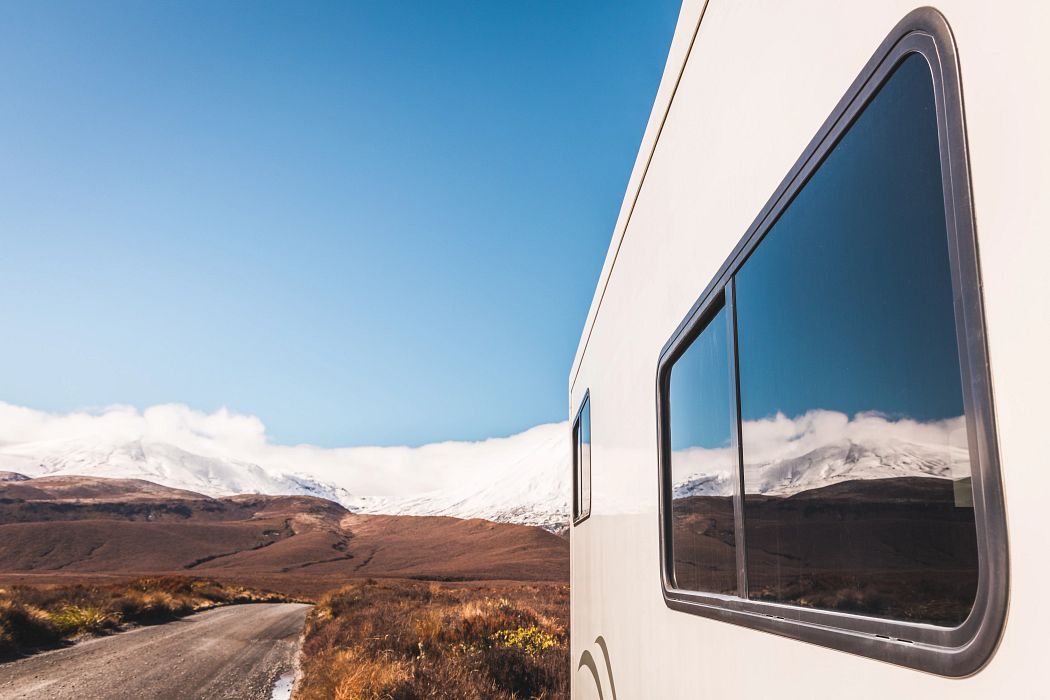 Caring for the RV frame and chassis
Over time, weather and climate such as rain, snow, salt etc may lead to corrosion. Rinse the undercarriage, wheel arches, and engine bay when needed to remove dirt, oil, tar, salt and other debris.
Periodically inspect for rust and if near coastal regions, inspect more frequently. If you live or travel near coastal areas, look to get the underbody sprayed with Cavity wax or a rust prevention spray. It's also advised to clean regularly to remove dirt, salt, and mud.
Vehicles that are older (pre-2000) will have pivot points that can be lubricated with a quality automotive grade lubricant, but this will typically be topped up when your vehicle is serviced. Yet another reason to get your vehicle serviced regularly!
Caring for tyres and wheels
The tyres should be checked before starting out on any trip. Check them regularly and keep inflated to recommended pressures.
The recommended tyre pressure is on the side of the tire or in the vehicle owner's manual. Carry a tyre gauge, a tyre gauge is a very inexpensive and valuable tool for checking tyre inflation.
Rotate the tyres at least once every 10,000 kilometres. Note; Some procedures require the use of special tools for safe and correct maintenance.
Do not attempt to service, repair or work on any axle, brake, or wheel system unless you have appropriate skills and knowledge.
Lack of proper training, failure to follow procedures or use of special tools and safety equipment could result in property damage, serious injury or loss of life.
Book a deluxe service at RVSC
Exterior care and maintenance should be done by vehicle owners well and often, but a comprehensive service at RVSC can offer extra peace of mind and save you time and effort.
Alongside all the regular tests and servicing of a standard service, a deluxe service includes a house and exterior safety check that includes:
Gas and water leak testing
Appliance functionality
Hot water and heating system checks
Non-invasive moisture testing
Plus full interior and exterior valet including upholstery cleaning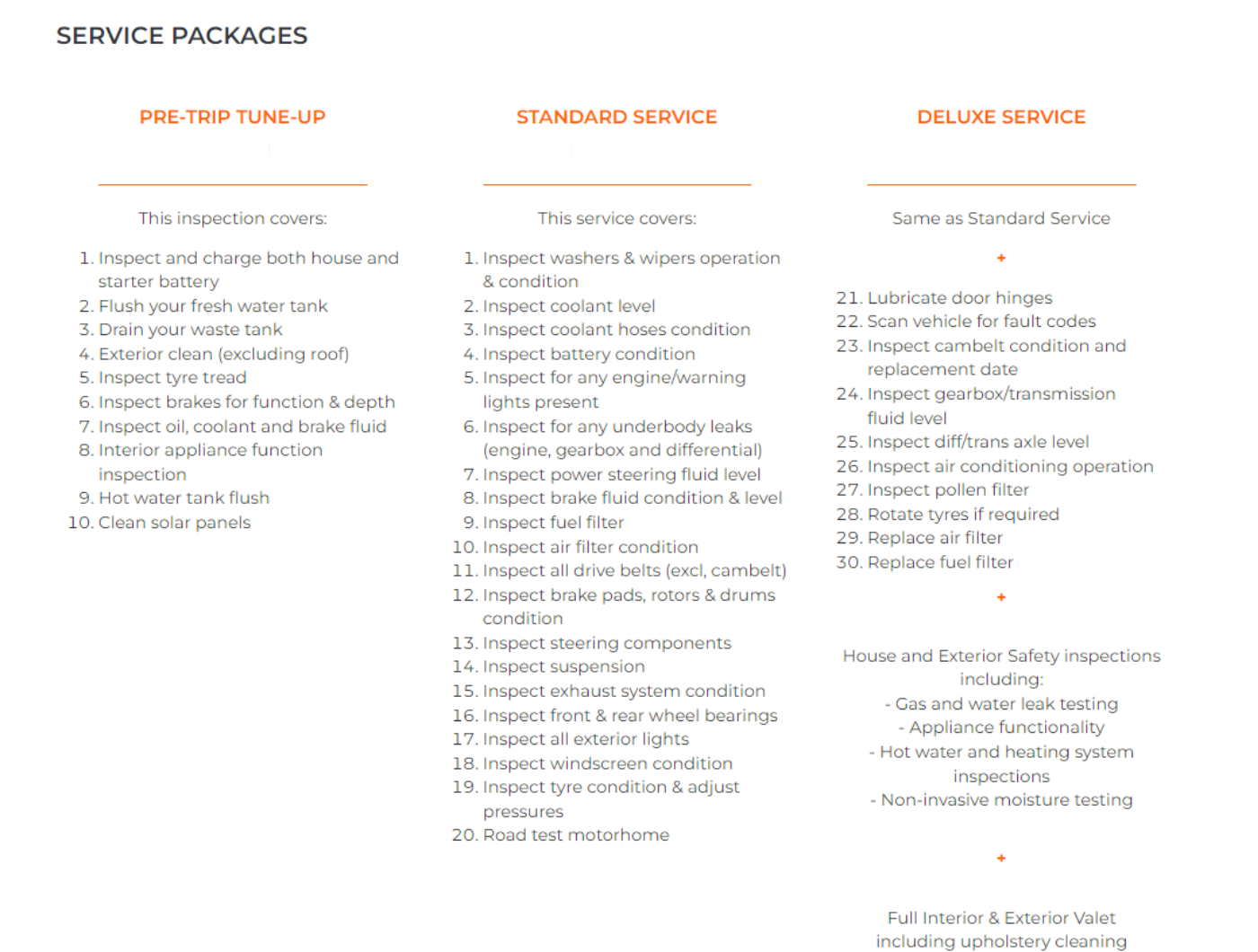 Find out about the motorhome servicing options at RV Super Centre for a road-ready RV for your next trip.
Make RV maintenance easy with cleaning accessories
Find everything you need for maintenance and keeping your RV in top shape with RVSC. For more advice on RV maintenance, check out our guides for RV owners.