13 Must-have Items For Saving Space In Your Motorhome
Author: Your RV Good Guide Date Posted: 20 September 2023

Looking for ways to maximise your motorhome's storage space? We've got you covered. In this helpful blog, we'll share the top 13 must-have items to help you organise, declutter, and create extra space. But first …
Why is space saving important in your motorhome?
In the cosy confines of a motorhome, every square inch matters. Making the most of your campervan's space not only makes your travels more comfortable but also ensures you have room for essentials without feeling cramped.
Good storage solutions also mean that your belongings are kept safe, reducing the risk of something getting lost or damaged.
Whether it's for cooking, sleeping, or simply moving around, optimal use of space is the cornerstone of creating an enjoyable and functional living environment on the road.
Think about where you need to save space
Before heading off on your campervan road trip, consider the areas that require the most attention. Identifying these spaces will help you prioritise the items that will have the greatest impact on your motorhome's organisation and liveability. For those who spend a lot of time creating culinary masterpieces, your RV's kitchen storage spaces will be at a premium. Those travelling with children will want to eke out even more storage for all those extras that kids need and want on holiday. If you're travelling in winter, you may need more space in wardrobes and drawers for clothing. The length of your travels will also dictate how much space you need – longer trips generally mean more gear, with more space needed.
Packing tips for maximising space
Here are a few packing tips to help you make the most of your campervan space.
Try rolling your clothes instead of folding them. It's amazing how this simple tweak can free up more room and also offer a clearer view of your wardrobe.
Keep your belongings tidy with packing cubes. They're excellent for grouping smaller items, making them quicker to locate.
For bulkier items like winter coats, compression bags are a lifesaver. They significantly reduce the space these large items take up.
Plan ahead by drafting a packing checklist. This ensures you pack just what you need without overlooking essentials or bringing excess.
13 must-have items for saving space in your motorhome
Here are our recommended RV storage solutions to help you best utilise the space in your motorhome:
Stow-all pockets
For easy storage of a multitude of items, stow-all pockets are a brilliant storage solution. These sturdy containers can be easily attached to walls or doors, offering a versatile storage solution for shoes, accessories, toiletries, and more. By utilising vertical space, you can free up the floor area and keep your motorhome tidy. Available in white and grey, they're perfect for the bathroom, kitchen and bedside. Attach one next to the habitation door for popping in those bits and pieces you don't want to forget on your way out.
Stackable kitchenware
Cups, plates, and utensils all take up a considerable amount of your RV's kitchen storage space. The solution? Opt for stackable or nesting kitchenware that snugly fit within each other. With each item neatly tucked into its counterpart, you'll free up oodles of space in your kitchen cabinets and drawers. As an added bonus, because your items are compactly stored, there's less risk of them toppling over, moving about during transit, and getting damaged.
Collapsible kitchenware
For the ultimate in space-saving kitchenware, you can't go past collapsible items. From kettles and buckets to bowls and colanders, collapsible products are ideal for motorhomes. The Kiwi Camping Collapsible Turbo Pot is a heat-resistant pot that can be used on gas and electric cooktops. When you're finished, it folds down to a fraction of its size so you can store it away easily.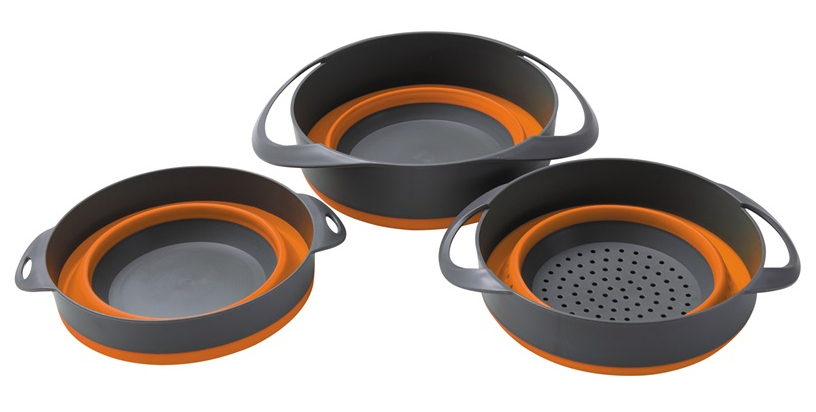 Fold-down table
A fold-down outdoor table is a clever, versatile motorhome accessory that provides a dining table or workspace when needed. These tables are installed on the exterior of your campervan, so there's no space taken up inside. They're great for use alongside the barbecue – perfect for holding ingredients, and the all-important cold drink. Choose a folding table that offers a good weight rating but is made from lightweight materials.
Folding transit trolley
Taking up minimal space but providing tons of convenience, a folding transit trolley is super handy when you're travelling. These nifty trolleys are ideal for carrying gear to and from your motorhome or lugging beach necessities down to the sand. Look for a trolley that holds plenty of weight and is easy to fold down and store.
Magnetic strip holders
Another clever and innovative product for saving space in your motorhome kitchen is magnetic stripping. Install the strips on your kitchen workspace wall to hold knives and utensils. It's a great alternative to bulky knife blocks and cluttered drawers. These strips can also be used for holding spice jars with metal lids, or even keys, streamlining your living environment.
Folding drink holder
Looking for a safe spot to park your drink? Don't risk leaving it somewhere that will result in a spillage. A folding drink holder is a better alternative. With its adjustable arms, it can securely accommodate cups and bottles in a range of sizes. And when it's not in use, just fold it down flat and out of the way.
Cargo organiser boxes
Cargo organiser boxes are a game-changer for keeping your belongings sorted and accessible as you travel. These versatile storage boxes fit well in your campervan cabinets or in storage lockers, providing a tidy solution for various items. With separate compartments and the addition of side pockets, these clever storage solutions are perfect for everything from shoes and hats to towels and drink bottles. Made from water-resistant polyester, they're also simple to clean and can be folded away when not needed.
Stemless wine glasses
Wine glasses with stems can be tricky to store in your motorhome. Instead, consider stemless glasses that offer more versatility. Made from high-quality polycarbonate, these won't break if they take a tumble. And because they can be used not only for wine, but juice, spirits, and any other cold drink, they reduce the need to have wine glasses as well as tumblers. You can even pre-chill them by popping them in the freezer first.

Wall-mount for TV
A wall mount for your motorhome TV not only saves precious bench and floor space but also gives you the best TV viewing experience. Tailored especially for motorhomes and caravans, the RV Media TV wall mount bracket can handle TVs up to 15 kg and extends 255 mm, making adjustments super easy in any direction. It comes with two easy-to-install mounting bases, letting you locate your TV inside or outside your RV. When you're on the move, the TV easily detaches and the bracket locks in place.
Shampoo and soap dispenser
Shampoo and liquid soap bottles seem to take up an inordinate amount of space. Especially in the confines of a motorhome bathroom. The perfect solution is the Better Living Aviva Corner Trio Dispenser. Just attach it to your bathroom wall and fill up each section. It's also a great way to reduce the amount of plastic bottles you use.
Hanging toiletry kit
Another great space saver in the bathroom is the Thule Toiletry Kit. Easily hung on a door or inside a cabinet, it keeps all your daily personal care items organised. Not only are your toiletries easily accessible, but if you're at a camping site, you can simply grab the kit and head to the restrooms or showers.
Folding waste bin
Bulky rubbish bins can seriously encroach on your kitchen space. A folding waste bin is a great alternative. Blending convenience with functionality, this bin folds down to a slim profile when not in use. When expanded, it can accommodate up to 35L. It's easy to mount using the included hooks. Built to withstand the elements, the bin is both waterproof and UV-resistant. Weighing a little over a kilogram, and with dimensions that make it sizable without being cumbersome, this bin is the perfect addition for your motorhome.
Keen to maximise your storage space?
Now that you've got some great ideas on how to maximise your storage space in your campervan, why not plan a bit of a spring clean? Haul out all those extras that are using up space for no good reason. Pick up some savvy storage space solutions from your local RV Super Centre, or even easier, grab them online. Then spend some time sorting and decluttering your motorhome. It's a great way to ensure your next road trip feels organised and easy.
If you're still in the process of buying a motorhome, check out the great range of campervans for sale at RV Super Centre.
Looking for more helpful motorhoming inspiration? Check out these handy guides:
---
Leave a comment