Ultimate Checklist For Couples Buying A Motorhome
Author: Your RV Good Guide Date Posted: 14 April 2023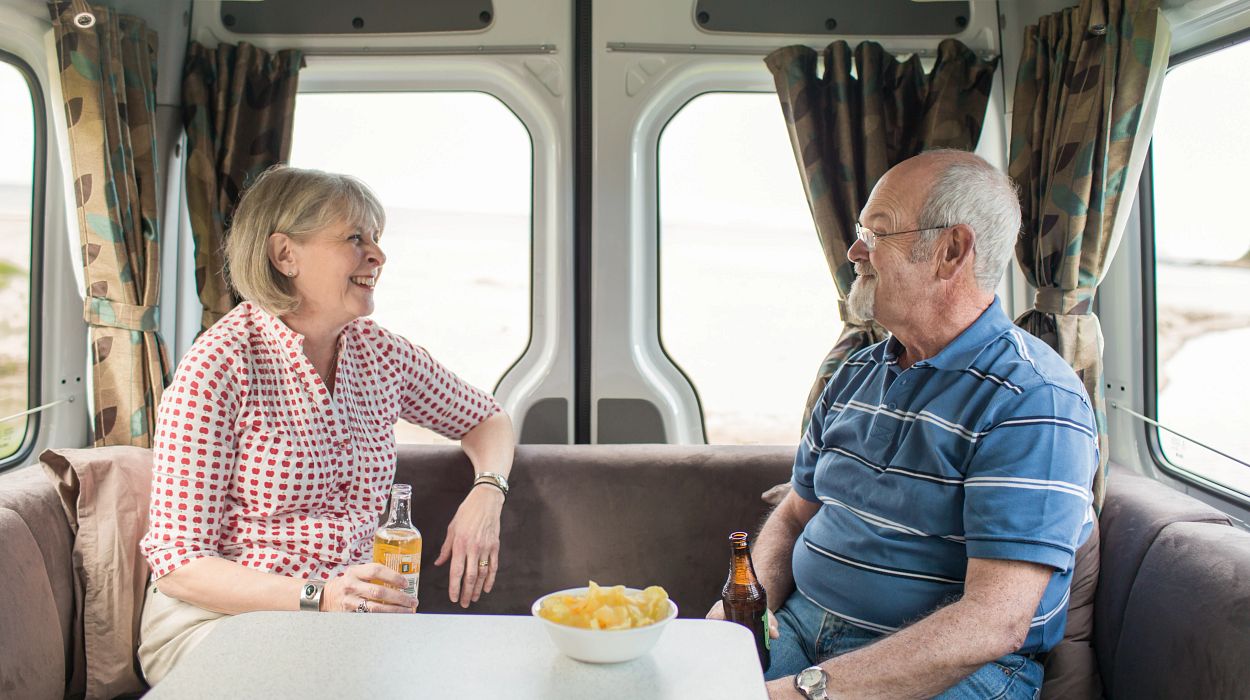 Exploring New Zealand together is something most couples find incredibly rewarding. And one of the best ways to do it is by motorhome. If you're thinking about buying an RV as a couple, you may be wondering which is the best motorhome for two people. With hundreds of different makes and models on the market, it can be hard to know where to start!
In this helpful guide, we'll take a look at some of the key considerations when looking at an RV for two people.
What to look for in a good motorhome for couples
When you're looking at motorhomes for sale, it helps to have a checklist to work to. We've put together a list of 10 helpful pointers to get you started.
1. Berth size
When it comes to motorhomes, the term 'berth' is most often used to measure their capacity to sleep people. For example, a two-berth campervan can sleep two people. Generally, the more berths a motorhome has, the larger it is likely to be. Although there may only be two of you travelling, you might decide you want more than two berths. This allows for a friend or family member to join you on occasion. Or, you may just like to have the extra room a bigger berth size affords.
2. Storage for your travel style
Storage capacity is another factor to pay close attention to when looking at motorhomes for sale. If you're a couple that enjoys surfing, fishing, golfing, or cycling, you'll want to make sure your motorhome has room for your gear. For keen cyclists, having bike racks installed is a must. But if the motorhome you're planning on buying doesn't have one installed, don't worry RV Super Centre can install it for you.

3. Automatic transmission
Most motorhome drivers would agree that having an automatic transmission is a big benefit. When you're driving for long periods of time, it's just easier. Most modern automatic transmissions are very smooth with up to 8-speed gearboxes. Having said that, some drivers prefer a manual transmission. The important thing to consider is that both of you feel comfortable with whatever transmission you choose.
4. Air conditioning
If you choose a two-berth motorhome, bear in mind that these are relatively small compared to a four-berth or larger. This means it can get hot inside when travelling over summer. It may be worth looking for an RV that has air-conditioning, at least in the cabin.
5. Bed layout
Motorhomes come in a range of layouts. Some offer two single beds. Some have a drop-down bed. Others have a permanent double bed or a lounge that converts to a double bed. Consider which is the best layout for you as a couple. Some points to consider include:
Drop-down beds can be problematic to get into if you have mobility issues.
Twin singles offer the benefit of minimal partner disturbance. They can often be converted into a double if desired.
Fixed island beds are popular because they have room on either side making it easy to get in and out.

6. Safety first
When you're travelling by motorhome as a couple, you want to know that you'll both be safe while you're on the road. The last thing you want is a breakdown halfway through your holiday. RV Super Centre prioritise the quality and safety of our vehicles. It's why each campervan comes with a 12-month guarantee.
7. Double gas burner cooktop
Given there are two of you, you'll want to ensure you've got a kitchen hob with at least two burners. This means you can cook enough at once without having to juggle pots. If you're a frequent microwave user, you may also like to check whether there's room to have one on board.
8. Fridge and freezer
Some smaller campervans may not have a fridge and freezer, in which case you may have to make do with a cooler box. Take it from us, you'll soon wish you had a fridge! Having a fridge and freezer onboard means you can keep food cold and store ingredients for cooking. Even a small under-bench fridge with an internal ice box comes in very handy.
9. Window blinds
Having blinds or curtains on your motorhome windows not only provides privacy but will also keep in the warmth. Blinds also help to reduce condensation build-up that can lead to mould and mildew growth. This can be a big issue in a small motorhome. You may also like to consider having your windows tinted to help with warmth, dryness, and privacy. If you find your dream RV but it needs blinds or window tinting, just contact the team at RV Super Centre who can make these modifications for you.
10. Meets rules and regulation standards
One of the big considerations for anyone buying a motorhome is whether it meets the self-containment standards.
To be certified self-contained your motorhome must meet the current New Zealand Standard for Self-Containment NZS 5465:2001. This means that it meets the ablutionary and sanitary needs of all occupants for a minimum of three days. By being self-contained, you have the benefit of being able to use the great freedom camping sites around New Zealand. If your motorhome isn't certified, you won't be able to freedom camp. It can be costly to bring your RV up to self-containment standards, so it's better to choose an RV that is good to go.
Need to know more? Read our helpful guide on everything you need to know about motorhome self-containment regulations.
You should also check to ensure the motorhome you're considering has a current WOF or COF. Read our helpful guide for everything you need to know about WOFs and COFs.
The best motorhomes at RV Super Centre for couples
One of the best places to find a quality new, used, or ex-rental motorhome for sale is RV Super Centre.
Talvor Motorhomes
Built in one of Australia's largest RV manufacturing facilities, Talvor Motorhomes are made especially for New Zealand and Australian conditions. When you buy a Talvor RV, you've got the peace of mind of knowing it has been designed and built by a team of highly experienced RV engineers. Here's a look at a couple of popular models:
Talvor Euro Tourer
The top of the range two-berth Talvor Euro Tourer campervan is built on a Mercedes Sprinter. This camper comes with all the luxury additions without breaking the budget.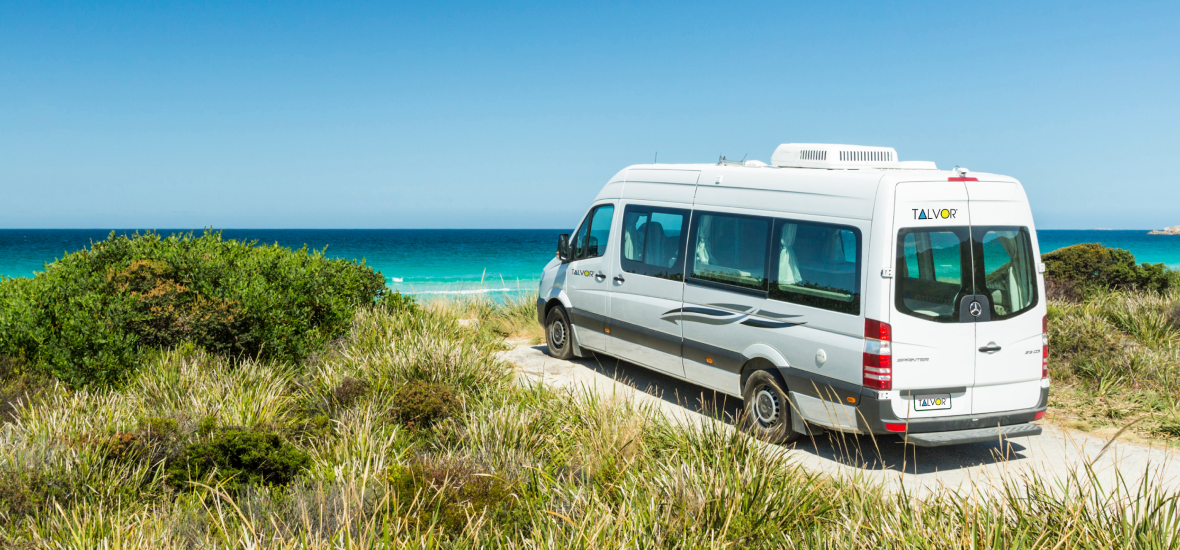 Talvor Endeavour
Compact but with a design that maximises space, the four-berth Talvor Endeavour is built on a Toyota Hiace. That makes it a breeze to drive. It's ideal for weekend getaways or extended holidays.
KEA Motorhomes
KEA Motorhomes are manufactured by Tourism Holdings Limited (thl), the world's largest operator of motorhome rentals. The name KEA is synonymous with reliability, safety, and world-renowned engineering. KEA expert technicians have over 25 years of experience in the motorhome industry. They know how to build RVs to meet the unique needs and wants of New Zealand motorhomers. Here's a look at a couple of popular models:
KEA Nomad M700
With two dining spaces and an extra fold-out bed, the three-berth KEA Nomad campervan provides versatility and space for a guest.

KEA Breeze M660
For travellers who prefer not to worry about setting up their bed each day, the four-berth KEA Breeze lets you simply press a button, and the double bed retracts up to the roof. With a larger bathroom and two dining areas, this comfortable, compact motorhome is perfect for couples wanting extra space.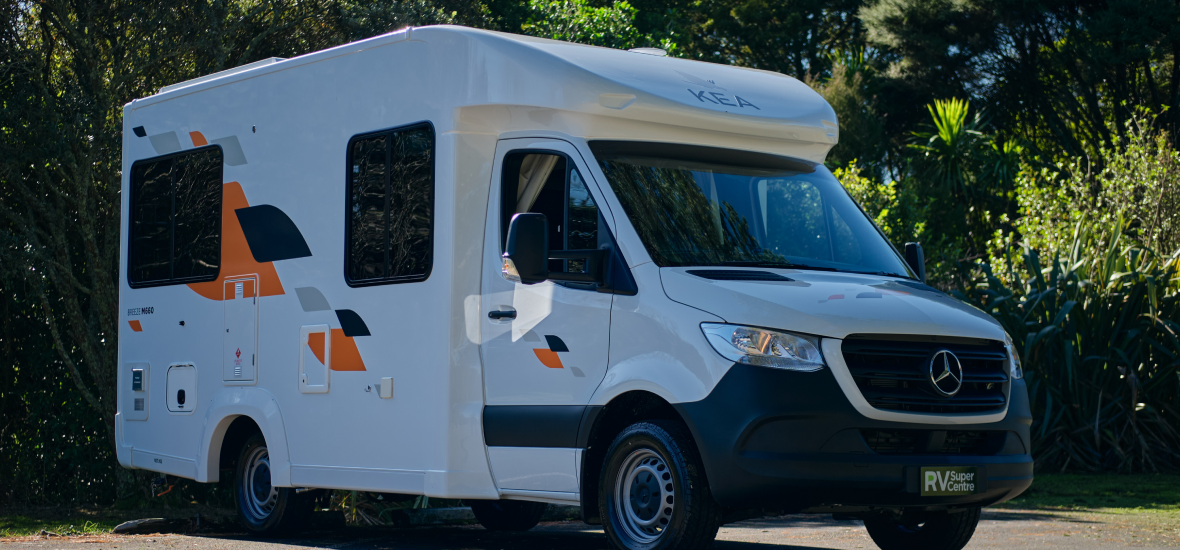 Laika Motorhomes
Italian motorhome brand Laika was founded in 1964 in the hills of Tuscany. With a foundational belief in beauty, luxury and evolution through technology, the Laika offers something just a little special.
Laika ECOVIP L 3412 DS
Built using state-of-the-art technology and superior craftsmanship, the Italian-designed Laika ECOVIP is the ultimate motorhome. From the curved surfaces to the ergonomic cushions, the high quality interior is crafted with an Italian flair. There's room for the whole family with a large fixed bed in the rear, a drop-down bed above the cab, and a single bed in the dining area.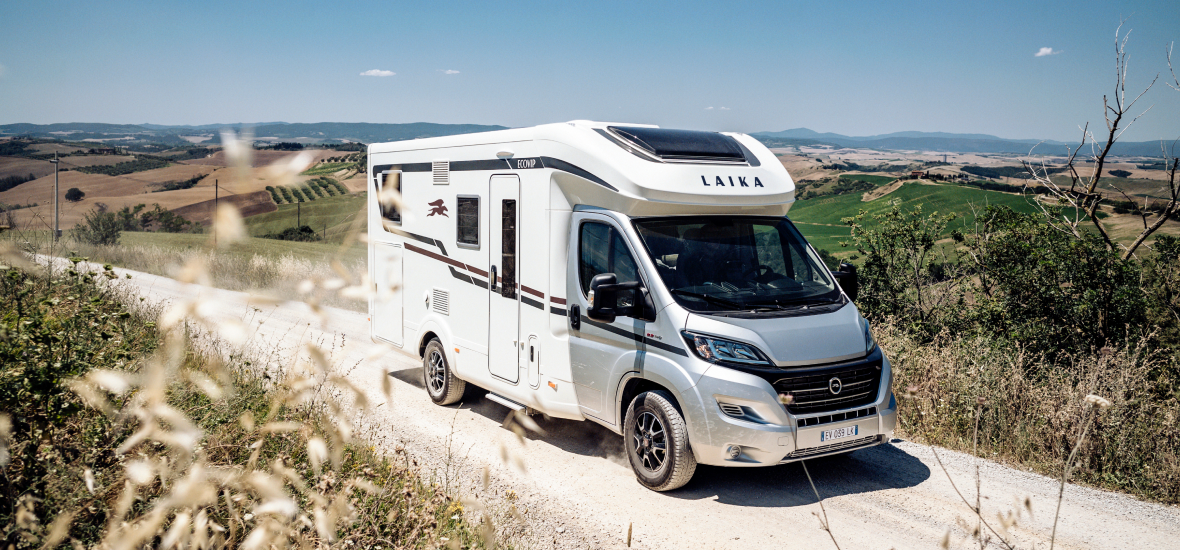 Couples' motorhome accessory checklist
Now that you're all set to find the perfect motorhome, you may also want to think about motorhome accessories. The right accessories can transform your holidays, making them more comfortable, fun, and relaxing. Here are a few worth considering:
Awnings
Offering shade and shelter from the weather, a campervan awning is a must-have for most motorhome travellers. A good awning can also extend your interior space and help create a defined outdoor living area. Read our helpful guide on campervan and caravan awning types.
Wireless speakers
Relaxing in the evening or enjoying a mid-afternoon cuppa is always nicer with your favourite music playing in the background. When you've got plenty of space to yourself, a 12V Bluetooth sound bar or speaker to play some relaxed music can really help set the scene.
Outdoor furniture
Having your own outdoor table and chairs means you can enjoy meals alfresco. They're also a must-have for evening drinks and nibbles or simply enjoy the view with a good book.
Portable barbecue
Nothing beats firing up the barbecue after a great day of travel or adventure. A lightweight portable barbecue with folding side tables is ideal for campervan cooking – just hook up to your onboard gas bottle and start sizzling!
A 12-volt TV
On those rainy days, or when you just want to chill for a bit, a 12-volt TV is just the ticket. Snuggle up together with some microwave popcorn, a glass of wine, and enjoy a quiet movie night.
Ready for romantic trips away in a motorhome?
Keen to start searching for your dream motorhome? The journey of researching and looking at motorhomes to buy is an exciting one. Remember, ask lots of questions, take your time, and enjoy the process. You'll soon be out and about together enjoying the freedom and adventure of motorhome travel and all the amazing benefits it has to offer.
Got questions or need more advice about which is the best motorhome for couples? The friendly team at your local RV Super Centre is here to help.
Looking for more helpful tips on buying a motorhome? Check out these helpful guides:
---
Leave a comment