Everything you need to know about RV fridges
Author: Your RV Good Guide Date Posted:5 October 2021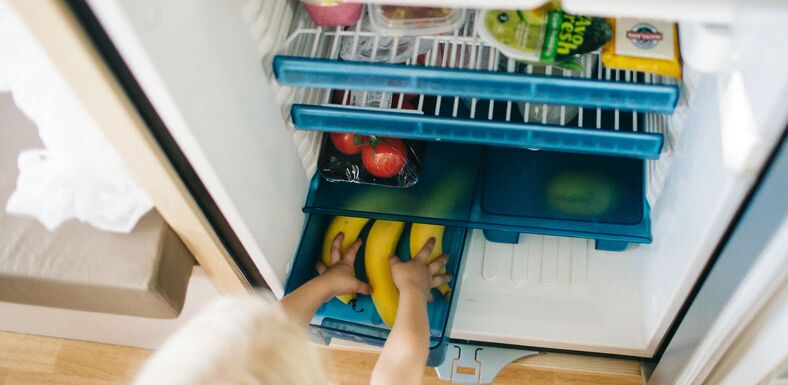 Travel in an RV is a wonderful way to see the world whether you are taking a holiday or living in your RV.
Of all the appliances you can add, a good RV refrigerator is a must have for the convenience of having your food and drink on hand wherever you go, and to make the most of your RV kitchen.
Ensuring you have the right type of RV fridge and that it is maintained properly will ensure it lasts you a long time and keeps all of your travel essentials efficiently cool while you are on the road.
In this blog we will cover what types of RV fridges are available, how to choose the right one for your needs, and how to maintain it.
How are RV fridges different from domestic fridges?
They are suitable for moving vehicles. The most obvious difference is that they are designed to be used in a moving vehicle. With models that are designed to run while you're on the road and still function when not level, they are the safest option for an RV.
They are more compact. RV fridges are designed to fit in compact spaces in mind, so they function well in a smaller space compared with a domestic fridge and have the right design to be functional in the tight confines of an RV or campervan.
They include special design features. With everything from bluetooth temperature control apps, through to removable and adjustable components, RV fridges are made for versatility on the road.
What are the different types of RV fridges?
Absorption fridges
Absorption fridges, which are also known as 3-way fridges, use a gas flow heating exchange system which extracts heat from the fridge to cool the temperature inside.
These are powered by either a 12-volt battery, 110-volt power, or LPG gas - hence being called 3-way fridges.
The benefits of absorption fridges
They can be used when the camper isn't hooked up to a mains power source - great for freedom camping!
You don't need to spend money on replacement batteries or solar panels They are quiet when running so you can camp in peace
There are no moving parts so are great for campers on the move
They tend to have a good life-span which can save you money long term
Things you should know about absorption fridges
You will need a gasfitter to install
They need to be kept level in the camper, and require good ventilation
Compressor fridges
Compressor-powered fridges (2-way fridges) are run by a compact compressor unit which cools the camper fridge with either a 12-volt battery (such as the camper battery) or by 110-volt power (plugging in at a powered campsite, or using a generator).
The benefits of a compressor fridge
You can install one yourself meaning you save money on hiring a gasfitter!
They are powerful so they can cool your camper fridge contents quickly and consistently, even if you are travelling to hot destinations!
They are powerful enough to allow for freezing as well
They are efficient with power use
They don't have to be kept level all the time so you have more flexibility with the terrain you drive on!
Things you should know about compressor fridges
When you are not connected to mains power, you will need some extra power to use the camper fridge, such as a generator or solar panels
Regular re-charging of batteries is necessary
Portable fridges
Portable fridges are compact sized refrigerators that run off either a 12V or 24V or 240V power supply. They range in size from as small as 8L, up to around 95L and often feature modern tech for the ultimate flexibility.
The benefits of a portable fridge
The compact size means you have the flexibility of where you have it in the camper - great for campers that don't have much spare space!
They only rely on small amounts of power to run - some only using as much power as a lightbulb!
Lightweight and easy to move around with either strong handles or wheels
Some models come with three-stage low-battery protection so your batteries don't get damaged from overcharging
They can be used as additional storage to your usual RV fridge
Great extra features such lights, solar panels, LCD controls
Some models come with app connectivity, meaning you can remotely control the temperature, get alerts if you left the lid open, or even track power consumption!
There are options for fridge freezers too, so you can store your food for longer periods of time on the road. Models with removable batteries allow you to keep cooling without being plugged in!
Be the ultimate host on a hot day with a portable ice maker, or have your drinks right beside you when you drive with models that plug straight into the cigarette lighter socket!

Thermo-electric fridges
Thermo-electric fridges run on 12/24 V DC or 230 V AC power and are another great compact option for campervan living. Thermoelectric cooling doesn't use any liquid refrigerant, and instead uses solid metal to transfer thermal energy.
The benefits of a thermo-electric fridge
Some models come with both heating and cooling options so you can picnic with cold drinks or take your hot meal!
Compact low maintenance option
Low energy consumption with very low noise
Superior temperature control
How to choose an RV fridge
With so many RV fridge options available, it can be hard to determine which type is best for you. Once you know how much space you have to work with, it's time to get down to the finer details, so you can make sure the fridge you choose suits your travelling style. Some things to consider when making a decision on a model are:
The roads you will be driving on. As some types of RV fridges work best when kept flat, you should consider the types of roads you will be driving on for example, rough terrain areas.
The locations you are travelling to. Consider if you will be heading to areas that are very hot and you will require quick cooling of things like drinking water.
Will you be plugged into power infrequently. Think about whether you are likely to freedom camp or head to areas where you won't have access to power the camper to run appliances.
Do you need a freezer. If you are planning on travelling for long periods of time you might want to have a freezer so you can store more food.
Do you want something mobile. If you spend a lot of time down at the beach or enjoying fresh air outside on the camping chairs you might want something more mobile so you can grab your refreshments easily
Do you have time for maintenance. Consider whether you have time for things like charging batteries, getting replacement solar panels and sorting the generator
How to maintain an RV fridge
Once you have your flash new fridge you will want to ensure you are taking care of it properly so it lasts you a long time and is doing the best job possible.
Keeping your RV fridge fresh
Keeping your fridge clean will help to ensure you don't end up with stubborn mould, worn seals, and of course, compromised food!
Clean regularly - fill a bucket with hot soapy water and be sure to clean around the seals as this will keep them in good working order
Clean it before you store it - giving the fridge a good clean before you store it away in the garage will ensure you don't come back to bad odours! Make sure to leave the fridge door open when storing
Store food in sealed containers - this will help to keep the fridge from becoming odorous
Seal foods (especially meats) with a vacuum sealer to reduce the likelihood of spills
Pack your fridge to allow for air flow - don't overpack it or the air won't be able to circulate efficiently enough to cool everything down
Accessories for your RV fridge
Fridge bars - these stop items falling out when the door is opened
Egg holders - keep your eggs in one piece when you are on the move!
Insulated Covers (for portable fridges) - these help to keep portable fridges cool and out of the sun Slide mounts (portable fridges) can be purchased so fridges can be installed into storage areas
Custom laminate jobs - personalise your camper by adding special laminates to the fridge!
Reputable fridge brands (and why we love them)
Choosing the best RV refrigerator for you will ensure that you not only get something that lasts a long time, but also gets you all the most modern features and tech too. With good energy consumption, high insulation ratings and sturdy construction in mind, modern fridges are the way to go.
Older fridges can require more maintenance, and if you are buying second hand it can be hard to know how well the RV fridge has been looked after.
Investing in a nice new RV fridge will ensure you get a warranty, peace of mind knowing it's safe to live and travel with, plus a bit of luxury for your RV!
Our favourite RV fridge brands are:
Kit out your camper with a new fridge from RV Super Centre
Check out the range of RV fridges from RV Super Centre online. Head into your local RVSC branch to stock up on accessories, parts and gear or shop our huge range online now.
---
Leave a comment