Essential Appliances and Accessories For Your RV Kitchen
Author: Your RV Good Guide Date Posted: 23 May 2022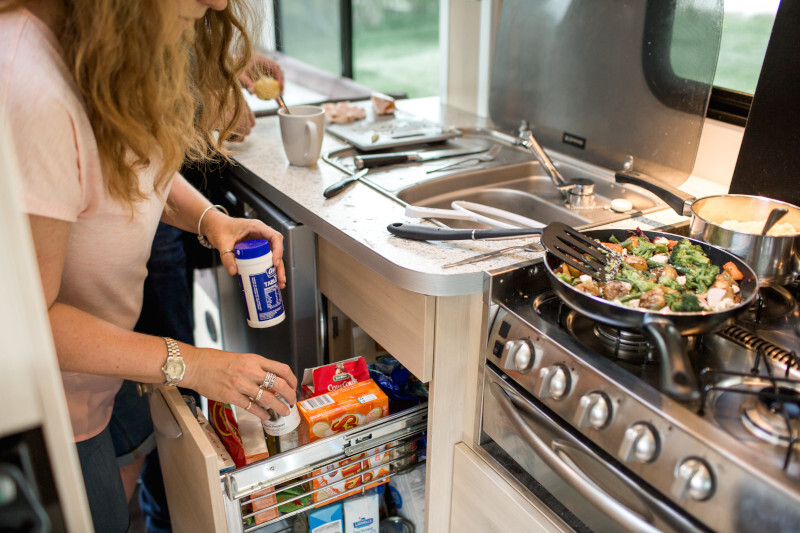 Essential Appliances and Accessories For Your RV Kitchen
One of the big benefits of travelling by RV is being able to take many of your home comforts with you on the road. And what's more comforting than having a kitchen to prepare home-cooked meals in? Being able to cook and store food while you're on the road not only makes travelling more comfortable, it can also save you money that you can then spend on your travels.
Just like at home, kitchens in an RV vary in size, functionality, and practicality. And while RV kitchens are compact in comparison, having a few essential appliances and accessories will mean you're ready to cook up a storm (and easily store the leftovers)! Wondering what you need to kit out your RV kitchen? We've got you covered with our guide on the essential accessories and appliances to consider, as well as some organisation tips to keep things tidy.
In this guide we will cover:
Must-have accessories and appliances for your RV kitchen
The appliances in your RV kitchen run on either AC mains power (240V) if you're plugged in, or your 12V battery (DC power). RV appliances in your kitchen are likely to include a 12V fridge and 12V microwave, along with things like a toaster and kettle. With a little bit of practice and planning, you'll soon be cooking up a storm despite the limited space, while only having to rely on your 12V appliances.
Here are some essential accessories and appliances to help you get the most out of your RV kitchen.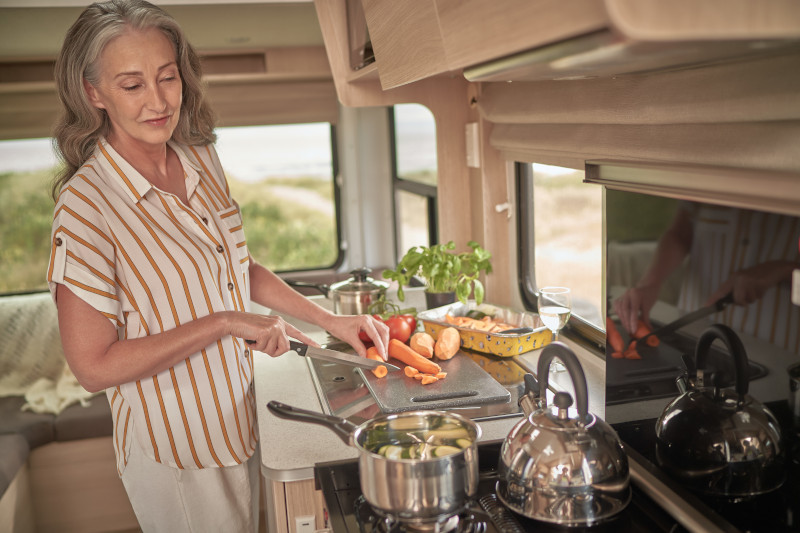 Accessories to help you cook
From frying pans to vacuum sealers, there are many accessories and appliances that can help you cook in your RV. Let's take a closer look at the most commonly used campervan accessories that make using your RV kitchen easier: Gas hob toaster You can't beat toast cooked over a gas hob toaster. The unique design means your toast is cooked evenly every time – just pop the toaster over your gas hob on the oven or BBQ, turn when needed, and enjoy!
Collapsible pots
Pots and pans can take up valuable space. Collapsible pots are a great alternative – they fold down to a fraction of their original size, plus they're lightweight, easy to clean, and can be stored in shallow drawers.
SmartSpace cookware
For another great space saving option, SmartSpace cookware features removable handles and is shaped to not only utilise your RV's cooktop burners, but also to stack inside each other when stored, saving precious cupboard space.
Collapsible chopping board
Why just pack a plain old chopping board when you can make use of a collapsible chopping board that also doubles as a sink or storage container? Very handy and another great space saver.
Expandable trivet
Don't risk damaging the benchtop or tabletop in your RV with hot dishes. A handy trivet is a good accessory to have on board for resting pans and pots when they're hot.
Magnetic measuring set
For baking all your favourite on-the-road goodies, a magnetic measuring set is a must-have. Each piece nests together with magnets holding them all in place. The perfect space saver!
Small appliances for beverage lovers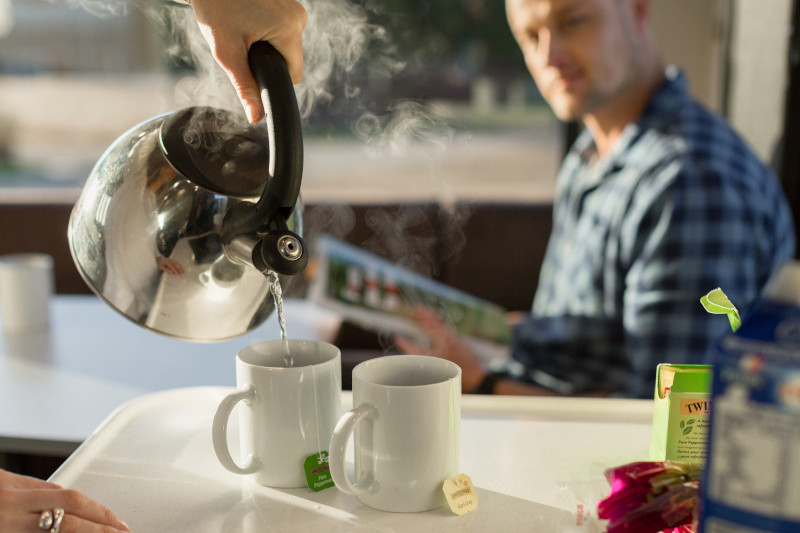 A few well-chosen, space-saving appliances in your RV can make cooking easy and enjoyable. Here are a few we recommend:
Kettle
From boiling your morning cuppa to quickly heating up water for pasta or rice, a kettle is a must-have in your RV kitchen. Choose from a plug-in 12V kettle or one that sits on your hob.
Collapsible kettle
For the ultimate in space (and power!) saving, a collapsible kettle is ideal for campervan travel. Made from BPA-free plastic, these clever kettles are heat resistant so they can be used on your hob, and then fold down for convenient storage when you're done.
Portable ice maker
Summer will never be the same once you've got a portable ice maker on board. Just pour water into the tank and within 15 minutes you've got ice on demand. Perfect for a morning smoothie and those 5pm G&Ts!

RV accessories to help keep your kitchen clean
When you're living, cooking, and relaxing all within a small space, it's important to keep your work surfaces and equipment hygienically clean. Here is a helpful list of cleaning accessories worth keeping in your RV.
Collapsible dish rack
Bench space is usually limited in your RV, so a compact, collapsible dish rack is a good idea for clean-up time. The rack makes it easy to dry plates, cups, and cutlery, then folds down compactly for easy storage.
Mini dish drainer
A mini dish drainer is a great option when you just need to pop a few plates or cups on the bench to drain and dry.
Door rubbish bin
Freestanding rubbish bins can take up space and get in the way, instead, opt for a door rubbish bin that can be fitted inside a cupboard or against a wall out of the way.
Soap dispenser
Food safety is always important, but especially so when you're cooking in a small space. To help keep everyone's hands clean and hygienic while cooking or preparing food, it's a good idea to install a soap dispenser in the kitchen.
Teak scrub
Made from marine-grade stainless steel, a Teak Scrub is designed to remove dirt and grime from teak and other fine wood.
Accessories to help you organise your kitchen
Having a well-organised motorhome kitchen – with everything in its place – makes RV life a lot easier and more enjoyable. Here are a few great items to help you keep your kitchen ship-shape and tidy.
Compact cutlery organiser
Keep your cutlery tidy and easy to access with a compact cutlery organiser. It's the ideal solution for maximising every inch of your drawer space.
Expandable cutlery tray
Sort out those cluttered, messy drawers with an expandable cutlery tray. These clever space savers are designed to fit a range of drawer sizes and have space for dinnerware as well as larger utensils.
Egg carrier
You can't beat bacon and eggs for breakfast when you're travelling by campervan. Keep your eggs safe and secure with a handy egg carrier. No more accidental pre-scrambling of your morning eggs!
Magnetic utensil set
For easy storage that looks good too, a magnetic utensil set is a must-have in your motorhome kitchen. These coloured utensils are heat resistant, dishwasher safe, food safe and BPA-free.
Vacuum sealer
Keep your food fresh as you travel by preparing and packing using a vacuum sealer. These handy appliances are also ideal for storing leftovers, including liquids such as soups or stews. Choose a sealer that offers both 12V and 240V power options.
Zeal suction hooks
Suction hooks are ideal for organising your RV kitchen and can be used to hang utensils, tea towels, bags, keys and more. They're simple to use – just push down the lever to create a vacuum seal, then release the lock to remove.
Salt and pepper mill
It's the little things that made a big difference when you're travelling by RV, like a handy 2-in-1 salt and pepper mill. Twist one way for salt, the opposite way for pepper.
Frequently asked questions about RV Kitchens
What do you call an RV kitchen?
Although it's not common (especially in New Zealand), sometimes an RV kitchen is referred to as a galley. The seating area is sometimes referred to as a dinette.
How can I organise my RV kitchen?
Cooking in a smaller kitchen requires some adjusting to, so it can mean making a few simple changes to the way you cook and store ingredients. For example, it's important not to buy more than you need when shopping as this will take up space. It's also essential that you use the storage you have wisely. Fortunately, there are some fantastic accessories mentioned above available to help keep things organised so you can make the most of your RV kitchen.
How can you organise RV kitchen cabinets?
Keeping your kitchen well organised just takes a little planning. And with a few simple accessories, you can free up a lot of space and make this area of your RV a lot easier to use. Here are a few helpful ideas to get you started:
What accessories are needed in an RV kitchen?
The type of accessories you need in your RV kitchen will come down to how you like to prepare and cook food. Once you've had a bit of time on the road, you'll soon get a feel for what you do and don't need.
One of the must-haves for most RV travellers is a kettle and a gas hob toaster. To save precious space in cupboards and drawers, collapsible pots are also a great accessory to have on board.
If you like preparing ahead and storing meals, you might like to consider having a vacuum sealer that lets you save meal portions in compact sealed bags that don't take up too much room in the fridge.
Ready to kit out your RV kitchen?
Whether you're a toast-and-cereal kind of traveller, a master chef, or you just like to enjoy an organised space to create a home cooked meal now and then, we can help get you sorted.
Get all the kitchen and dining appliances and accessories you want or need for your RV kitchen from your local RV Super Centre.
---
Leave a comment