How to get the most from your RV kitchen
Author: Peta Stavelli Date Posted: 28 January 2020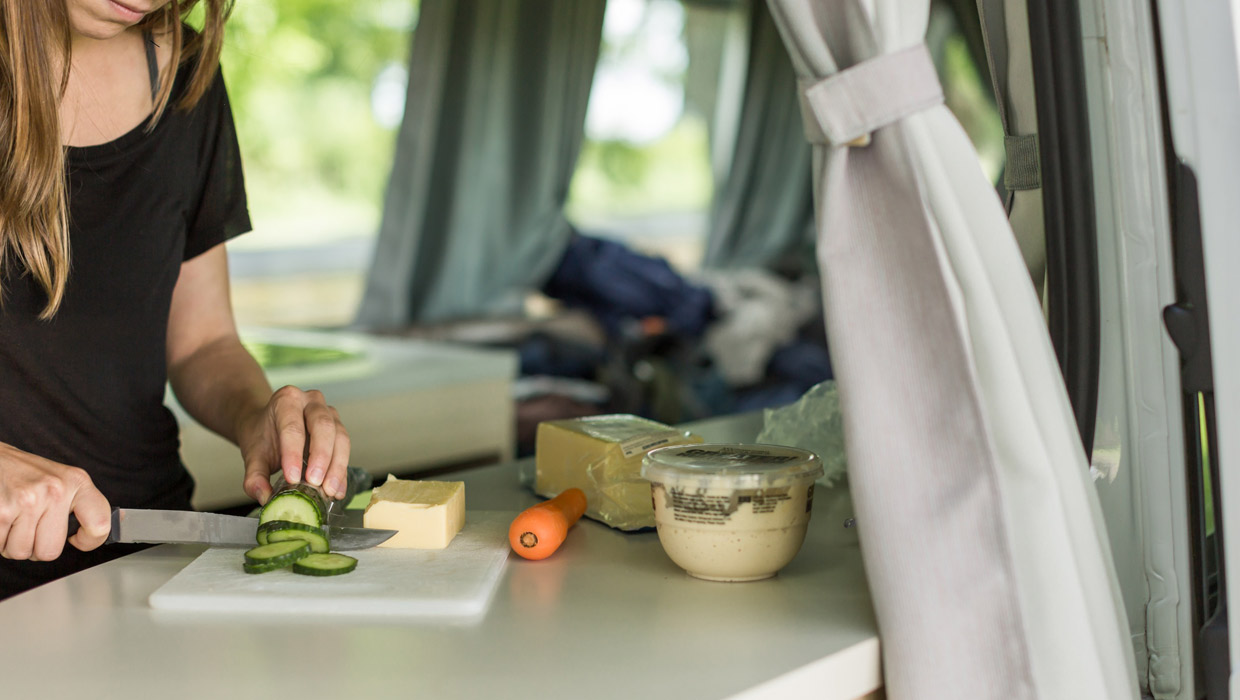 If you love to cook, you'll be looking for an RV that is a pleasure to create meals in. But if you prefer to barbecue, or simply grab breakfast and a snack from the pantry, your needs will be different.

Whichever culinary camp you fall into, there are many stylish and innovative ways to get the most out of your motorhome's kitchen.

Kitchen layouts
You may already have noticed how many different kitchen configurations there are. The variations are immense, but the key features to consider when choosing your next motorhome or renovating your RV's kitchen, are appliances, bench space and storage. These factors will determine the kitchen which is best suited to you.

Of course, you do need to bear in mind that the size of any RV will already mean some level of compromise is required, and you should consider how much preparation space you really need. Also consider how workable the kitchen will be in order to suit your personal style of cooking.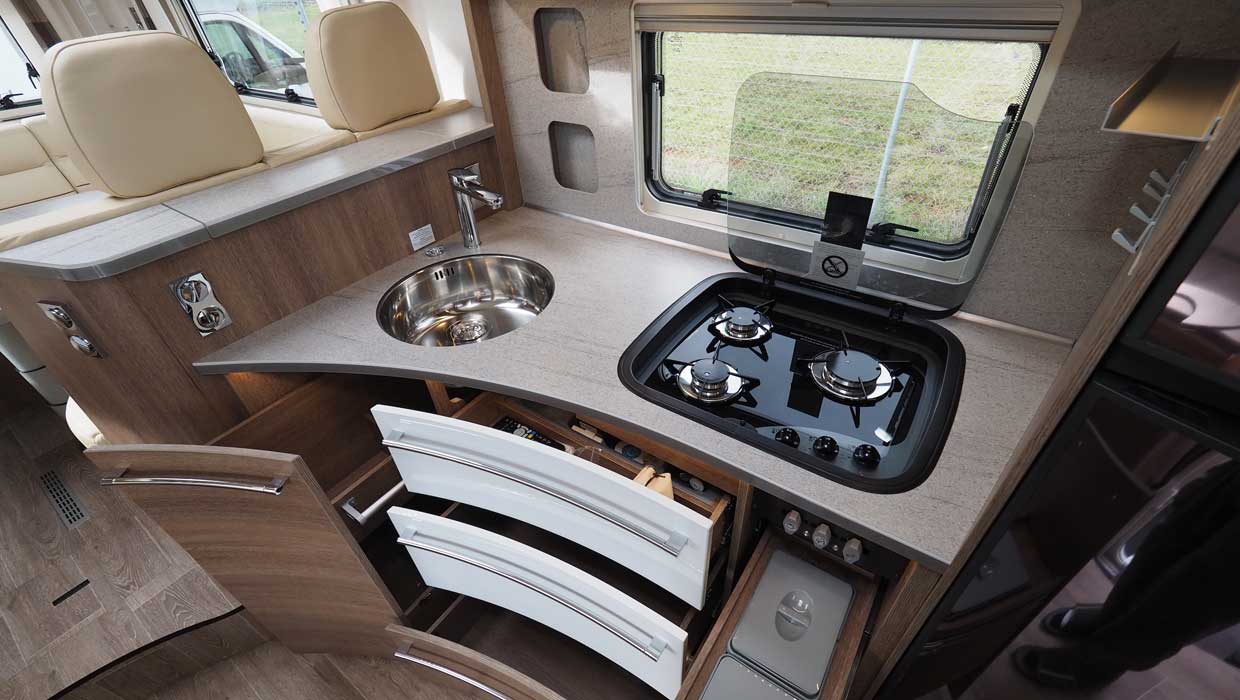 Cook vs chef
I like plenty of bench space, but my travel mate can work in a tiny kitchen using only a paring knife over the sink. We both like everything within easy reach, and we like to eat healthy food, so we always cook from scratch.

Good refrigeration and storage are essential for fresh food, and every motorhome will be able to accommodate varying sizes. Which size and type of refrigerator will you need? The RV Super Centre offers a variety of choices such as this Vitrifrigo 133L compact model, an Esky-style Dometic 45L unit compact and portable option through to three-way fridges such as this Dometic 150L upright model.Including, for those who have the space, complete domestic sized RV Fridges like this Vitrifrigo 170L fridge with separate 60L freezer.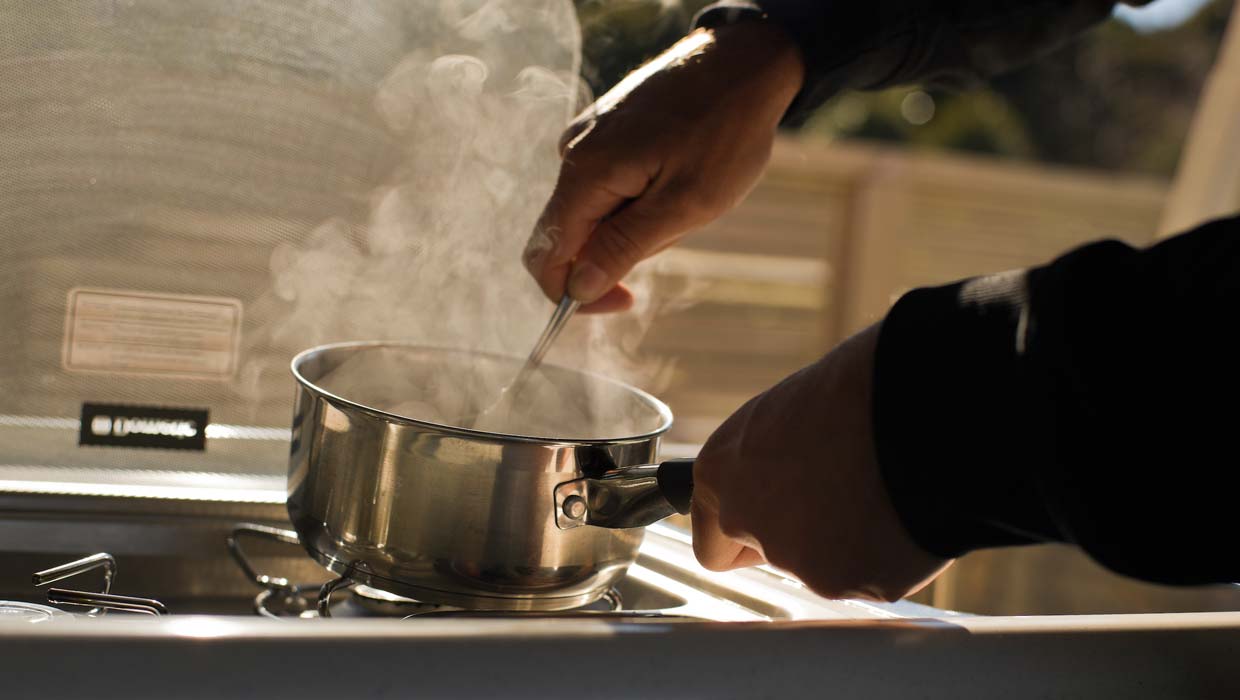 Hot or not?
Think about your preferences for cooking. Would you prefer to prepare meals inside or out? If inside, what would be your ideal number of burners on the cooktop? Also consider the size and position of the oven and microwave. You could opt for a full oven and four-burner hob such as this Thetford model, or perhaps something a little less cumbersome such as this hob and grill unit, or even just a hob only.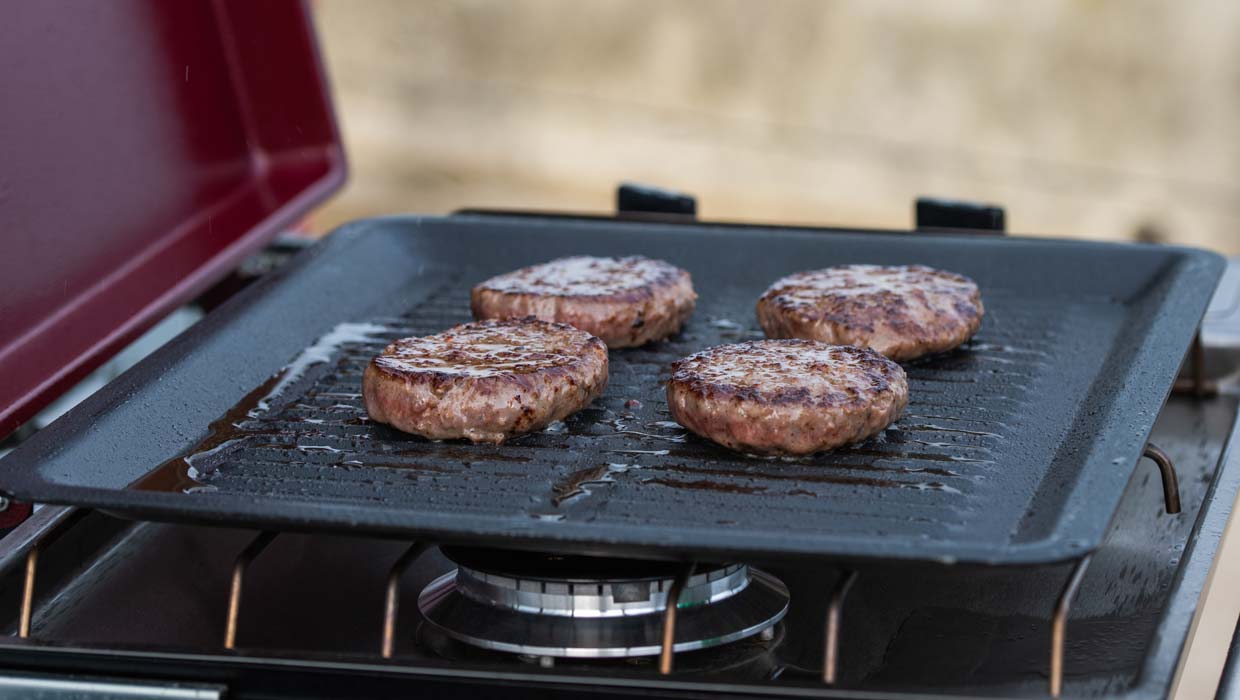 Fit More Storage
There are several innovative products that can be retro-fitted to your vehicle and add more storage or nifty features. These include roll-out pantries and utensil drawers. There are also several accessories you can purchase that will make your storage life easier in the kitchen. Consider a compact cutlery organiser and a foldable dish drainer that can be easily stored when not in use.

There are dozens of ways to create the perfect, compact and highly functional RV kitchen. The choice depends on you.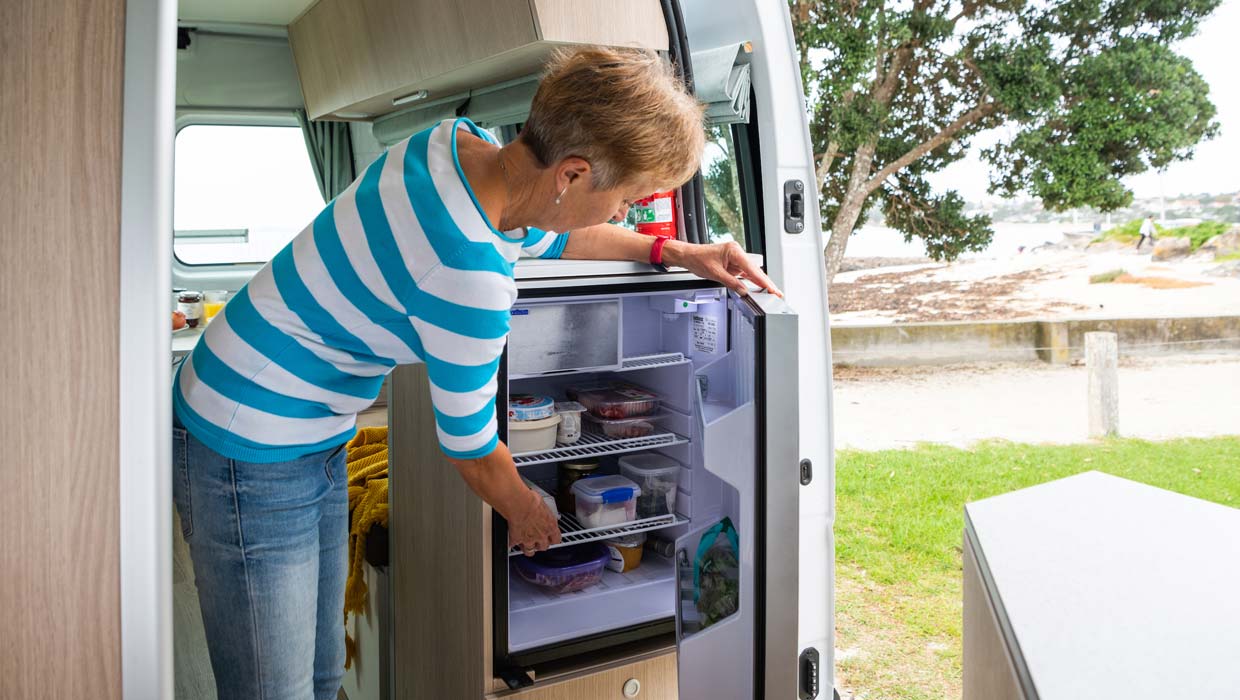 Go lightly
I absolutely love cooking and I'm always on the lookout for ways to maximise space and tread lightly on the planet. That's why I love the latest range of food-grade silicone pop-up kitchen equipment which is not only lightweight, but also space-saving.

Working in a small space requires good organisational skills — and even if this is not your greatest attribute — you can always give yourself a hand up with better storage and space-saving solutions. Look for the newest range of pop-up pots, space-saving food preparation sets, pop-up kettles, collapsible bowls and basins at RV Super Centre.

You can also save weight by leaving the crockery at home and investing on hard-wearing melamine dinner sets for meals on the road, as well as lightweight polycarbonate wine glasses that look as classy as the real thing.

Space, time and money savers
I also swear by collapsible silicone food containers to store left-overs or foods such as meat, fish or chicken and blanched vegetables which have been portioned into meal sizes and ready to defrost from the freezer. These are brilliant across the board, and save heaps of space, preparation time and cooking fuel.

Eating Healthy on the Road
It is said that whatever you see in your fridge or pantry first is what you are most likely to eat. Store your good snacks – such as hummus and vegetable sticks cut into bite-size pieces ready to go – or nuts and dried fruits in see-through, lidded glass containers ready to snack on when you stop for a quick bite to eat.

Keep hot water on hand in a thermos, and invest in stainless-steel drink bottles and reusable coffee cups. You will save time and money while contributing to a healthier New Zealand when you do.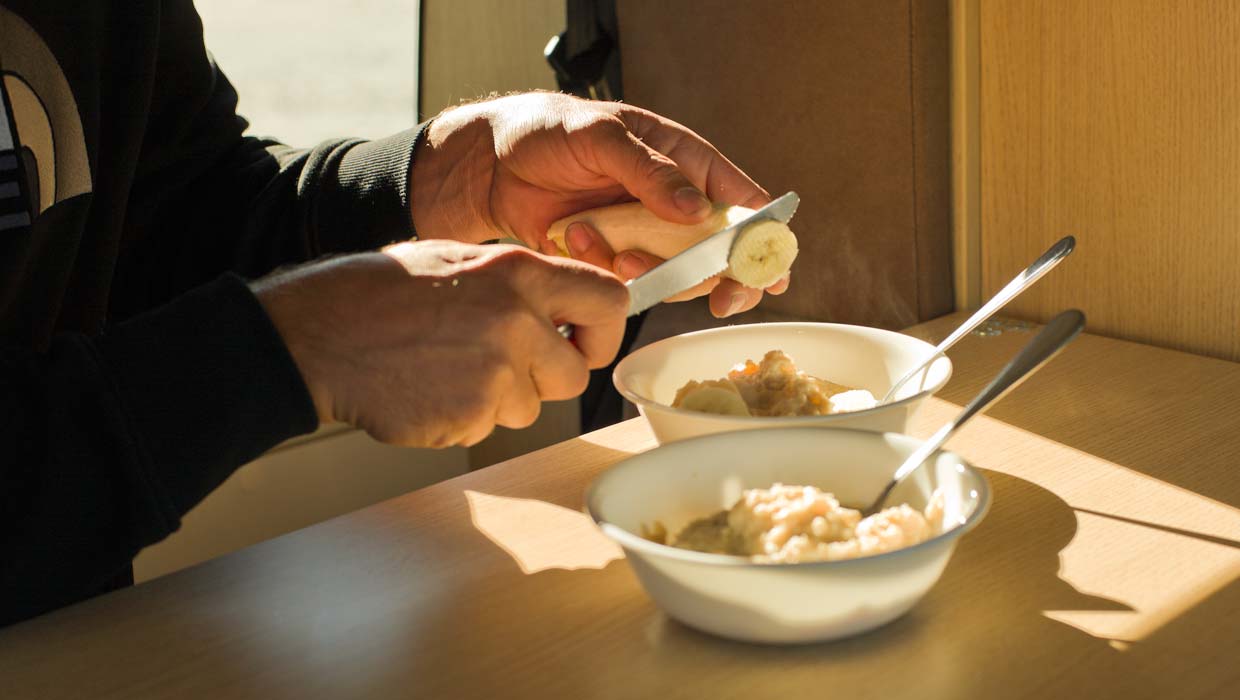 Safety First in the Kitchen
There are also plenty of ways to keep your kitchen area safe and tidy. Collapsible waste bins are a great way to keep your rubbish contained but also without the worry of carting a giant hard plastic waste bucket around with you. A dry powder fire extinguisher will provide peace of mind as will a smoke alarm.

Start your culinary journey here
Space doesn't permit a fuller look at ways to invest in a better RV kitchen, but the good news is the RV Super Centre website is open around the clock for you to peruse the shop for accessories.

You can also take a tour through the many RVs on sale to get ideas for your ways to create your own perfect kitchen. And, just as a final heads-up, the RV Super Centre blogs are excellent ways to learn from experienced RV travellers how to get more from your journey.

Of course, if you have a query, your good guides are always on hand to help – simply phone 0800 52 00 55.

---
Leave a comment