Top Tips for Storing Your RV Over Winter
Author: RV Good Guides Date Posted: 30 June 2022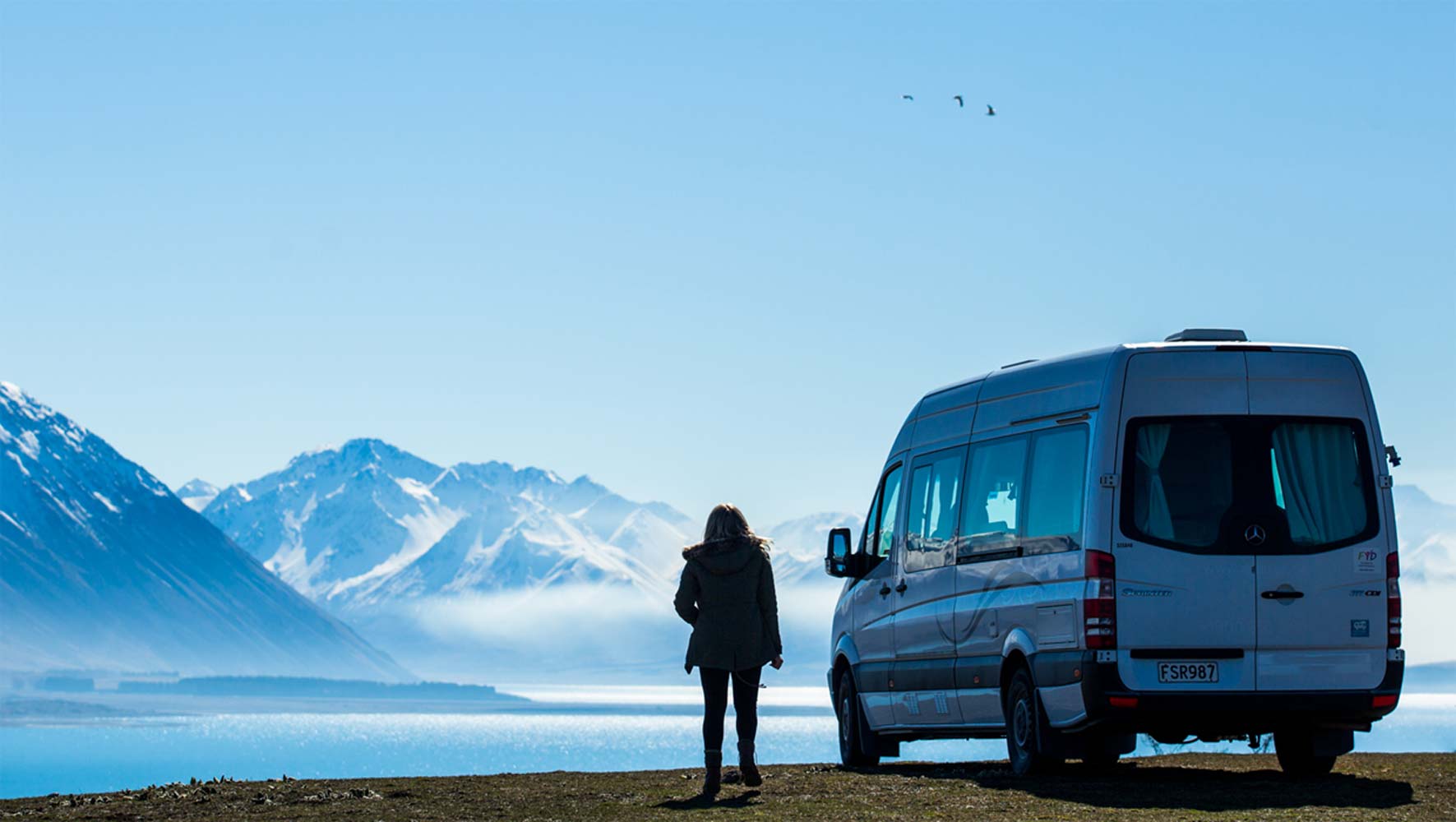 From crisp cool mornings with a hot chocolate as the sun comes up, to fun-filled snow adventures on one of our great ski fields, New Zealand offers lots of great campervan adventures over the winter months. But for some, it's a time to take a bit of time out from travel and hunker down at home.
If you're planning to put your campervan or motorhome into storage during the winter months, we've got a few simple tips to help ensure it's clean, dry, and ready to go again when you are.
1. Clean and dry the awning
When you get home from your last trip away, or as soon as the weather allows, it's a good opportunity to thoroughly clean and dry your camper equipment. One of the key items you'll need to prioritise before shutting up your motorhome for winter is your awning. It's best to use water and a soft cloth or brush only. If the awning is very dirty, you may need to use a specialised cleaning product suitable for the fabric type (don't be tempted to use a water blaster or harsh chemicals). Leave your awning out to dry fully in the sun before rolling it up.
You might also like to use this time to check your awning is in good working order for next season. Check that it is winding in and out smoothly, and if needed, apply lube to the joints on both sides as well as the leg joints.


2. Protect your RV from mildew
To minimise the chances of mildew taking hold inside your campervan in winter, it's worth taking the time to thoroughly clean and dry all surfaces – including the inside of your cupboards and storage lockers – before packing up.
If your motorhome is in covered, secure storage, you may like to leave your air vents open so that air can circulate. But, before you put it in storage, remove any bedding and cushions that may be prone to mildew. Then leave an open container of absorbent material, like salt, bicarb soda, or a moisture absorbing product, in the RV to absorb ambient moisture. If possible, return to the van every few weeks to replace the container. You might also consider using a dehumidifier on occasion too.
3. Empty and clean out the water tanks
Preventing the growth and build-up of algae and other bacteria in your water tanks is essential during long periods in storage. Some people recommend leaving tanks 100% full to help avoid this. However, it's more common to empty, clean, and completely dry your campervan tanks out. Empty all of your campervan's water tanks, including your fresh water tank, grey water tank, and black water tank or toilet cassette. Give them a thorough clean using a suitable tank cleaner, flush, and let them dry. Finally, flush out any water in your taps.
4. Clear out the fridge
If you have a campervan fridge/freezer, defrost the freezer and give it a good clean-out. Next, empty and thoroughly clean your RV's fridge. To absorb any odours, place a container of baking soda inside. Leave the fridge and freezer doors slightly ajar during the storage period so clean; dry air can circulate through it.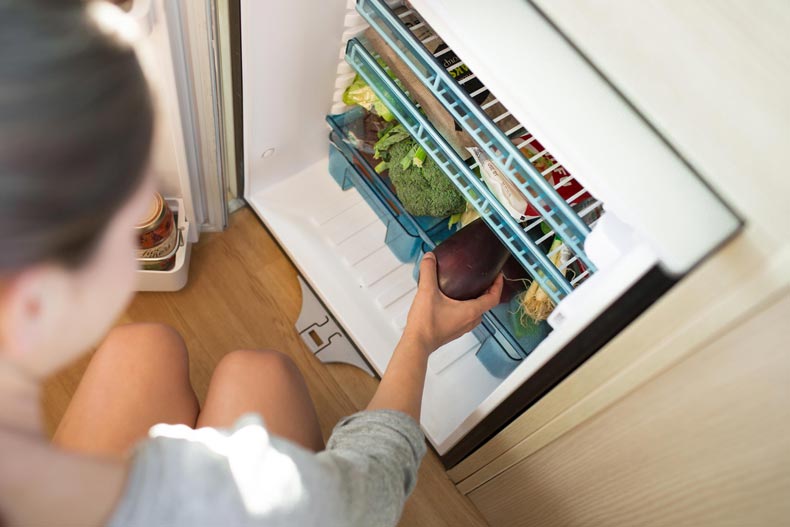 5. Protect the tyres
Ensure your campervan or motorhome's tires are at the recommended pressure before you put it into storage. This helps prevent weak spots forming. Your campervan tires may lose some pressure if kept in storage for an extended period of time, so it's worth checking on them occasionally. Finally, make sure your tires are covered to prevent damage from extreme cold (and UV rays – even in winter!).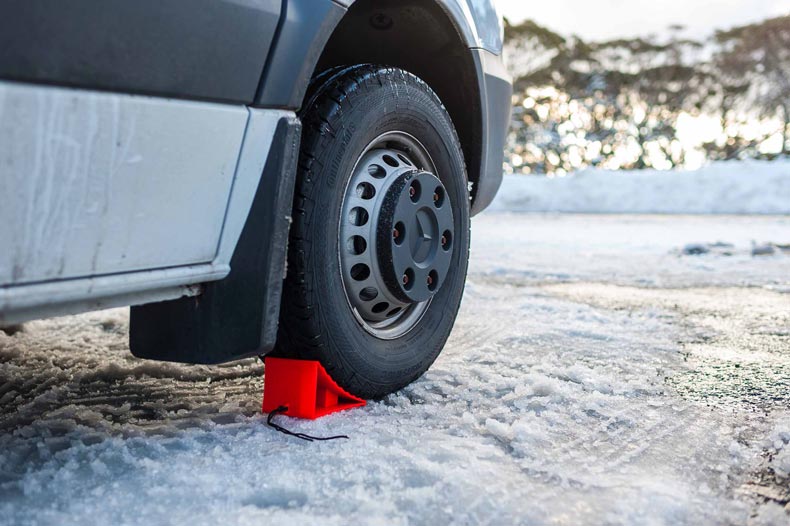 6. Roll the wheels up
Depending on where your campervan is stored, you may have to consider rolling the wheels up off the ground. Long-term contact with bitumen is terrible for tyres (a chemical reaction can occur which degrades the rubber) so you may need to use 'tyre savers' under your campervan's wheels or roll it up onto chocks. If your site is level, use the corner levellers or stabilisers to raise the wheels up, then rest them on blocks or pads. If that's not possible, it's at least worth turning the wheels every month or so to prevent flat spots on the tyres.
7. Check and replace seals
The last thing you want to do at the end of winter, or when you're ready for your next adventure, is open your campervan and find it water-damaged and mould-ridden. And it happens far too often – water makes its way in through an unnoticed damaged seal, and slowly but surely… the damage is done. It pays to check all the seals of all windows, doors, and other openings for damage. If any of the seals are broken, cracked, or looking aged, replace them before you lock your campervan's doors for winter.
8. Connect with a multi-stage charger
It might seem like a good idea to disconnect or remove your motorhome's 12V house battery during long periods of storage; however, this is actually the worst thing you can do. Campervan and motorhome batteries need to be kept charged, so a better option is to connect the battery to an intelligent multi-stage charger. This will ensure your battery stays in tip-top shape over winter by running various cycles of charging and discharging, without overcharging it – and it means you won't return a dead battery!
You should, however, remove smaller batteries from all electrical devices – such as TV remotes, radios etc – until you plan to use them again, so they don't corrode and cause damage to your devices.
9. Switch off and secure your appliances
Turn off all your LPG appliances such as hobs, water heating, and your 3-way fridge. Next, ensure your LPG tanks are turned off, disconnected and stored safely either in your RV's secure external lockers, outdoors, or in a well-ventilated area away from heat sources.
Remember to remove other valuables and appliances such as your TV and portable solar panels.
10. Wash down the exterior
Your motorhome or caravan can accumulate a lot of dirt, dust, and debris over months of adventures. Now is a great time to clean up your RV's exterior. Use a soft brush or cloth and give your motorhome a good old fashioned clean up. It's also a good opportunity to check for any damage that might need addressing soon.
11. Make sure your COF, WOF, and servicing are up to date
Now is a good time to check that everything under the hood of your motorhome is in good working order. Check the dates of your WOF or COF, and book in a service at your local RV Super Centre if it's due. Better to get these out of the way and address any potential issues now before you're about to hit the road.
12. Consider security measures
Don't risk losing your motorhome or campervan to opportunistic thieves who may have noticed your RV is parked up for the long-term. For caravans, we recommend a good quality hitch lock. This acts as a visual deterrent and could be the difference between your caravan being stolen or bypassed for one that is easier to pinch. Motorhomers should consider security measures such as a wheel or steering wheel lock – both of which offer a visual deterrent – and a GPS tracker, preferably with an immobilising function.
13. Ensure your RV is covered
If at all possible, it's best to store your motorhome or campervan undercover. This ensures your pride and joy is safe from UV and other weather damage, not to mention thieves! If you can't get your campervan secured under the cover of a secure garage, carport, or storage facility, a good quality cover is the next best option. Look for a cover that is breathable and is manufactured using UV-stabilised fabric with built-in vents and a heavy-duty fastening system. Many motorhome and caravan covers, including those available at RV Super Centre, feature zippered panels along one side that allow you access to the interior or your motorhome while the cover is on.
14. Choose a secure location
If you don't have a secure spot at home to park your motorhome or caravan over an extended period, it may be worthwhile looking at off-site secure storage options. This way you'll know your RV is tucked up safely while you're not using it, preferably undercover, protected from the weather, and nearby so you can check it now and then.
15. Start planning your next adventure!
What better way to brighten up those dull, chilly winter days that to start planning your spring or summer road trip? We've got loads of fantastic travel inspiration to help you decide which part of New Zealand you'll visit next.
While you're off the road for winter, it's also an ideal time to stock up on those must-have camper accessories that you've been thinking about adding to your motorhome or caravan. Time for new dishes or cutlery, or some good quality outdoor furniture for summer? Stock up now and you'll be ready to hit the road in comfort next season!
Is it time to store your RV over winter?
Ready to hang up your campervan keys for a few months? RV Super Centre has everything you need to prepare your motorhome or caravan for hibernation over winter. Check out our great range of motorhome and campervan accessories.
---
Leave a comment