Must-have Items For Making Your Motorhome Feel Like Home
Author: Your RV Good Guide Date Posted: 31 October 2023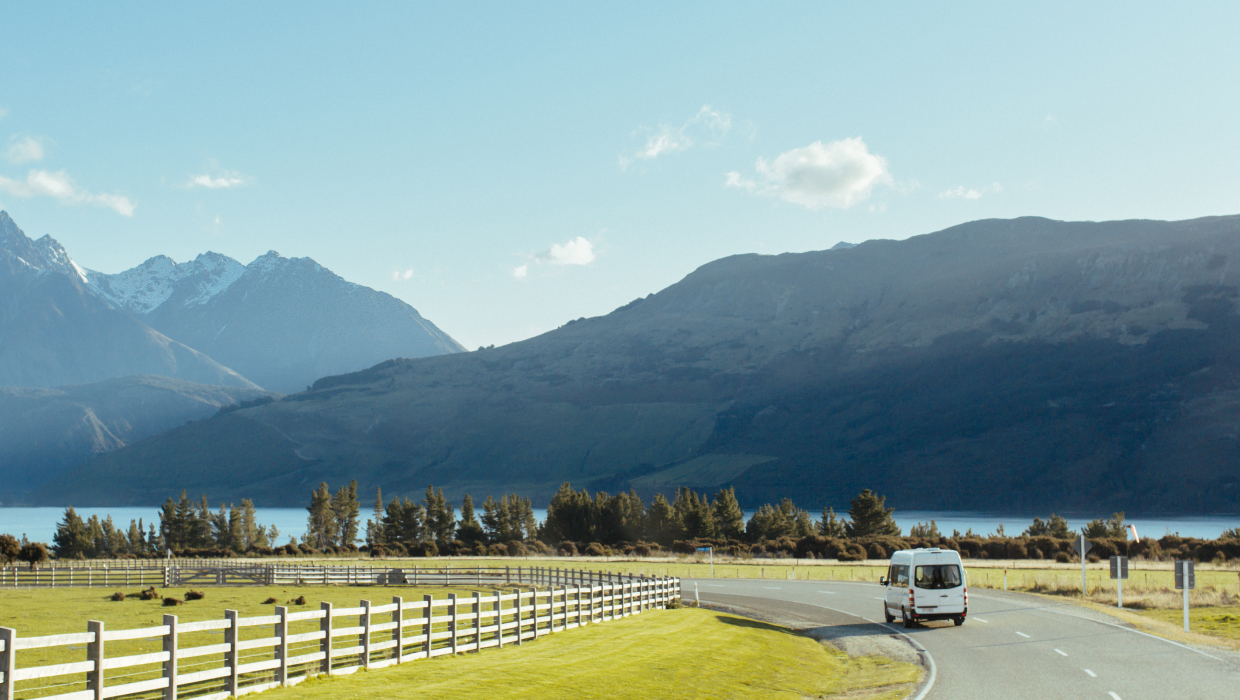 Exploring New Zealand in a campervan or motorhome is the ultimate adventure. There's no better way to enjoy freedom, privacy, and comfort as you travel. And when you have your motorhome set up with all your must-have RV accessories it's just like travelling in a home on wheels. From a campervan fridge to colourful cushions, a few well-chosen motorhome accessories can transform your camper into a cosy space for long weekends, or weeks on end.
In this helpful guide, we'll take a look at some of the must-have motorhome accessories that can transform your RV into a home away from home.
1. Kettle
A kettle in your motorhome is a game-changer. It's not just about the convenience of making a cup of tea or coffee on the go, but about recreating those small, homely rituals that provide warmth and comfort.
A great option is the Kiwi Camping Collapsible Kettle. Perfect for use on electric or gas stoves, this lightweight kettle folds down when you're not using it to help save on space.

2. Outdoor mats
One of the first things you'll want to do when you park up is to set up your outdoor living space. And to truly make it comfortable and welcoming, a good outdoor mat is a must-have. Not only does it help you create a defined living space that feels comfortable, but it will also help prevent grass, dirt, and dust from being trapped inside your motorhome interior.
RV Super Centre has a range of premium floor matting, continental carpets and outdoor flooring to help create a cosy outdoor living zone.
3. 12V LED lights
A few well-placed 12V LED lights can transform your motorhome's living space into a snug retreat, making it feel just like home. 12V LED lights are available in a number of different tones and shades. If you want to create a relaxing environment in your motorhome, you may prefer a warm shade that's not too bright. LEDs also come in different colours – ideal for adding a fun atmosphere for special celebrations.
From bayonet bulbs to downlights and strip lighting, RV Super Centre has a range of 12V LED lights for your motorhome or campervan. We can also help with wiring and installation of new lights.
READ MORE: How to choose 12V LED lights for your RV
4. Microwave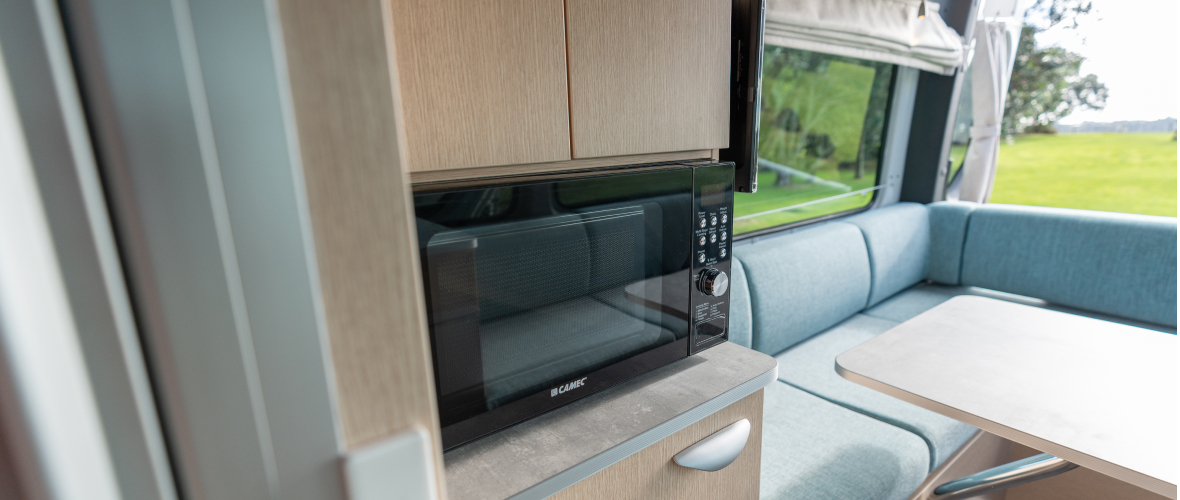 When you're travelling by motorhome, having the convenience of a microwave can make a world of difference. Just like at home, a microwave in your motorhome means you can enjoy warm meals without the fuss of cooking from scratch, especially after a long day of exploration. And of course, it's perfect for making popcorn for a snack, heating up your drink, or warming up leftovers.
RV Super Centre's compact and energy-efficient microwaves are perfectly suited to life on the road.
5. 12v fridge and portable fridges
With a motorhome fridge, you can stock up on your favourite snacks, ingredients for home-cooked meals, and even those little treats that make a journey more enjoyable. A 12V fridge makes it easy to maintain those regular home routines, like having that cold drink as you cook dinner, or that special ice cream when you watch a movie. Your local RV Super Centre has a wide range of 12V fridges including gas and three-way fridges, as well as portable and thermoelectric fridges.
If you're going off-grid or just need some extra cold storage, a portable fridge is a great idea. They're perfect for picnics, beach trips, or even just an outdoor barbecue right next to your motorhome. Some brands, such as the Companion Lithium Rechargeable Dual Zone Fridge/Freezer have up to 24-hours of battery life from a single charge.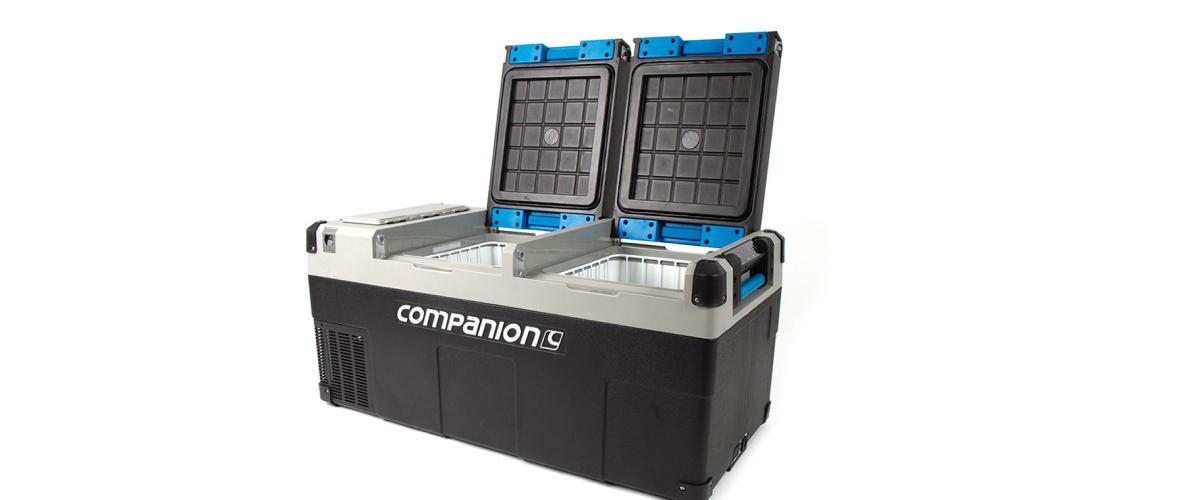 READ MORE: A comprehensive guide to choosing the right fridge for your motorhome
6. Wall art
Just like at home, adding art to your motorhome adds that personal touch to your living space. Prints, framed photos, or even small artworks can transform your motorhome's interior, adding interest and colour and making it feel more homely. However, hanging wall art in a motorhome isn't quite as straightforward as in a traditional home. Not only do you need to ensure your art is securely in place, but you also need to be careful that you don't make damaging holes. If you're unsure, check in with the team at RV Super Centre who can safely take care of modifications and refurbishments, including mounting your artwork safely and securely.
7. TV
After a day of enjoying the great outdoors, there's something comforting about settling down to watch a movie or TV programme. Having a 12V TV in your campervan means you can still enjoy that cosy evening routine. Your favourite drink, some cheese and crackers, and a good movie… perfect! And if the weather isn't great during the day, or you just need a rest, settle down inside and pop on the TV.
There are several options of TV now available for motorhomes, including smart and satellite options. Not sure which is best for you? Find out everything you need to know in our helpful guide to the best TVs for your motorhome.
8. Steps
Whether it's for stepping into your motorhome, or reaching something in a high cupboard, a good quality set of steps is a must-have motorhome accessory. Portable steps that fold down are a good option. They're easy to carry and great for getting in and out of your motorhome or caravan. And because they're so versatile, you'll find lots of other uses for them in and around your home as well as your RV.
A popular option is the Camec Aluminium Folding Step. These steps are made with sturdy aluminium and feature a non-slip surface with an extra-wide step for stability and safety.
9. Awning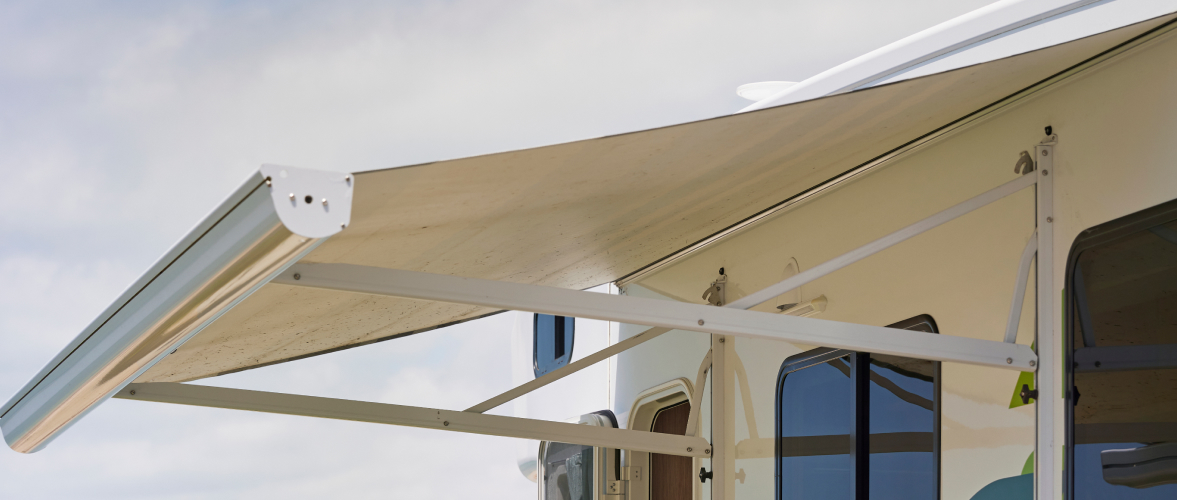 A campervan awning not only gives you shade and shelter, it also acts a bit like an outdoor room. An awning helps create a defined space where you can relax, enjoy a meal, or simply enjoy some fresh air. Add your outdoor table and chairs or floor cushions, an outdoor rug or blanket, and you've got a cosy deck vibe - just like home. There are a few options available when it comes to choosing an awning for your motorhome including wall-mounted motorised, inflatable, and bag awnings.
READ MORE:
10. BBQ
A portable BBQ is one of those must-have motorhome accessories that can take your travels to the next level. Pour a drink, fire up the grill and enjoy the fresh air as you cook dinner, lunch, or even breakfast. Whether you're whipping up some burgers, char-grilling vegetables, or sizzling up some sausages, there's just something about a barbecued meal that makes it feel special.
A great option is the Dometic Portable Gas BBQ. This robust BBQ has a spacious cooking surface so you can cook more at once. Plus, because it's lightweight and compact, it's easy to fit into most exterior motorhome storage lockers.
11. Plants
There's nothing like the splash of greenery from a pot plant to make a space feel more homely. Some motorhome travellers even have their own portable gardens! Small pots of herbs make a great addition to your kitchen and don't take up much space. A good option for transporting your plants when you're on the move is to pop them in the sink or shower. Plants that do well in tubs or pots can simply be popped out into the sun once you park up.
12. Camping chairs and table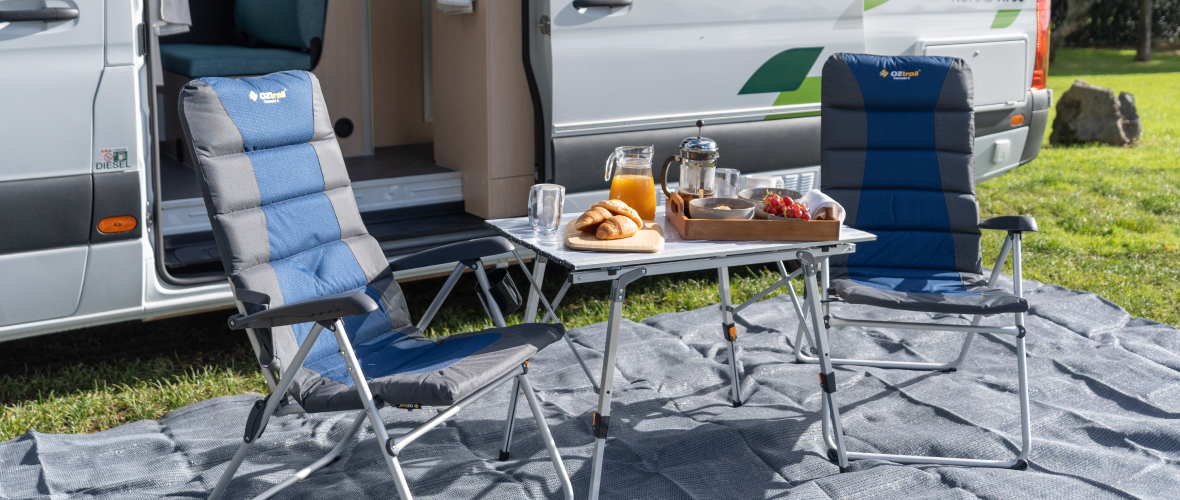 There's nothing like that moment when you park up, set up your outdoor table and chairs, pour a drink, and simply… relax! It's what campervan travel is all about. And it's also a great way to make you feel right at home - wherever you are. Whether you're enjoying a meal under the stars, playing cards with family, or just sipping your morning coffee with a view, RV Super Centre's great range of outdoor furniture makes it all possible.
13. Speaker and sound system
Music and sound have a unique way of setting the mood, and adding a speaker or sound system to your motorhome can really make it feel like home. Play your favourite music while cooking. Catch up on your audiobook as you unwind in the evening. A good sound system adds that extra layer of relaxation to your travels. And if you need your new system professionally installed, contact the team at RV Super Centre to get it done.
14. Levellers
Having levellers for your caravan or campervan is one of those must-have RV accessories that can make a world of difference during your travels. When you're parked up for the night, uneven ground soon becomes a problem. Being on level ground helps make your living space more comfortable and easier to move about in. It's also important for things like optimal water drainage and the performance of your RV fridge.
Some RVs come with built-in hydraulic levelling systems or stabiliser legs which simply require the push of a button to deploy. Another great option, and very cost-effective, is to use levelling wedges.
15. Security system
Just as you would safeguard your home from potential intruders or risks, the same applies to your motorhome. With a security system in place, you gain that extra layer of protection and peace of mind.
Some good options worth considering to help protect your RV include tracking devices, GPS locators, and hitch locks for caravans. For your personal safety, a Sleep Safe Alarm provides a visible deterrent with flashing LEDs and an alarm warning.
Know what you need to make your motorhome more cosy?
Ready to start making your motorhome feel more like home? A few carefully chosen RV supplies and motorhome accessories can make all the difference. And the best place to find them is at RV Super Centre. To make it even easier, you can shop online and have your items couriered. And if you need help finding the best product or just need expert advice, call into your local branch or give us a call on 0800 52 00 55.
Looking for motorhomes for sale? Check out our great range of new and used motorhomes and campervans for sale.
---
Leave a comment