How To Choose 12V LED Lights For Your Your RV
Author: Your RV Good Guide Date Posted: 4 April 2023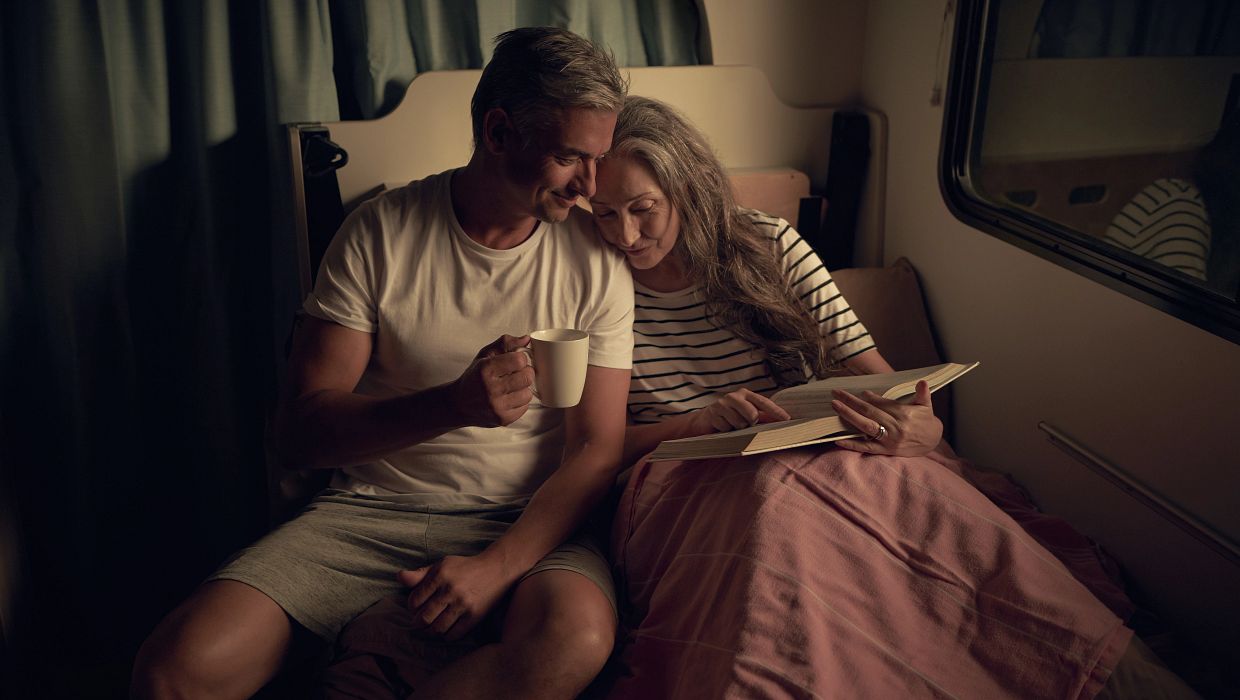 Good lighting can make a big difference to both practical liveability and the ambience of your motorhome. Thanks to their long life and energy efficiency, 12V LED lights are the preferred choice for many motorhome owners. And there are many different types to choose from. From LED down lights and LED light bars, to outdoor camping lights and LED spot lights – there is one for every lighting need.
In this helpful guide, we take a look at everything you need to know about LED lights including:
What is an LED light?
LED stands for light-emitting diode. LED lights work through a process known as electroluminescence. Essentially, electricity passes through a microchip which lights up the LEDs resulting in visible light. The technology and design of LED lights make them much more efficient than other common options like incandescent or fluorescent bulbs. In fact, they can be up to 85 per cent more efficient.
History of LED lights
You may be surprised to learn that LED lights have been around for more than half a century. The first working version of LED technology was created by Nick Holonyak Jr. in the early 1960s. Back then, LED lights were mainly used as indicator lights on circuit boards, thanks to their durability and efficiency. Over time, LED technology has improved. The lights have become brighter and more reliable. Today, LEDs are used extensively in commercial and industrial settings, in homes, and of course… in motorhomes.
The benefits of LED lights in an RV
Take a look through the average New Zealand home and you'll find that LEDs are rapidly gaining popularity. From LED down lights to portable LED light bars, they can be used in every room and in a variety of spaces. The good news is that the many benefits of LED lights also make them ideal for motorhomes. Let's take a look at some of the top reasons for using LEDs in your RV.
Efficient
Lighting efficiency is commonly measured in lumens per watt. LED lights can produce the same amount of light as incandescent bulbs but use less energy to do so. They produce more lumens per watt and are therefore far more efficient than other traditional options. This means they suck up much less energy from your 12V rechargeable battery. What makes them so efficient? One of the key reasons is that the energy is used purely to create light, rather than heat.
Longevity
LED lights typically last much longer than incandescent bulbs and other types of lighting. One of the reasons is that they have fewer working parts that can break and burn out. Good quality LED bulbs can outlast traditional lighting sources by up to 10 times. That adds up to considerable cost savings. It also means you don't have to worry about changing bulbs as often and less waste going into the environment.
Less heat
One of the unique aspects of LED lights is their ability to generate light with very little heat. This is a big benefit when you're travelling in summer and want to keep cool. In comparison, incandescent bulbs release 90 per cent of their energy as heat.
Targeted light
Most lighting options emit light in a 360-degree radius. LED lights, however, usually light up areas in a 180-degree radius, making them far more targeted. This means they are able to use light and energy more efficiently and in various applications. If you want your light to be targeted, over your dinner table, for example, LED down lights are ideal.
The benefits of LED lights in an RV
Walk into any lighting department or store and you may feel overwhelmed at the choice of 12V LED lights on offer. Before you do, let's take a look at some of the key considerations when choosing 12V LED lights for your motorhome or campervan.
Colour, tone, and shade
12V LED lights are available in a number of different tones and shades. This is a key consideration depending on what you're after. For example, if you want to create a relaxing environment in your motorhome, you may prefer a warm shade that's not too bright. On the other hand, for LED spot lights and exterior lights, you may prefer a brighter shade. LEDs also come in different colours – ideal for adding a festive mood at Christmas time or celebrations.
The type of lighting you're looking to replace
Your RV may have several different types of lighting. This could include:
Spot lights
Reading lights
Down lights
Strip lighting
Awning and outdoor lights
Surface-mounted cabin lights
Range hoods
Different types of light fittings require different bulbs. Unsure about which LED bulb to ask for? If possible, take a photo of the light fitting and/or bring in your old bulb when buying a new one.
Budget
Because 12V LED lights use more advanced technology, they are often a bit more expensive than other 12V lighting options. Of course, this is offset by the fact that they last very much longer. But if the upfront cost is a factor, you may want to prioritise which lighting you upgrade to LED. There's no harm in having a mix of lighting types in your motorhome. Decide which lights are more important and perhaps upgrade one or two to LED as your budget allows.
Installation
In most cases, installing LED lights is just a matter of switching one bulb with another. However, if your motorhome or campervan is an older model, or you want to install down lights, you may need to consider upgrading your lighting fixtures or electrical components. This is best left to a qualified electrician.
The range of 12V LED lights at RVSC
RV Super Centre has a wide range of 12V LED lights for your motorhome or campervan. From bayonet bulbs to LED down lights and strip lighting, we have an LED lighting solution for every RV lighting need. Let's take a look at some of our popular options:
Surface-mounted LED down lights: RV Super Centre has a range of surface-mounted or recess mounted LED down lights. Our quality brands include Frilight, Lumo, and Bestlight.
LED reading lights: These lights are Ideal for a bit of late-night reading or just for extra cabin light. They are often positioned over seating or on either side of the bed. RV Super Centre has a variety of LED reading lights including lights that can be moved from one room to another. Some reading lights also include a swivel function, such as the Bestlight Vela.
Rechargeable LED light bars: These handy lights include a magnetic base, which makes them useful in various settings. They also include other mounting options such as clips and suction cups. Pop an LED light bar in your exterior storage locker, in the bathroom, in kitchen cabinets or wherever else you need extra light.
LED strip lighting: Strip lights can be used in a variety of locations around your motorhome. Add light inside or under cabinets, along flooring, or inside your exterior storage lockers. RV Super Centre has a range of strip lighting options in different lengths and colours.
LED spot lights: Need powerful light outside? The Golight Stryker with wireless remote has a beam covering over 4800 feet. It's UV ray and saltwater resistant too, making it ideal for the fishing boat.
Other LED lighting applications:
We also have a range of specialised LED lights including the Camec Grab Handle with LED light, rangehood lights, awning lights, LED camping lights, LED lanterns, portable LED lights, and more.
LED bulbs: RV Super Centre also stocks a range of 12V LED bulbs including G4 back- and side-pin bulbs to replace halogen G4 bulbs in down lights. We also stock LED MR16 bulbs and MR11 bulbs, festoon bulbs, and bayonet bulbs in a range of lumen strengths and tones.
How to install new 12V LED lights in your RV
Depending on the type of 12V LED light, and your particular motorhome, you may be able to install LED lights in your motorhome yourself. However, if you need to undertake any wiring, we recommend leaving it to the professionals.
The experienced team at RV Super Centre can take care of this for you. Each of our branches in Auckland, Christchurch, and Queenstown has a dedicated service centre. We specialise in motorhome modifications and refurbishments, including installing 12V LED lights.
Ready to buy new 12V LED Lights for your RV?
We hope this guide to 12V LED lights has helped you in choosing the right lighting for your motorhome or caravan. Be sure to check out RV Super Centres' complete range of LED lighting online. You'll not only find a wide range of bulbs, kits, and surface-mounted lighting, but also all the bits and pieces you need too. We can get you sorted with LED light bar suction cups, lighting kits, and electrical componentry. And if you've got any questions about LED lights, or anything motorhoming, our friendly, experienced staff are always on hand to help.
---
Leave a comment