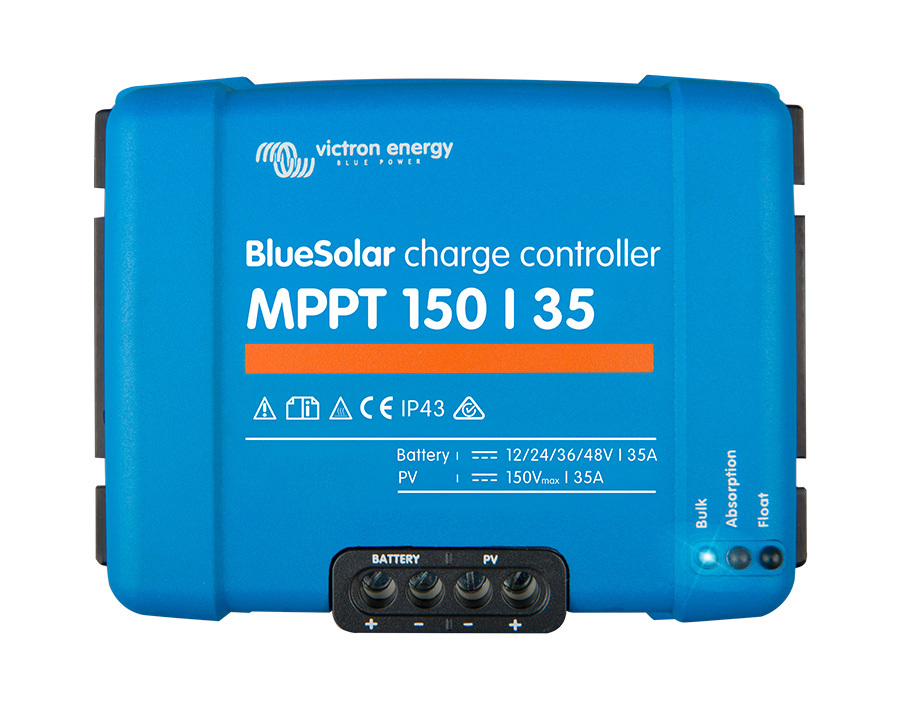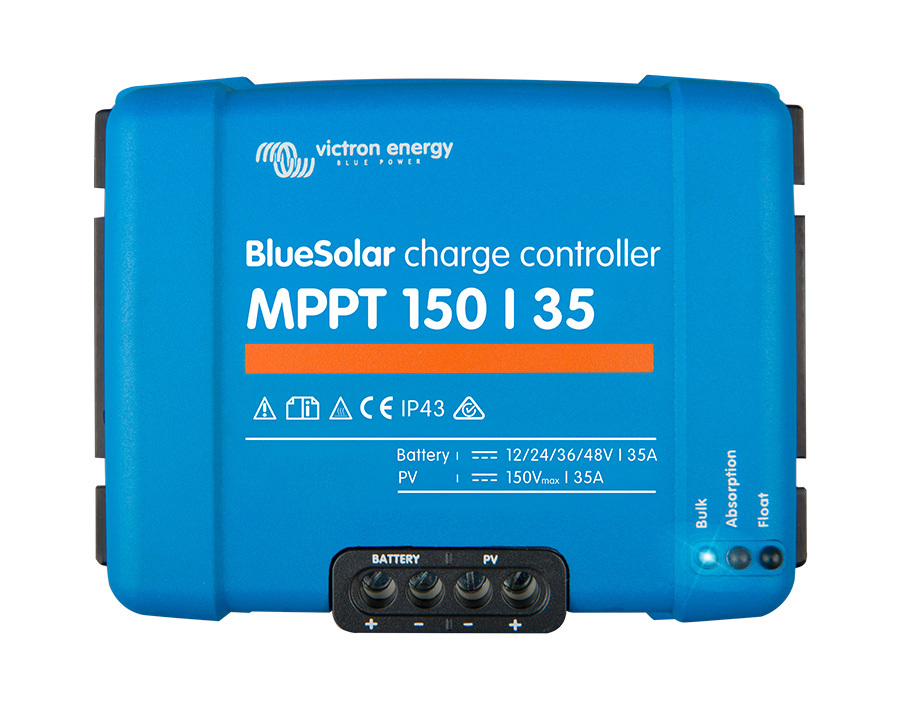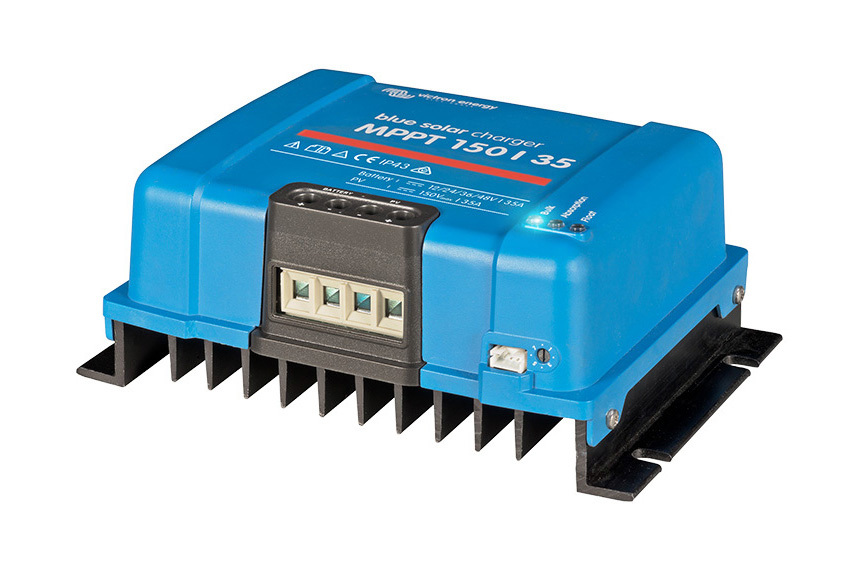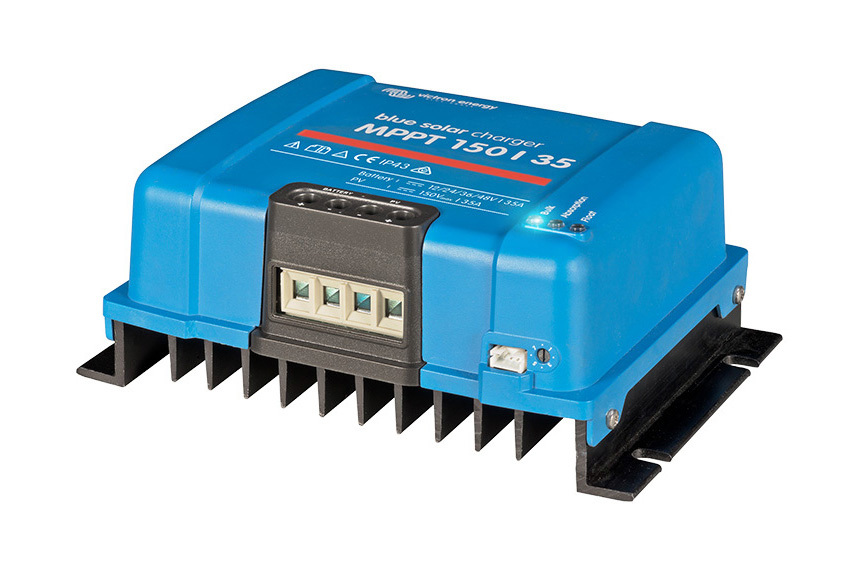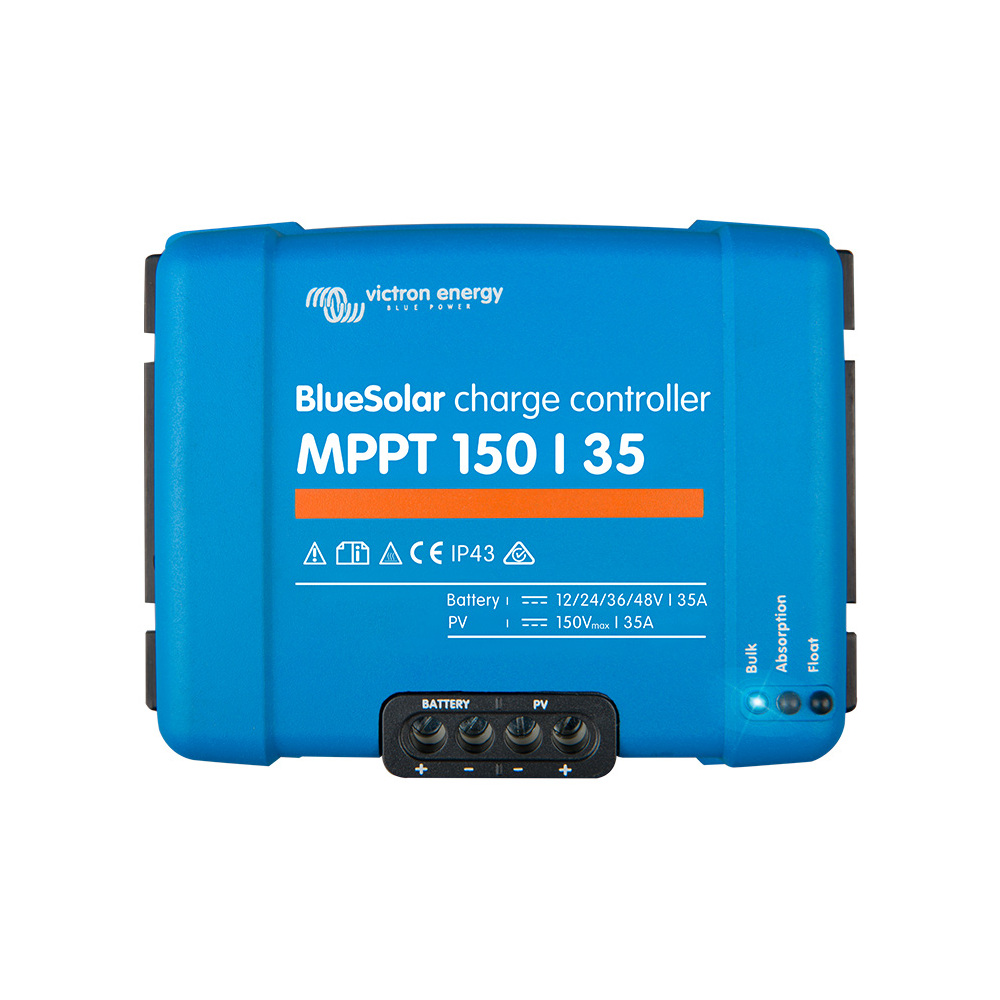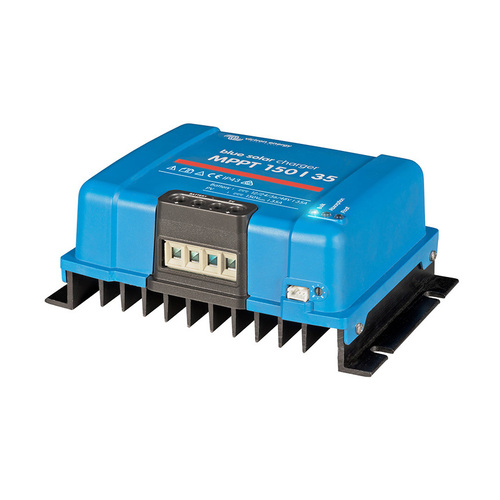 Victron BlueSolar MPPT Solar Controller 150V/35A
Specifications
Battery voltage: 12V/24V/48V auto select (software tool needed to select 36V)

Rated charge current: 35A

Nominal PV power: 12V - 500W/24V - 1000W/36V - 1500W/48V - 2000W*

PV short circuit current (max): 40A**

PV open circuit voltage (max): 150V (absolute max coldest conditions)/145V (start-up and operating max)

Efficiency (max): 98%

Self-consumption: 12V - 20mA/24V - 15mA/48V - 10mA

Charge voltage absorption (default setting): 14.4V/28.8V/43.2V/57.6V (adjustable)

Charge voltage float (default setting): 13.8V/27.6V/41.4V/55.2V (adjustable)

Charge algorithm: multi-stage adaptive (8 pre-programmed algorithms)

Temperature compensation: −16mV/−32mV/−64mV/°C

Protection: V reverse polarity/output short circuit/over-temperature

Operating temperature: −30 to +60°C (full rated output up to 40°C)

Humidity: 95%, non-condensing

Safety: EN/IEC 62109-1, UL 1741, CSA C22.2
*If more PV power is connected, the controller will limit input power. PV voltage must exceed Vbat + 5V for the controller to start. Thereafter minimum PV voltage is Vbat + 1V.
**A PV array with a higher sort circuit current may damage the controller.
The Victron BlueSolar MPPT Solar Controller 150V/35A rises to the occasion even on cloudy days as the Maximum Power Point Tracking (MPPT) technology is designed to collect the most energy possible despite fluctuating light conditions.
Due to the ultra-fast MPPT technology in this charge controller, full charge is reached quicky. It can be remotely controlled and monitored by being fitted with Bluetooth through the VE.Direct Bluetooth Smart Dongle.

Benefits & Features*
Ultra-fast Maximum Power Point Tracking (MPPT)

Improves energy harvest when light intensity is changing

Achieves full charge in shortest possible time

Maintains battery health and extends its life

Retrofit with Bluetooth by connecting the VE.Direct Bluetooth Smart Dongle**

Dimensions: 186mm(w) x 130mm(d) x 70mm(h)

Weight: 1.25kg

*For further specifications please click the "Features" tab
Click here for the Manual
Click here for the Datasheet
**VictronConnect lets you get live status information and configure any Victron products which either have Bluetooth built-in or are connected to a VE.Direct Bluetooth Smart Dongle.
| | |
| --- | --- |
| Barcode # | 8719076025559 |
| Brand | Victron |
| Unit Of Measure | ea |
| SKU | 8719076025559 |
---
We Also Recommend
---
Others Also Bought
---
More From This Category