Essential campervan accessories for summer
Author: Your RV Good Guide Date Posted: 24 January 2022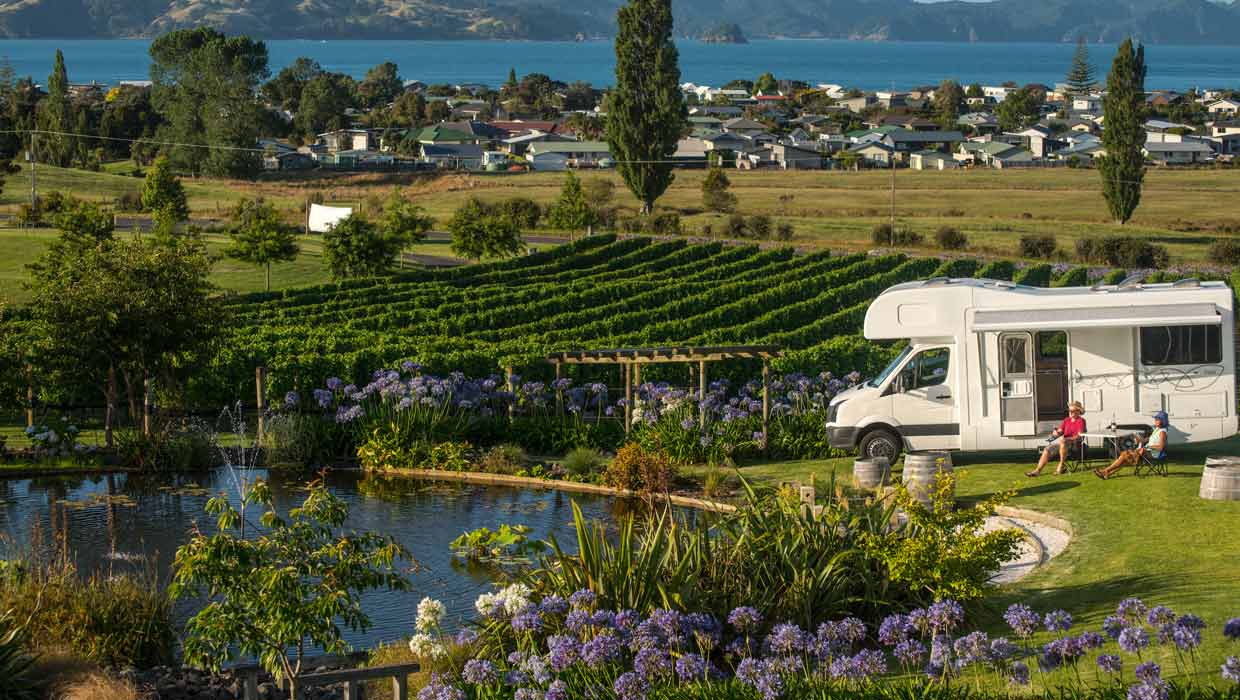 Summertime is the most popular time for Kiwis to get out in their RVs and enjoy everything New Zealand has to offer. To ensure you're all set to pack up and get on the road as soon as the sunshine arrives, it's important to give your RV a once-over and check that nothing needs upgrading, fixing or replacing.
Once you're happy that everything is in working order, then it's a good time to reflect on how you plan to use your RV over the summer. There's plenty of great campervan and RV accessories that can make your life on the road that much more accessible and comfortable.
Read on for our advice on the most popular must-haves for your campervan or RV so that you can make the most of wherever life takes you this summer.
When to kit out your RV for summer
Don't wait for the long days and the warm weather to arrive before you start preparing your RV or camper for the summer holidays. Jump on board and give your facilities a thorough once-over early. That way, you can identify anything that needs work, replacement or an upgrade well before your next getaway. Plus, it helps you avoid any last-minute panics, so your next trip gets off to a smooth start.
Once you know what needs upgrading, fixing or replacing, you can spread out any big purchases to help manage your budget over the coming weeks. This is where planning ahead comes in handy.
If you need specialist help, you may find that technicians or specialist fitters are especially busy in the lead up to the summer holidays. If you can, try to book any modification or repair work as early as possible. While you're looking at upgrades, don't forget to get your motorhome or campervan properly serviced before you hit the road this summer.
Getting prepared early allows you plenty of time to spruce up your RV before summer hits. Your camper will be clean, tidy and ready for use so you can get on the road and not miss any of the sunshine.
Awnings
If you're looking forward to enjoying food and drinks outside or simply relaxing outdoors in the shade, an awning offers that additional respite from the sun.
You'll be able to keep your drinks cool, reduce the chances of food spoiling in the sunshine and enjoy working the BBQ without the possibility of sunburn when you have your awning set up.
Depending on your unique needs, you might choose to go with any of the following:
Wall or roof mounted awning options.
When sunshade style awnings are paired with sides, they create some additional living space allowing you to enjoy those warm summer days and longer evenings too. You'll benefit from some additional privacy while you're at holiday parks or freedom camping, and with mosquito nets on all the windows, you'll enjoy some respite from bug bites and help keep your RV mosquito free too.
Awnings come in several designs suitable for different vehicles:
Wall Mounted - good for RVs with plenty of wall strength.
Roof Mounted - best for Vans with sliding doors.
Bagged - caravanstore awnings are extremely popular.
These are all sunshade styles. Enclosures are one of the accessory options you can attach to those awnings for added protection and privacy.
Inflatable awnings are fully enclosed and can be used as an accessory for other awning styles, or attached independently via a rope and track. They are light and easy to pack up and down too!
Bagged Awning options.
A classic, these pull down fabric camper awnings are quick and easy to set up. They offer sun and shower protection without adding too much additional bulk or weight to the vehicle (although we don't recommend using them during rainy and windy weather). You'll be able to avoid sunburn and spend some time relaxing outside of the RV without drama. They only require a rope track to install, which many caravans have already. Otherwise, they are a breeze to install.
Sunscreen / Privacy options.
Reduce the chance of little ones, pets, or older family members suffering heat stroke or burn, and afford yourself some additional privacy with a sunscreen accessory.
Wind / Rain blocker options.
The weather doesn't always play ball in New Zealand. Grant yourself some protection from a cold breeze or a spot of rain with a wind blocker. You'll be able to enjoy watching the elements while you stay safe, dry and comfortable in your extended living space.
Bike Racks
Installing a campervan bike rack allows you to bring along some extra wheels during the summer, which can be handy when you want to explore towns that are tricky for an RV or campervan to navigate or go for a ride on one of New Zealand's many trails. Plus, it makes for a faster ride to the shops when you need an ice cream!
A bike rack designed for campervans will ensure that the vehicle and the bikes remain safe and undamaged but are easy to access when needed. They offer a stylish and tidy way to bring along bikes for the family.
Different Styles to choose from
Fixed rear wall - best for RVs & motorhomes.
2 door - perfect for vans.
A-Frame - best for caravans.
Lift - great for people who need help with lifting bikes, allowing for higher mounting. At RVSC we have manual lifts that can be operated with a winder, or automatic options that are operated with a remote.
Quick fit options - straightforward to fit on almost any tow bar.
E-bike options - Keeps up to two expensive e-bikes safely attached and redistributes the additional weight of the e-bike differently to a standard bike rack. This can be important as putting an e-bike on a standard bike rack can cause the bike rack to buckle..
If you're planning on getting on your bike a lot while on holiday, consider a few added extras, like a bike cover, to keep everything tidy and your ride protected from the elements. Plus, add in an extra rail and arm if you need to carry more bikes for the whole family.
You may also want to invest in a wireless remote to aid with quick access and pack away, which is available for the BR Systems Bike Lift.
Campervan Fridges
Keep your favourite refreshments cool in a fridge that is perfect for your vehicle and your lifestyle. RV fridges are fit-for-purpose to keep your food and drink safe and cool. Some options include ice makers for those scorching days, and for those who love fishing, you'll be able to keep today's catch chilled before it gets thrown on the BBQ. If space allows, you can invest in a large-capacity fridge, and you'll be entertaining in no time.
Different Styles to choose from
Great for popping down to the beach, these fridges feature a built-in charging port, allowing you to stay out and about for longer while keeping everyone's snacks and drinks cool. New model options include built in battery, so you can run the fridge without being plugged into your vehicle's power supply. Most fridges are Dual Zone to allow both Freezer and Fridge simultaneously (Brass Monkey can go all the way down to -22 degrees)!
Thermoelectric fridges & warmers.
Great for picnics when you want cold drinks and a hot meal! These don't require a liquid refrigerant, instead rely on metal to disperse temperature.
Absorption or 3-way fridges.
Heaps of space for storing food for the whole family, even when they're hungry! There is enough space to fill the fridge and be comfortable when in more remote camping spots. It's worth noting that 3 way fridges run primarily on gas, run silently, but struggle in higher temperatures, and are inefficient to run on 12v.
Compressor powered fridges.
Also known as 2 way fridges are the most efficient for electricity use. These are zone controlled, allowing you to have ice blocks ready to go, even in extremely warm temperatures.
If you're a fan of a G&T with lots of ice, then an ice-maker will ensure you can get your drink just the way you like it. Cold, and perfect with a good book and a spot of sunshine.
Air conditioning units and fans
A must-have for those chasing the sun. Air conditioning units and fans allow you to enjoy the heat while you're out and about while keeping your campervan cool and comfortable, great for easy sleeping and relaxed evenings.
Different styles to choose from
Rechargeable and able to be used anywhere, these air conditioners provide flexibility, meaning they can stay in your RV or come with you out and about, say to the batch or the boat.
Models can include only a fan or a more superior air conditioning feature; these options are highly efficient for cooling the whole vehicle quietly. It's worth noting that these are not meant for using when off the grid as they still run off 240V. They're perfect for powered sites or vehicles with large battery/inverter systems.
Great for freedom camping, these fans offer the flexibility required for indoor and outdoor use and don't require an immediate power source.
Position adjustable fan models.
Fitted to the interior of your RV, these models can be installed vertically or horizontally to ensure maximum cooling in your space.
Clamp-on & suction model fans.
Keep the air circulating to ensure drivers stay cool, calm and comfortable.
Consider keeping the sun out with thermal blinds to keep things cool indoors. These thermal blinds are also handy in winter, helping to keep heat inside. They're also helpful for privacy when using your indoor space to change or just relax.
Outdoor living gear
Getting on the road and enjoying the outdoors is one of the main reasons Kiwis love campervans and RVs. To make the most of summertime, don't forget these outdoor living essentials. They can stay with you at camp or be taken on day trips to the beach, lakeside or wherever you find yourself.
Sit back and relax in comfort. Great for sunbathing, lazing with a book, protecting yourself from dry summer grass and acting as a spot for your G&T, beer or sparkling water.
Whether you're eating al fresco in summer, laying out a BBQ for the masses, or just looking for somewhere to play cards, do a puzzle or fold some laundry, some additional table space is always welcome.
Handy when you're off the grid but equally valuable when returning from a sandy beach, a portable shower can help keep you cool, clean and comfortable regardless of where you're spending summer.
It looks and feels like glass but won't shatter, making it a handy accessory for on-the-road travel. Great for winding down at the end of the day with a wine or beer as the sunsets. Bring along enough for the whole family, plus a couple more for entertaining.
It wouldn't be a New Zealand summer without a BBQ! Lightweight and easy to travel with, you can make breakfast, lunch and dinner on a BBQ like this. Just add your favourite foods, and get eating.
Extend the day a little, and keep the bugs away with a rechargeable lantern and bug-zapper. Give yourself the freedom of reading, writing, or just spending time outdoors during the cooler evenings. Need more light? Why not pick up an RVSC torch or beanie with a headlamp and really light up your campsite. A Campsite Lightbar Kit will also be your best friend on evenings when you want to spend more time outside.
Preparing to go off-grid
Spending some time back in nature and away from the crowds is just one of the appeals of a campervan or RV. Before you go off the grid, complete some thorough preparation to ensure a safe and comfortable experience.
Charge up all your batteries while at home to get on the road at 100%. While you prepare your batteries, turn on the fridge and get it to the desired temperature. It's much easier to maintain a temperature while you're on the road.
Invest in a spare toilet cassette. A second cassette extends your ability to stay in nature without waste disposal.
Get the summer gear you need at RVSC
Shop all the latest and greatest accessories to make your summer the best yet at RV Super Centre. Shop online or call into your nearest branch to chat with the team.
---
Leave a comment