TVs and Satellites for RVs
Date Posted: 30 April 2019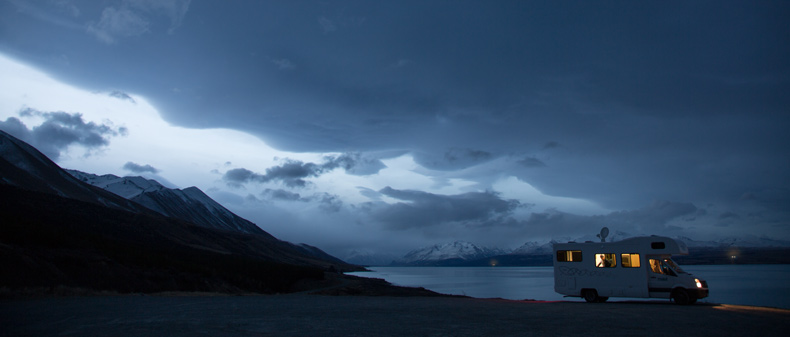 The motorhoming lifestyle is perfect for getting outdoors, smelling the fresh clean air and really connecting with nature. This said, after a long day spent out doors and taking in the magnificence of New Zealand landscapes, many of us enjoy a return to the world of technology. Let's face it, watching our favorite program on TV is a great way to relax and unwind!
It's important to understand the different technologies that allow us to turn the TV on and enjoy good quality reception in our home away from home.
Satellite Dishes
To bring a signal to your TV you will need a satellite dish. Satellite dishes come in various sizes. In general, the larger the dish the better the reception. For us Kiwis, it is recommended that we use a dish that is at least 45cm wide to capture full service. Choose anything smaller and the quality of your signal will decrease in certain conditions. For example, you may get bad reception in rainy weather (rain fades down the signal power). On the other hand, a satellite larger than 65cm wide wouldn't give you any advantage.
There is a multitude of satellite brands and models available on the market, so what is the difference between the entry level and more upmarket products? Construction doesn't really dictate the quality of satellite kits. Made in China or in Germany, most of them are well built, with an aluminium antenna, sturdy arm, appropriate materials and components to prevent mechanical failure with attention to detail such as rubber spigots to decrease rattling noise when folded. What makes the difference is the technology used to operate the satellite dish.
What to look for in a good satellite dish?
High-end satellite dishes have quicker signal acquisition (30 seconds for best, 1-2 minutes for rest)
High-end satellite dishes memorise the position they were last deployed and use it to acquire signal even faster at the next time of use
Some of the most expensive satellite dishes auto-retract themselves when you start your motorhome
Most satellite dishes can only search for a single transponder – Australia's telecommunication company's satellite Optus D1 in New Zealand (All direct broadcast services for subscription and free-to-air television to New Zealand are carried on Optus D1 making it the New Zealand hotbird). Top of the line products can acquire signal from up to 4 satellites (like Optus D2 for example), which can give you access to more free channels.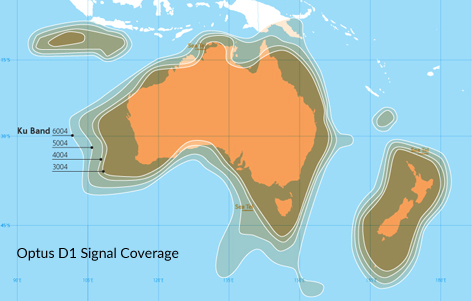 The quality of satellite dish you need will probably depend on much time you spend in your motorhome. Proven 45cm-wide models, such as the Southern Cross 45cm Satellite Dish will meet your needs if you only use your motorhome for short holidays. If budget is not an issue for you, or if you live in your RV most of the time, we suggest you go for the RSE SamY.
What does the future hold?
Satellites have reached the point where it's very hard to improve them. They are technologically very advanced and are extremely good at delivering TV signal. Next on the wish list is that they help us acquire better internet connection on the road. Though the technology already exists, it makes satellite dishes a lot heavier and larger. Currently, you would need a 1m wide dish to acquire a stable internet connection. A satellite this big would put your RV at risk of losing its roof with every wind gust. The cost involved in such technology is also an issue. The price for this type of equipment would be close to the $7,000 price tag. You could buy a lot of data from your mobile service provider for that money!
Televisions & Receivers
With large voltage fluctuations, wide temperature spectrums, bright ambient light and vibrations, motorhomes are harsh places for televisions. In the past, the main concern when choosing a television for an RV was available space. In the last decade thin flat LCD /LED screens have become the norm. Recent TV models are packed with built-in features such as DVD players, Freeview receivers and various multi media slots. TV sets are not that bulky and don't draw that much power from your batteries anymore. Your choice will now be guided by the features you need and desire.
How are TVs for RVs different?
TVs made for RVs are different to those we use in our homes. The main difference is that they are a lot more energy efficient. They can operate under 12V/24V/240V and thus can cope with voltage fluctuations using a combination of batteries, chargers, solar panels. Even packed with built-in features for your comfort and to save some vital space in your vehicle, RV TVs are more compact and lighter than normal TVs.
TVs produced by specialised brands also offer a lot of display functions that makes signal acquisition and general use easier in an RV environment (One Touch buttons for satellite finder, house battery voltage display).
Other specific features found on RV TVs are anti-vibration systems and anti-glare screens.
The price of TVs designed for motorhomes will generally depend on:
Screen size and display technology
Presence of a built-in receiver
Amount of connections and card slots available
BlueTooth capabilities (for Wireless Audio for example)
Personal Video recording capabilities (internal hard drive size, USB ports)
For better access to all the connection at the back of your TV, we recommend you mount it onto an adjustable wall bracket/arm. It will also give you the possibility to better adjust the angle of your screen depending on lighting and seating area placement.
Media Boxes / Receivers?
If your TV is an older model not up to recent technological standards, and is not equipped with a built-in satellite receiver (DVB-S2), you could still enjoy free to air channels in high definition. In small satellite receivers you can easily attach on and plug into your TV, specialized brands have developed the exact product you need to watch Freeview or SKY programs.
Receivers like the RSE MiniLite are relatively cheap and come with all the necessary cable and hardware and preloaded channels – Everything to be installed in 5 minutes.
Most brands give you the choice in between a SKY+Freeview receiver or a subscription Streaming (Netflix)+Freeview receiver.
Talk to our team about your requirements, they are here to help.
---
Related Products and Accessories
---
Leave a comment