Roller Team Zefiro 259
Author: Malcolm Street Date Posted: 25 May 2018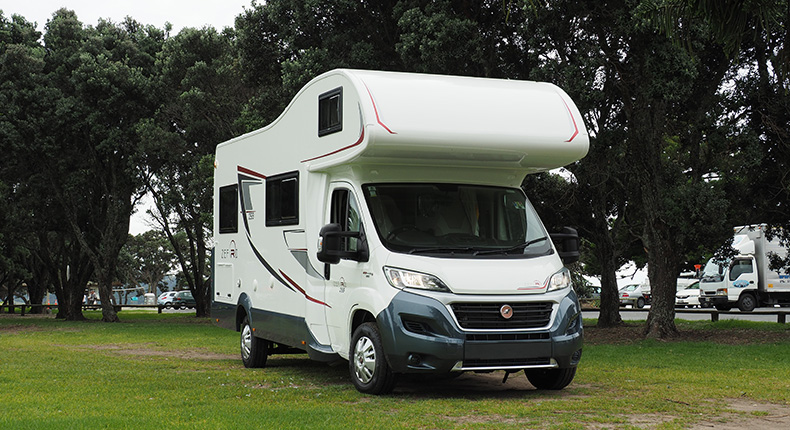 One of Australia and New Zealand's leading RV reviewers, Malcolm Street.

Italian style on a budget
I have to confess I really like the name of this motorhome. It conjures up all kinds of images of rolling along the road, but what it doesn't bring to mind is the country of manufacture – Italy. Although the model name Zefiro 259 has more of a continental sound about it.
Over the last few years, a number of Roller Team models have become part of the motorhome range available from the RV Super Centre. They do a year's worth of service with a British rental company 'Just Go' before being sent to New Zealand. Consequently, in rental vehicle kilometre terms they are really just getting 'run in' and that is about it.
The Zefiro 259 is available in two models, with or without a luton peak, ie four or six berth. Being an Italian built motorhome it's not really surprising that the base vehicle is a Fiat Ducato Multijet, in this case the 130 model with its 96kw/320Nm turbo diesel. Rental companies seem to like using the lower powered engines.
Roller Team's motorhomes are built with a composite wall and roof structure. The walls having an external covering of fiberglass with laminated plastic for the inside and Styrofoam and extruded plastic in between. The roof is much the same, except that the interior sheeting is fiberglass also in a similar style to the floor, but the latter is 54mm thick for a bit of extra strength where it counts.
Even with the moulded luton peak, the motorhome does have a fairly stylish look about it. Polyvision acrylic windows are fitted all round and are all awning style, except for the one behind the driver's door which is a slider. The habitation door is a standard Euro product set low enough so that no external step is needed.
There is but one external bin is at the rear offside, which gives access to the under bed area. It's good for the camp chairs, hoses, power leads and toolbox test. Plastic bins for wet items would be handy. There's enough space in the gas cylinder bin for two cylinders.

Interior
There are no surprises with the layout given it's primarily a layout for rental use, ie for six people. One noticeable difference, when compared to locally built rental units, is that there's one fixed double bed in the rear offside corner. Otherwise known as a French bed, it's width allows a combo bathroom to be fitted into the opposite corner – done in a typical European style. Taking up all the wall space between the entry door and the bathroom is the kitchen bench. Front area fit-out includes both the café style dinette behind the driver's seat and a waist-high cabinet behind the passenger seat.
Colour schemes are a very subjective thing, but this one, although not difficult on the eye is an interesting mixture of faux timber, beige and glossy cream on the overhead lockers. All the cupboard and overhead lockers catches are either semi-concealed, ie the recessed push button variety or the full concealed behind the overhead locker doors. A point of note in the overhead lockers is the small diameter restraining bar that prevents items falling out whenever the door is opened. A simple, but effective idea.

Kitchen matters
European motorhome kitchens are often quite compact affairs, but this one is larger than some I have seen. A fair bit of bench top space has been created by fitting an under bench 100-litre fridge. Also located under the bench top is the oven/grill which limits the storage to three different sized drawers and a couple of overhead lockers, which in addition to the restraining bar also are compartmented to prevent stored items moving around.

Dining
Opposite the kitchen bench, the dinette will seat four people without any problem at all. Six might require an extra seat. For travelling, both forward and rear facing seats are fitted with two seat belts each. A flat screen unit is mounted above the cabinet opposite, so most dinette sitters can see it without too much trouble. Folding down the dinette to form a 1.8 m x 0.97 m (5" 11" x 3' 2') bed is quite simply done, the table being clipped to the wall and having a folding leg.
Level with the dinette, but behind the passenger seat, the cabinetry there not only offers a good amount of shelf space (useful at meal times) but also storage in the form of both a drawer with a custom fitted plate rack and an overhead locker above. Given the mains power point, it's also a good area for a device charging station.

Corner bed
In the rear, the main bed having a chamfered shape, measures 1.96 m x 1.3 m - 0.92 m (6' 5" x 4' 3" - 3'). The bed base can easily be lifted up to get to the storage space underneath. Part of that though is taken by the Truma Combi 4E heater that provides both hot water and hot air when needed. In winter time, it also provides for a nice warm bed at night!

Ensuite
Bathrooms often take up a considerable amount of motorhome space, but this one isn't too bad and still offers a practical bathroom layout. There's a semi-circular shower cubicle, cassette toilet and a small vanity sink and mirror. A non-fan hatch above the shower and a small window provide the ventilation.

Electrics
Mains power points, all converted from European fittings are mostly located in user-friendly places. 12V USB charging points are also available, one under the table and the other a little oddly located on the wardrobe wall at the base of the bed. Ceiling lights are fitted in the expected places all the beds and dinette get reading lights. Outside the door gets a handy LED strip light – low profile but very bright.
The Bottom Line
Being an ex-rental, you might expect more than a few dings and scratches inside and out. There were a few of course, but far less than I expected and overall the motorhome was in quite a good shape. Roller Team does seem to build a motorhome with some style and panache and if an Italian motorhome is a desired item, then this may well be a very attractive feature!
---
Pros
Fixed bed in rear Relatively good sized kitchen Quite stylish even for six berth layout Extra cabinet behind the passenger seat Spacious dinette Price

Cons
Lower powered Ducato engine External bin capacity Limited no of charger outlets Swivelling seats might be an asset for six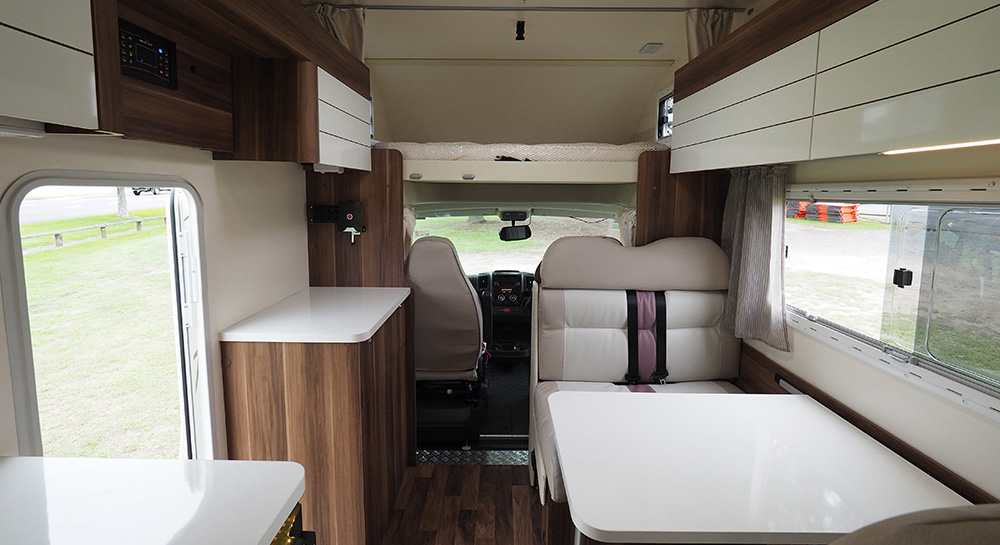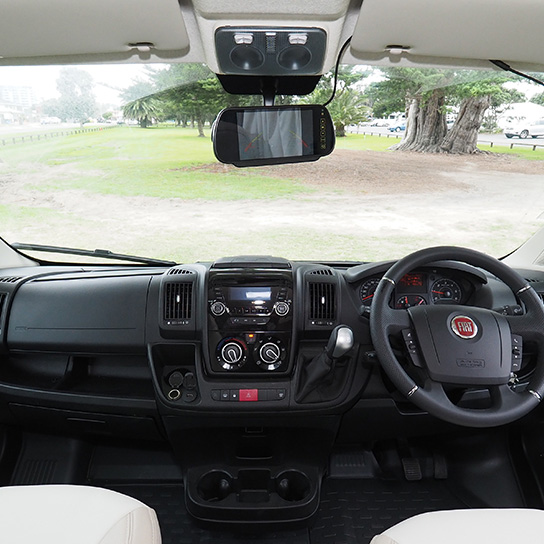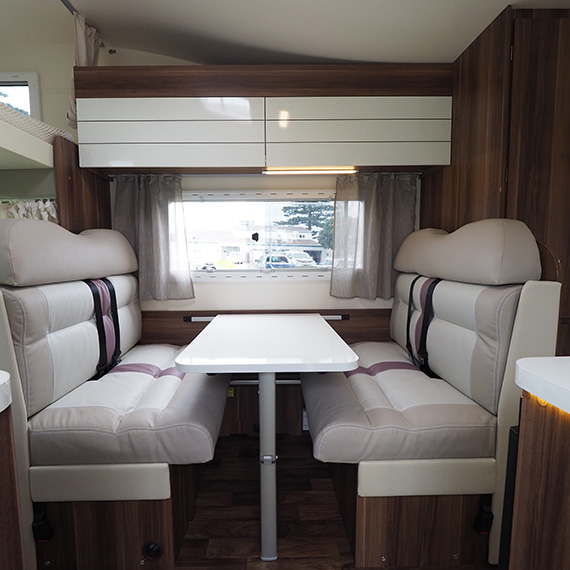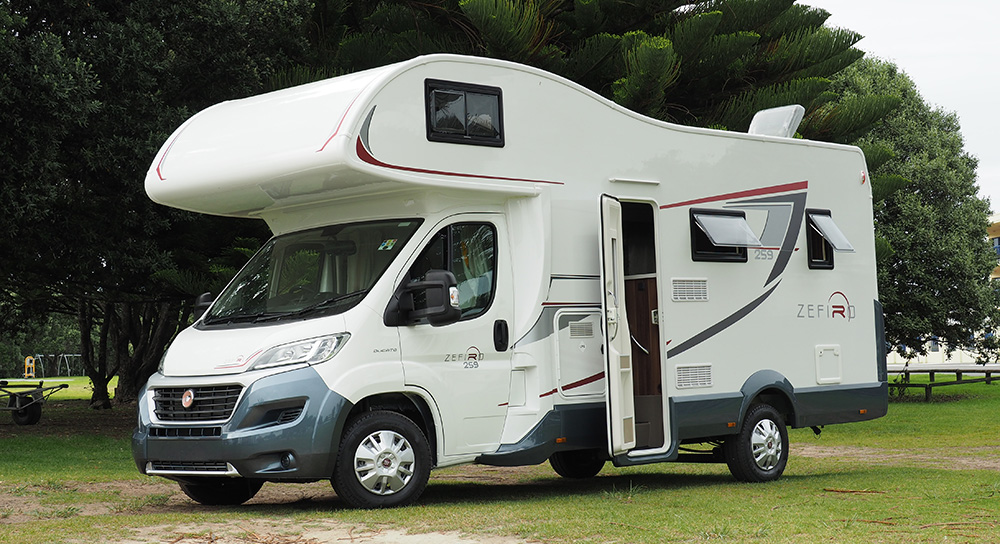 ---
Leave a comment