River M721 6-Berth Motorhome
Author: Malcolm Street Date Posted: 18 January 2019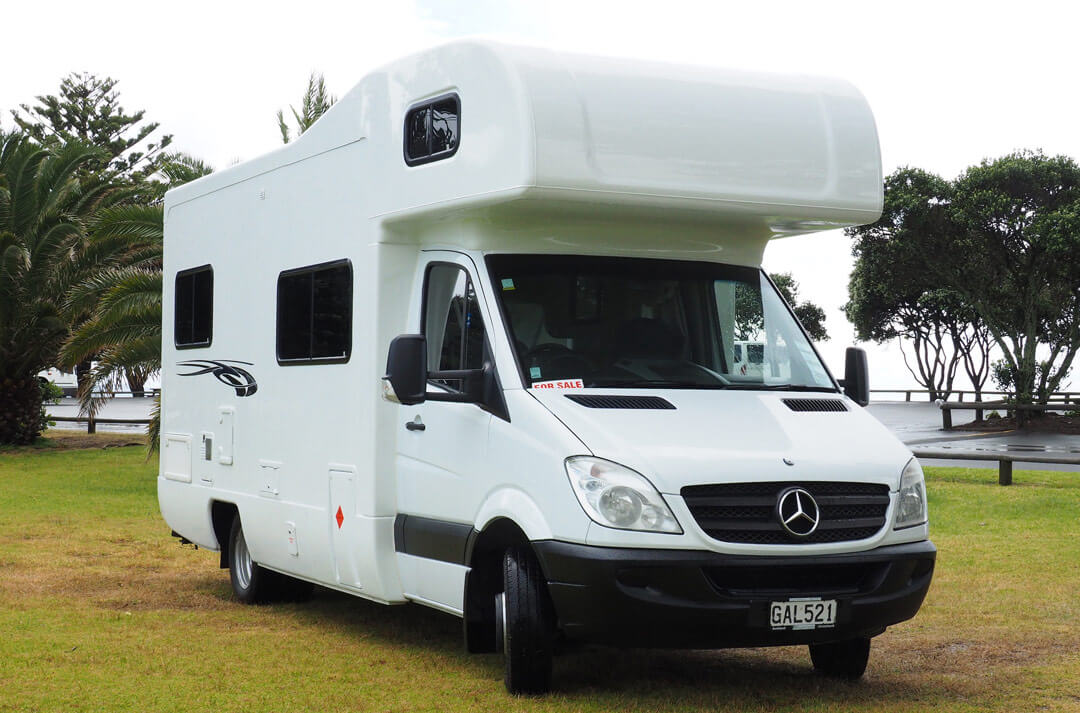 Up until a few years ago, many rental motorhomes had pretty similar layouts and bed arrangements. Generally speaking, the idea was to maximise the number of beds (and, therefore, the number of occupants a rental motorhome could sleep and seat). In recent years, there has been a slight shift away from that design concept but it's still a tried, tested, and trusted popular philosophy and this is evident in the six-berth, refurbished River motorhome from the RV Super Centre at Albany, New Zealand.

A six-berth refurbished motorhome and with about 250,000km on the clock, this River had been around the block a few times, so I was particularly interested in how it had stood the test of time. The rainy weather during the period of my test allowed me to check for water ingress, which can be an issue on older vehicles but, happily, there wasn't any. I was also impressed to see that the River had obviously had an interior refurbishment (either that or some very careful users) including some of the appliances
LAYOUT
The River 6-Berth features a layout very popular with motorhome renters and owners alike, with a club-style lounge/double bed at the rear, a café-style dinette behind the driver's seat and, being a C-class motorhome, with a luton bed above the cab. It also has all the essentials, including a nearside kitchen area and offside bathroom cubicle. It is quite a simple layout but it offers a great deal of flexibility, which is required when you're considering sleeping and housing up to six people!

One of the major benefits of this layout is that rear club lounge - the perfect place to relax on a rainy day. It's quite easy to sit in the warmth and dry of the rear lounge whilst watching the world go by without getting wet or having much to do at all. Windows all round in the rear give an excellent view of the surrounding countryside even through the rainswept windows! The dual purpose bed/seat arrangement means that all the seat cushions are flat but a few strategically placed cushions will sort that out. The oblong-shaped table is easy enough to get around but it is really only for four people so, if you're travelling as a six-some, you may need to arrange extra seating or head outside.

There are good sized overhead lockers down both sides of the River 6-Berth motorhome, high enough so you won't bang your head, and there are another couple of shelves across the rear. Most of the space under the seats is also free and usable for storage, although the water heater does occupy part of the space. You can access these spaces by lifting the seat cushions and bases but there are also bin doors on either side that allow for external use.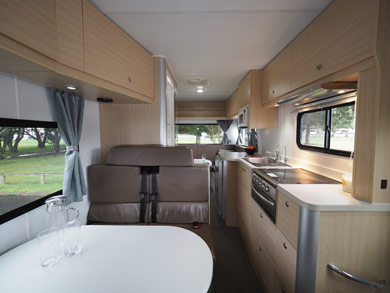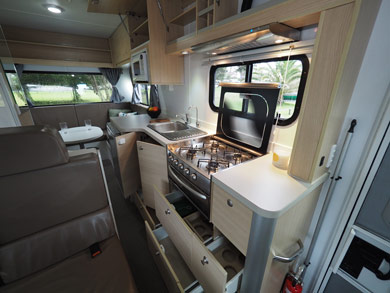 MERCEDES BENZ SPRINTER VEHICLE
Underpinning the River 6-Berth is a Mercedes Benz Sprinter 515 chassis. Having a GVM of 5000kg gives this motorhome a good load capacity, yet it is still an easy RV to drive. Powering the River is a 2.2 litre turbodiesel engine that delivers a maximum power of 110kW and a torque of 330Nm. The six-speed automatic gearbox would be familiar to RVers and is simple to operate for renters.
SETTING UP THE MOTORHOME
Setting up the 2.0m x 1.53m (6ft 7in x 5ft) bed isn't difficult. It's just a matter of removing the table, finding the bed base pieces under the rear seats and putting the cushions into position. Alternatively, if a couple is prepared to forgo the club lounge, then the bed could be left made up permanently.
KITCHEN AND CATERING
Family-oriented RVs don't always have a large enough kitchen but this one scores quite well on that front. There are all the essentials, such as the Smev four-burner hob and grill, 136 litre Waeco fridge and Sharp Carousel microwave oven, which is set below the overhead lockers and, thus, at a usable height. Even with all that, there's a fair bit of bench top space and a very generous amount of storage space. That includes overhead lockers with shelves and a wine bottle storage area, cupboard and generously sized drawers. A handy feature in a couple of the drawers are the cut outs for plates and cups which holder them securely and minimise rattling when travelling. Two people are going to be well served by the amount of storage and even a family won't have to be too conservative with their food supplies.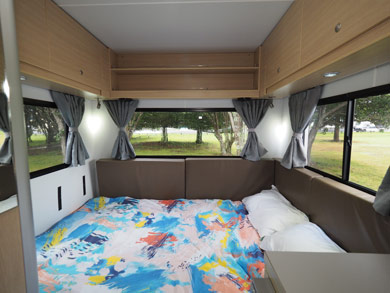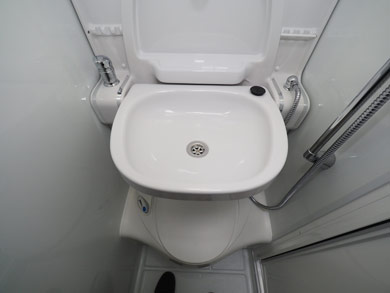 BATHROOM
To save a bit of space in the bathroom, a fibreglass moulding has been used which includes a Thetford cassette toilet, hinged wash basin and mirror door shaving cabinet. It does mean you can't wash your face at the same time as sitting on the loo but it's an effective and practical concept. The shower head is connected to a flexible hose and the moulding includes toothbrush holders and a shelf area.
DINING TABLE
In addition to the table in the rear, the dinette can also be used at meal times. There's enough seating for four people – anyone else is going to have to use the rear table. Like the rear seating, the dinette seats can be folded down into a bed measuring 1.88m x 1.2m (5ft 11in x 3ft 11in)
DRIVER'S CAB
Access to the cab is a bit limited, due to the dinette on one side and the wardrobe behind the passenger seat. It's a bit of a compromise but the 2.14m x 1.6m (7ft x 5ft 3in) Luton bed can be lifted up out of the way if not needed.
THE RIVER 6-BERTH
Given its age and the number of kilometres driven, the refurbished River 6-Berth was in far better condition than I would normally expect it to be. Obviously, there were signs of previous use but not many. On the road, there were a few rattles and squeaks, as might be expected for an RV of this age, but some could certainly be eliminated with a strategically placed sheet or towel. With its six berth layout, the River might not suit everyone but it does offer considerable flexibility in use and certainly an affordable price for any family considering taking up the motorhome lifestyle.
SPECIFICATIONS
River 6-Berth
WEIGHTS AND MEASURES
External length: 7.2m (23ft 7in)
External width: 2.3m (7ft 7in)
External height: 3.2m (10ft 6in)
Internal height: 2.14m (7ft)
Tare Mass: 3620kg
GVM: 5000kg
MECHANICAL
Base Vehicle: Mercedes Benz Sprinter 515CDI
Engine: 2.2 litre turbo diesel
Max Power: 110kW@3800rpm
Max Torque: 330Nm@1200rpm
Gearbox: Six-speed AMT
Brakes: ABS disc

EQUIPMENT
Fresh Water: 1 x 85 litre
Grey water: 1 x 85 litre
Battery: 1 x 100AH
Gas cylinders: 1 x 9.0kg
INTERNAL
Cooking: Smev 4 burner & grill
Fridge: Waeco CR1140 136 litre
Microwave: Sharp Carousel
Bathroom: Thetford cassette
Hot water: Suburban 23 litre gas/elec
---
Leave a comment