Roller Team Auto-Roller 747 - Refurbished
Date Posted: 21 March 2019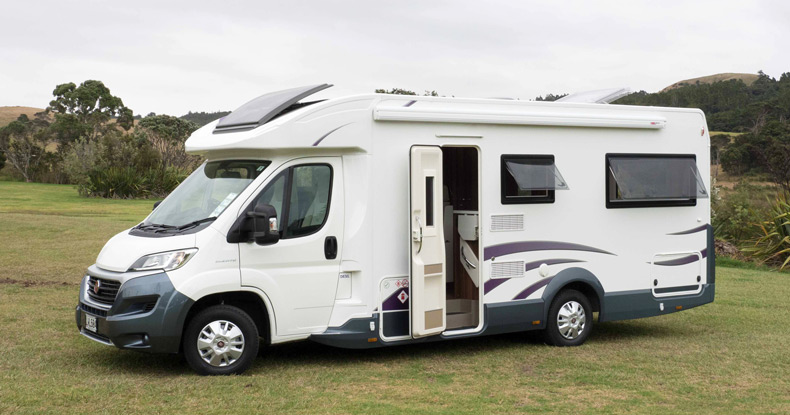 Motorhomes in New Zealand come in many different sizes and shapes. And with the recent explosion in the number of imported motorhomes, New Zealand RVers have a much better choice when it comes to choosing a new motorhome than their Aussie neighbours across the Tasman.
Years ago, many motorhomes were built with a U-shaped lounge across the rear, which had to be made up into a bed every night. While this layout did have some benefits, such as a large and comfortable seating area, the lack of a fixed bed wasn't for everyone and that particular layout dwindled in popularity. But the advent of the drop-down bed, which sits up out of the way during the day and can be easily dropped down at the touch of a button at night, has reinvigorated this layout and it's now enjoying a bit of a renaissance! A good example of this format is Roller Team Auto Roller 747 - a refurbished motorhome which is imported to New Zealand from Britain by RV Super Centre (RVSC). Prior to arriving New Zealand, Roller Team motorhomes spend less than a year in service with Just Go, a motorhome rental company.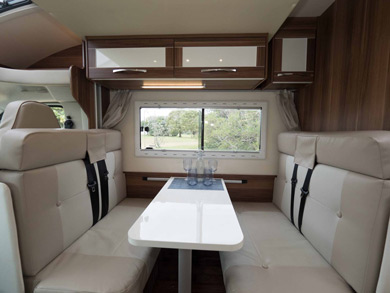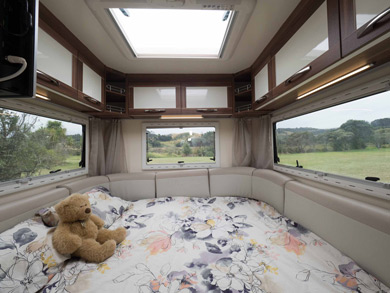 FIAT DUCATO MULTIJET
Based on a Fiat Ducato Multijet 130 chassis, the Roller Team Auto Roller 747 has an external length of 7.3m (23ft 11in) and a tare weight of 2820kg. Given that the GVM of the vehicle is 3500kg, that gives an excellent payload of 680kg so you can pack plenty of gear for your extended travels. There is a full-width tunnel boot at the rear of the body which is good for packing camping essentials. Fiat Ducatos are very common base vehicles for motorhomes, with Fiat underpinning about 80 per cent of the motorhomes in Europe. It is a very easy motorhome to drive, even if it does come with the lowest powered (96kW) Ducato turbodiesels. Even the six-speed automated manual seems to have improved with age.
The Roller Team Auto Roller 747 has a fibreglass composite body with extruded plastic inserts. It has styrofoam insulation in the roof, walls and floor to improve heating and cooling, as well as ventilation panels and breathable fabrics which help improve air circulation and reduce condensation.
European motorhomes have a few standard features that we don't see on New Zealand or Australian-built models, including a Hartal door, double glazed acrylic windows and large roof hatches. The Auto Roller 747 also has a Skyview above the driver's cab and a Fiamma awning.
HOW MANY PEOPLE CAN IT SLEEP?
The Auto Roller can sleep six people in three beds, which makes it great for family adventures or taking friends on the road. The aforementioned drop-down bed which sits over the dinette measures 1.8m x 1.3m (6ft x 4ft 3in) and it can be operated electrically. It does require the use of an aluminium ladder which can be stored in the tunnel boot when it's not being used. The U-shaped lounge, which can also be made up into a bed, measures 1.8m x 1. 4m (6ft x 5ft). Further towards the front, the dinette can be rearranged to make up a smaller 1.5m x 0.95m (4ft 11in x 3ft 1in) bed.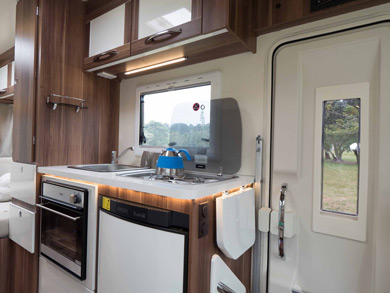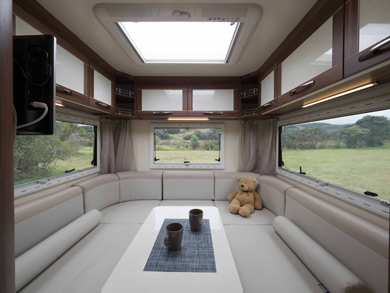 KITCHEN AND BATHROOM
The Auto Roller 747 has a nearside kitchen bench and a mid-offside bathroom. The small bathroom has a Thetford cassette toilet, vanity wash basin, mirror and a separate shower cubicle. The wash basin is actually within the shower cubicle, which is how Roller Team manages to fit it all in, and the toilet sits on a slightly raised platform so that the shower can drain properly. The kitchen bench is very compact, which is typical of the European styles. It has a three-burner hob, an adjoining stainless steel sink, a Thetford Duplex grill/oven and a Dometic 106L three-way fridge. Consequently, there isn't a great deal of storage space – just one cupboard and two overhead lockers.
The four-person, café-style dinette is a fairly standard affair, though it does have a little bit of flair. All the seats, forward and rear-facing, have seat belts and the table, which has a folding leg can be moved forwards and backwards to suit. There is also a sideways-facing lounge which adds to the front seating capacity.
Panoramic rear windows and the big roof hatch give a spacious feel to the rear lounge area and it feels like an invitation to sit back and relax in comfort. There is a flatscreen TV mounted on the offside bathroom wall which can easily be seen from the rear seats. Stored in one of the cupboards is a freestanding table that can be folded out when needed. It's not particularly light weight but easy enough to set up. Overhead lockers on walls supplies a generous amount of easy to get at storage and there is also underseat storage as well. Between the nearside seat and the kitchen bench is a full height wardrobe with good hanging space and two drawers.
The Auto Roller's colour scheme includes dark timber cabinetry contrasted with the white and beige colours of everything else. Flexibility is a good word to use to describe this motorhome layout and the versatility of the beds make this possible. It makes the Auto Roller 747 equally good for a couple or a family and there is the benefit of that time-honoured lounge area in the rear.
ROLLER TEAM AUTO ROLLER 747 SPECIFICATIONS
Price: From $114,9990
Beds: 6
Base vehicle: Fiat Ducato Multijet 130
Engine: 2.3 litre turbo diesel
Cooking: Dometic three-burner
Fridge: Dometic RMS 8501 96 litre
Bathroom: Thetford cassette toilet and separate shower cubicle
View available Auto-Roller 747
---
Leave a comment