Fun with a KEA Foxtrot
Author: Dave White Date Posted: 12 December 2019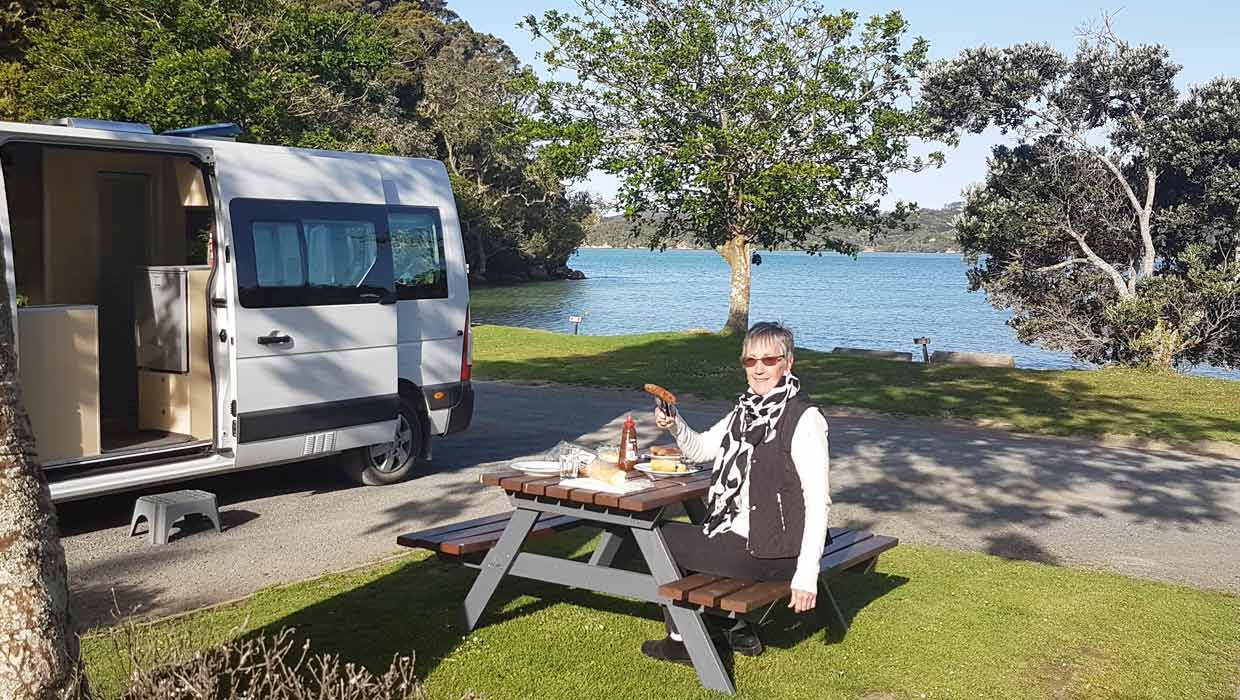 I recently had a wonderful opportunity to work in Auckland for a month at the RV Super Centre and I was given a Renault 2 berth KEA Foxtrot Motorhome to "run around" in which was terrific. The Renault KEA Foxtrot is based on the Master Van, well fitted out by Action Manufacturing with everything you need to be Self-Contained which makes freedom camping easy if you wish.

The Renault was a delight to drive, comfortable seats, great vision and a responsive automatic. Because it is not too big, parking was easy and manoeuvrability simple with the reversing camera a great help.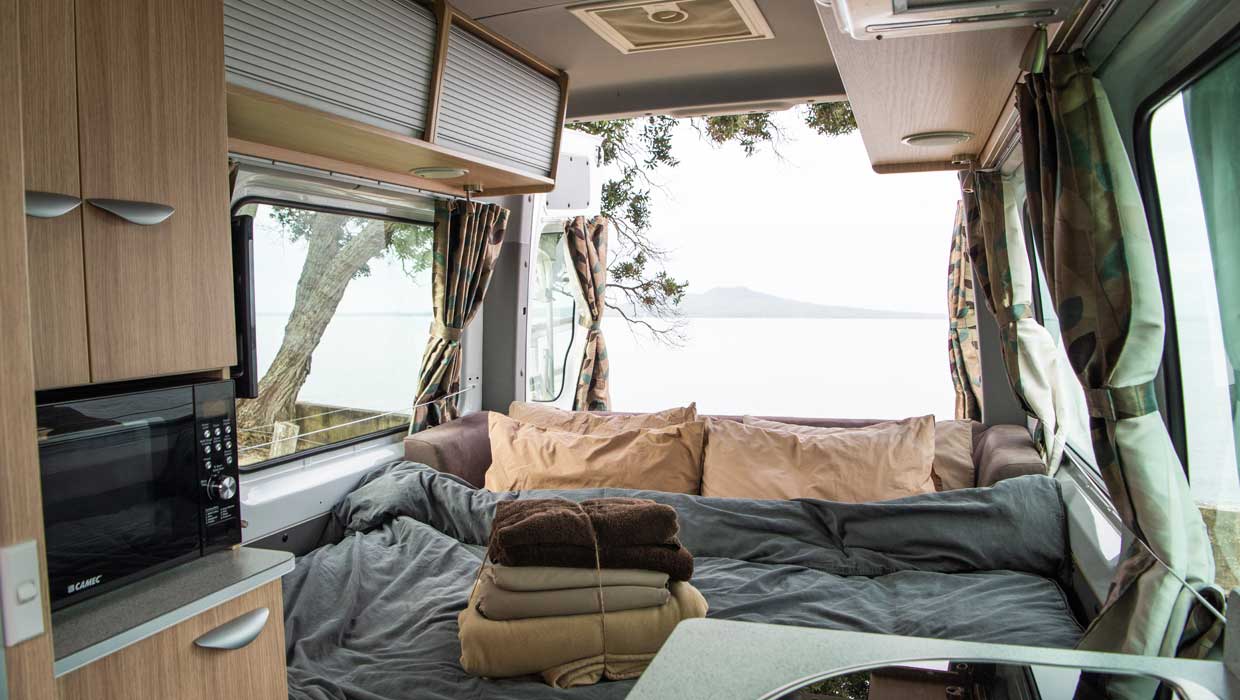 This motorhome has either two single beds or a double and we tried both, toilet and shower, solar panel and house battery, gas cooking and hot water, a very efficient diesel heater plus a good sized fridge. When I first looked inside I thought this is small and I will not be able to move around in it as I am a tall bloke. Well was I surprised, this was not the case as it makes very good use of all the space inside.

The cooking, fridge and food prep areas are behind the driver's seat, toilet/shower in the middle and dining/bed area at the rear. It was easy. Now something that I really did appreciate even though the bathroom was small, the door was wide enough for easy access but more importantly, the toilet was not low as in other Motorhomes. Might sound strange but it made using the facility easy and dare I say, enjoyable.

As I love to prepare food, one feature I did appreciate and like was everything I needed to prepare a meal was in my reach zone. Drawers and cupboard doors did not get in the way and with the fridge side-on in the doorway, when I went shopping, I did not have to go inside to load the fridge. This could be done from outside.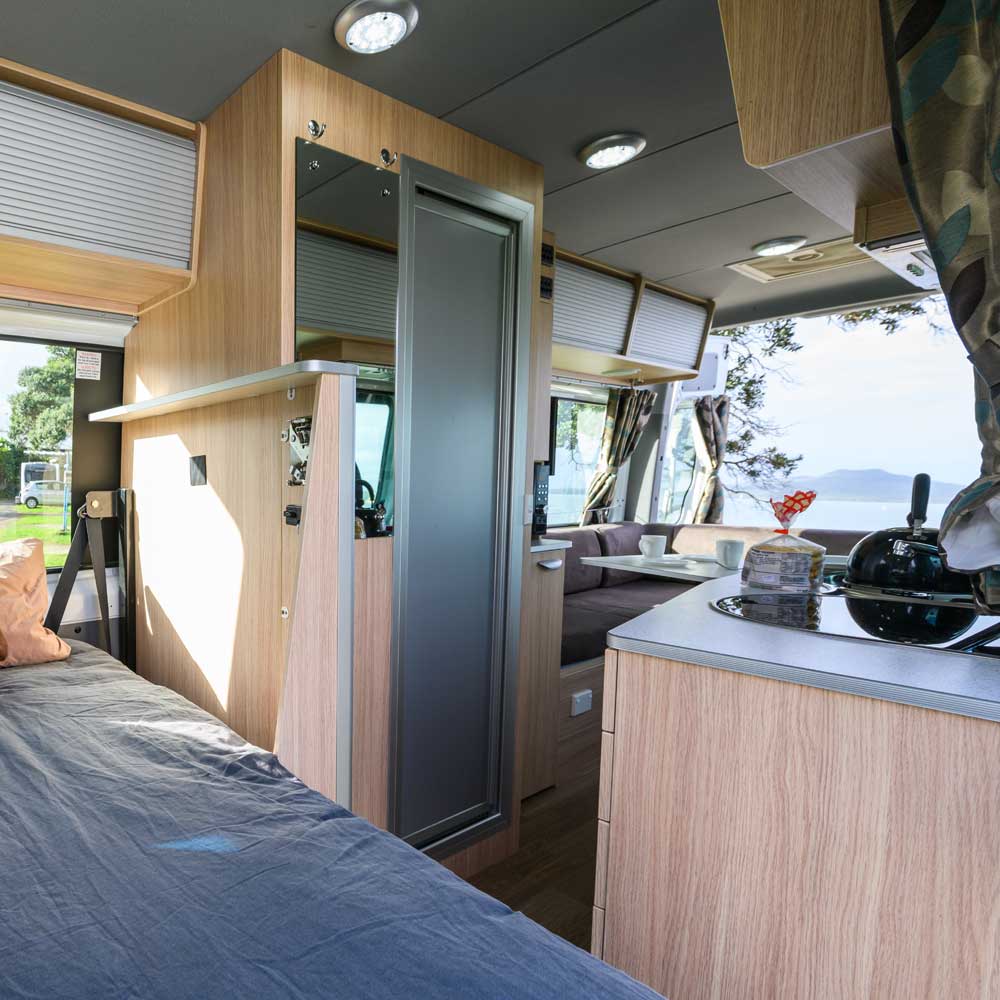 The storage is surprisingly good as the overhead cupboards are big. Plus, the under seat rear storage was not problem to place bedding during the day so you could use as a dining space. However, the weather was so good on our travels, we left the bed made up and ate outside or went to some fabulous eateries as New Zealand is well known for its amazing fresh produce and we sampled plenty of it even buying roadside.

Now where did we go? As I had three lots of 2 days off plus after work, we visited the Coromandel, Waitangi/Paihia and then to Waitomo/Rotarua. We stayed in some very good camp/caravan parks and looked at some amazing country and of course, sampled much fine food. It was easy, you drive in, park, turn the gas on, plug the power in, pull out the camp chairs and you are done. Time for a drink.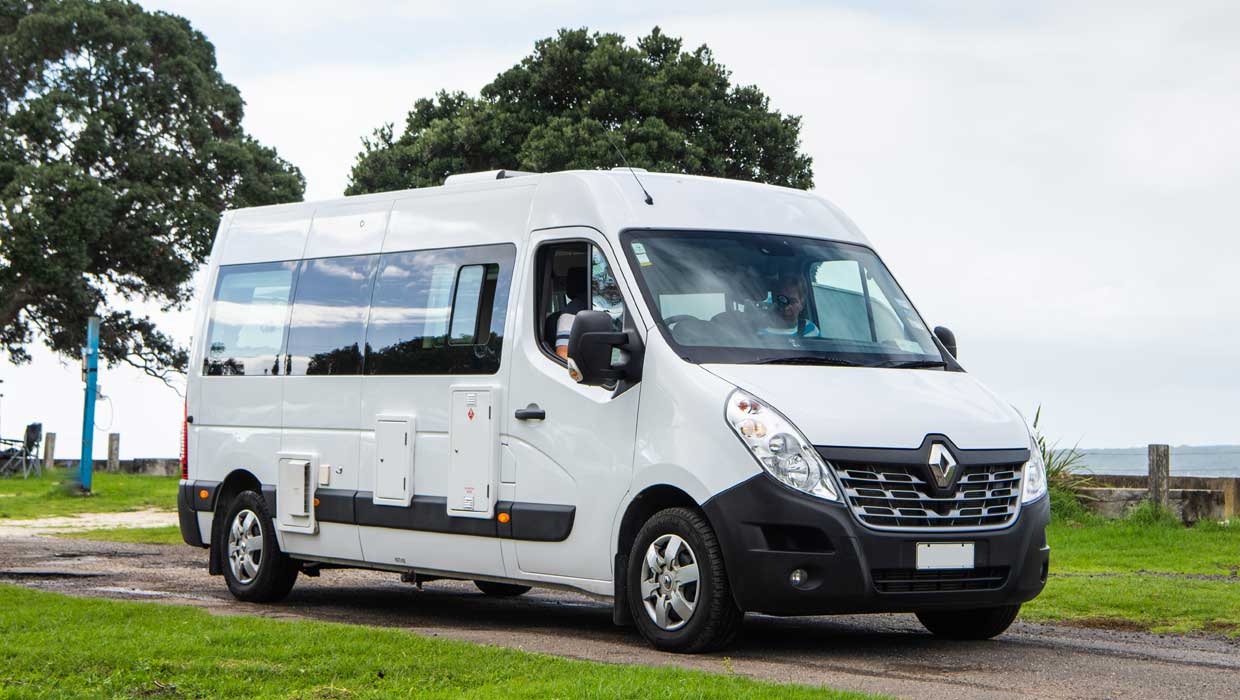 If you are looking for a vehicle that you could use as transport during the week then travel the countryside when you felt like it, then this would suit you. Diesel fuel is well priced and these Renault motorhomes are very affordable with good dealer support and resale value.

It was a wonderful experience and my wife and I enjoyed every moment we had travelling and taking in the North Island of New Zealand. A great adventure and a lot of Fun in a KEA Foxtrot.

---
Leave a comment