Top Gift Ideas For Motorhome Owners
Author: Your RV Good Guide Date Posted: 9 December 2022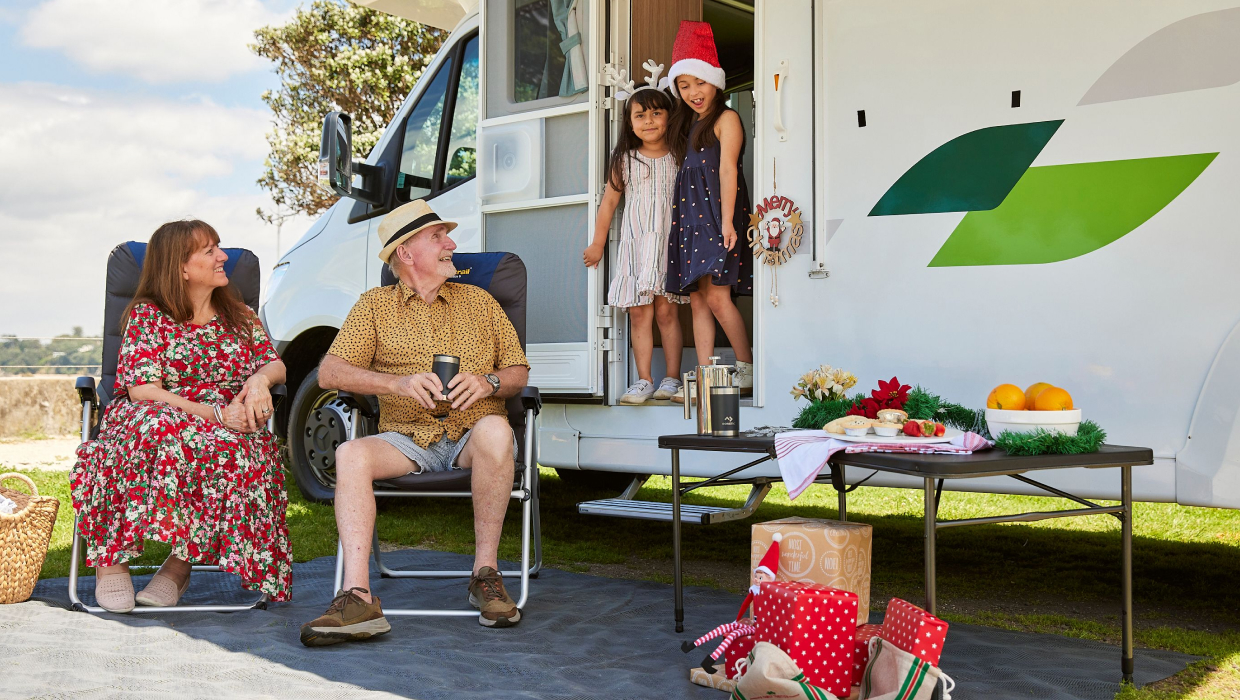 Looking for that perfect gift for the motorhome or caravan enthusiast in your life?
Perhaps it's a stocking filler for your partner or friend, or you're looking for a more substantial present for yourself… and why not! Don't worry. We've got you sorted with a great range of RV accessories and motorhome-related gifts. From camping chairs to 12V fridges and more – there's something for everyone at RV Super Centre.
What makes a good gift for a motorhome owner
The best gifts are those that are both thoughtful and personal. When it comes to motorhome owners, RV supplies and RV accessories can be fantastic gift options.
At RVSC, all our gift ideas are fantastic value, starting at under $30. We have such a wide variety of gifts to suit any budget.
Motorhome-related gift ideas under $30
Here are our top picks for gift ideas under $30.

Strahl Design glasses and glass sets
Classy and almost unbreakable, Strahl glasses are a must-have for summer celebrations. Check out more glassware ideas here.
Oxo Good Grips Compact Dustpan & Brush
This compact brush and dustpan set is ideal for the RV. The brush conveniently snaps into the dustpan for storage, keeping dirty bristles covered. The dustpan's flat bottom allows it to stand up, making it easy to store on countertops or shelves, but it is also slim enough to fit into a drawer.

Techlight Mini Collapsible Lantern
This mini lantern is super compact for easy storage. It also expands out to reveal an ultra-bright LED light. Integrated carry/hanging handles mean you can hang it up easily, and provides 360-degree light. Available in red, orange, blue and grey.
RVSC Beanie with rechargeable LED light
Keep your head warm and your hands-free with this combination beanie and removable, rechargeable LED headlamp. One size and washable, it's the perfect stocking filler!
Happy Campers Tea Towels
Choose from two great designs – the Derek Happy Campers tea towel or the Prokiwi tea towel. Each features colourful, fun motorhoming scenes that will brighten up any RV kitchen.
OZTrail Snack Table with Carry Bag
This super lightweight and transportable folding camping table is a great gift for any motorhomer. Perfect for setting up snacks, playing a game of cards, or just enjoying a glass of wine and watching the sunset. It even comes with its own carry bag. An absolute bargain at just $26! For the ultimate gift, add in a few camping chairs too!
Motorhome-related gift ideas $30-$50
Here are our top picks for gift ideas between $30 and $50.
Dometic Thermo Drinkware
The Dometic range of thermos bottles, tumblers, and wine tumblers are made for RV travel. They're perfect for using while cruising in the campervan or as you head off on a hike. Made of stainless steel with a matte coating, this drinkware range has excellent durability. The double wall insulation guarantees your drink will stay cold for up to 24 hours or hot for up to 12 hours.

RV There Yet?
Don and Marilyn Jessen's latest book, RV There Yet, offers an up-to-date guide on owning and using a motorhome or caravan in New Zealand. From choosing and setting up your RV to living life on the open road, this book is designed to guide you through all stages of the decision-making process. Every part of the journey is covered, from your RV dreams to the practical realities of RV ownership.
Flamefield Duo Salt and Pepper Mill
This handy two-in-one salt and pepper mill is not only very cute but also a great space saver in compact motorhome kitchens. Twist one way for salt, the other for pepper.
Prima 2.5L Whistling Kettle
This stylish and practical whistling kettle is a must-have RV accessory for cuppas on the road. Made from premium rustproof stainless steel and available in black or bright and cheery shades, including Christmas red, green, and blue.
OZ Trail Aluminium Folding Stool
Sturdy, compact, and easy to fold, this handy aluminium camping chair is a must-have for any motorhome traveller. Super handy for outdoor living – use it as a stand for your portable fridge or chilly bin. It's also ideal for holding your portable BBQ or gas cooktop, picnic basket, or as a compact camping table for your drinks.
12V Camping Shower
This electric 12V camping shower adds a touch of luxury to any campervan holiday. All it needs is a bucket of warm water and your campervan's 12V battery, and you're all set for a refreshing shower.
RVSC Camping Table
This lightweight 750 mm x 550 mm RVSC camping table can serve as additional space for entertaining guests, breakfast al fresco each morning, or a jigsaw table while camped for a few days of rest and relaxation.
Campfire Melamine 16pc Dinner Set
Leave the good China at home and opt for this easy-clean 16-piece Melamine dinner set. Lightweight, durable, and stylish, it's the ideal set for keeping in the motorhome or campervan.
Motorhome-related gift ideas $50 to $100
Here are our top picks for gift ideas between $50 and $100.
OZTrail Directors Chair with Side Table
Relax in style with this practical, easy-to-use camping chair. Padded armrests and backrests add extra comfort. Plus, the handy fold-away table with a drink holder is perfect for holding your snacks, book, a glass of wine, or cuppa!
RVSC Collapsible Camping Table
Perfect for outdoor eating or food preparation, this 1200 mm x 600 mm collapsible camping table from RVSC can easily find a space to live in your motorhome's kit. Built from lightweight aluminium with a carry handle, this table looks great too, in a mahogany colour finish.
Kiwi Camping Chillax Chair
With its compact and collapsible design, this handy camping chair takes up minimal room in the motorhome. Not only that, but it's also super comfy and sturdy too. It even includes a fold-away cup holder and carry bag.
Camec Outdoor Floor Matting
There's nothing more annoying than stepping out of your motorhome into a dusty or muddy campsite. This attractive, easy-clean, non-slip floor mat helps prevent all that debris from being tracked into your RV. The mat is hemmed for extra strength and has pegging eyelets around the matting to prevent tripping. And because it allows air to circulate, it won't kill the grass underneath.
Camec Aluminium Folding Step
The Camec aluminium step is lightweight, and its rubber feet ensure it stays put. This step is perfect for when you just can't reach something either inside or outside your motorhome.
Motorhome-related gift ideas $100 plus
Here are our top picks for gift ideas over $100.
Classic NZ Sheepskin Seat Cover
Have a more generous budget or looking for a more substantial gift? These cosy sheepskin seat covers offer the ultimate in luxury and comfort on the road. They keep you warm in winter and cool in summer. Available in colours to suit your taste and decor.
OZTrail Goliath Luxury Camp Chair
Finding a big, sturdy chair that can handle those who are big and tall isn't easy. The good news is the Goliath camping chair can take up to 300 kg in weight. It also features an abundance of pockets, integrated lumbar arch support, an insulated drink holder, and even a bottle opener!
Gasmate 2 Burner Portable Stove with Grill
Perfect for picnics at the beach or BBQs at the park, the Gasmate portable stove is made for cooking meals on the go. Fine burner adjustment controls with a reliable rotary ignition make for easy lighting. The stove also includes a removable trivet for easy cleaning and a handy carry handle.
Brass Monkey Fridge Freezers
Keep drinks cool and your ice cream frozen with the flexibility of Brass Monkey. This popular range of 12v fridge/freezers includes a model for every type of traveller. From a compact 22L portable 12V cooler box right up to a 138L upright 12V fridge freezer unit – and everything in between!

Dometic Portable BBQ
No motorhome holiday is complete without a campsite BBQ! This portable gas unit is a must-have RV accessory and one that will last and last. The Dometic portable BBQ is robust and built with strong powder-coated steel. It's also incredibly lightweight and easy to transport.

Majestic Smart LED TV
Give the gift of entertainment for that hard-to-buy-for motorhomer in your life. The Majestic Smart LED 12V TV is packed with new technology. Features include Android 9.0 smart functions, optical audio output, Bluetooth 4.2, screen mirroring, USBs for multi-media and a high brightness LED panel with full HD video resolution.
Powertech Canvas Blanket Solar Panel
This blanket-style solar panel can be folded down to a compact, portable size making it super practical for motorhomers. The panel is made from high-grade monocrystalline and weighs only 6.8kg. It comes with a charge controller that allows you to connect directly to a gel, flooded, or SLA battery. Check out more of our 12V solar panels and accessories.
Dometic Trucker Folding Trolley
Carrying gear to the beach or park can be hard work! Save yourself some energy with this handy folding trolley. With its strong polyester material and 100 kg load capacity, you can pack it full and not worry about tiring out your arms, dropping things, or making multiple trips. The trolley also folds down to a fraction of its size, so it's easy to store too!

Ecoflow Portable Power Station
Now here's a gift that you might want to consider giving to yourself! Never get caught without power again thanks to this compact and lightweight battery-powered portable generator. With a 1260 watts per hour capacity, it suits most tools and appliances. It also has an impressively fast recharge rate.
RVSC vouchers
Can't decide what to buy? An RVSC gift voucher may be the best solution! Ranging in price from $50 to $500, a gift voucher means your recipient can choose the perfect RV supplies to suit them. It couldn't be easier – you can even order them online!
Tick off your shopping list with RV Super Centre
From colourful tea towels to portable BBQs and everything in between, RVSC has got your shopping list covered! You'll find a great range of RV accessories and RV supplies for every type of motorhome traveller. Save yourself extra time by ordering online today.

---
Leave a comment