Top Christmas gift ideas for motorhome owners
Author: Peta Stavelli Date Posted: 21 November 2019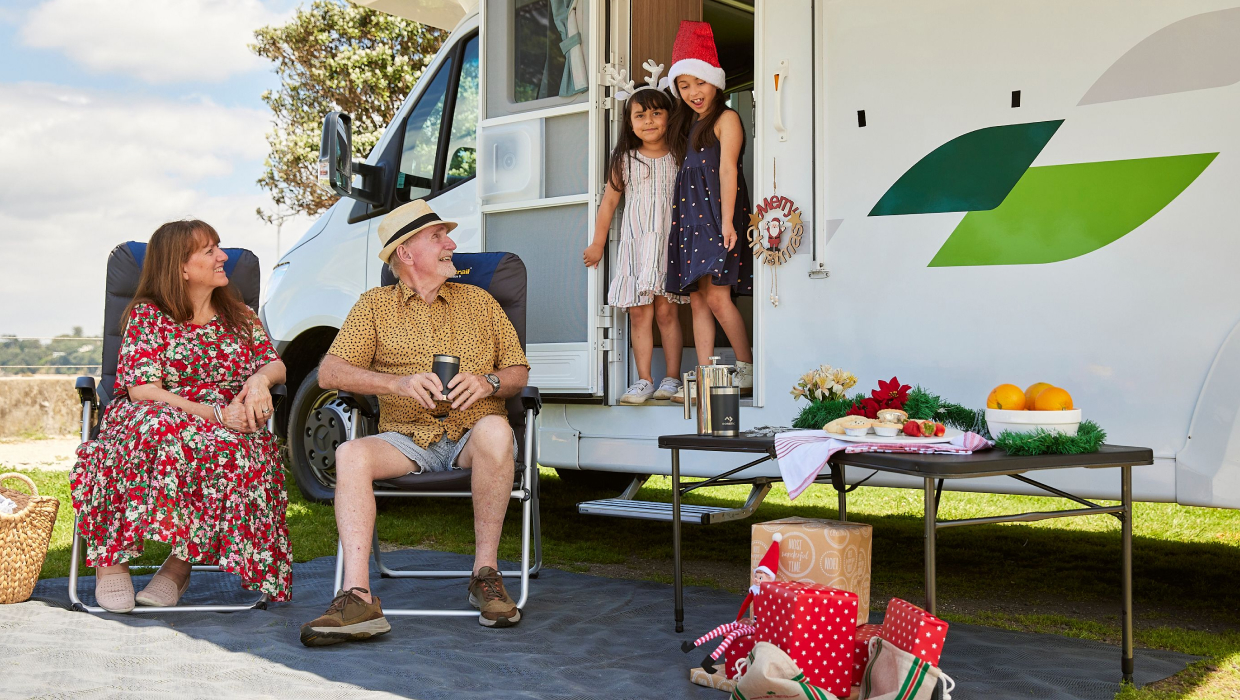 Whether it's a stocking filler for your partner or friend or you're looking for a more substantial present for yourself this Christmas (and why not!), you're sure to find something appropriate on this list of gifts for motorhome travellers.
Stocking fillers $5-10 and under
Pro-Kiwi playing cards: Choose from New Zealand photographic views or towns and cities – a great game for all ages.
Wurth Rapid Windscreen Cleaner: Stay safe on the road with an extra-clean windscreen. Check it out here.
Dakota Motorhome Mug: Nothing says 'I love motorhoming' more than your very own mug. And it's a great gift for everyone else who feels the same way!
RVSC The Amazing Flygun: Fancy a fly-free motorhome? The spring-powered Amazing Flygun is a fun twist on a traditional fly swatter, killing annoying insects without all the mess.
Derek Retro Caravans Tea-Towel: What a cheery accessory for your wee roadster. Take a nostalgic trip every time you walk into your kitchen space with this cool Tea Towel.

For more gift ideas like these, visit the giftware, game and souvenirs section of the RV Super Centre website.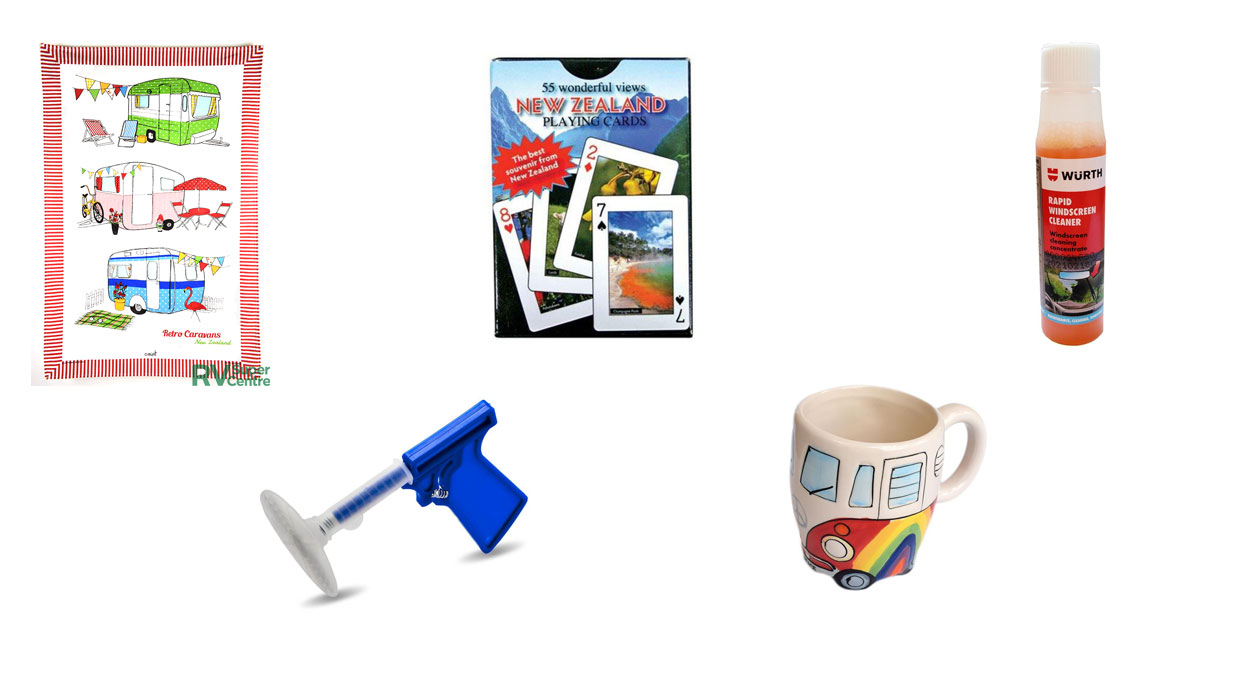 $10 to $25
Strahl Design glasses and glass sets: Classy and almost unbreakable Strahl Glasses are a must-have for summer celebrations. Check out more glassware ideas here.
RVSC Beanie with rechargeable LED light: One size, washable RVSC-branded black beanie with handy removeable light. Brilliant!
RVSC Kitset Motorhome Medium White: Here's your chance to build your very own motorhome from scratch… Designed and manufactured in Wellington, this miniature DIY motorhome kit is a must-have for every RV lover.
Flamefield Duo Salt and Pepper Mill – Black: This handy two-in-one salt and pepper mill is not only very cute, it's a space saver in compact motorhome kitchens. Twist one way for salt, the other for pepper.
Duratech Multi Function Survival Knife: One of the handiest tools a traveller can have, this survival knife is made from grade 420 stainless steel for maximum durability, and also includes a belt cutter and window breaker for emergency situations as well as a built-in LED light.
Joseph Tri Peeler 3-in-1: One for gourmet chefs! The Joseph Tri Peeler 3-in-1 features three stainless steel blades – straight, julienne and soft fruit – and an easy-grip, ergonomic handle for whipping that fruit and veg into shape on the road.
Shoo Away Fly Repellent: Simply place this safe, non-toxic and environmentally friendly way to eliminate flies near food and turn it on. Its soft-touch blades will rotate quietly, shooing away pesky (and uninvited) guests.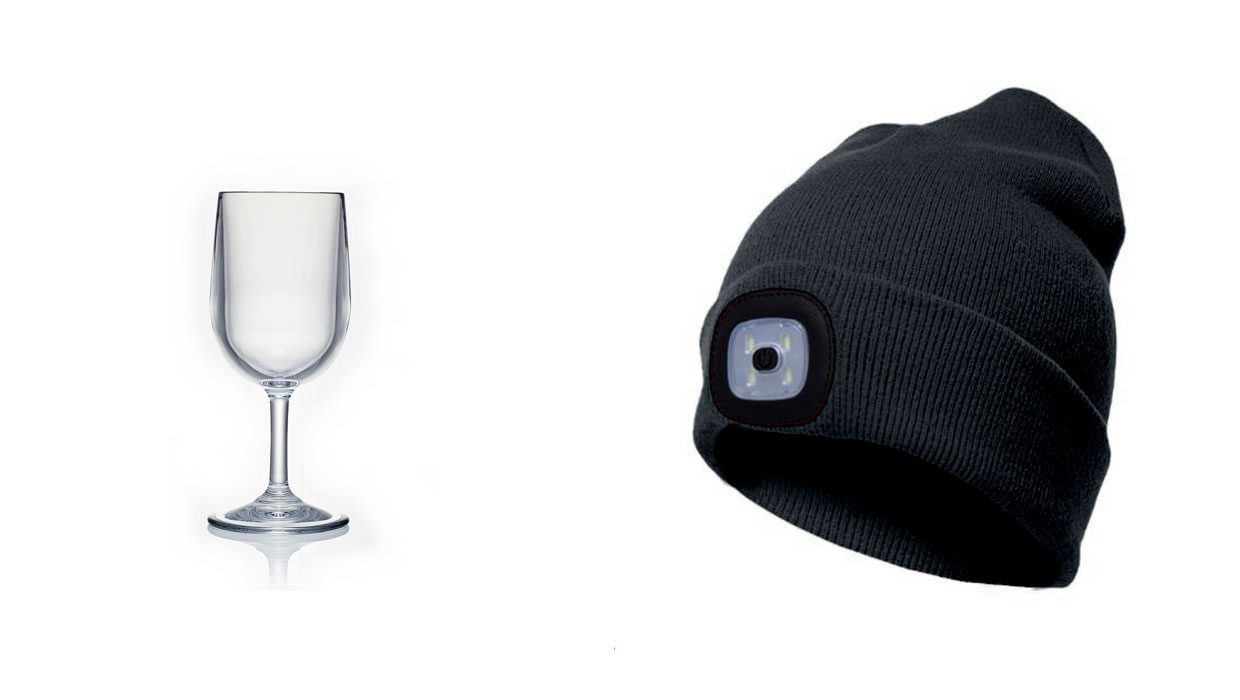 $25 to $50
Prima 2.5L Whistling Kettle: Stylish and practical whistling kettle for cuppas on the road. And in a very bright and cheery shade of green.
Kiwi Camping Solar Shower: Rinse and revitalise with this compact solar shower from Kiwi Camping.
HEMA NZ Touring Atlas 6th edition: Get the latest updates from HEMA with this comprehensive atlas.
Wiltshire Paros 16-piece cutlery set: Set a stylish seasonal table with new stainless-steel cutlery from Wiltshire $35. Find more gifts like this here.
RV There Yet? Book: Don and Marilyn Jessen's latest book offers an up-to-date guide to everything RV from these Kiwi experts.
RVSC 12V Camping Shower: Add a touch of luxury no matter where you are with this brilliant 12V shower from RVSC.
RVSC Rechargeable LED Lantern with Bug Zapper: This unobtrusive bug zapper takes care of mosquitoes at Happy Hour time so you can relax in the great outdoors in peace. It's long-life battery lasts 20 hours on low setting and is rechargeable via a USB.
Travino 5 O'Clock Insulated Tumbler: Keep your morning cuppa hot or your afternoon refresher icy cold with the Travino 5 O'Clock Insulated Tumbler. It is vacuum insulated and includes a slide-close lid.
RVSC Camping Table with Adjustable Feet 750 x 550mm: This lightweight RVSC Camping Table can serve as additional space for entertaining guests, breakfast al fresco each morning or a jigsaw table while camped for a few days of rest and relaxation.
Campfire Melamine 16pc Dinner Set: Leave the good china at home and opt for this easy-clean 16-piece dinner set that is lightweight, durable and stylish.
For more cost-wise gifts for your motorhome or caravan visit the kitchen and dining section of the RV Super Centre website.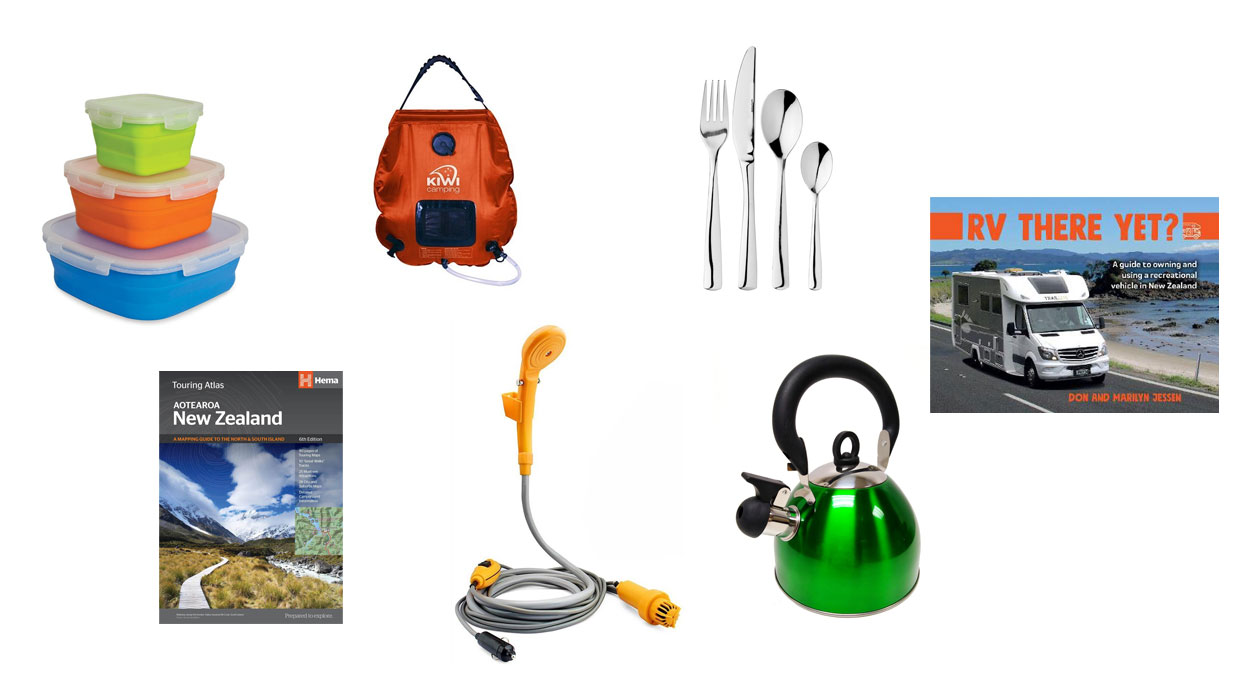 $50 to $100
Joseph Nest Food preparation set: Brighten up someone's life with this colourful all-you-need seven-piece kitchen starter set that fits neatly together in one easy-to-carry pack..
RVSC Collapsible Camping Table: Perfect for outdoor eating or food preparation, this 700 x 700mm collapsible camping table from RVSC can easily find a space to live in your motorhome's kit.
Fiamma Bike Cover (large): Protect your two-wheeled assets from the weather while on the road with this generous bike-rack cover.
Camec Clothesline: Dry your washing with the minimum of fuss with the Camec Clothesline. Made from aluminium, it is lightweight, easy to expand and set up and folds away into its own carry bag for easy storage.
RVSC Outdoor Floor Matting: Set up a dirt-free campsite with the attractive and easy-clean RVSC Outdoor Floor Matting. It's designed to be warm, non-slip and stops bugs from joining the party.
Bestlight LED Light Bar: A brilliant way to illuminate any dark corners or outdoor areas, these Bestlight LED Light Bars come in three sizes, are rechargeable and quite indispensable.
Camec Aluminium Folding Step: A handy item for when you just can't reach something either inside or outside your motorhome, the Camec Aluminium Step is lightweight and its rubber feet ensure it stays put.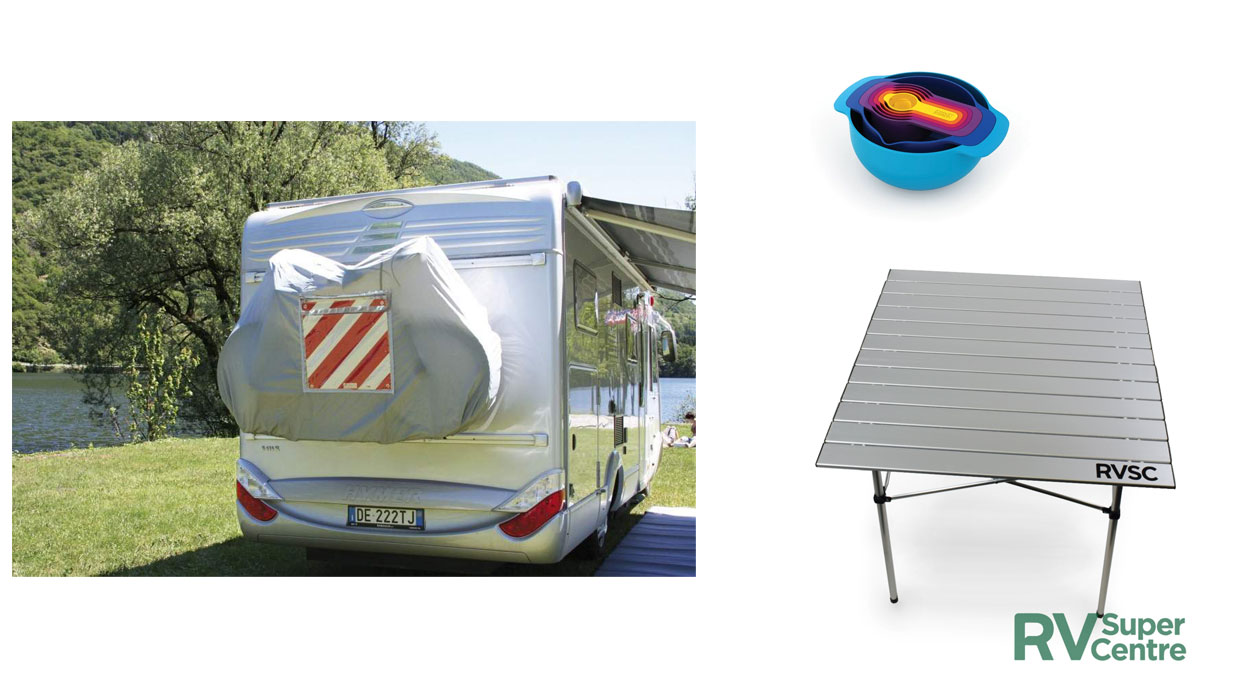 $100 to $500+
Classic NZ Sheepskin Seat Cover: If your budget is generous or you are looking for something a little more substantial in the gift department, you'll find these Classic NZ Sheepskin Seat Covers offer luxury and comfort on the road in colours to suit your taste and decor.
Klipsch The Capitol Portable Wireless Speaker: Stylish sound to surround yourself with - pictured in Blonde) this Capitol Portable Wireless Speaker from Klipsch means you can take Kenny Rogers, ABBA or Elton John with you no matter where you are.
RVSC Ultimate Inflatable Boat Package 2.8m: Why not buy yourself a boat for Christmas? The RVSC Inflatable Boat is an entry-level way to enjoy casual kayaking, fishing and the great watery outdoors. Not big enough? Upgrade to the RVSC 3.65m boat package.
Duvalay Luxury Sleeping Bag: Farewell cold and uncomfortable nights' sleep with the Duvalay Luxury Sleeping Bag. The bottom pocket holds 4cm of luxury gold memory foam and the top cover holds a duvet for warmth and comfort.
Hard Korr LED Camp Light Kit Orange/White 6 Bar: Illuminate your entire campsite with this camp light kit from Hard Horr which offers 3000 lumens of total light output (on white setting) and more than 32m of high quality plug-and-play cabling to ensure every dark corner is well lit.
Katabat Portable Rechargeable 12V 14in Fan: Keep cool even when you are away from mains power with this rechargeable 12V fan from Katabat. There's also a built-in 10 LED white light and a moulded handle for easy carrying.


RV Accessories and gifts year-round
This is just a small selection of gift suggestions from an outstanding range of RV-related accessories to purchase for the keen motorhome at Christmas – or anytime of the year.
Can't decide what to buy? A gift voucher may be the best solution!
Contact the friendly team the RV Super Centre to arrange a voucher for Christmas. Ph: 0800 52 00 55.
---
Leave a comment