Roller Team Auto-Roller 746
Author: Peta Stavelli Date Posted: 21 August 2018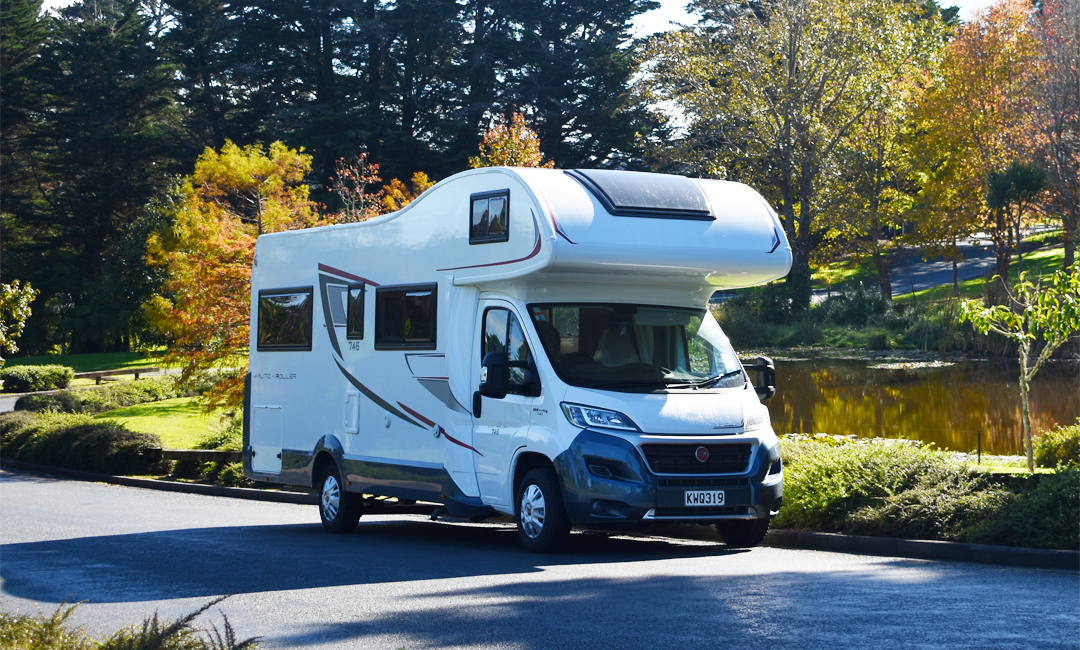 First impressions are as important when it comes to motorhoming as they are when buying a home. I like to pause a moment when I enter a new recreational vehicle to take in the surrounds and to see what stands out for me the most.
Hands down the very first thing you see when climbing aboard the Roller Team 746 is that huge and welcoming U-shaped lounge at the rear of the vehicle. It's so enticing that I cannot wait to be at my destination, to sit there on that comfy surround-sofa with the sun shining in on me and a glass of something cold and refreshing in my hand.
Better make that a cup of something. I'm so captivated by that image I have to remind myself that it's only 10am and I've got a few miles to put on my motor before that cork-popping time arrives. And this is a large vehicle, so I am keen to see how it performs on the tarmac.

ON THE ROAD
I'm familiar with the Roller Team brand which is a young company and a relative newcomer to the motoring scene Down Under. I've also driven The Wanderer, which performed well in traffic, and I've done some homework. But the 746 is a larger vehicle with a high profile Luton above the cab. I wonder if this will prove to be a drag – in the literal sense.
I am quietly relieved that the sleek, aerodynamic lines reduce wind resistance, while the generous surround windows, combined with good-sized wing mirrors, add to the sense of security in heavy traffic. Meanwhile, the 130 bhp Fiat engine provides plenty of get up and go. And I am pretty sure those racy decals with broken lines which imply speed, add extra aero dynamism, as well as appeal, to the exterior of the vehicle.
Let's focus for a moment on those decals - the design is clever. They convey a message which is subtle and yet clear: good design does not need to try too hard. And there's another message for me, which has so far been reinforced in all my dealings with the Roller Team brand: all the money in the world cannot buy good taste.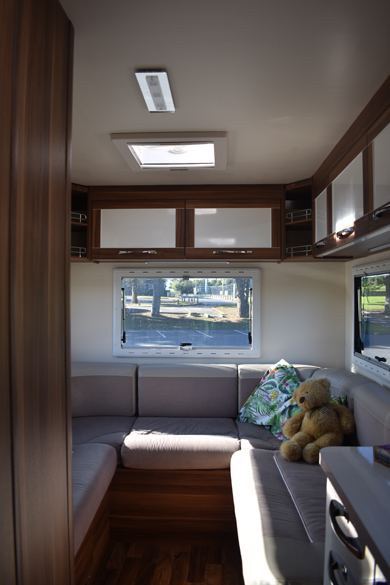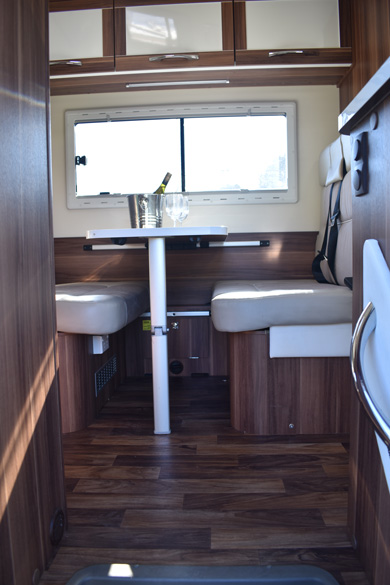 STYLISH TO BOOT
Like the others in the Roller Team stable, the 746 is offered at an entry-level price, although you certainly would not know it when you enter this vehicle. It's champagne taste on a beer budget. The upholstery looks like real leather and it is nicely rolled and stitched. It not only looks great, it also has that luxurious feel when you sit down.
I think this rear-lounge model would be a comfortable and practical choice for a family. The furnishings are light enough to be lovely, but also durable and easy to clean. I really like the clean and contemporary lines throughout which carry through to the overhead lockers. And I absolutely love all the light that enters the vehicle from the full surround windows. I also really appreciated the addition of neutral block out blinds as well. Again, these are both stylish and practical.
I hate fussy. Who needs it when the aim of the game is to get maximum rest and relaxation on the road? In my opinion, Roller Team nails it with this one. This floor plan offers a temporary table set up in the rear, as well as cafe-style seating and another table amidships. I can see this being a real bonus with families as it offers not only additional dining options, but also a place for activities when on the road.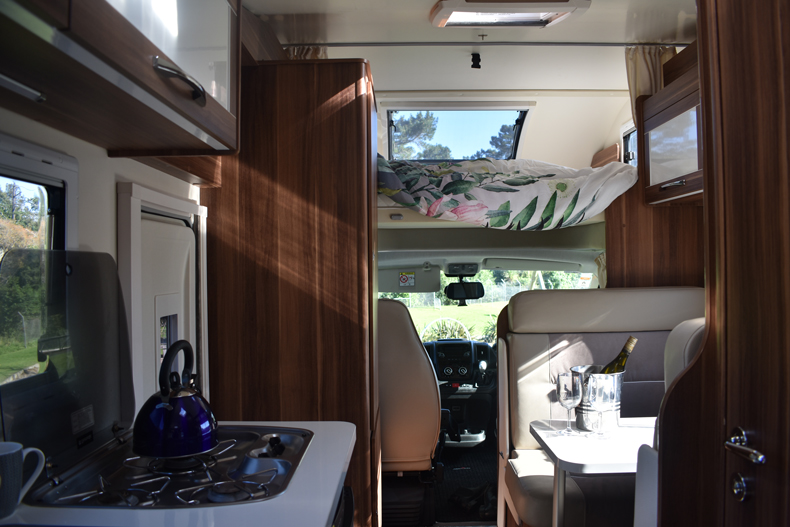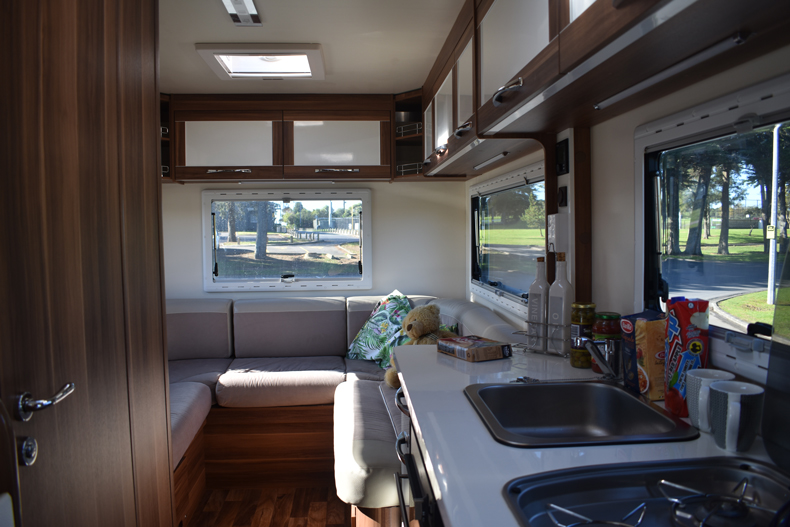 A FAMILY FRIENDLY CHOICE
This vehicle is first and foremost family-friendly with five seatbelts in all. And for once I felt that the galley not only catered for the needs of the passengers, but also for the cook. The bench is relatively large when compared to other imported vehicles. As one who loves to cook, that's a huge plus in my books. There's also an under-bench oven and adequate refrigerator space for all the tribe.
Nor is the bathroom opposite a shabby offering. Through good design it manages to offer a toilet, hand-basin and separate shower all in a small wooded room which has plenty of light and a very 'boatie' feel overall. Perhaps this is due to the addition of a wooden grid in the shower which adds a jaunty maritime touch. Again, details like this would be more expected in an expensive vehicle, and I like it.
Sleeping options include the luton with ladder access, the lounge conversion and the dinette. Between these numerous options you will be spoiled for choice when it comes to passenger accommodation. And with 100 litres each of fresh and grey water, you should be good to go for a getaway.
This vehicle is designed with plenty of storage throughout and there's also large rear boot to stow any extras. I found the 2.3l Fiat Ducato engine feisty enough to meet the challenges of the motorway, and my overall impression is that this is a real holiday home on wheels.
If you are looking for a spacious, gracious vehicle, that is well-lit throughout, beautifully designed and family-friendly, the Roller Team 746 it gets a huge tick from me.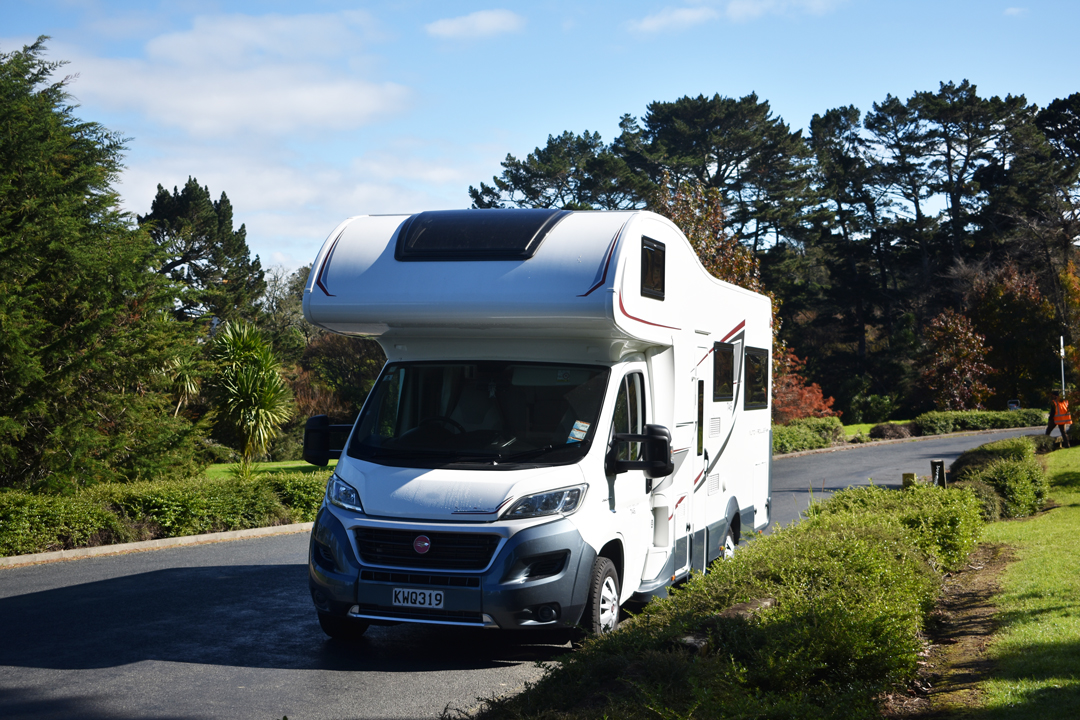 A QUICK LOOK
Model: Roller Team 746
Year: 2017
Base Vehicle: Fiat Ducato 130BHP
Passengers: 6
Outside length: 6.89m
Outside width: 2.31m
Height: 3.0m

ADDITIONAL FEATURES
ABS Brakes
Air Bag(s)
Air Conditioning
Central Locking
Cruise Control
Electric Windows
Remote Locking
Traction Control
Turbo
Transmission Details: 6 Speed Manual
Horsepower: 130 hp
Length: 7.35 metres
Width: 2.31 metres
---
Leave a comment