Staff Profile: Helen Oxton
Author: Peta Stavelli Date Posted: 21 December 2018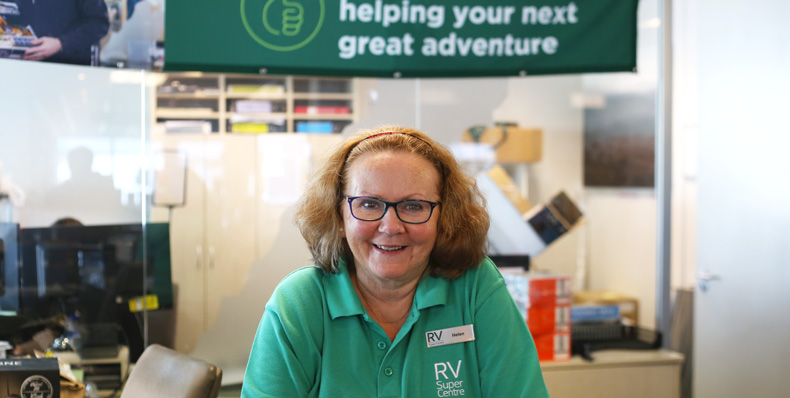 RV Super Centre Retail Consultant Helen Oxton talks to us about why she loves going to work each day and her best tips for new RV owners.
Q: What do you love about your job, and how long have you been doing it?
A: I started in October 2017, so about 14 months now. I have worked in retail before but what I have really noticed about this job is that the customers are so relaxed and happy. We have all commented on it. I think that it's the RV business generally. But this is such a happy place to work. A great company and really nice staff.
Q: Apart from how nice everyone is, is there something else that has surprised you about this role?
A: I was initially surprised that we carried so much stock - that there were so many RV-related accessories on the market specifically designed for RVs which really do make life on the road so much easier.
Q: Is there one product that you recommend again and again?
A: Yes. I love the Techlight LED lantern and Bug Zapper. We sell so many of those and I have them at home myself, in my granddaughter's room and also in other places throughout the house.
Q: Have you got a tip for buyers?
A Yes. Especially for new buyers. There's so much on offer that they are often tempted to race around buying a whole lot of stuff to go with their new vehicle. But I tell them to not be tempted to buy the whole shop. I suggest they wait for a bit. Take their vehicle on the road for a week and take notice of what they need. That way they don't buy a whole lot of things they don't need.
Q: Gosh, that's refreshing. Customers must really appreciate that.
A: They do. And they come back to us. We have so much repeat custom. Our customers get to know us and we know a lot of them by name. They sign up for our loyalty scheme and get discounts. It's like a big family.
Q: Do you get on the road yourself?
A: I haven't yet. But I am really looking forward to it, and we have a granddaughter who is very keen to join us, too, so I can't wait.
Q: Any final thoughts about your role that you would like to share with readers?
A: Just that I love my job and I am really happy coming to work here every day.
---
Leave a comment