Best Fridges for Camping in 2023
Author: Your RV Good Guide Date Posted: 26 June 2023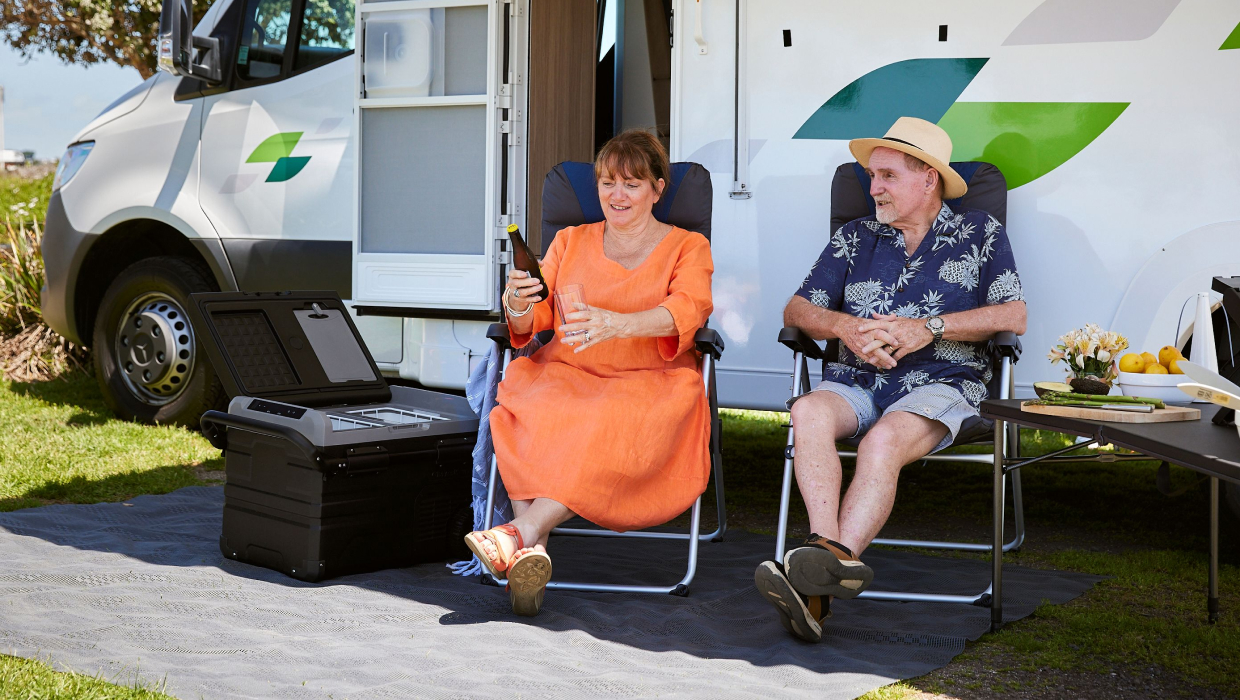 A camping fridge is one appliance that most campervan travellers would consider a must-have. Having the ability to keep food and drinks fresh and cold saves money. It also means you can travel for longer without constantly buying food. But with so many different camp fridges available, how do you know which is best for you? In this helpful guide, we'll share everything you need to know about camping fridges.
What is a camping fridge?
A camping fridge is a multi-purpose portable fridge that isn't permanently fixed in your motorhome. Because they're compact in size, you have the flexibility to move it about in your camper and use it as an outdoor fridge. They're a great option when you have limited space.
Can you use a normal fridge for camping?
Sure, you could run a power cord and set up a small household fridge for camping purposes. But this is less than ideal. Household fridges are generally much larger and heavier than a motorhome or camping fridge which makes them difficult to transport. They're also not designed for use outside and are more expensive to run than a portable fridge for camping.
How portable camping fridges are powered
Portable fridges are generally powered by either the 12V or 24V house battery in your motorhome, or by 240V mains power supply. Some portable fridges can run with their own onboard battery alongside solar panels. Although technically, the solar panels will be charging the 12V battery. If you're not using your camping fridge for long periods of time, leave it switched off and unplugged to help preserve your battery.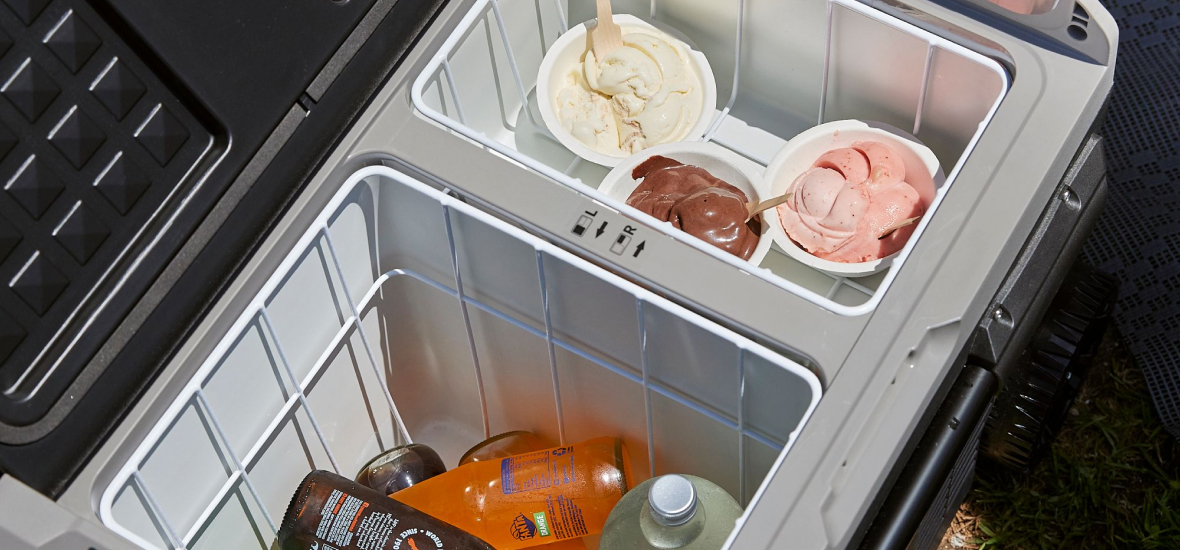 How to decide which camping fridge to buy
Now that we've answered some common questions about camping fridges, let's look at some considerations when choosing which is best for you.
Think about storage
Most portable fridges are small and compact, but they still need to be securely stored when you're out on the road. Some motorhomes and campervans may have a purpose-built area for storing a portable fridge. Otherwise, you can place it anywhere that it will be secure, level, and out of direct sunlight.
Consider capacity
RV Super Centre's portable camping fridges are available in a range of sizes from 8L right up to 95L. If you're travelling or camping with a family, a larger portable fridge may be best. If it's just you and your partner, a smaller option may be all you need. A smaller fridge is also a good option for those who have a permanent fridge but would like some additional capacity.
Choose a high-star energy rating
The number of stars on the energy rating label of your fridge tells you how efficient it is at using power compared to other models of the same size/capacity. The more stars the camper fridge has, the more energy efficient it will be. If you plan to use your portable fridge for long periods, energy rating is important.
For the best efficiency, you may want to consider a top-opening fridge. When you open the fridge using a lid (rather than a door), the cold air doesn't escape as easily.
Opt for low power consumption
It's a good idea to choose a portable fridge that has a low current draw, especially if it's powered by your 12V battery. The current draw is measured in amps per hour (a/h). A draw of 1-2 a/h is good, while a draw of 5 a/h is quite high. Be aware that a high external temperature will mean your fridge has to work harder to stay cool. With this in mind, avoid placing your camping fridge in direct sunlight.
Just a fridge or a fridge/freezer?
Depending on your needs, you may need a portable fridge only, or a dual fridge/freezer. Having both means you can store ice as well as cold food and drinks.
Many dual models have a removable section that separates the freezing and chilling compartments. Other models have completely separate compartments with separate lids.
If you're only wanting to make and store ice in your fridge/freezer, you may like to consider a fridge and a separate ice maker. These also range in size so you can choose one that suits your needs. Ice makers are great for afternoon drinks and can produce ice within minutes.
Watch the weight
Remember that the weight of your portable fridge will use up some of your campervan's payload (the maximum amount of weight you can carry). You may also have to lug it around yourself if you're heading down to the beach or off the beaten track for example. With these factors in mind, it's worth checking the weight of the fridge and how easy it is to lift and carry. You may also prefer a fridge that includes carry handles and wheels to save the strain on your back.
Consider extra features
Like most modern appliances, many portable fridges come with handy bells and whistles. Here's a look at some that may be worth considering:
The different types of camping fridges at RV Super Centre
Let's take a closer look at the features included in some of the brands of portable fridges at RV Super Centre.
Brass Monkey
Brass Monkey has a wide range of portable camper fridges, from small 'back seat' units to dual-zone fridge/freezers. The range is reliable, affordable, and includes a three-year warranty.
Brass Monkey's portable fridge/freezer units include a sturdy built-in handle and wheels to make carrying it easy. The separate fridge and freezer zones can be controlled by the LCD panel or the Bluetooth app. The units can be plugged into 12/24V DC or 240V mains power. Some units also include an internal removable battery (sold separately) which can be solar charged.
Brass Monkey is a great entry-level product with prices starting at $179 for the 30L Brass Monkey Cooler/Warmer, through to the Brass Monkey GH 2038 Fridge/Freezer at $1099.

Challenger
This mid-range brand is manufactured by New Zealand company Challenge Yachts. The Challenger portable camper fridges available at RV Super Centre range in size from 30L to 50L. Challenger also make a portable ice maker. The Challenger 3-way camping fridge uses 240 and 12V power or LPG gas to keep your goods cold.
Challenger portable camper fridges include a built-in handle and wheels to make transporting easier. The units are robust, lightweight, with good-quality insulation, quiet operation, and a 12-month warranty.
Prices for the Challenger range start at $475 for the 34L Portable Warmer/Cooler through to the 50L Portable Fridge in brushed silver for $1590.

Dometic
The Dometic range of portable camper fridges has all the bells and whistles. The fridges use advanced cooling technology to freeze down to -22°C while using less power than a 60W lightbulb.
Dometic's CFX3 portable fridge range feature rugged construction with a reinforced ExoFrame, stainless steel hinges, and aluminium handles. Available from 25L to 95L in size, this range also includes soft-touch controls, an intuitive high-resolution display and a mobile app. This range also actively monitors battery power and turns off when low voltage is detected. One of the most popular models in the CFX3 range is the CFX3-96DZ fridge/freezer at $2490.
RV Super Centre also stocks the Dometic CoolPro Thermoelectric Fridge/Warmers and Dometic CFX Portable Fridge/Freezers with WiFi Control.

Upgrade your motorhome fridge with RV Super Centre
We hope this guide has helped you to know which is the best camping fridge for you. You'll find a great range of quality, trusted brands at your local RV Super Centre. We also stock portable fridge accessories including insulated covers and portable fridge stands, and other RV supplies and motorhome accessories.
Still not sure which is the best camper fridge for you? Our friendly, experienced staff are always on hand to help. Check out our great range online or at your nearest RV Super Centre one-stop-shop.
---
Leave a comment