An Eye-Catching "Motorhome Office" on the Roads
Author: NZMCA Date Posted: 14 July 2020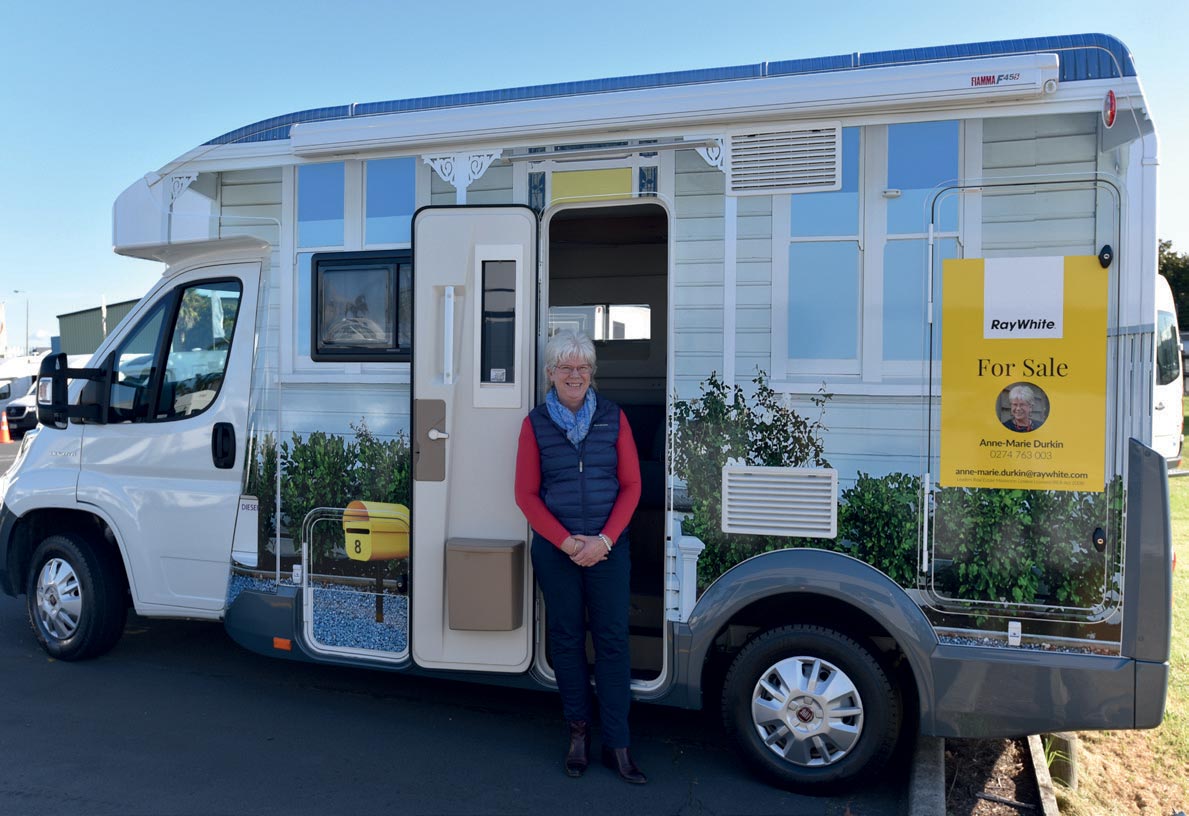 Many people see their campervan as a home away from home. For NZMCA member, Anne-Marie Durkin, it's an office away from the office – and a distinctive one at that.

If you've spent any time in Martinborough recently, the chances are you've seen the local real estate agent's distinctive Roller Team T-Line sporting her face with Ray White's branding on one side, and a cute cottage scene on the other.

Rather than being stuck in an office, Anne-Marie prefers being out and about in the community, and loves that people can pop into her motorhome for a cup of tea and a chat about buying or selling a property.

Before joining Ray White, Anne-Marie worked for Mike Pero with an office in nearby Greytown ("It's only 10 minutes away, but that might as well be the end of the earth when you live in villages" she says), but found herself working primarily from her car and only popping into the office a couple of times a week.

The move to Ray White meant she had a local office, but missed being mobile. So when the lease expired, she suggested exploring other options. A motorhome provided the benefits of an office and the chance to be out in the community. Her bosses thought it was a great idea.

"The thought process was that as a real estate agent I like to be out in the market for at least four hours a day. It was quite inconvenient working from my car when it was raining, and having to get out to open the boot and find things. This is perfect, I can sit at a lovely desk, have my internet going thanks to Wireless Nation, make my phone calls, and say hello to people as they wander past."

Deciding to use a motorhome as a mobile office was only step one, Anne-Marie then had to find one that would be fit for purpose. With little personal experience of camping, she found herself popping into the local Top 10 Holiday Park to chat to campers about what they enjoyed about their van.

The next step was visiting us at the RV Super Centre in Auckland, where she found the perfect model to fit her less than standard criteria. She wanted the bed to be hidden away, and didn't want visitors to walk past the bathroom on their way to the seating area.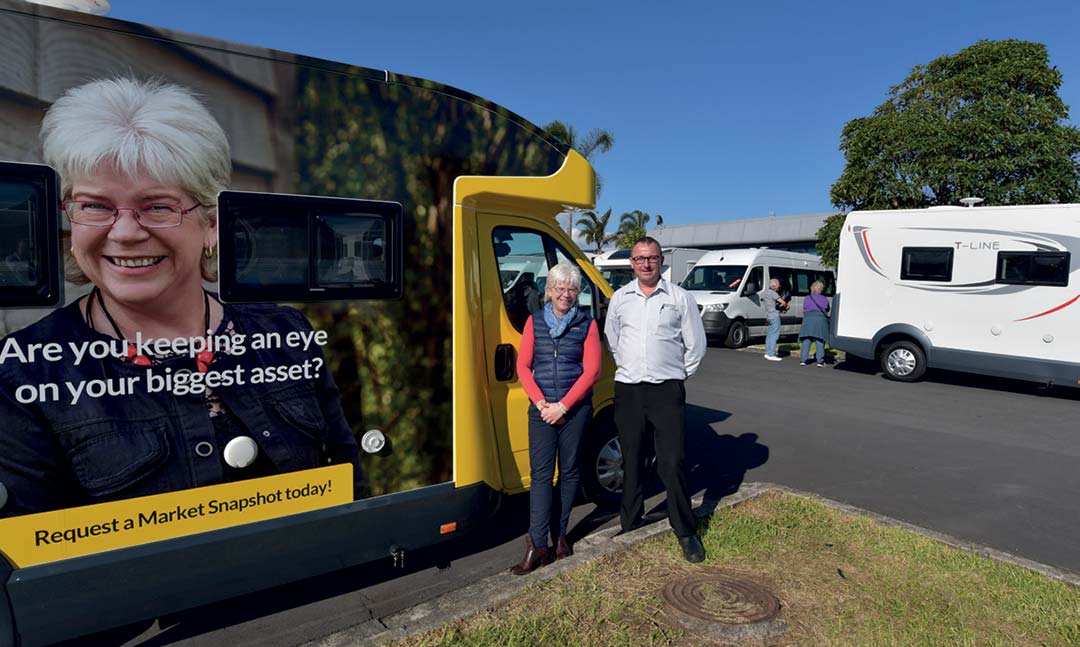 "Andrew was absolutely fabulous." says Anne-Marie. "He was very patient. I've been camping once in my life and my criteria was different to most other people looking for a campervan. I was all about how I was going to use it for work, going away was secondary."

The Roller Team T-Line ticked all the boxes. The drop-down bed is completely out of sight during working hours, the roomy bathroom with its generous-sized shower is at the very back of the vehicle, and there's plenty of room around the table to hold meetings. The cab seats can turn around if extra seating is required. Three overhead skylights mean the interior has plenty of light.

Anne-Marie worked with a local sign-writer on the exterior design, and the vinyl wrap was put on in Auckland. The Covid-19 lockdown slowed things down a little bit, but Anne-Marie was thrilled when she could pick the motorhome up and drive it back home to the Wairarapa – a significant drive for her first adventure.

"It's fabulous to drive, I wasn't at all worried. It's only six metres long. I'm used to driving a Hilux and this is actually easier, you can see much better."

She broke the journey home in Turangi, and was surprised to open the door in the morning and find the campground covered in thick frost. "I had no idea, it was so warm and comfortable inside. It passed that test very well."

Anne-Marie is yet to take the motorhome away for a holiday because work keeps her so busy, but reckons she lives in the perfect part of the country for mini-breaks when time allows: "In the Wairarapa there are plenty of interesting places to go that are only 50kms away, and it only takes half an hour to get there. There's not many places you can get that far in so short a time."

If you're looking for doing some exterior design and wraps to your motorhome, feel free to talk to our RV experts at RV Super Centre when you visit us or by calling 0800 52 00 55.

---
Leave a comment