Roller Team 360 Walk-Throughs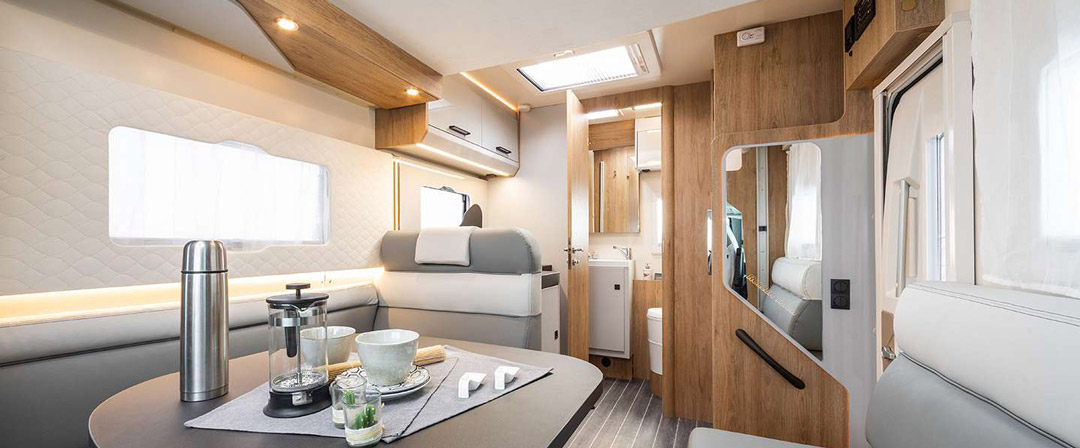 We know that finding the right layout to suit your lifestyle is important, probably one of the most important factors when choosing a motorhome. We've tried to make it easier by creating an "almost inside" experience with these motorhomes so you can zoom in, zoom out and look in every nook and cranny! Take advantage and enjoy exploring a selection of our Roller Team range at your leisure.


T-Line 590
4 Berth

The ever popular T-Line 590 is definitely one of our favourites with a full width rear washroom with separate shower, it truly is a home away from home. The L-shaped kitchen has ample space to cook your favourite meal while on the road and enjoy doing it too!
T-line 740
4 Berth

If privacy is what you're after then look no further than the T-Line 740. We love the layout with its secluded bedroom and easy access from both sides of the rear island bed. With his and hers wardrobes there'll be not arguing over who is taking up more hanging space!
Zefiro 696
4 Berth

The Zefiro 696 has it all, a rear island bed with underbed storage, bedside tables and two wardrobes all closed off by a sliding door. We love the layout of the Zefiro 696 because you can enjoy the privacy and peacefulness of your very own hotel room on wheels!
Zefiro 675
6 Berth

We love this Roller Team for it' practical family living. The rear fixed bunk beds are perfect for putting the kids, or grandkids, to bed, whilst the overcab double is the perfect restful spot to retire to. It's spacious and practical all rolled into one perfect motorhome.
Zefiro 690
6 Berth

We love the Zefiro 690 because of the large external locker garage – perfect for golf clubs, bikes and more! With spacious double beds and a large double dinette, you're spoilt for space! Another perfect motorhome to take the kids or grandkids with.
Auto-Roller 747
6 Berth

We love this motorhome purely for its entertainment haven in the rear with the u-shaped lounge perfect for relaxing, entertaining and game nights! We also love that you can keep chef company while they cook up a storm in the well-equipped and very expansive kitchen.
Auto-Roller 259
6 Berth

We love this motorhome for its great sized kitchen and stylish layout. The extra cabinet behind the passenger seat is also very handy and the spacious dinette is perfect for entertaining. The fixed rear bed is another reason we love the Auto Roller 259.
Auto-Roller 259 TL
4 Berth

The Auto Roller 259 TL boasts a spacious double dinette, perfect for relaxing after a busy day on the road. We love that this can easily convert into a large double bed in the evenings. The fixed double French bed in the rear is another stand out feature and we're all for the privacy!
N.B.: RV Super Centre strives for accuracy in its advertising, though all interior pictures are for illustration purpose only and may not reflect actual product. Actual vehicle interior equipment and upholstery may vary. Please contact our sales consultants for further information.