The best advice on choosing an awning for your motorhome
Author: Peta Stavelli Date Posted: 31 October 2019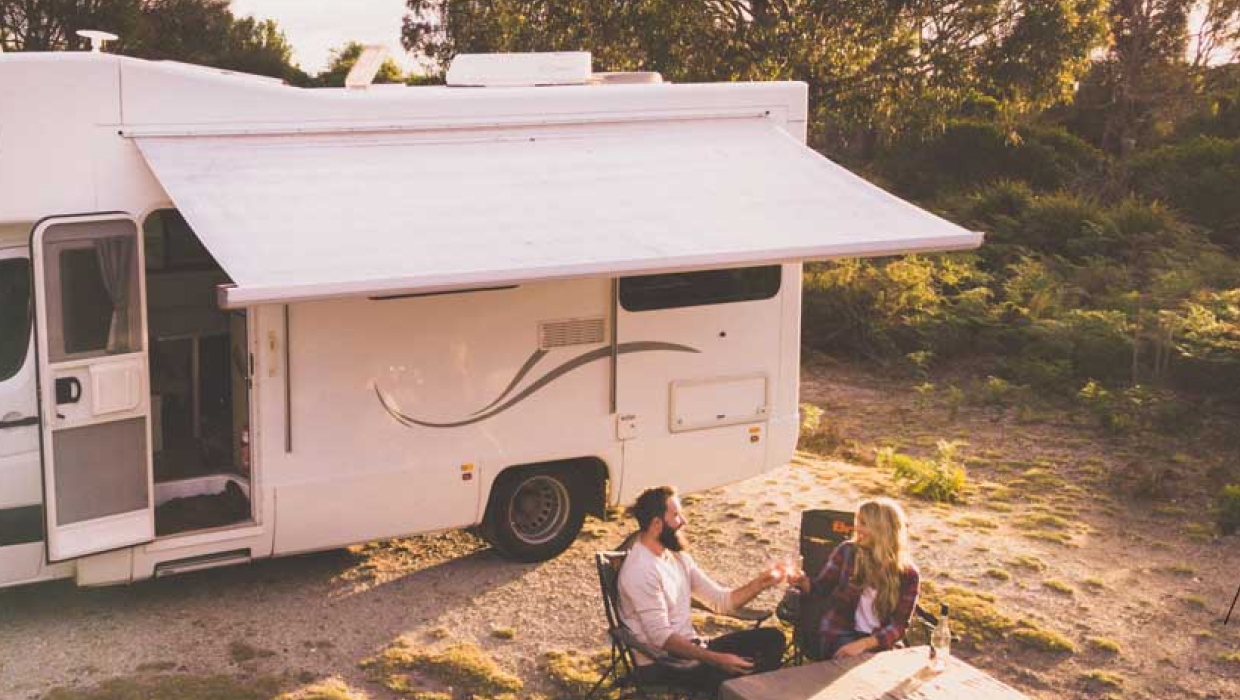 Top tips to choosing an awning that's right for your motorhome
Choice can be fine a thing. But too much choice? Well, that can be confusing. So how do you wade through the alternatives to find the best awning options to suit the way you travel? After all, there are so many different styles, colours, designs and capabilities. Additionally, there are constant design improvements and accessories which could make life easier. Let's take a look at what is on offer and how to use it.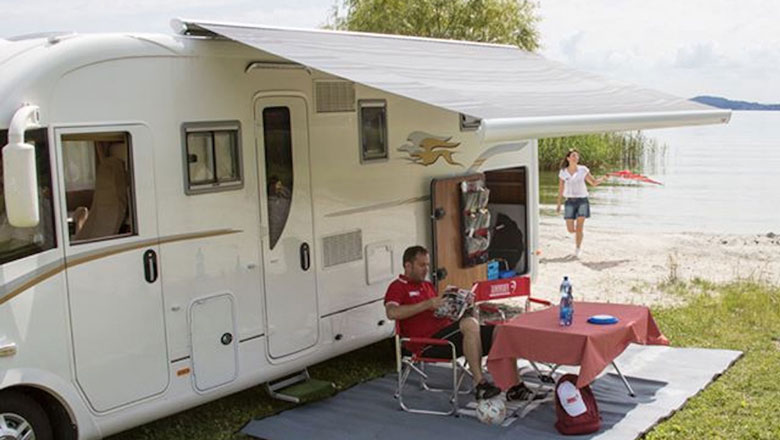 A basic style of awning
The simplest contemporary awning is the wall-mounted cassette awning. These sturdy, easy-to-use designs suit most applications and are frequently the choice of rental companies because they can be operated by inexperienced travellers.

In this design, the canopy is housed in a variable-length aluminium case, and is deployed using a telescopic handle. Some models will include drop-down legs which can strengthened with built-in locks, as well as tie-down ropes or cables, while others are designed with separate carbon-fibre collapsible poles.

These awnings can mostly be operated by one person. If a motorised version is desired, it can be bought or retrofitted. The simplicity and easy erection of this type of awning makes it suitable for people who are moving frequently. But for those who do not want to be limited to short-term stays, accessories such as sun flaps can be added to increase shade.

Add privacy with side walls, rear walls, floors and accessories to increase the strength of the awning.

Even so, the overall message from experienced motorhomers is that this type of awning should be treated like an umbrella and not used in severe conditions.

Variations on the cassette design include a multiplicity of lengths to suit most vehicles and also include roof-mounted designs with a low profile to suit vehicles with limited wall space ie vans. But in both cases (wall or roof-mounted) you can also choose the finish and colour of the case and the colour and type of the canopy cloth.

No matter whether you choose a roof or wall-mount, you can be fairly certain that the mounting brackets, lengths and colours will complement most vehicles; and companies such as Fiamma work closely with vehicle manufacturers like Fiat to design compatible, fit-for-purpose awnings.

If weight is an issue, bagged awnings such as the Fiamma Caravanstore, uses a rope track with no solid case. This can be removed for travelling.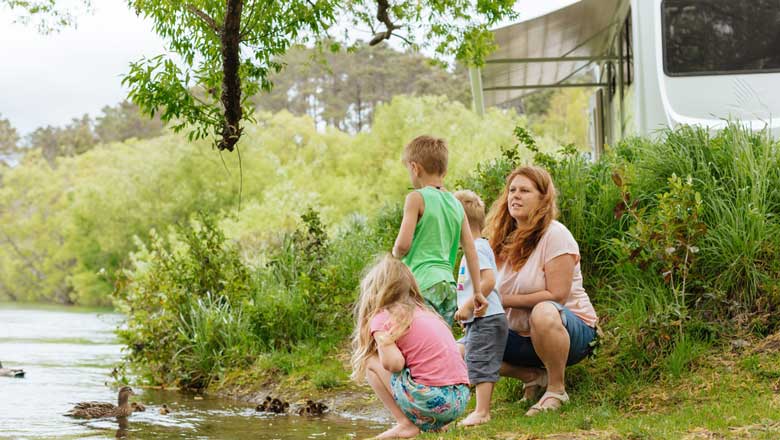 Going up in the world
When you're ready to replace, extend or improve your awning, you will find plenty of accessories. And if you're on the road — or in one place — for a longer time, you may find you're ready to get serious with upgrades.

Others with a pre-existing awning might find the flapping noise drives them around the bend; or it can appear flimsy in even the lightest of breezes. Troubles can disappear with lightweight, yet stronger poles, or additional ties; by retro-fitting extra rafters; or by purchasing an anti-flap kit.

Some awnings are designed with in-built guttering so they can be used as a water harvester for people who spend a lot of time on the road. This is a brilliant solution and one you might like to consider if you're just setting out on this great new lifestyle.

Additional features include flaps, walls (on one or more sides) floors, windows and insect screens. Just like travelling itself, how far you want to go when augmenting your awning experience is only limited by you.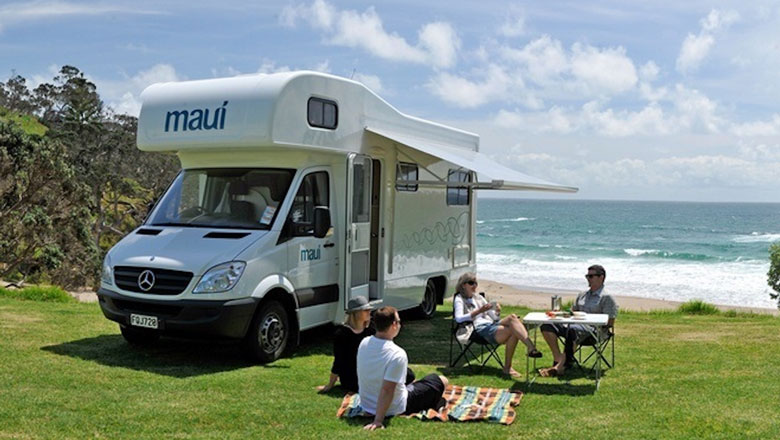 New range of inflatable awnings
I said earlier that technology is always on the move and new and ingenious designs are constantly becoming available. You might be as surprised as I was to learn that a new range of RV awnings is inflatable. And if that was not exciting enough for you, what about the possibility that these compact, light and portable pop-up shelters can remain in place, marking your campsite, while you drive away for the day? Among the many exciting advantages of this design is the ability to attach the new models to your existing awning with a very simple fillet and figure-eight kit. And their ease of use makes them suitable for both short-term stays or longer-term use.

Watching a how-to-tutorial, I was reminded of the basics of erecting a bell tent on camping holidays with my grandfather. It certainly appears as easy as the heydays of tent camping. Simply lay the tent out, loosely attach your corner pegs, and then begin to use the foot pump to do the rest. When you're satisfied with the placement, attach it to your vehicle and firm up your pegs and ties.

In this way you can add an extra room for daytime living, storage or sleeping. And when you want to drive to the swimming hole or the shops, you can easily detach the room and leave it to mark your campground spot.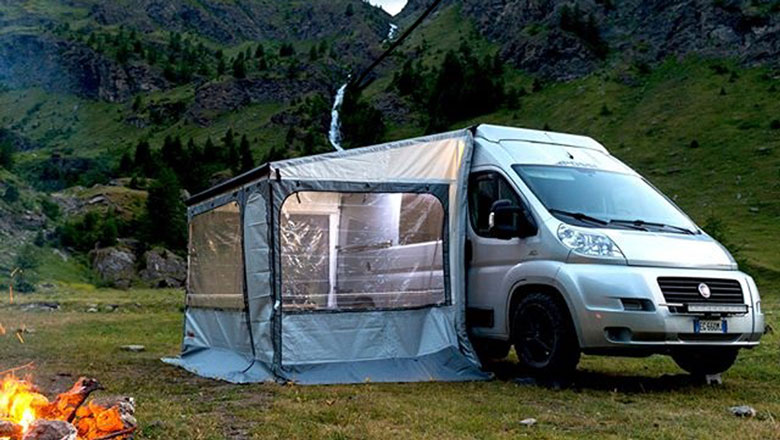 Adding it all up
With so many different designs, models, makes and accessories, there's no way I can reliably tell you what it will cost. But what I can suggest is that a good place to start is by looking online at the vehicles and awnings available at rvsupercentre.co.nz. You'll be amazed at the amount of information on the website which even includes some instruction videos.

And when you're ready to learn more, take your questions to one of their good guides. They will be only too happy to help you find the right awning to suit your motorhome. Phone 0800 52 00 55.

---
Leave a comment