Kitting out your motorhome
Author: Malcolm Street Date Posted: 29 May 2018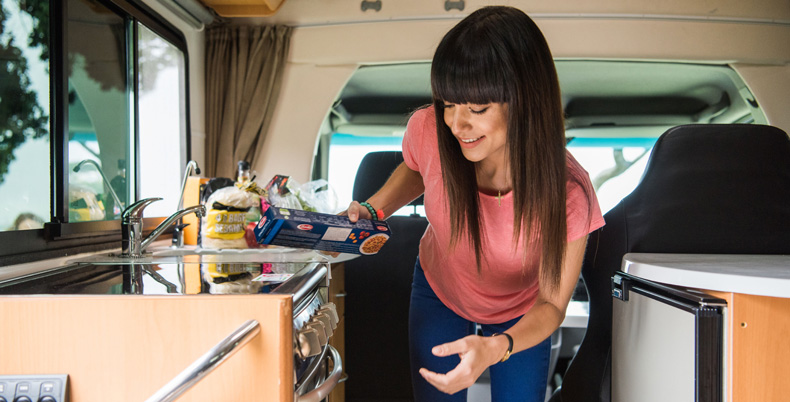 There are a few things you need to consider before you hit the road on your next motorhome adventure. Here are our top tips for making life on the road more comfortable and enjoyable.
1. Good storage space
This is pretty much a no-brainer. We all have grand plans of travelling light, but it's rarely a reality. Motorhome manufacturers these days are gurus at squeezing the most amount of stuff into the smallest spaces and utilising every nook and cranny for your gear, so take this into consideration when you're reviewing motorhomes to buy. It's not just clothing and camping gear you need to fit in, but food items and bedding too.

2. Air-conditioning and heating
A big part of the motorhome experience is being in a home away from home. So if the temperature becomes arctic or burning hot, you need to be able to control your internal comfort zone – just as you would at home. Everyone needs a good night's sleep on the road – it's also a safety issue if you are driving long distances. Many motorhomes come with roof-top air-conditioners as well as heaters already installed, but make sure yours is up to the task before you set off.

3. An awning
While on the subject of comfort, an awning is essential for providing shade at camp so you can do what should come naturally while on holiday – sit back and relax. This is useful in summer months, as well as winter – there's nothing quite like enjoying the view on a sunny, yet crisp, bluebird winter's day and it also provides an element of privacy and protection for anything you leave out overnight. Want to go upmarket? Invest in an electrical awning which requires only the push of a button – too easy!

4. Insect screening
Bugs – the bain of every traveller's existence. Unwanted, unruly and ever-present and persistent. Flyscreens on your windows will ensure you can get a lovely flowing breeze throughout the van without any unwanted winged guests, particularly when you're trying to sleep! It will also mean you can save your lungs by removing the need to spray chemical-laden bug killer every five minutes.

5. Roof-mounted solar panels
When you are free camping you'll be making the most of deserted spots and beautiful campsites. Ahhh, bliss. But you'll also be draining your power supplies, which come mostly from running your engine, operating your fridge, TV/stereo and lights. Solar panels are a great investment and allow you to make the most of nature's free energy source by keeping your batteries topped up at camp.

6. Television
We all talk about heading off in your motorhome to the great unknown to explore the country, and it's amazing to travel to new places, see new sights and meet other like-minded travellers. But, occasionally, we all appreciate the comforts of home and simply feel like snuggling up inside your motorhome to watch your favourite old western film, or reality tv show! Make sure the television is in a position which suits those travelling, whether you want to watch TV from the bed, or prefer it to be angled towards the living area. Power plugs in the right position are also vital to ensure any little people can watch ipads, leaving the television free for the grown-ups.

7. A good size fridge
While it's true bigger fridges will chew through a little more power, they will also help you stay well fed and hydrated, and avoid having to visit the shops every two days for essentials. Canned and packaged foods are great for longevity, but a fridge can keep all your fresh food cool and unspoiled for longer (not to mention it's rather nice to have a chilled beverage on hand at the end of a long day travelling and sightseeing).

8. A comfy bed
We all want a good night's sleep. In any motorhome, space will be at a premium, and there are literally hundreds of different layouts across the multitude of motorhome brands available on the market. You may be limited to the width and length of your bed depending on the physical limitations of your unit. However, there is one inalienable truth – a lumpy mattress simply will not cut it. Sleep while travelling is just as, if not more, important as when you are at home. You'll likely be sharing parks and campsites with people who stay up later, or get up earlier than you, so when you slumber you've got to make it count. Invest some time into researching the best kind of mattress to suit you and your partner – you'll thank yourself for it in the long run.
---
Leave a comment