Buying our Perfect Motorhome - A Happy Customer Story
Date Posted: 13 December 2018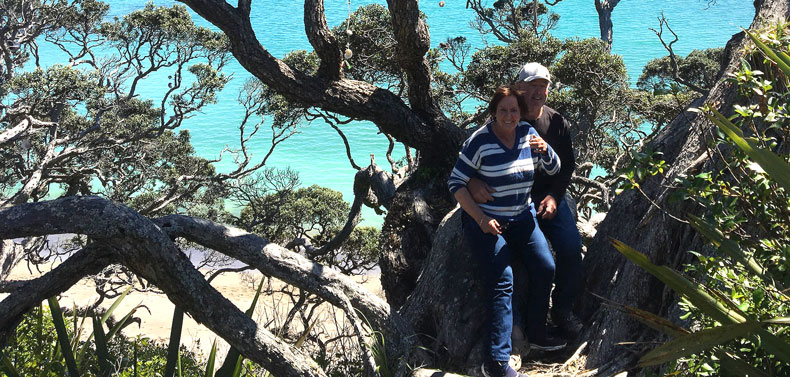 After owning a Mercedes Sprinter for three years and taking it around Northland and the Coromandel, we decided to purchase a more user-friendly vehicle, again from the RV Super Centre in Albany. We particularly liked dealing with sales consultant Kathy Lemon, who was always available to take the time with our queries regarding campervans.
One constraint was having to redesign our driveway so that we could accommodate a longer vehicle which would meet our needs. This meant removing concrete walls and putting the letter box on the other side of the drive.
Once that was done, we were able to purchase a motorhome we were happy with. The Roller Team 694 seemed the best value for our budget, so we bought a 2016 model in February 2018. Our wish-list included a separate bathroom and toilet, a permanent table, a double bed that we didn't have to put up each night and two more seat belts, so we would have four seating berths.
PERSONAL TOUCHES
Our son is an art teacher in Qatar and he designed a running Kiwi graphic for each side. Later, we added a double bike rack and an awning.
Deciding that the kitchen space was a bit small, Peter built a small, lift on/off cedar shelf on the upstand behind the sink and it is just right for two plates when serving up meals. He also made a cedar duckboard for the shower so that our feet stay dry and we don't slip. It pays to marry a builder! We upgraded the standard radio to one that plays CDs and also has Bluetooth connectivity.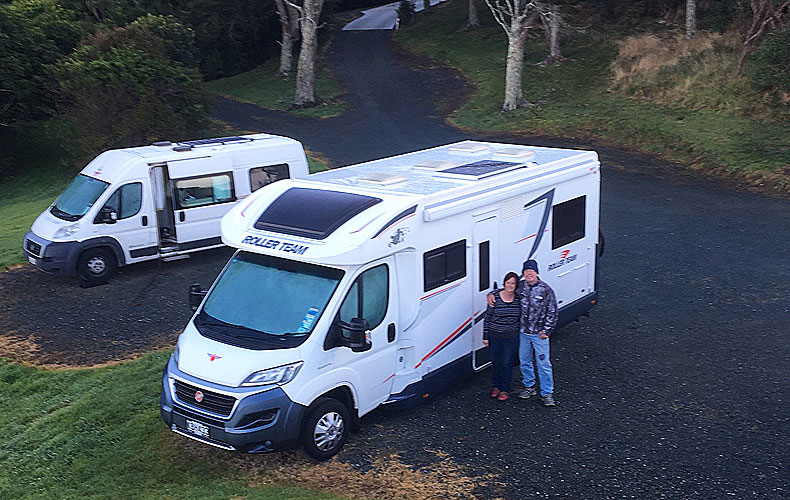 TRAVELLING NEW ZEALAND
We love the Far North and have been to all the DOC campsites down the east coast of Northland, with our favourite places being Matai Bay and Otamuri. We are disappointed that the opportunities for freedom camping are getting less and less in Northland, unlike the Coromandel.
We hope to go further afield now that we are both retired and eventually travel around the South Island with friends or family. Travelling with others seems like a better option than going alone, because you can share experiences and a laugh while feeling safer with other people close by.
The NZ Motor Caravan Association is a vital part of our motorhome plans in the future. It makes our dream more affordable and safer, so thanks NZMCA.
We've also travelled overseas quite a bit, mainly to all the Pacific Islands, Australia, Hawaii, Bali, Italy and the Greek Islands. Although travelling overseas is a great experience, you really can't beat NZ and what it has to offer in terms of scenery and people on a sunny day.
We're hoping to add many more kilometres to the 694's odometer this summer.
---
Leave a comment