Delivery and Shipping


Normal Delivery times
We will normally send your order from our store at 169 Bush Road, Albany, Auckland. Some online products are not stocked in our store, and these products will be sent directly from our supplier.
You can also collect your order for no processing fee – yes it's FREE to collect! Please click HERE for details.
Otherwise, transit times are below. These are estimates only and can be affected by weather, holidays or factors outside of our control.
North Island (2-3 working days)
North Island Rural and islands (3-5 working days)
South Island (2-3 working day)
South Island Rural and islands (3-5 working days)
Items sent directly from Suppliers (7-14 working days).
Please note, If you choose to collect your order, we will confirm via phone or email when your order is ready, please allow between 1 and 3 business days if not stocked in our Auckland location. Items in stock at our store may be available to collect on the same day. Click here to see our opening hours.
Indicative Shipping Costs While Browsing
To help you determine the estimated product cost (including shipping) for a given product, we provide indicative shipping prices based on the entered qty and postcode.
The actual shipping price based on all products in the total order will be calculated at checkout based on your location and post code.
Shipping Rates Guidelines For Standard Delivery
Auckland $4.99
Northland and Waikato Region $7.89
Rest of North Island (South of Waikato & North of Whangarei) $9.99
South Island $14.99
Below is a map of standard shipping areas. Note rural delivery and outer islands are excluded from standard delivery rates.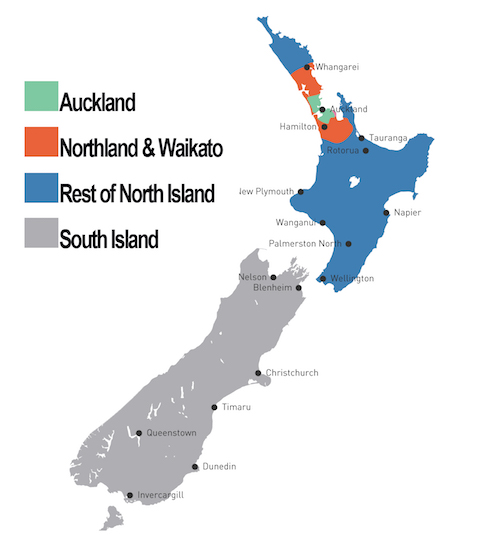 Shipping Rates Guidelines For Rural and Outer Island Delivery
Rural Delivery – Add $4.00

Waiheke Island will incur an additional charge of $17.25

Please contact us to discuss delivery to Outer Island locations such as Great Barrier, Stewart Island and Chatham Islands.
Shipping Rates for Oversized, Bulk and Extra Large Items
Indicative shipping prices are provided when you look at each oversized, bulk or extra large product. The most cost effective shipping price will be calculated at checkout based on your location, post code and total size of order. In some cases we may need to contact you to clarify your shipping address and calculate the best possible shipping price.
Items that are considered Oversized, Bulk or Extra Large include the following:
Fridges
Stoves
Mattresses
Awnings
Large orders
Large ice boxes
Duvalay
The Giant Step
*Please note these are just examples and not limited to this list.
Special location delivery charges
We deliver to most locations in New Zealand. Our couriers and freight forwarders charge an additional fee to deliver to the following locations and we have to pass on that fee.
Waiheke Island
Chatham Islands
Stewart Island
Great Barrier Island
Once you order, we will contact you to confirm the exact shipping charge for these locations.
International Delivery and Postal Boxes
Sorry, we only deliver to New Zealand and cannot deliver to PO Boxes. Although we are happy to send your order to your freight forwarder or shipping agent within New Zealand.
Vehicle Delivery
We will discuss the best way to deliver or pickup your vehicle at the time of purchasing a vehicle from us.
Vehicles are excluded from standard and special delivery charges outlined above.