Self-Containment


WHAT'S A SELF CONTAINED VEHICLE?
A self-contained vehicle is designed to completely meet the ablutionary and sanitary needs of the occupants (including water for drinking and cooking) for a minimum of three days without requiring any external services or discharging any waste.
The creation of the Standard was spearheaded by the NZMCA to provide a solution to the increasing problems associated with the use of motor caravans and the disposal of waste. The NZMCA encourages all motor home and caravan owners to make their vehicles self-contained, and help protect the environment and public health from indiscriminate waste disposal.
The Standard requires sanitary and safe installation of the following:
Fresh water supply: 4L per person per day (i.e. minimum 12L per person)
A fitted sink via a smell trap and shall be to a sealed grey waste water tank so no water can spill on the ground.
Toilet: 1L per person per day (i.e. minimum 3L net holding tank capacity per person)
Holding tank: 4L per person per day (i.e. minimum 12L per person) and monitored if capacity is less than the fresh water tank
An evacuation hose (3 m for fitted tanks) or long enough to connect to a sealed portable tank.
A sealable refuse container (rubbish bin with lid)
The motor caravan or caravan shall be equipped with a toilet that is adequately restrained or secured when travelling. The toilet shall be readily usable within the motor caravan including sufficient head and elbow room at all times, even with the bed made up.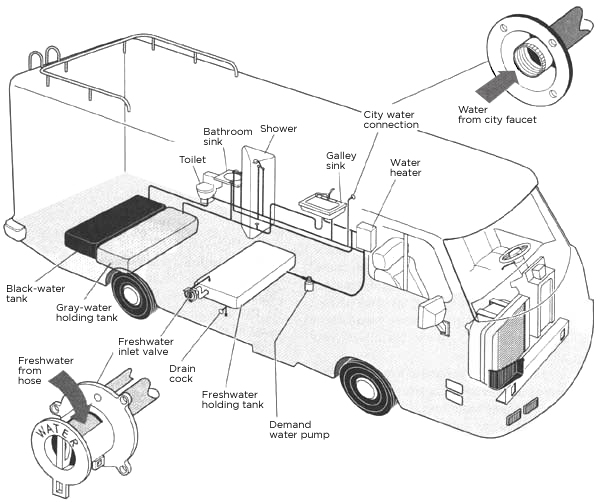 The content of this page covers the requirements for Self Containment in motor caravans only, is a shortened version of the Standard, and does not cover all the requirements for self-containment of caravans as set out in NZS 5465:2001 Standards New Zealand for Self-Containment of Motor Caravans and Caravans.

DOWNLOAD THE FULL VERSION OF Standard 5465:2001 (PDF - 0.3MB)
WHY GET A CERTIFICATION?
A self-containment certificate provides local authorities and communities with a way to recognize that a vehicle poses minimal risk to the environment and public health. That way they are able to accommodate motor caravans at reserves and other areas where there are limited or no external facilities.
A self-contained vehicle will make your motor homing experience more complete. You will get access to restricted or remote camping spots. It gives you the possibility to stay in designated campaign site without toilets.

SELF-CONTAIMENT CERTIFICATION
The NZMCA requires that new members certify their vehicle within three months of joining the association or after completing modifications to their motorhome.
The certification is conditioned to a successful inspection of your vehicle by a Self-Containment Officer.
The RV Super Centre has qualified officers on site in both in Auckland and Christchurch.
---
Related Products and Accessories