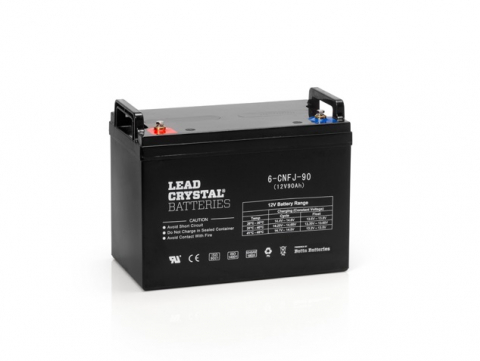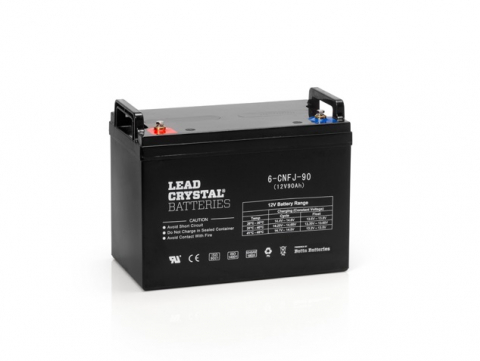 Betta Lead Crystal Battery 12V/90AH
Specifications
Nominal voltage: 12V

Rated capacity (3 hour rate): 90 AH

Dimension: Total height (top of terminal) 240mm, Height 206mm, Length 306mm, Width 174mm

Weight: Approx. 28 kg

Capacity 25ºC: 120 hour rate (0.9A) 108 AH, 20 hour rate (5.0A) 100 AH, 10 hour rate (9A) 90 AH

Internal resistance: Fully charged battery (25ºC) 6.3m ohms

Self-Discharge 25ºC: 3 month storage 95%, 6 month storage 85%, 12 month storage 80%

Max discharge current 25ºC: 900A (5S)

Charging (constant voltage): Cycle Initial charging current 27A 14.7V / (25ºC), Float 13.7V / (25ºC)
The Betta Batteries Lead Crystal Battery is the better alternative to lead acid, lead gel and SAM batteries. Compared to mainstream rechargeable industrial batteries, Lead Crystal Batteries always perform better due to their unique characteristics. They can be charged faster, discharged deeper (to 0 volt), discharged more often, used in a wider temperature range (-40 to +65) and be stored for 2 years without special handling. Its long battery life, better performance and safer components make this battery an ideal fit for your RV, boat or as energy storage unit.
Benefits & Features*
Long battery life. Float service life up to 18 years

Charges up to two times faster than conventional alternatives

Full recovery. Can be 100% discharged and then restored to full rated capacity daily

Long shelf life. Can be stored 2 years with no refresh charging required

Operates at temperatures from -40°C to +65°C

Requires no special ventilation (IEC 608896-21/11)

Up to 99% recyclable and increased sustainability

3 year warranty
*For further specifications please click the "Features" tab
**To download the product datasheet click here
Specifications:
Rated Voltage: 12V
Cyclic: 14.7V 27A (25 °C)
Float: 13.6V (25 °C)
C10 = 90Ah C20 = 100Ah
Weight: 28 Kg / 61.72 lbs
Dimensions: 306mmx174mmx220mm (LxWxH)
3 Year Warranty
Note: CNFJ series must be charged at a minimum of 30% of the C10 rated capacity in bulk phase. Refer to the product data sheet for detailed charging requirements.
| | |
| --- | --- |
| Barcode # | 610696122223 |
| Brand | Betta |
| SKU | 610696122223 |
---
More From This Category